About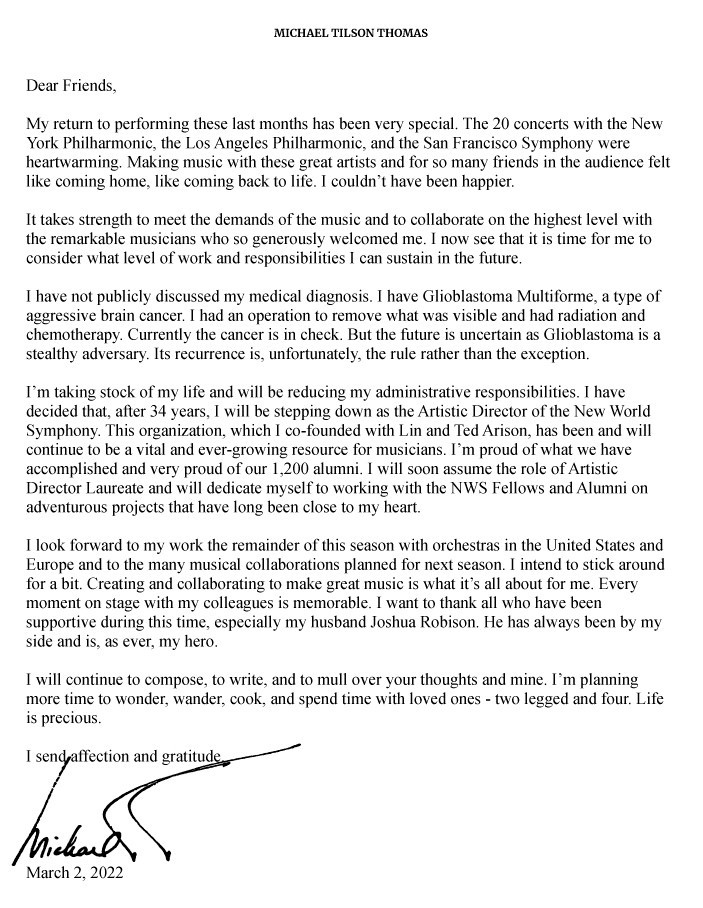 Letter from MTT, March 2, 2022
From the New World Symphony
As shared in Michael Tilson Thomas's letter, the New World Symphony and MTT announce that he will transition to Artistic Director Laureate beginning June 1, 2022.  
In 1987 MTT joined Lin and Ted Arison as co-founders of the New World Symphony with the mission of preparing graduates of music programs for leadership roles in professional orchestras and ensembles. MTT created the artistic vision of the NWS, sustained its growth, and oversaw the building of the state-of-the-art, Frank Gehry designed New World Center in Miami Beach with its revolutionary 7,000 square foot, 4k projection wall which allows concerts to be broadcast live to crowds in the park outside. NWS counts 1,200 alumni who are making a difference in musical communities around the globe. 
Of this new relationship, NWS chair Will Osborne said, "MTT's dream of an orchestral academy is in full flower today.  The nature and purpose of the fellowship program, the New World Center's future facing architecture, and the expansion of options for artistic expression and teaching based on cutting-edge digital technology reveal the genius of his vision and the strength of his leadership.  We are honored to have his continued presence and involvement at the New World Symphony."
"I came to the New World Symphony 21 years ago to support MTT in building a strong foundation for this institution," shared NWS President and CEO Howard Herring.  "I could see that MTT was breaking new ground in music education and performance as well as in the use of digital technology.  I have watched him work directly and personally with our Fellows, giving them the skills and sensibilities that will serve them well as they develop their careers and represent the art form." 
MTT will next be in Miami on May 6 and 7 to conduct the New World Symphony in Mahler's Symphony No. 5.