About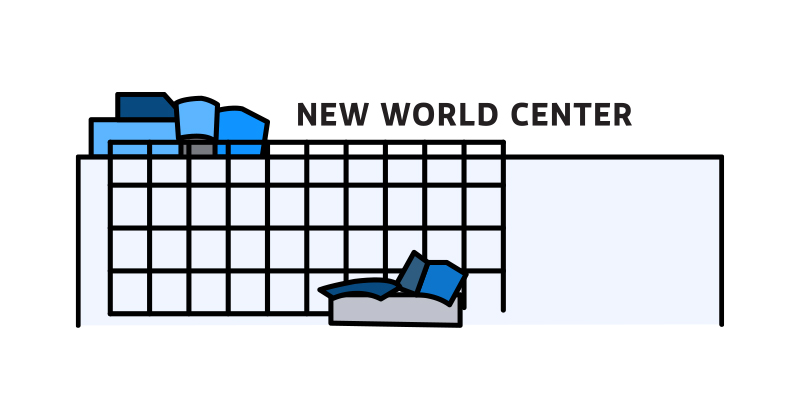 At the New World Center—home of the New World Symphony (NWS), the health and safety of staff, Fellows, visitors and vendors are of paramount importance. NWS continues to closely monitor the latest developments regarding COVID-19 and is committed to following recommendations from health authorities and to proactively implement measures to help maintain a safe workplace.
Did you know...
In a private study, the New World Center's air flow was comparable to hospital-grade cleanliness, with large spaces like the Performance Hall and Atrium surpassing The American Society of Heating, Refrigerating and Air-Conditioning Engineers' standards for fresh air.

The New World Center is certified under the MB Standard program.

NWS partnered with Curative to administer weekly COVID-19 tests of all staff and musicians accessing the New World Center during spring 2021.

NWS is participating in the City of Miami Beach's Race to Trace contact-tracing program.
Our Safety Protocols
The New World Center employs a full range of COVID-19 mitigations, including weekly testing for its staff and NWS Fellows; mask requirement; temperature and syndromic screening; increased sanitation services; plexiglass barriers; reduced occupancy restrictions; and telework.
NWS has committed to abide by and exceed the MB Standard of safety protocols, a set of enhanced safety measures developed by the City of Miami Beach.
In summer 2021, any staff and Fellows who enter the New World Center must either test negative for the COVID-19 virus on a weekly basis or be fully vaccinated. All visitors, regardless of vaccination status, must also pass daily temperature checks before entering. Masks are required inside the New World Center. All NWS employees are encouraged to work from home and only enter the New World Center when required.
In spring 2021, Curative—a nation-wide leader in accessible, streamlined diagnostics—administered weekly COVID-19 tests to NWS staff and Fellows. To access the building, each person was required to present a negative COVID-19 test and pass daily temperature checks.
NWS hired CIH Environmental Services to conduct a full HVAC system assessment. CIH analyzed the New World Center's entire HVAC system and the air flow it provided to each of our indoor spaces. Their study found that the air flow for the building's large spaces (Performance Hall, SunTrust Pavilion and Atrium) surpassed The American Society of Heating, Refrigerating and Air-Conditioning Engineers' standards for fresh air. Our smaller spaces also met and exceeded these standards when social distancing and reduced occupancies were implemented. Additionally, the study reported that the New World Center's HVAC system exceeded hygienic standards even comparing it to hospital grade cleanliness.

Our Event Protocols
All in-person, socially-distanced events are designed in accordance with the CDC guidelines, local government and institutional wellness partners. 
Each in-person event will have its own set of safety guidelines and protocols in accordance with the venue and the CDC recommendations at the time of the event. The safety protocols for each event will be cited among the details on the event listing, sent to participating patrons in advance as part of their event reminder, or may be obtained by contacting our Box Office at tickets@nws.edu or 305.673.3331.

Additional Resources
Miami Beach Race to Trace Resource Team