Events & Tickets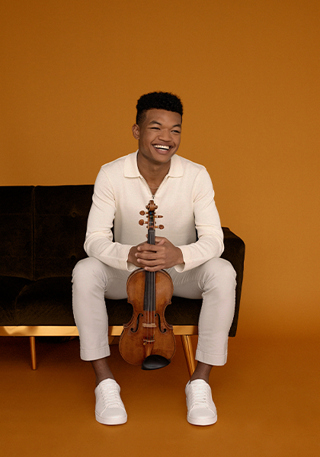 Orchestra Concert
Absolute Jest
New World Center, Michael Tilson Thomas Performance Hall
Friday, February 17, 2023 at 7:30 PM
Saturday, February 18, 2023 at 7:30 PM
Program
Violin phenom Randall Goosby is following in his teacher Itzhak Perlman's footsteps to worldwide fame. He makes his NWS subscription debut performing Pyotr Ilyich Tchaikovsky's Concerto. Deemed unplayable before its premiere, the masterpiece is full of virtuosic fireworks with its unwavering passion, flowing lyricism and folkloric dance rhythms. In Absolute Jest, legendary American composer John Adams plays with musical fragments from Ludwig van Beethoven. This inspiring work for solo string quartet and orchestra features the principal strings of the New York Philharmonic. The timpani steals the spotlight in Gabriela Oritz's Antrópolis and Maurice Ravel's grand waltz forms a "fantastic whirl of destiny" as he reflects on post-WWI Europe.
---
This concert is part of the Friday Evening and Saturday Evening Two series. With either of these series, you'll enjoy phenomenal artists like Randall Goosby, Jeannette Sorrell, Carlos Miguel Prieto and orchestral master works like Elgar's Enigma Variations, Tchaikovsky's Violin Concerto, two works by Gabriela Ortiz and selections from Handel's Water Music. Subscriptions for the Friday Series (3 concerts) begin at $90 ($30/concert). Subscriptions to the Saturday Evening Two Series (4 concerts) begin at $132 ($33/concert). Click to explore the full subscriptions! 
COMPOSE YOUR OWN SUBSCRIPTION PACKAGE! 
Want to try a little of everything? Customize your own subscription of three or more concerts to exercise full creative freedom while enjoying all the flexibility and perks of being a New World Symphony subscriber. Click here to build your CYO subscription or call the Box Office at 305.673.3331 to compose your series today.  
SUBSCRIBERS ENJOY THE BEST OF NWS! 
As an NWS Subscriber, you receive amazing benefits to enjoy throughout the season, including the best seats for the lowest prices and access to our incredibly talented Fellows. Click here to learn more! 
Program
Gabriela Ortiz
(b. 1964)
Approx. Duration: 10 minutes

Pyotr Ilyich Tchaikovsky
(1840-1893)
Approx. Duration: 34 minutes

Concerto for Violin and Orchestra, Op. 35 (1878)

Allegro moderato – Moderato assai 
Cazonetta: Andante 
Finale: Allegro vivacissimo 

John Adams
(b. 1947)
Approx. Duration: 25 minutes

Absolute Jest for String Quartet and Orchestra (2011)

New York Philharmonic String Quartet
Maurice Ravel
(1875-1937)
Approx. Duration: 13 minutes

Gabriela Ortiz
Antr

ó

polis

(2018)

Approximate duration: 10 minutes
Gabriela Ortiz was born into music; her parents were members of an ensemble committed to preserving Mexico's folk traditions. After studying with the composers Mario Lavista and Federico Ibarra and earning a Ph.D. in electroacoustic composition from the City University in London, she returned to Mexico City, where she has taught at the Universidad Nacional Autónoma de México since 2000. In 2016 she was awarded the prestigious Premio Nacional de Ciencias y Artes, in 2019 was inducted into the Academía de Artes and in 2022 became the first woman composer inducted into the Colegio Nacional.
A number of her works grapple with Mexico's social issues. This is the case with her three operas: drug wars in Únicamente la verdad (Only the Truth), immigration between Mexico and the United States in Ana y su sombra (Ana and her Shadow) and the student unrest of 1968 in Luciérnaga (Firefly). In an interview with Tom Moore of Opera Today, she explained: "When I compose, I am not trying to sound Mexican... It is like an inner force that is just there, and I have to express that in sound. It probably has a Mexican identity, because it's me, I live in Mexico, and I like my country."
This is often reflected in her vibrant treatment of rhythm, and there's no mistaking it in Antrópolis, a piece that keeps constantly on the move. She writes: "In Mexico, until the '90s, the term [antro] referred to bars or entertainment places of dubious reputation. But nowadays, and especially among younger people, this word refers to any bar or nightclub. Antrópolis is the sonorous reflection of a city through its antros, including the accumulation of experiences that we bring, and that form an essential part of our history in this very complex but fascinating Mexico City."
Pyotr Ilyich Tchaikovsky
Concerto for Violin and Orchestra, Op. 35

(1878)

Approximate duration: 34 minutes
It's anyone's guess why Pyotr Ilyich Tchaikovsky got married in 1877, but he fled in panic two weeks after the wedding and soon headed off to Switzerland with the young violinist Iosif Iosifovich Kotek, his former pupil and sometime lover. There he composed his Violin Concerto in a flash of inspiration, with Kotek offering technical advice on the solo part. When Tchaikovsky sent the score to his patron Nadezhda von Meck, she wrote back that she didn't like it. To his credit, the composer (who was often given to self-doubt) defended his piece, although he did decide to replace his original slow movement. (The earlier one lives on as a standalone Méditation for violin and orchestra or piano, and also as the opening movement of his suite Souvenir d'un lieu cher.) Further objections came from the violinist Leopold Auer, to whom Tchaikovsky wanted to entrust the premiere: he declared it unplayable. Too bad for Auer; the honor of the premiere instead went to Adolf Brodsky, who worked on the Concerto for more than two years before he dared to perform it. Auer eventually changed his mind. He not only came around to playing this Concerto but also taught it to his students, many of whom became leading interpreters of this work, including the legendary virtuosos Elman, Heifetz, Milstein, Shumsky and Zimbalist.
This is an overwhelmingly lyrical work that rarely ventures into the stormy outbursts that can characterize Tchaikovsky's symphonic pieces. The first movement, by turns balletically graceful and comparatively urgent, makes difficult technical demands, but the fireworks generally sparkle as counterpoint to the overall gentility. The slow movement is elegiac but not depressive, while the Finale emerges from it without a break, serving up a dazzling array of pyrotechnics.
John Adams
Absolute Jest

for String Quartet and Orchestra

(2011)

Approximate duration: 25 minutes
A New Englander by birth, John Adams moved in 1971 to the California Bay Area, where after a decade he described himself as "a minimalist who is bored with minimalism." Through the years his language has become too varied to pigeonhole, including widely acclaimed works that confront social issues and international affairs, pieces that conflate popular and classical styles, and compositions that intermix "high" and "low" esthetics.
His Absolute Jest, for string quartet and orchestra, takes as its point of departure certain works by Beethoven. The idea came from experiencing a performance of Stravinsky's Pulcinella. "I was suddenly stimulated by the way Stravinsky had absorbed musical artifacts from the past and worked them into his own highly personal language," he wrote. "I… had loved the Beethoven string quartets since I was a teenager, and crafting something out of fragments of Op. 131, Op. 135 and the Grosse Fuge (plus a few more familiar 'tattoos' from his symphonic scherzos) was a totally spontaneous act for me… The 'jest' of the title should be understood in terms of its Latin meaning, gesta: doings, deeds, exploits. I like to think of 'jest' as indicating an exercising of one's wit by means of imagination and invention."
Maurice Ravel
La valse (1919-20)

Approximate duration: 13 minutes
As early as 1906 Maurice Ravel started thinking about creating a musical tribute to the "Waltz King" Johann Strauss II, but he didn't get much farther than deciding on its title: Wien (Vienna). Years passed and then Europe crumbled under the calamity of World War I. When the war ended, Ravel retained his admiration for the waltz as a genre, but its sociological implications had changed. By the time he got around to composing La valse, in 1919-20, the gaiety of the Viennese ballroom could no longer be presented without knowing comment. Instead, Ravel's 12-minute tone poem reveals itself, ever so gradually, to be a sort of danse macabre. The interval of the tritone (the augmented fourth or diminished fifth), historically conveying some diabolical connotation, is shot through the melodies of La valse, yielding a bitonal sense that the ballroom the piece depicts is oddly out of focus. Nonetheless, a listener encountering La valse for the first time will find it easy to make excuses for the disturbing undertones and the general wooziness: the surface is undeniably festive, after all. Not until the final minutes of the piece are we forced to accept that the waltz has run irretrievably amok. Even understanding that, we are likely to be shocked by the brutality of the piece's conclusion, which is nothing short of violent, terrifying and bitterly final.
"I conceived of this work as a sort of apotheosis of the Viennese waltz," Ravel wrote, "mingled with, in my mind, the impression of a fantastic, fatal whirling." Hoping to see it staged, he and his pianist-colleague Marcelle Meyer played a two-piano arrangement for the impresario Serge Diaghilev, who responded (according to Francis Poulenc), "Ravel, it's a masterpiece, but it's not a ballet… It's the portrait of a ballet, a painting of a ballet."
– © James M. Keller
James M. Keller is the longtime Program Annotator of the San Francisco Symphony and was formerly Program Annotator of the New York Philharmonic and a staff writer-editor at The New Yorker. The author of Chamber Music: A Listener's Guide (Oxford University Press), he is writing a sequel volume about piano music for the same publisher.
Program
Pyotr Ilyich Tchaikovsky
(1840-1893)


Concierto para Violín y Orquesta, Op. 35 (1878)
Allegro moderato – Moderato assai 
Cazonetta: Andante 
Finale: Allegro vivacissimo 

Absolute Jest para Cuarteto de Cuerdas y Orquesta (2011)
New York Philharmonic String Quartet
Gabriela Ortiz
Antr

ó

polis
 

(2018)


Duración aproximada: 10 minutos

Gabriela Ortiz nació dentro de la música; sus padres eran miembros de un conjunto dedicado a preservar las tradiciones populares de México. Después de estudiar con los compositores Mario Lavista y Federico Ibarra y de obtener un Doctorado en Composición Electroacústica de la City University en Londres, Gabriela regresó a la Ciudad de México, donde es profesora de la Universidad Nacional Autónoma de México desde el año 2000. En 2016 le fue otorgado el prestigioso Premio Nacional de Ciencias y Artes, en 2019 fue incluida en la Academia de Artes y en 2022 se convirtió en la primera mujer compositora en formar parte del Colegio Nacional.

Varias de sus obras se adentran en los problemas sociales de México. Es el caso de sus tres óperas: la guerra de las drogas en Únicamente la verdad, la inmigración entre México y Estados Unidos en Ana y su sombra, y el movimiento estudiantil de 1968 en Luciérnaga. En una entrevista con Tom Moore de Opera Today, explicó: "Cuando compongo, no trato de tener una sonoridad mexicana…es como una fuerza interior que está ahí, y tengo que expresarla a través de sonidos. Probablemente tiene una identidad mexicana, porque soy yo. Vivo en México y me gusta mi país."

Esto se refleja a menudo en un vibrante tratamiento del ritmo, como lo escuchamos sin dudas en Antrópolis, una obra que está en constante movimiento. Ella escribe: "En México, hasta los años '90s, el término 'antro' se refería a los bares o lugares de entretenimiento público de dudosa reputación. Pero actualmente, y especialmente entre los jóvenes, esta palabra se refiere a cualquier bar o club nocturno. Antrópolis es la reflexión sonora de una ciudad a través de sus antros, incluyendo la acumulación de nuestras experiencias, las cuales forman una parte esencial de nuestra historia en la muy compleja pero fascinante Ciudad de México."
Pyotr Ilyich Tchaikovsky
Concierto para Violín y Orquesta, Op. 35 (1878)
Duración aproximada: 34 minutos
Todos se preguntan por qué Pyotr Ilyich Tchaikovsky se casó en 1877, solo para escapar en pánico dos semanas después de la boda y pronto dirigirse a Suiza con el joven violinista Iosif Iosifovich Kotek, su antiguo alumno y a veces amante. Allí compuso su Concierto para Violín en un destello de inspiración, mientras Kotek le ofrecía sugerencias técnicas en la parte del solista. Cuando Tchaikovsky le envió la partitura a su patrocinadora Nadezhda von Meck, ella contestó que no le gustaba. El compositor, que a menudo dudaba de sí mismo, defendió su obra, aunque decidió reemplazar el movimiento lento. (El original se convirtió en la obra individual Méditation para violín y orquesta o piano, y también existe como el movimiento inicial de su suite Souvenir d'un lieu cher.) Otras objeciones surgieron del violinista Leopold Auer, a quien Tchaikovsky quería confiar el estreno: la declaró intocable. Desafortunadamente para Auer, el honor del estreno le fue entregado a Adolf Brodsky, el cual trabajó en el Concierto por más de dos años antes de atreverse a interpretarlo. Auer eventualmente cambió de idea. No solo llegó a tocar este Concierto sino que se lo enseñó a sus alumnos, muchos de los cuales se convirtieron en los principales intérpretes de su obra, incluyendo los legendarios virtuosos Elman, Heifetz, Milstein, Shumsky y Zimbalist.
Esta es una obra abrumadoramente lírica que rara vez se aventura a los tormentosos arrebatos que suelen caracterizar las obras sinfónicas de Tchaikovsky. El primer movimiento, por momentos elegante como un ballet y comparativamente urgente, contiene difíciles exigencias técnicas, pero los fuegos artificiales generalmente brillan como contrapunto a la calma general. El movimiento lento es elegíaco sin ser deprimente, mientras el Finale emerge de este sin pausa, regalándonos un deslumbrante despliegue de pirotecnia.
John Adams
Absolute Jest

para Cuarteto de Cuerdas y Orquesta
 

(2011)
Duración aproximada: 25 minutos

Nacido en Nueva Inglaterra, John Adams se mudó al área de la Bahía de California en 1971, donde después de una década se describió a sí mismo como "un minimalista aburrido del minimalismo". A través de los años su lenguaje se ha vuelto muy variado para encasillarlo, incluyendo aclamadas obras que confrontan problemas sociales y asuntos internacionales, piezas que fusionan estilos clásicos y populares, y composiciones que entremezclan estéticas "altas' y "bajas".

Su Absolute Jest (Gesta absoluta), para cuarteto de cuerdas y orquesta, toma como punto de partida ciertas obras de Beethoven. La idea surgió después de experimentar una interpretación de Pulcinella de Stravinsky. "Me sentí repentinamente inspirado por la manera en que Stravinsky había absorbido artefactos musicales del pasado y los había hecho parte de su propio lenguaje altamente personal", escribió. "Me habían encantado los cuartetos de cuerda de Beethoven desde que era un adolescente, y elaborar algo de fragmentos del Op. 131, Op. 135 y la Grosse Fuge (además de otros "tatuajes" más conocidos de sus scherzos sinfónicos), fue un acto totalmente espontáneo para mí…El "jest" del título debe entenderse en términos de su significado en latín, gesta: hechos, acciones, hazañas. Me gusta pensar en "gesta" como una indicación para ejercitar nuestro intelecto a través de la invención y la imaginación."
Maurice Ravel
La valse
 

(1919-20)
Duración aproximada: 13 minutos

Desde 1906, Maurice Ravel comenzó a pensar en hacerle un homenaje musical al "Rey del Vals" Johann Strauss II, pero no llegó mucho más allá de decidir el título: Wien (Viena). Pasaron los años y Europa colapsó debido a las calamidades de la Primera Guerra Mundial. Al terminar la guerra, Ravel mantenía su admiración por el vals como género, pero sus implicaciones sociológicas habían cambiado. Para el momento en que compuso La valse, en 1919-20, la alegría del salón de baile vienés ya no podía ser presentada sin comentarios. En cambio, el poema sinfónico de 12 minutos de Ravel se reveló a sí mismo, gradualmente, como una especie de danse macabre. El intervalo del tritono (la cuarta aumentada o quinta disminuida), que históricamente posee una connotación diabólica, es lanzado a través de las melodías de La valse, dando una sensación bitonal de que el salón de baile que la pieza describe está extrañamente fuera de foco. No obstante, el oyente que escucha La valse por primera vez encontrará excusas fácilmente para el trasfondo perturbador y el vaivén general: después de todo, la superficie es innegablemente festiva. No es hasta los minutos finales de la pieza que nos vemos obligados a aceptar que el vals está irremediablemente fuera de control. Incluso comprendiendo esto, aún es posible que nos sorprenda la brutalidad de la conclusión de la obra, que es nada menos que violenta, aterradora y amargamente final.

"Concebí esta obra como una especie de apoteosis del vals vienés", escribió Ravel, "mezclado, en mi mente, con la impresión de un torbellino fantástico y fatal". Con la esperanza de verla escenificada, él y su pianista-colega Marcelle Meyer tocaron un arreglo para dos pianos para el empresario Serge Diaghilev, quien respondió (según Francis Poulenc), "Ravel, es una obra maestra, pero no es un ballet… Es el retrato de un ballet, la pintura de un ballet."

– © James M. Keller

James M. Keller ha sido escritor de programas de la Sinfónica de San Francisco por largo tiempo y anteriormente realizó el mismo trabajo para la Filarmónica de Nueva York, donde también fue miembro y editor del staff de redacción de la revista The New Yorker. El autor del libro: Chamber Music: A Listener's Guide (Música de Cámara: Guía para un oyente) publicado por la Editorial Oxford University Press, actualmente está escribiendo un segundo volumen sobre música para piano para la misma editorial.

Translated by Maria Paulina García