Events & Tickets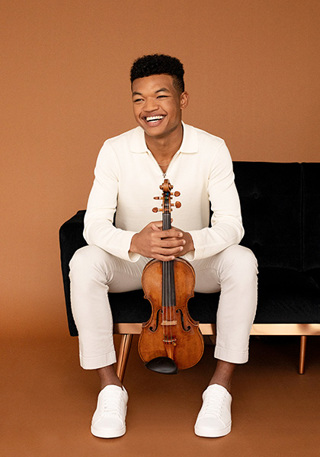 Orchestra Concert
Absolute Jest
New World Center, Michael Tilson Thomas Performance Hall
Friday, February 17, 2023 at 7:30 PM
Saturday, February 18, 2023 at 7:30 PM
Program
Violin phenom Randall Goosby is following in his teacher Itzhak Perlman's footsteps to worldwide fame. He makes his NWS subscription debut performing Pyotr Ilyich Tchaikovsky's Concerto. Deemed unplayable before its premiere, the masterpiece is full of virtuosic fireworks with its unwavering passion, flowing lyricism and folkloric dance rhythms. In Absolute Jest, legendary American composer John Adams plays with musical fragments from Ludwig van Beethoven. This inspiring work for solo string quartet and orchestra features the principal strings of the New York Philharmonic. The timpani steals the spotlight in Gabriela Oritz's Antrópolis and Maurice Ravel's grand waltz forms a "fantastic whirl of destiny" as he reflects on post-WWI Europe.
---
This concert is part of the Friday Evening and Saturday Evening Two series. With either of these series, you'll enjoy phenomenal artists like Randall Goosby, Jeannette Sorrell, Carlos Miguel Prieto and orchestral master works like Elgar's Enigma Variations, Tchaikovsky's Violin Concerto, two works by Gabriela Ortiz and selections from Handel's Water Music. Subscriptions for the Friday Series (3 concerts) begin at $90 ($30/concert). Subscriptions to the Saturday Evening Two Series (4 concerts) begin at $132 ($33/concert). Click to explore the full subscriptions! 
COMPOSE YOUR OWN SUBSCRIPTION PACKAGE! 
Want to try a little of everything? Customize your own subscription of three or more concerts to exercise full creative freedom while enjoying all the flexibility and perks of being a New World Symphony subscriber. Click here to build your CYO subscription or call the Box Office at 305.673.3331 to compose your series today.  
SUBSCRIBERS ENJOY THE BEST OF NWS! 
As an NWS Subscriber, you receive amazing benefits to enjoy throughout the season, including the best seats for the lowest prices and access to our incredibly talented Fellows. Click here to learn more! 
Loading Concert Information
Program
Gabriela Ortiz
(b. 1964)
Approx. Duration: 10 minutes

Pyotr Ilyich Tchaikovsky
(1840-1893)
Approx. Duration: 34 minutes

Concerto for Violin and Orchestra, Op. 35 (1878)

Allegro moderato – Moderato assai 
Cazonetta: Andante 
Finale: Allegro vivacissimo 

John Adams
(b. 1947)
Approx. Duration: 25 minutes

Absolute Jest for String Quartet and Orchestra (2011)

New York Philharmonic String Principals 
Maurice Ravel
(1875-1937)
Approx. Duration: 13 minutes