Events & Tickets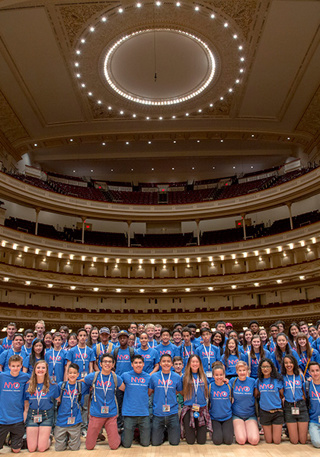 Special Event
CARNEGIE HALL'S NYO2 AND GIL SHAHAM
New World Center
Saturday, July 21 at 8:30 PM
Program
Sponsored by:

Carnegie Hall's NYO2 makes its New World Center debut alongside Grammy Award-winning violinist Gil Shaham and NWS Fellows and alumni for an exclusive one-night-only event—the orchestra's only public performance before its finale at Carnegie Hall on July 24. 
NYO2 is joined by conductor Carlos Miguel Prieto for Mexican and Russian masterpieces, including the vibrant suite from Revueltas's Redes, Prokofiev's rich First Violin Concerto and Shostakovich's dramatic Symphony No. 5. 
NYO2's 2018 season and six-day residency in Miami mark the start of a new partnership between New World Symphony and Carnegie Hall, which will see current and former Fellows mentoring and performing side-by-side with participating students from across the country, including many from South Florida.   
Comprising a "remarkable array of talent" (The New York Times), NYO2 is an orchestral training program for talented young players ages 14–17 with a focus on recruiting musicians from communities underrepresented in classical music. 
Click here for more information on NYO2.
NYO2 is a program of Carnegie Hall's Weill Music Institute.
Program
Silvestre Revueltas
(1899-1940)
Arranged by Erich Kleiber
Approx. Duration: 16 minutes

Suite from Redes (1934-35)

Sergei Prokofiev
(1891-1953)
Approx. Duration: 22 minutes

Concerto No. 1 in D major for Violin and Orchestra, Op. 19 (1916-17)

Andantino
Scherzo:  Vivacissimo
Moderato -- Allegro moderato
Dmitri Shostakovich
(1906-1975)
Approx. Duration: 46 minutes

Symphony No. 5 in D minor, Op. 47 (1937)

Moderato -- Allegro non troppo
Allegretto
Largo
Allegro non troppo
Silvestre Revueltas
Suite from Redes (1934-35)

Approximate duration: 16 minutes
Revueltas wrote some of the most powerful music to emerge from the Mexican revolution of the 1930s. His "viscerality" and "dangerous, take-no-prisoners attitude"—as Argentinian composer Osvaldo Golijov puts it—are combustible. Revueltas's sound has an austere grandeur that is only occasionally found in the music of his contemporaries. Known mainly for provocative film and theater music, he was also a conductor, violinist,
professor and political activist in the Spanish Civil War.
Revueltas eschewed traditional symphonies and concertos, preferring overtly pictorial symphonic pieces—"sophisticated picture-postcards," in Robert Stevenson's words—as well as theater and movie music. Like Erich Wolfgang Korngold and Franz Waxman, he got into writing movie music through accident and political upheaval. His start came when a new fine arts minister in the revolutionary Mexican government asked him to replace Chávez in a 1936 quasi-documentary by Paul Strand, originally called Pescados. Revueltas discovered that movie music was ideally suited to his gifts, allowing him to maximize his genius for bold, pictorial ideas and work with colleagues in other media.
Redes (Nets), originally titled Pescados, is the first of Revueltas's film scores. It is music of raw immediacy and unrelenting starkness portraying a Veracruz fishing village's struggles against poverty and corporate rulers. Forgoing folk-tune quotation, Redes explores the essence of Mexican vernacular music in what novelist Paul Bowles called a
transformation of "folk music into art music with a minimum of purity lost."
The version of Redes most often performed in concert halls is a suite constructed by Viennese conductor Erich Kleiber. It begins with sinister fanfares and a swaying theme for winds and brass that transforms into a melancholy variation for strings. This section depicts the village's battle with poverty and exploitation, culminating in a lament for the death of a child whose family cannot afford medical treatment. The suite careens into a wild fishing celebration, a fiesta spiked with bitonal harmonies and a violent fight scene full of jagged dissonance. This struggle results in the death of the child's father, the union leader, evoked by dolorous, dirge-like music colored by lonely brass. The music
builds to a grandiose but tragic climax for full orchestra.
Sergei Prokofiev
Concerto No. 1 in D major for Violin and Orchestra, Op. 19 (1916-17)

Approximate duration: 22 minutes
Prokofiev's early works are frequently spiced with a sardonic "bad boy" sensibility (The Love for Three Oranges) or a post–The Rite of Spring primitivism. The Violin Concerto No. 1, however, does not fall into either of these categories. Despite its structural originality and occasional dashes of dissonance, this work, written between 1916 and 1917, is fundamentally romantic—not so much in the 19th-century Germanic sense of the word as in the Russian sense of an art that takes us to a world of color and mystery, exotic and far away.
Certainly, the opening theme—written during Prokofiev's brief romantic encounter with Nina Meshcherskaya—communicates this sense of romanticism. This long, soaring melody is the focal point for the Concerto, returning not only in the first movement, but also at the end of the finale. In between is a kaleidoscope of mysterious motifs and
racy rhythms, including an Eastern-colored woodwind idea over plucked strings in the opening movement and a series of delicate, daredevil violin acrobatics in the second that border on pure color. The finale begins with the kind of droll, trudging music that Prokofiev was to make famous, but it becomes increasingly lyrical, culminating in a
final statement of the Concerto's opening melody sung out by the soloist and other strings over shimmering winds.
The First Concerto features a rich combination of adolescent fantasy, sophisticated dissonance and subtle orchestration. (Prokofiev was also writing his "Classical" Symphony—one of his most transparently scored works—while he orchestrated the Concerto.) There is a sense of adventure and an irresistible narrative quality, perhaps
because Prokofiev wrote much of the work on a riverboat journey on the Volga and Kama rivers into remote mountain tributaries. This voyage occurred in 1917, just after the Russian Revolution—a brief escape from turmoil and trauma.
Despite its melodic attraction, the Concerto was "modern" enough to cause trouble. The first performance, which did not occur until 1923, was conducted in Paris by Serge Koussevitzky—a Prokofiev champion—after considerable difficulty finding a soloist who, in Prokofiev's words, would lower himself to learn "that music." Finally, the concertmaster had to be prevailed upon to play the solo part. He did "quite well with it," Prokofiev later wrote, even though the piece is full of treacherous technical demands, including double and triple stops, double harmonics and near impossible high notes. The next year, Joseph Szigeti fell in love with the piece and played it all over Europe. By the time Prokofiev came to write his next violin concerto, in 1935, his concept of a concerto was decidedly more classical in structure and style, with a more conventional violin solo that stands out from the orchestra rather than blending in as it does in the more intricately textured First Violin Concerto. With its poignant final fade-out, the First Concerto is like a farewell to a lost Russia and a lost sensibility, even though the steely, more modernist fast music that occasionally erupts is a harbinger of the Prokofiev to come.
Dmitri Shostakovich
Symphony No. 5 in D minor, Op. 47 (1937)

Approximate duration: 46 minutes
At once the most popular and most controversial of Shostakovich's symphonies, the Fifth has always been loved by audiences and conductors for its drama and lyricism. For years, it was castigated by critics for its "conservatism" and capitulation to Soviet censorship—that is, until critics declared it to be secretly anti-Soviet. There is no question that Shostakovich wanted to get off Stalin's blacklist: Denounced by the government newspaper Pravda for his dissonance and "decadent" modernism, he was forced to withdraw his opera Lady Macbeth of Mtsensk after Stalin himself saw and condemned it. His experimental Fourth Symphony, not heard until 1961, was cancelled for the same reason.
Were it not for the work's history, it would be difficult to imagine anyone finding facile optimism in a symphony so full of shadows and long stretches of gloom. The somber first and third movements, and the wailing from the strings in the middle of the finale are hardly cheering; and the ominous fade-out that closes the first movement seems a
haunting echo of the ending of the Fourth Symphony. These elements today are often interpreted as subversive "codes," but they seem more upfront than secretive. How indeed did Shostakovich get such an easy pass from the Soviet censors, even if they did have notoriously tin ears?
Shostakovich had learned from bitter experience when to pull his punches. It wouldn't do to have the last movement end gloomily, but it was okay for the first. As for the blaze of sunlight that closes the Symphony, it was apparently written to order. In a startling passage from the controversial Testimony: The Memoirs of Dmitri Shostakovich from 1979, Shostakovich says about the ending, "The rejoicing is forced, under threat, as in Boris Godunov. It's as if someone were beating you with a stick and saying, 'Your business is rejoicing, your business is rejoicing,' and you rise shaky, and go marching off, muttering, 'Our business is rejoicing, our business is rejoicing.'"
The Symphony is an eloquent, forceful, strikingly lyrical work, to some extent modeled on the symphonies of Mahler, a composer whom Shostakovich admired. The juxtaposition of the sublime with the banal; the fondness for marches, some funereal, some sardonic; the buffoonish folk tunes in the scherzo and the hymn-like lyricism in the slow movement all sound at times like Mahler with a Russian accent. There are also touches of Beethoven, especially the motifs binding together the long first movement and their return in the finale. Yet the sensibility and sound world are distinctly Shostakovich's own.
The overall picture is not all that different from that of the Sixth, Eighth and Tenth symphonies—all powerful, emotionally ambiguous works that generated political controversies of their own—though none like the contentious back-and-forths attending the Fifth. This Symphony is a summary statement, "complex" and "conflicted;" it offers "an opening for hopefulness, for a certain nobility in survival."
— Jack Sullivan
© 2018 The Carnegie Hall Corporation
Carlos Miguel Prieto, conductor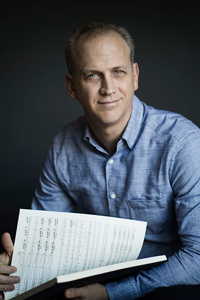 Carlos Miguel Prieto was born into a musical family of Spanish and French descent in Mexico City. His charismatic conducting is characterized by its dynamism and the expressivity of his interpretations. He is recognized as a highly influential cultural leader and is the foremost Mexican conductor of his generation. He has been the Music Director of the Orquesta Sinfónica Nacional de México, the country's most important orchestra, since 2007. He was named Music Director of the North Carolina Symphony beginning with the 2023-24 season. He has also been Music Director of the Louisiana Philharmonic since 2006, where he has led the cultural renewal of New Orleans following Hurricane Katrina. In 2008 he was appointed Music Director of the Orquesta Sinfónica de Minería, a hand-picked orchestra which performs a two-month long series of summer programs in Mexico City.
Mr. Prieto's recent highlights include debuts with the London Philharmonic, Minnesota Orchestra, National Symphony, Orquesta Sinfónica de Castilla y León, BBC National Orchestra of Wales and Los Angeles New Music Group, and his returns to the NDR Elbphilharmonie, Frankfurt Radio Symphony, Hallé, Royal Liverpool Philharmonic, Bournemouth Symphony, Strasbourg Philharmonic and Auckland Philharmonia. Mr. Prieto is in great demand as a guest conductor with many of the top North American orchestras, including those of Cleveland, Dallas, Toronto and Houston, and has enjoyed a particularly close and successful relationship with the Chicago Symphony.
Since 2002, alongside Gustavo Dudamel, Mr. Prieto has conducted the Youth Orchestra of the Americas, which draws young musicians from the entire American continent. A staunch proponent of music education, Mr. Prieto served as Principal Conductor of the YOA from its inception until 2011 when he was appointed Music Director. In early 2010 he conducted the YOA alongside Valery Gergiev on the occasion of the 40th anniversary of the World Economic Forum at Carnegie Hall. In 2018 he conducted the orchestra on a tour of European summer festivals, which included performances at the Rheingau and Edinburgh festivals, as well as Hamburg's Elbphilharmonie. He has also worked regularly with the National Youth Orchestra of Great Britain and the NYO2 in New York and Miami Beach.
Mr. Prieto is renowned for championing Latin American music, as well as his dedication to new music. He has conducted over 100 world premieres of works by Mexican and American composers, many of which were commissioned by him.
Mr. Prieto has an extensive discography that covers labels including Naxos and Sony. Recent Naxos recordings include Rachmaninov Piano Concerto No. 2 & Études tableaux, Op. 33, with Boris Giltburg and the RSNO, which won a 2018 Opus Klassik award and was listed as a 2017 Gramophone's Critics' Choice, and a recording of Korngold's Violin Concerto with violinist Philippe Quint and the Orquesta Sinfónica de Minería, which received two Grammy nominations. His recording of the Elgar and Finzi violin concertos with Ning Feng was released on Channel Classics in 2018.
A graduate of Princeton and Harvard universities, Mr. Prieto studied conducting with Jorge Mester, Enrique Diemecke, Charles Bruck and Michael Jinbo.
-----
Carlos Miguel Prieto nació en una familia musical de ascendencia española y francesa en la Ciudad de México. Su carismática dirección orquestal está caracterizada por su dinamismo y la expresividad de sus interpretaciones. Es reconocido como un líder cultural de gran influencia y es el principal director de orquesta mexicano de su generación. Ha sido el Director Musical de la Orquesta Sinfónica Nacional de México, la orquesta más importante del país, desde 2007. Fue nombrado Director de la Sinfónica de North Carolina comenzando en la temporada 2023-24. También se ha desempeñado como Director Musical de la Filarmónica de Luisiana desde 2006, donde ha liderado la renovación cultural de New Orleans tras el huracán Katrina. En 2008 fue nombrado Director Musical de la Orquesta Sinfónica de Minería, una orquesta cuidadosamente seleccionada que realiza una serie de programas de verano de dos meses en la Ciudad de México.
Entre sus más recientes trabajos se destacan sus debuts con la Filarmónica de Londres, Minnesota Orchestra, Orquesta Sinfónica de Castilla y León, BBC National Orchestra de Gales y Los Angeles Music Group, y su regreso a la NDR Elbphilharmonie, Frankfurt Symphony, Halle, Royal Liverpool Phiharmonic, Bournemouth Symphony, Strasbourg Phirharmonic y Auckland Philharmonia. Carlos Miguel Prieto es altamente solicitado como director invitado de muchas de las mejores orquestas de América del Norte, incluyendo las de Cleveland, Dallas, Toronto y Houston, y ha mantenido una relación particularmente cercana y exitosa con la Sinfónica de Chicago.
Desde 2002, junto a Gustavo Dudamel,  Prieto ha dirigido la Youth Orchestra of the Americas (YOA)(Orquesta Juvenil de las Américas), que atrae a músicos jóvenes de todo el continente americano. Un defensor acérrimo de la educación musical, se desempeñó como Director Principal de la YOA desde su formación hasta 2011 cuando fue designado Director Musical. A principios de 2010 dirigió la YOA junto a Valery Gergiev con motivo del 40 aniversario del Foro Económico Mundial en Carnegie Hall. En 2018 dirigió la orquesta en un tour de programas de verano europeos, el cual incluyó presentaciones en los festivales de Rheingau y Edimburgo, así como en la Elbphilharmonie de Hamburgo. También ha trabajado regularmente con la National Youth Orchestra (Orquesta Nacional Juvenil) de Gran Bretaña y la NYO2 en Nueva York y Miami Beach.
Carlos Miguel Prieto es reconocido por abogar por la música latinoamericana,  así como por su dedicación a la música nueva. Ha dirigido más de 100 estrenos mundiales de obras de compositores mexicanos y estadounidenses, muchas de las cuales fueron comisionadas por él.
Posee una extensa discografía que cubre sellos como Naxos y Sony. Grabaciones recientes con Naxos incluyen el Concierto No. 2 para piano de Rachmaninov y Etudes tableaux, Op. 33, con Boris Giltburg y la RSNO, la cual ganó un premio Opus Klassil en 2018 y fue catalogada como Gramophone's Critics Choice en 2017;  y una grabación del Concierto para  violín de Korngold con el violinista Philip Quint y la Orquesta Sinfónica de Minería, la cual recibió dos nominaciones al Grammy. Su grabación de los conciertos para violín de Elgar y Finzi con Ning Feng fue lanzada en Channel Classics en 2018.
Graduado de Princeton y Harvard, Prieto estudio dirección orquestal con Jorge Mester, Enrique Diemecke, Charles Bruck y Michael Jinbo.
Gil Shaham, violin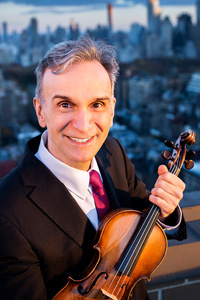 Gil Shaham is one of the foremost violinists of our time: his flawless technique combined with his inimitable warmth and generosity of spirit has solidified his renown as an American master. He is sought after throughout the world for concerto appearances with leading orchestras and conductors, and regularly gives recitals and appears with ensembles on the world's great concert stages and at the most prestigious festivals.
Mr. Shaham's highlights of recent years include a recording and performances of J.S. Bach's complete sonatas and partitas for solo violin, and recitals with his long time duo partner pianist, Akira Eguchi. He regularly appears with the Berlin Philharmonic; Boston, Chicago, and San Francisco symphonies; Israel, Los Angeles and New York philharmonics; Orchestre de Paris; and in multi-year residencies with the orchestras of Montreal, Stuttgart and Singapore. 
Mr. Shaham has more than two dozen concerto and solo CDs to his name, earning multiple Grammy Awards, a Grand Prix du Disque, Diapason d'Or and Gramophone Editor's Choice. His most recent recording in the series 1930s Violin Concertos Vol. 2 was nominated for a Grammy Award. His latest recording of Beethoven and Brahms Concertos with The Knights was released in 2021.
Mr. Shaham was awarded an Avery Fisher Career Grant in 1990, and in 2008, received the coveted Avery Fisher Prize. In 2012 he was named "Instrumentalist of the Year" by Musical America. He plays the 1699 "Countess Polignac" Stradivarius, and lives in New York City with his wife, violinist Adele Anthony, and their three children.
2018 NYO2 Members
Alabama
Emma Boyd, Violin (Madison)
Bethany Simon, Violin (Montgomery)
Arizona
Vincent Louis Claes, Cello (Phoenix)
Cruise Myers, Bass (Gilbert) *
Caleb York, Timpani/Percussion (Tucson)
California
Ashni Budge, Violin (La Verne)
Darren Chiu, Oboe (Chino Hills)
Ingrid Hernandez, Bassoon (Los Angeles)
Magy Hernandez, Viola (Los Angeles)
Edward Jung, Violin (San Jose) *
Shinwho Kwun, Viola (San Ramon) *
Skyler I. Lee, Bass (Los Angeles) *
Susan Lee, Violin (San Diego)
Scott Quirk, Flute (Simi Valley) *
Heejun Park, Clarinet (Irvine)
Anoush Pogossian, Clarinet (Glendale)
Matthew Sakiyama, Violin (Millbrae)
Joseph Yu, Trumpet (San Francisco)
Katherine Zhu, Violin (San Diego) *
Connecticut
Tyler Tan, Violin (Cheshire)
Florida
Luis Cortez, Trombone (Weston) *
Anthony De Pena, Cello (Miami)
Ethan Hillman, Violin (Tampa)
Ethan S. Olaguibel, Bass (Miami) * ◊
Adam Savage, Viola (Port St. Lucie)
Jiddu Vega, Violin (Miami) *
Hawaii
Yudai Leonzon, Violin (Honolulu) *
Idaho
Danielle Jöstlein, Horn (Coeur d'Alene)
Julia Marielle Tan, Violin (Boise)
Illinois
Jaila Carr, Horn (Chicago)
Avi Gotskind, Timpani/Percussion (Chicago) *
Angelica Lorenzo, Timpani/Percussion (Chicago) *
Indiana
Priyanka Gohal, Harp (Indianapolis)
Kansas
Bethlehem Kelley, Violin (Lenexa) *
Allen Zhang, Violin (Manhattan)
Maryland
Arthur Hu, Bassoon (Bethesda)
Samuel Keh, Timpani/Percussion (Ellicott City)
Esther Kim, Oboe (Potomac)
Tracie Kwon, Flute (Germantown) *
Liam Mcconlogue, Horn (Greenbelt)
Aneesha Sampath, Violin (North Potomac)
David Stephens III, Viola (Ellicott City) *
Hannah Suh, Horn (Potomac)
Grace Tifford, Tuba (Rockville)
Laressa Winters, Bassoon (Columbia)
Sean Yu, Cello (Ellicott City)
Massachusetts
Kaede Ishidate, Cello (Holden)
Thomas Juhasz, Oboe (Carlisle)
Alex Russell, Trombone (Cambridge)
Michigan
Soyoung Cho, Violin (Rochester)
Nevada
Tristin Saito, Viola (Las Vegas)
New Jersey
Laura Futamura, Flute (Middletown)
Danyoung Kim, Viola (Montvale)
Gregory Llewellyn, Cello (Englewood) *
Valerie Mun, Violin (Old Tappan) *
New York
Parker Bruce, Trumpet (Baldwinsville)
Jaycee Cardoso, Violin (Huntington Station)
Lawrence Chai, Viola (Mount Sinai)
Rosee Head, Violin (New Hartford)
Leila Hudson, Harp (Yorktown Heights)
Luna Simone-Gonzalez, Viola (New York)
North Carolina
Aaron Chen, Cello (Asheville)
Ohio
Jamie Park, Bass (Beachwood)
Oregon
Thomas A. Green, Bass (Medford)
Pennsylvania
Myles Bell, Violin (West Chester)
Aaron Berger, Violin (Pittsburgh)
Peirce Ellis, Viola (Philadelphia) *
Sabine Jung, Cello (West Chester) *
Gregory Miguel Padilla, Bass (Philadelphia)
Sarah G. Yoon, Cello (Newton Square)
Puerto Rico
Rafniel E. Rios Babilonia, Trumpet (Aguada) *
South Carolina
Payton Lee, Violin (Duncan)
Texas
Dylan Fernandez de Lara, Violin (San Antonio)
Gabriel Ortiz, Trumpet (San Marcos) *
Adolfo Pena, Horn (Brownsville) *
Tyrun Willoughby Jr., Viola (Corpus Christi)
Virginia
Liam J. Barron, Bass Trombone (Ashburn)
Bryan Kim, Violin (Blacksburg)
West Virginia
Armâan Karimpour, Clarinet (Ona)

* Prior NYO2 member
◊ Member of NWS's 2018 Side-by-Side Ensemble
NWS Fellows and Alumni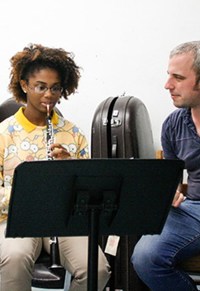 VIOLIN
Alex Gonzalez
Christen Greer
Sarah Peters
Christopher Robinson
VIOLA
Daniel Fellows
Helen Hess
CELLO
Michael Frigo
Blake-Anthony Johnson
BASS
Andrew Chilcote
Michael Fuller
Blake Hinson (Assistant Principal Bass, New York Philharmonic)
FLUTE
Seth Morris (Acting Principal Flute, Metropolitan Opera Orchestra)
CLARINET
Alex Laing (Principal Clarinet, Phoenix Symphony)
Daniel Parrette
BASSOON
Francisco Joubert Bernard
HORN
Priscilla Rinehart
Denise Tryon (Professor, Peabody Conservatory of Music)
PERCUSSION
Marc Damoulakis (Principal Percussion, The Cleveland Orchestra)
Joseph Kelly
Jacob Nissly (Principal Percussion, San Francisco Symphony)
Erich Rieppel