Events & Tickets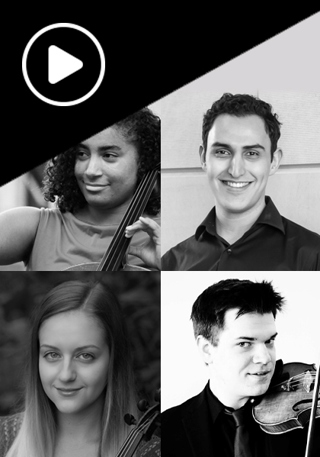 Free
Cataclysm and Optimism
Online Event
Wednesday, June 30, 2021 at 7:00 PM
Program
WAYS TO WATCH ON JUN. 30:


The strings of summer! Join NWS Fellows for an evening of sharing chamber music together through the unique pairing of two string quartets by Wolfgang Amadeus Mozart and Dmitri Shostakovich. Shostakovich originally titled his Third Quartet's opening movement "Blithe ignorance of the future cataclysm." Although the music begins rather optimistic, we soon enter a world of sarcasm, fear and sorrow. In contrast, Mozart's "Spring" Quartet invites the listener to a cheerful, lightly humored sound environment.
Cataclysm and Optimism is an NWS BLUE project. Fellow-driven projects are sponsored in part by the Maxine and Stuart Frankel Foundation.
NWS thanks its 2020-21 donors.
Program
Wolfgang Amadeus Mozart
(1756-1791)

Quartet No. 14 in G major for Strings, K. 387, "Spring"  (1785)

Allegro vivace assai 
Menuetto  
Andante cantabile 
Molto allegro 
Dmitri Shostakovich
(1906-1975)

Quartet No. 3 in F major for Strings, Op. 73 (1946)

Allegretto (Blithe ignorance of the future cataclysm) 
Moderato con moto (Rumblings of unrest and anticipation) 
Allegro non troppo (Forces of war unleashed) 
Adagio (In memory of the dead) 
Moderato—Adagio (The eternal question: why? and for what?)