Events & Tickets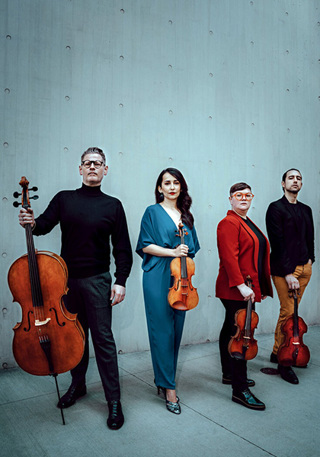 Chamber Music
Chamber Music: The Catalyst Quartet
New World Center, Michael Tilson Thomas Performance Hall
The Grammy Award-winning Catalyst Quartet is defying traditions in redefining the classical music experience. Featuring NWS alumna Karla Donehew Perez, the Quartet joins Fellows for an intimate afternoon of chamber music. Frederick Tillis penned his Spiritual Fantasy No. 12 to pay "tribute to the essence of the musical expressions of pathos and triumph over worldly obstacles." Lush melodies saturate Richard Strauss' and Max Bruch's romantic works for strings, while Roberto Sierra mashes two popular genres—string quartet and wind quintet—into one. Marimba and violin are fiery partners in Hot Pepper, Bright Sheng's ode to China's Sichuan province.
---
This concert is part of the Chamber Music Series. NWS Fellows and acclaimed guest artists collaborate at these intimate concerts, performing a wide range of repertoire for small ensembles and chamber orchestra. Subscriptions for this 6-concert series are $72 ($12/concert). Click here to explore the full subscription! 
COMPOSE YOUR OWN SUBSCRIPTION PACKAGE! 
Want to try a little of everything? Customize your own subscription of three or more concerts to exercise full creative freedom while enjoying all the flexibility and perks of being a New World Symphony subscriber. Click here to build your CYO subscription or call the Box Office at 305.673.3331 to compose your series today. 
SUBSCRIBERS ENJOY THE BEST OF NWS! 
As an NWS Subscriber, you receive amazing benefits to enjoy throughout the season, including the best seats for the lowest prices and access to our incredibly talented Fellows. Click here to learn more! 
Tickets no longer available online.
Program
Frederick C. Tillis
(1930-2020)
Approx. Duration: 5 minutes

Spiritual Fantasy, No. 12 (1988)

Christina Choi, Yankı Karataş, violin
Carolyn Farnand, viola
Justin Park, cello
Richard Strauss
(1864-1949)
Approx. Duration: 10 minutes

String Sextet from Capriccio, Op. 85 (1940-41)

Catalyst Quartet Members
Sabrina Parry, violin
Nicholas Pelletier, viola
Vivian Chang, cello
Roberto Sierra
(b. 1953)
Approx. Duration: 18 minutes

Concierto de Cámara for Wind Quintet and String Quartet 
(2008)

Obertura 
Primer Interludio 
Juegos 
Segundo Interludio 
Danza
Catalyst Quartet
Alexandria Hoffman, flute
Tanavi Prabhu, oboe
Benjamin Cruz, clarinet
Eleni Katz, bassoon
Kyle Thompson, horn

Bright Sheng
(b. 1955)
Approx. Duration: 9 minutes

Hot Pepper for Violin and Marimba (2010)

Eighth Note = 50-52 
Quarter Note = 126-144
Shomya Mitra, violin
Ben Cornavaca, marimba
Max Bruch
(1838-1920)
Approx. Duration: 24 minutes

Octet in B-flat major for Strings (1920)

Allegro moderato 
Adagio 
Allegro molto 

Catalyst Quartet
Dominique Bégin, Hosanna Carella, violin
Peter Ayuso, viola
Josephine Kim, bass

Frederick C. Tillis
Spiritual Fantasy

, No. 12

(1988)

Approximate duration: 5 minutes
As a young boy, American composer, professor and jazz saxophonist Frederick Tillis joined his elementary school's drum and bugle corps. By age 12, he was a skilled enough trumpeter to be hired by several professional jazz bands, thereby earning the nickname "Baby Tillis." He began playing the saxophone in high school, completed his PhD at the University of Iowa and held major faculty and administrative appointments at the University of Massachusetts Amherst. In addition to writing a prolific number of compositions in a wide variety of styles, Tillis also published several books of poetry and a jazz theory textbook.
Tillis's compositions were influenced by many historical and contemporary musical styles and traditions. In 1968, he began incorporating African American spirituals into his music, writing a series of works for string quartet, choir and solo voice. His Spiritual Fantasy No. 12 was composed in 1995, and the movement featured on today's program draws inspiration from the spiritual "Wade in the Water." Tillis says that his Spiritual Fantasies "pay tribute to the essence of the musical expressions of pathos and triumph over worldly obstacles encountered by a people who found hope and strength through faith in God."
Richard Strauss
String Sextet from

Capriccio

, Op. 85

(1940-41)

Approximate duration: 10 minutes
In 1942 Richard Strauss wrote his final opera, Capriccio. The work is a series of witty and philosophical conversations that address the enduring question of whether the text or the music is more important in opera. Set in 1775 at the chateau of the French Countess Madeleine, Strauss's score blends elements of neoclassicism with Strauss's signature chromatic vocabulary. As such, the score pays homage to the period of the opera's setting.
Clever double meanings permeate the plot. The Countess, for example, has two suitors, one a poet and the other a composer. She instructs both men to collaboratively create a new opera that will show off the poet's prose and the composer's music, ultimately hoping that this will help her to make a final decision about which is more important. This humorous ploy is also meant to help her decide which man to marry, although she remains coquettishly undecided about all such issues at the end of the opera.
Capriccio opens with a String Sextet that functions as both a musical introduction to the drama and also the first topic of conversation in the opera. In the middle of the piece, the curtain rises to reveal that the Sextet is actually a new work written by the Countess's composer suitor, which is being performed in her parlor. The first violin introduces a melodic motive at the beginning of the Sextet that recurs throughout the piece. Each time it comes back, it is in dialogue with other musical material, imitating the conversations that will follow in the opera.
Roberto Sierra
Concierto de C

á

mara

for Wind Quintet and String Quartet

 


(2008)

Approximate duration: 18 minutes
Puerto Rican composer Roberto Sierra's music has been premiered and performed by leading orchestras and chamber ensembles across the United States and Europe. His 2003 Academy Award in Music by the American Academy of Arts and Letters lauds Sierra as a composer who "writes brilliant music, mixing fresh and personal melodic lines with sparkling harmonies and striking rhythms." In 2017 he was awarded the Tomas Luis de Victoria Prize, the highest honor given in Spain to a composer of Spanish or Latin American origin, by the Society of Spanish Composers Foundation.
Concierto de Cámara was commissioned by Chamber Music Northwest and premiered by Imani Winds. Throughout the five-movement work, Sierra masterfully infuses contemporary classical idioms with Latin American elements. Every member of the ensemble is featured at particular moments in the piece, and Sierra creates an intriguing dialogue between each part.
Concierto de Cámara begins with a driving and exuberant overture, which is followed by an interlude. Juegos (Games) features playful musical conversations that lead into a second interlude. The piece concludes with a movement labeled Danza, which is characterized by its virtuosity and salsa rhythms. In his review of the piece, David Stabler wrote that Concierto de Cámara "danced off the stage… preserving the integrity of each ensemble while demanding intricate interplay among the individual players. The crosscourt volleys amid the rushing scales were exhilarating to behold."
Max Bruch
Octet in B-flat major for Strings

(1920)


Approximate duration: 24 minutes

Max Bruch wrote more than 200 works, the most famous of which are his First Violin Concerto and the Scottish Fantasy for Violin and Orchestra. While these pieces have been part of the standard repertoire since their premieres, Bruch's final work, the String Octet in B-flat major, remained in obscurity for much of the 20th century. Written just before Bruch's death in 1920, the piece was not performed until a BBC broadcast in 1937. The Octet was rediscovered yet again in the 1990s, and it was published for the first time in 1996.

Bruch's Octet is scored for four violins, two violas, cello and double bass. At the time of its composition, Bruch was mourning the death of his wife and the dire state of post-WWI Germany. The three-movement Octet begins with a movement in sonata form. A slow introduction led by the violas is followed by a faster section with two themes, the first passionate and dramatic, and the second more gentle and lyrical. The slow, cantabile second movement begins with a haunting theme in the dark key of E-flat minor that is presented by the first violin. A faster middle section is based on a brighter, jaunty theme in the key of B major, which is then followed by a march-like section, a repeat of the jaunty theme, and a quiet ending. The playful, scherzo-like third movement ends with triumphant joy, perhaps indicative of Bruch's hope for better times.

– © Dr. Paula Maust

Dr. Paula Maust is an Assistant Professor of Music Theory at the Peabody Institute of the Johns Hopkins University and the creator of Expanding the Music Theory Canon, an extensive online collection of music theory examples by historical women and/or people of color. A book based on the website is forthcoming from SUNY Press, and she has also published articles in Women & Music and The Journal of the International Alliance for Women in Music. As a harpsichordist and organist, Paula conducts baroque opera from the keyboard, most recently directing a program of opera scenes by early modern women at Peabody. 
Frederick C. Tillis
(1930-2020)


Spiritual Fantasy, No. 12 (1988)
Christina Choi, Yankı Karataş, violin
Carolyn Farnand, viola
Justin Park, violonchelo
Richard Strauss
(1864-1949)


String Sextet de Capriccio, Op. 85 (1940-41)
Catalyst Quartet Members
Sabrina Parry, violín
Nicholas Pelletier, viola
Vivian Chang, violonchelo
Concierto de Cámara para Quinteto de Vientos y Cuarteto de Cuerdas 
(2008)
Obertura 
Primer Interludio 
Juegos 
Segundo Interludio 
Danza
Catalyst Quartet
Alexandria Hoffman, flauta
Tanavi Prabhu, oboe
Benjamin Cruz, clarinete
Eleni Katz, fagot
Kyle Thompson, trompa

Hot Pepper para violín y marimba (2010)
Eighth Note = 50-52 
Quarter Note = 126-144
Shomya Mitra, violín
Ben Cornavaca, marimba
Octeto en Si bemol Mayor para Cuerdas (1920)
Allegro moderato 
Adagio 
Allegro molto 

Catalyst Quartet
Dominique Bégin, Hosanna Carella, violín
Peter Ayuso, viola
Josephine Kim, contrabajo

Frederick C. Tillis
Mvt. II (Wade in the Water) de

Spiritual Fantasy

, No. 12
 

(1988)


Duración aproximada: 5 minutos

Cuando era niño, el compositor, profesor y saxofonista de jazz Frederick Tillis formó parte del cuerpo de percusión y cornetas de su escuela primaria. A los 12 años ya se había convertido en un trompetista lo suficientemente hábil para ser contratado por varias bandas de jazz profesionales, ganándose el apodo de "Baby Tillis". Comenzó a tocar el saxofón en la preparatoria, completó su doctorado en la Universidad de Iowa y ocupó importantes cargos docentes y administrativos en la Universidad de Massachusetts Amherst. Además de escribir un gran número de composiciones en una amplia variedad de estilos, Tillis también publicó varios libros de poesía y un libro de texto de teoría del jazz.

Las obras de Tillis fueron influenciadas por muchos estilos y tradiciones musicales históricas y contemporáneas. En 1968, comenzó a incorporar spirituals afroamericanos en su música, escribiendo una serie de obras para cuarteto de cuerdas, coro y voz solista. Su Spiritual Fantasy (Fantasía Espiritual) No. 12 fue compuesta en 1955, y el movimiento incluido en el programa de hoy se inspira en el spiritual "Wade in the Water" (Caminar por el agua). Tillis cuenta que sus Spirituals Fantasies son "un tributo a la esencia de las expresiones musicales de dificultad y triunfo sobre los obstáculos mundanos enfrentados por un pueblo que encontró fuerza y esperanza a través de su fe en Dios."
Richard Strauss
String Sextet de

 

Capriccio

, Op. 85
 

(1940-41)


Duración aproximada: 10 minutos

En 1942, Richard Strauss escribió su última ópera, Capriccio. La obra es una serie de conversaciones filosóficas y ocurrentes que abordan la interrogante habitual de qué es más importante en una ópera, el texto o la música. Ambientada en 1775 en el castillo de la condesa francesa Madeleine, la partitura de Strauss combina elementos del neoclasicismo con su vocabulario cromático característico. Como tal, la partitura rinde homenaje al período en el cual se desarrolla la obra.

Ingeniosos dobles sentidos impregnan la trama. La condesa, por ejemplo, tiene dos pretendientes, uno poeta y el otro compositor. Ella les pide a ambos que colaboren en la creación de una nueva ópera que resalte  la prosa del poeta y la música el compositor, con la esperanza de que esto la ayude a tomar una decisión final sobre cuál es más importante. Esta humorística estrategia también está destinada a ayudarla a decidir con cuál de los dos casarse, aunque ella permanece coquetamente indecisa sobre todos esos temas al final de la ópera.

Capriccio abre con un sexteto de cuerdas que funciona tanto de introducción musical al drama como de primer tema de conversación en la ópera. En el medio de la obra, el telón sube para revelar que el Sexteto es realmente una pieza nueva escrita por el compositor pretendiente de la condesa, la cual está siendo interpretada en su salón. El primer violín introduce un motivo melódico al principio del Sexteto que recurre a través de la obra. Cada vez que regresa, está dialogando con otro material musical, imitando las conversaciones que le seguirán en la ópera.
Roberto Sierra
Concierto de C

á

mara

 para

Vientos y Cuarteto de Cuerdas


(2008)

Duración aproximada: 18 minutos
La música del compositor puertorriqueño Roberto Sierra ha sido estrenada e interpretada por importantes orquestas y conjuntos de cámara a través de los Estados Unidos y Europa. Su premio de la Academia Estadounidense de las Artes y Letras en 2003 alaba a Sierra como un compositor que "escribe música brillante, mezclando líneas melódicas frescas y personales con increíbles armonías  y sorprendentes ritmos." En 2017 recibió el premio Tomás Luis de Victoria, la máxima distinción otorgada en España a un compositor de origen español o latinoamericano, por la Fundación Sociedad de Compositores Españoles.
Concierto de Cámara fue encargado por Chamber Music Northwest y estrenada por Imani Winds.  A través de la obra de cinco movimientos, Sierra combina magistralmente idiomas clásicos contemporáneos con elementos latinoamericanos. Cada miembro del conjunto resalta en determinados momentos durante la pieza, y Sierra crea un intrigante diálogo entre cada parte.
Concierto de Cámara comienza con una enérgica y exuberante obertura, seguida por un interludio. Juegos presenta graciosas conversaciones musicales que conducen a un segundo interludio. La pieza concluye con un movimiento llamado Danza, el cual se caracteriza por su virtuosismo y sus ritmos de salsa. En su crítica de la obra, David Stabler escribió que Concierto de Cámara "bailó fuera del escenario…preservando la integridad de cada conjunto mientras exigía  una interacción intrincada de cada intérprete. Las descargas cruzadas entre las veloces escalas fueron emocionantes de contemplar."
Max Bruch
Octeto en Si bemol Mayor para Cuerdas (1920)

Duración aproximada: 24 minutos
Max Bruch escribió más de 200 obras, entre las más famosas se encuentran su Primer Concierto para Violín y la Fantasía Escocesa para Violín y Orquesta. Aunque estas piezas han sido parte del repertorio standard desde su estreno, la última obra de Bruch, el Octeto de Cuerdas en Si bemol Mayor, permaneció en la oscuridad por una gran parte del siglo XX. Escrita justo antes de la muerte de Bruch en 1920, la obra no se interpretó hasta una transmisión de la BBC en 1937. El Octeto fue redescubierto en los años 90, y se publicó por primera vez en 1996.
El Octeto de Bruch está escrito para cuatro violines, dos violas, chelo y contrabajo. Cuando la compuso, Bruch estaba de luto por la muerte de su esposa y por el terrible estado en que se encontraba Alemania después de la Primera Guerra Mundial. El Octeto de tres movimientos comienza con un movimiento en forma sonata. A una introducción lenta liderada por las violas le sigue una sección más rápida con dos temas, el primero apasionado y dramático, y el segundo más suave y lírico. El lento cantábile del segundo movimiento comienza con un inquietante tema en la oscura tonalidad de Mi bemol menor y es presentado por el primer violín. Una sección central más rápida está basada en un tema más brillante y alegre en la tonalidad de Si mayor, a la cual le sigue una sección parecida a una marcha, una repetición del tema alegre, y un tranquilo final. El tercer movimiento nos recuerda a un scherzo por su sonoridad juguetona, y termina con una alegría triunfante, quizás indicativa de la esperanza de Bruch de que vendrían tiempos mejores.
– © Dr. Paula Maust
Dr. Paula Maust es Profesora Asistente de Teoría Musical en el Instituto Peabody de la Universidad John Hopkins y creadora del sitio web Expanding the Music Theory Canon, una extensa colección de ejemplos de teoría musical escritos por mujeres históricas y/o personas de color. Un libro basado en el sitio web será publicado próximamente por SUNY Press, y también ha publicado artículos en Women & Music y The Journal of the International Alliance for Women in Music. Como clavecinista y organista dirige ópera barroca desde el teclado, y más recientemente dirigió un programa de escenas de ópera de mujeres modernas en Peabody.
Translation by Maria Paulina García
Catalyst Quartet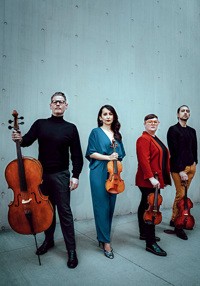 Hailed by The New York Times at its Carnegie Hall debut as "invariably energetic and finely burnished… playing with earthy vigor," the Grammy Award-winning Catalyst Quartet believes in the unity that can be achieved through music and imagine their programs and projects with this in mind, redefining and reimagining the classical music experience.
Catalyst Quartet has toured widely throughout the United States and abroad, including sold-out performances at the Kennedy Center in Washington D.C., Chicago's Harris Theater, Miami's New World Center and Stern Auditorium at Carnegie Hall in New York City. The Quartet has been guest artists with the Cincinnati Symphony, New Haven Symphony, Saint Paul Chamber Orchestra and the Orquesta Filarmónica de Bogotá, and has served as principal players and featured ensemble with the Sphinx Virtuosi on six national tours. They have been invited to perform by prominent music festivals ranging from Mainly Mozart in San Diego, to the Sitka Music Festival and Juneau Jazz and Classics in Alaska, and the Grand Canyon Music Festival, where they appear annually. Catalyst Quartet was ensemble-in-residence at the Vail Dance Festival in 2016. In 2014, they opened the Festival del Sole in Napa, California with Joshua Bell and participated in England's Aldeburgh Music Foundation String Quartet Residency with two performances in the Jubilee Hall.
Recent seasons have brought international engagements in Russia, South Korea, Mexico, Argentina, Colombia and Puerto Rico, along with regular tours throughout the United States. Residents of New York City the ensemble has performed at The Metropolitan Museum of Art, City Center, Columbia University's Miller Theatre, The New School (for Schneider Concerts), and Lincoln Center. They played six concerts with jazz vocalist Cécile McLorin Salvant for Jazz at Lincoln Center. The subsequent recording won the 2018 Grammy Award for Best Jazz Vocal Album. Catalyst Quartet launched its own New York series CQ@Howl in 2018.
Recent collaborations include Encuentros, a program with cellist Gabriel Cabezas with the premiere of a new work by Cuban composer Jorge Amado Molina; (im)igration, with the Imani Winds; and CQ Minute, 10 miniature string quartets commissioned for the quartet's 10th anniversary, with works by Andy Akiho, Kishi Bashi, Billy Childs, Paquito D'Rivera, Tania Leon, Jessie Montgomery, Kevin Puts, Caroline Shaw, Joan Tower, and a to-be-named composer selected from a national call for scores, which premieres in 2022. UNCOVERED, a multi-CD series of recordings for Azica Records celebrating beautifully crafted works by composers overlooked and sidelined because of their race or gender. Volume 1, released to acclaim in February 2021 with clarinetist Anthony McGill and pianist Stewart Goodyear, includes the string quartet and quintets of Samuel Coleridge-Taylor. Forthcoming releases will feature music of Florence Price, Coleridge-Taylor Perkinson, William Grant Still and George Walker, among others. In October 2021 San Francisco Performances opened their season with the first of a four-concert Uncovered series.
Catalyst Quartet's other recordings span the ensemble's scope of interests and artistry. The Bach/Gould Project, features the Quartet's arrangement of J.S. Bach's Goldberg Variations paired with Glenn Gould's String Quartet Op. 1. Strum is the debut album of composer Jessie Montgomery, former Catalyst Quartet violinist. Bandaneon y cuerdas features tango-inspired music for string quartet and bandoneon by JP Jofre, and Dreams and Daggers is their Grammy Award-winning album with Cecile McLorin Salvant.
Catalyst Quartet combines a serious commitment to diversity and education with a passion for contemporary works. The ensemble serves as principal faculty at the Sphinx Performance Academy at The Cleveland Institute of Music and Curtis Institute of Music. Catalyst Quartet's ongoing residencies include interactive performance presentations and workshops with Native American student composers at the Grand Canyon Music Festival and the Sphinx Organization's Overture program, which delivers access to music education in Detroit and Flint, Michigan. Past residencies have included concerts and master classes at the University of Michigan, University of Washington, Rice University, Houston's Society for the Performing Arts, Cincinnati College-Conservatory of Music, The Virginia Arts Festival and Pennsylvania State University, the In Harmony Project in England, The University of South Africa and The Teatro De Bellas Artes in Cali, Colombia. The ensemble's residency in Havana, Cuba for the Cuban American Youth Orchestra in January 2019, was the first by an American string quartet since the revolution.

Catalyst Quartet members hold degrees from the Cleveland Institute of Music, The Juilliard School, Curtis Institute of Music and New England Conservatory. Catalyst Quartet is a Sphinx ensemble and proudly endorses Pirastro strings. Learn more at www.catalystquartet.com.
Musicians of the New World Symphony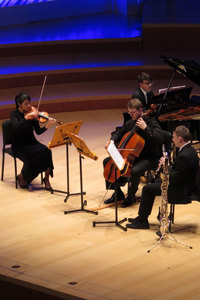 A laboratory for the way music is taught, presented and experienced, the New World Symphony consists of 87 young musicians who are granted fellowships lasting up to three years. The fellowship program offers in-depth exposure to traditional and modern repertoire, professional development training and personalized experiences working with leading guest conductors, soloists and visiting faculty. 
NWS Fellows take advantage of the innovative performance facilities and state-of-the art practice and ensemble rooms of the Frank Gehry-designed New World Center, the campus of the New World Symphony and home of the Knight New Media Center.
In the hopes of joining NWS, nearly 1,000 recent music school and conservatory graduates compete for available fellowships each year. The Fellows are selected for this highly competitive, prestigious opportunity based on their musical achievement and promise, as well as their passion for the future of classical music.