Events & Tickets
Chamber Music
Chamber Music: This Is Now
New World Center, Michael Tilson Thomas Performance Hall
Sunday, March 26, 2023 at 2:00 PM
Program
With a commitment to cultivating a more curious and engaged society through music, the International Contemporary Ensemble amplifies creators whose work propels and challenges how music is made and experienced. Members of the ensemble join NWS Fellows in two world premieres by Sofía Rocha and Fernanda Navarro. Stately organ chorales by ultra-Romantic Johannes Brahms take on new splendor in these arrangements for brass. Dmitri Shostakovich's Piano Quintet is one of his most popular works and features a demanding piano part that the composer premiered himself.
---
This concert is part of the Chamber Music Series. NWS Fellows and acclaimed guest artists collaborate at these intimate concerts, performing a wide range of repertoire for small ensembles and chamber orchestra. Subscriptions for this 6-concert series are $72 ($12/concert). Click here to explore the full subscription! 
COMPOSE YOUR OWN SUBSCRIPTION PACKAGE! 
Want to try a little of everything? Customize your own subscription of three or more concerts to exercise full creative freedom while enjoying all the flexibility and perks of being a New World Symphony subscriber. Click here to build your CYO subscription or call the Box Office at 305.673.3331 to compose your series today.  
SUBSCRIBERS ENJOY THE BEST OF NWS! 
As an NWS Subscriber, you receive amazing benefits to enjoy throughout the season, including the best seats for the lowest prices and access to our incredibly talented Fellows. Click here to learn more! 
Loading Concert Information
Program
Sofía Rocha
( b. 1996)
Approx. Duration: 11 minutes

New Work (2023; world premiere of NWS commission )

String Quartet (2023; world premiere of NWS commission)

Johannes Brahms
(1833-1897)
Arranged by Simon Cox
Approx. Duration: 10 minutes

Chorale Preludes for Brass Septet, Op. 122 (1896)

No. 1: Mein Jesu, der du mich 
No. 7: O Gott, du frommer 
No. 4: Herzlich tut mich erfreunen
Dmitri Shostakovich
(1906-1975)
Approx. Duration: 34 minutes

Quintet in G minor for Piano and Strings, Op. 57
(1940)

Prelude: Lento  
Fugue: Adagio 
Scherzo: Allegretto 
Intermezzo: Lento 
Finale: Allegretto
International Contemporary Ensemble
With a commitment to cultivating a more curious and engaged society through music, the International Contemporary Ensemble – as a commissioner and performer at the highest level – amplifies creators whose work propels and challenges how music is made and experienced.
The Ensemble's 35 members are featured as soloists, chamber musicians, commissioners and collaborators with the foremost musical artists of our time. Works by emerging composers have anchored the Ensemble's programming since its founding in 2001, and the group's recordings and digital platforms highlight the many voices that weave music's present.
GUIDING PRINCIPLES & VALUES
The International Contemporary Ensemble strives to cultivate a mosaic musical ecosystem that honors the diversity of human experience and expression by commissioning, developing and performing the works of living artists. The Ensemble is a collective of musicians, digital media artists, producers and educators who are committed to creating collaborations built on equity, belonging and cultural responsiveness. Now in its third decade, the Ensemble continues to build new digital and live collaborative environments that strengthen artist agency and musical connections around the world.
We at the International Contemporary Ensemble believe that as a collective committed to advancing experimental music, it is our responsibility to challenge our biases and practices around who performs, or has their works performed, on the world's stages. We acknowledge that Western European classical music has excluded individuals based on wealth, race, sex, pedigree, background, gender-identity, disability, and sexual orientation. We are actively making changes to all entry points to our organization to ensure that Black, Indigenous and/or People of Color are represented throughout the organization and on the world's stages, and that our operations and decision-making structures support building spaces of belonging for everyone involved in the process of developing new music.
MORE ABOUT THE ENSEMBLE
Described as "America's foremost new-music group" (The New Yorker), the Ensemble has become a leading force in new music throughout the last 20 years, having premiered over 1,000 works and having been a vehicle for the workshop and performance of thousands of works by student composers across the U.S. The Ensemble's composer-collaborators—many who were unknown at the time of their first Ensemble collaboration—have fundamentally shaped its creative ethos and have continued to highly visible and influential careers, including MacArthur Fellow Tyshawn Sorey; long-time Ensemble collaborator, founding member, and 2017 Pulitzer Prize-winner Du Yun; and the Ensemble's founder, 2012 MacArthur Fellow, and first-ever flutist to win Lincoln Center's Avery Fisher Prize, Claire Chase.
A recipient of the American Music Center's Trailblazer Award and the Chamber Music America/ASCAP Award for Adventurous Programming, the International Contemporary Ensemble was also named Musical America's Ensemble of the Year in 2014. The group has served as artists-in-residence at Lincoln Center's Mostly Mozart Festival (2008-20), Ojai Music Festival (2015-17), and the Museum of Contemporary Art Chicago (2010-15). In addition, the Ensemble has presented and performed at festivals in the U.S. such as Big Ears Festival and Opera Omaha's ONE Festival, as well as abroad, including GMEM-Centre National de Création Musicale (CNCM) de Marseille, Vértice at Cultura UNAM, Warsaw Autumn, International Summer Courses for New Music in Darmstadt and Cité de la Musique in Paris. Other performance stages have included the Park Avenue Armory, ice floes at Greenland's Diskotek Sessions, Brooklyn warehouses, Metropolitan Museum of Art and boats on the Amazon River.
The International Contemporary Ensemble advances music technology and digital communications as an empowering tool for artists from all backgrounds. Digitice provides high-quality video documentation for artist-collaborators and provides access to an in-depth archive of composers' workshops and performances. The Ensemble regularly engages new listeners through free concerts and interactive, educational programming with lead funding from The Andrew W. Mellon Foundation.
Curricular activities include a partnership at The New School's College of Performing Arts (CoPA), along with a summer intensive program, called Ensemble Evolution, where topics of equity, diversity and inclusion build new bridges and pathways for the future of creative sound practices. Yamaha Artist Services New York is the exclusive piano provider for the Ensemble. Read more at www.iceorg.org and watch over 350 videos of live performances and documentaries at www.digitice.org. 
Musicians of the New World Symphony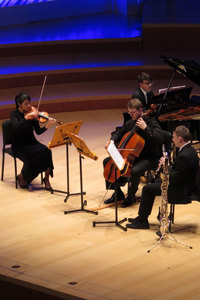 A laboratory for the way music is taught, presented and experienced, the New World Symphony consists of 87 young musicians who are granted fellowships lasting up to three years. The fellowship program offers in-depth exposure to traditional and modern repertoire, professional development training and personalized experiences working with leading guest conductors, soloists and visiting faculty. 
NWS Fellows take advantage of the innovative performance facilities and state-of-the art practice and ensemble rooms of the Frank Gehry-designed New World Center, the campus of the New World Symphony and home of the Knight New Media Center.
In the hopes of joining NWS, nearly 1,000 recent music school and conservatory graduates compete for available fellowships each year. The Fellows are selected for this highly competitive, prestigious opportunity based on their musical achievement and promise, as well as their passion for the future of classical music.