Events & Tickets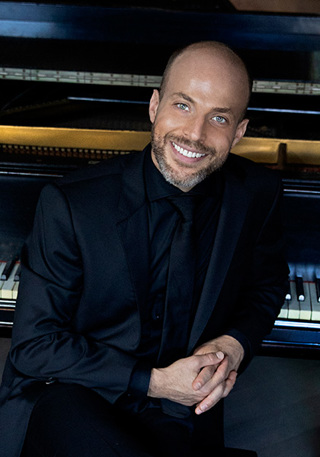 Chamber Music
Chamber Music: Weiss Plays Mozart
New World Center
Sunday, November 6, 2022 at 2:00 PM
Program
This concert is part of the Chamber Music Series. NWS Fellows and acclaimed guest artists collaborate at these intimate concerts, performing a wide range of repertoire for small ensembles and chamber orchestra. Subscriptions for this 6-concert series are $72 ($12/concert). Click here to explore the full subscription! 
COMPOSE YOUR OWN SUBSCRIPTION PACKAGE! 
Want to try a little of everything? Customize your own subscription of three or more concerts to exercise full creative freedom while enjoying all the flexibility and perks of being a New World Symphony subscriber. CYO series cannot be purchased online. Call the Box Office at 305.673.331 to compose your series today. 
SUBSCRIBERS ENJOY THE BEST OF NWS! 
As an NWS Subscriber, you receive amazing benefits to enjoy throughout the season, including the best seats for the lowest prices and access to our incredibly talented Fellows. Click here to learn more! 
Tickets on Sale 9/2/2022
Program
Albert Roussel
(1869-1937)
Approx. Duration: 7 minutes

Divertissement for Piano and Winds, Op. 6 (1906)

Dorothy Hindman
(b. 1966)
Approx. Duration: 12 minutes

Untitled I for Flute/Bass Flute, Violin, Percussion and Piano (2019)

Lili Boulanger
(1893-1918)
Approx. Duration: 10 minutes

D'un soir triste for Violin, Cello and Piano (1917-18)

Witold Lutosławski
(1913-1994)
Approx. Duration: 10 minutes

Dance Preludes for Nine Winds and Strings (1954)

Allegro molto 
Andantino 
Allegro giocoso 
Andante 
Allegro molto 
Wolfgang Amadeus Mozart
(1756-1791)
Approx. Duration: 27 minutes

Quartet No. 1 in G minor for Piano and Strings, K. 478
Orion Weiss, piano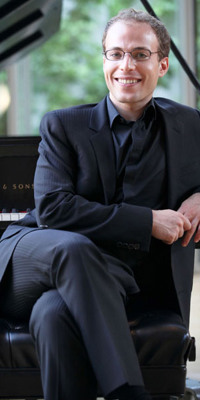 One of the most sought-after soloists in his generation of young American musicians, pianist Orion Weiss has performed with the major American orchestras, including the Chicago Symphony, Boston Symphony, Los Angeles Philharmonic and New York Philharmonic. His deeply felt and exceptionally crafted performances go far beyond his technical mastery and have won him worldwide acclaim. 
The 2015-16 season will see Mr. Weiss performing with the Iceland Symphony, among others, and in collaborative projects including those with the Pacifica Quartet and with Cho-Liang Lin and the New Orford String Quartet in a performance of the Chausson Concerto for Piano, Violin and Orchestra. The 2014-15 season featured Mr. Weiss' third performance with the Chicago Symphony as well as a North American tour with the world-famous Salzburg Marionette Theatre in an enhanced piano recital of Debussy's La Boîte à Joujoux. 
The 2013-14 season featured Mr. Weiss with orchestras around North America, including the orchestras of Cleveland, Milwaukee and Vancouver, and the 2012-13 season saw him in repeat engagements with the Baltimore Symphony and New World Symphony.In 2012 he released a recital album of Dvořák, Prokofiev and Bartók, and also spearheaded a recording project of the complete Gershwin works for piano and orchestra with his longtime collaborators the Buffalo Philharmonic and JoAnn Falletta. 
After being named the Classical Recording Foundation's Young Artist of the Year in September 2010, Mr. Weiss made his debut with the Boston Symphony at Tanglewood as a last-minute replacement for Leon Fleisher in 2011. In recent seasons he has also performed with the Los Angeles Philharmonic, San Francisco Symphony, Philadelphia Orchestra, Pittsburgh Symphony, Toronto Symphony Orchestra, National Arts Centre Orchestra and Orpheus Chamber Orchestra, and in duo summer concerts with the New York Philharmonic at both Lincoln Center and the Bravo! Vail Valley Festival. In 2005 he toured Israel with the Israel Philharmonic Orchestra conducted by Itzhak Perlman. 
Also known for his affinity and enthusiasm for chamber music, Mr. Weiss performs regularly with his wife, pianist Anna Polonsky, violinists James Ehnes and Arnaud Sussman, and cellist Julie Albers, as well as ensembles including the Pacifica Quartet. As a recitalist and chamber musician, Mr. Weiss has appeared across the U.S. at venues and festivals including Lincoln Center, the Ravinia Festival, Sheldon Concert Hall, the Seattle Chamber Music Festival, La Jolla Music Society SummerFest, Chamber Music Northwest, the Bard Music Festival, the Bridgehampton Chamber Music Festival, the Kennedy Center and Spivey Hall.  He won the 2005 William Petschek Recital Award at Juilliard, and made his New York recital debut at Alice Tully Hall that April. Also in 2005 he made his European debut in a recital at the Musée du Louvre in Paris. He was a member of the Chamber Music Society Two program of the Chamber Music Society of Lincoln Center from 2002-04, which included his appearance in the opening concert of the Society's 2002-03 season at Alice Tully Hall performing Ravel's La Valse with pianist Shai Wosner. 
Mr. Weiss' impressive list of awards includes the Gilmore Young Artist Award, an Avery Fisher Career Grant, the Gina Bachauer Scholarship at The Juilliard School and the Mieczyslaw Munz Scholarship. A native of Lyndhurst, Ohio, Mr. Weiss attended the Cleveland Institute of Music, where he studied with Paul Schenly, Daniel Shapiro, Sergei Babayan, Kathryn Brown and Edith Reed. In February of 1999, he made his Cleveland Orchestra debut performing Liszt's Piano Concerto No. 1. In March 1999 with less than 24 hours' notice, he stepped in to replace André Watts for a performance of Shostakovich's Piano Concerto No. 2 with the Baltimore Symphony. He was immediately invited to return for a performance of Tchaikovsky's Piano Concerto in October 1999. In 2004 he graduated from The Juilliard School, where he studied with Emanuel Ax.
Musicians of the New World Symphony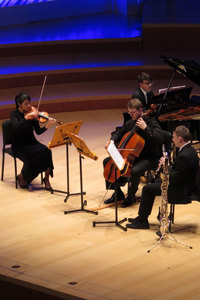 A laboratory for the way music is taught, presented and experienced, the New World Symphony consists of 87 young musicians who are granted fellowships lasting up to three years. The fellowship program offers in-depth exposure to traditional and modern repertoire, professional development training and personalized experiences working with leading guest conductors, soloists and visiting faculty. 
NWS Fellows take advantage of the innovative performance facilities and state-of-the art practice and ensemble rooms of the Frank Gehry-designed New World Center, the campus of the New World Symphony and home of the Knight New Media Center.
In the hopes of joining NWS, nearly 1,000 recent music school and conservatory graduates compete for available fellowships each year. The Fellows are selected for this highly competitive, prestigious opportunity based on their musical achievement and promise, as well as their passion for the future of classical music.