Events & Tickets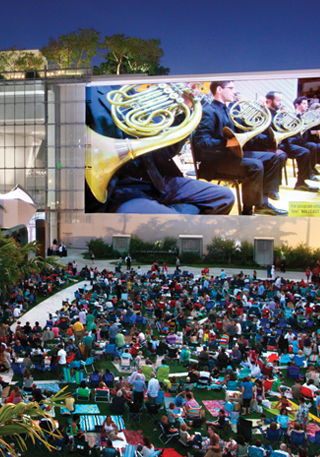 WALLCAST® Concert
Encore WALLCAST® Concert: Opening Fanfare
SoundScape Park
Friday, February 19, 2021 at 8:00 PM
Program
NWS celebrates 10 years of WALLCAST® concerts with this Encore series featuring performance highlights from NWS's previous seasons. NWS originally performed this Opening Fanfare concert on October 15, 2011—MTT and NWS Fellows musically heralding the first full season in the New World Center.
This is a free event. No tickets are required. Document your WALLCAST® concert experience using #WALLCAST on social media!
Mobile Program: Text WALLCAST to 50155 and receive a link to the mobile program.
Event Safety Protocols 
The Feb. 19 Encore WALLCAST® Concert will be an in-person event in SoundScape Park. Seating opens at 6:00 PM and will be first come, first served with limited capacity. Please arrive with your complete party to guarantee seating together.
All attendees, including children, must wear a mask unless actively eating or drinking, and practice social distancing from other guests. Chairs and blankets are allowed, but not tables or large set ups.
Restrooms are available in the south-east corner of SoundScape Park. The New World Center will be closed.
Program
Bedřich Smetana
(1824-1884)
Approx. Duration: 7 minutes

Overture to The Bartered Bride (1866)

Robert Schumann
(1810-1856)
Approx. Duration: 30 minutes

Concerto in A minor for Piano and Orchestra, Op. 54 (1841-45)

Allegro affettuoso
Intermezzo: Andantino grazioso
Allegro vivace
James Lee III
(b. 1975)
Approx. Duration: 10 minutes

Sukkot Through Orion's Nebula (2011)

Leoš Janáček
(1854-1928)
Approx. Duration: 23 minutes

Allegretto
Andante—Allegretto
Moderato
Allegretto
Andante con moto
Bedřich Smetana
Overture to The Bartered Bride (1866)

Approximate duration: 7 minutes
Through eight operas and a body of Czech-inspired instrumental works, Bedřich Smetana pioneered Czech nationalism in music. He was born in the small castle town of Litomyšl, where his father ran a brewery and played in amateur string quartets. Smetana took up the violin at age four and later switched to the piano. At 17 he quit school to focus on composing; at 19 he moved to Prague, where he scraped by as a teacher and pianist and took his first formal composition lessons. Smetana founded a music school in Prague in 1848, but a more lucrative position in Sweden took him away from his homeland from 1856 to 1861.
Smetana returned during a period of soaring Czech nationalism. Having spoken and written mostly in German to that point in his life, he devoted himself to studying Czech.
Meanwhile, the opening of Prague's first permanent theater in 1862 provided a platform for new Czech works. Smetana's first opera, The Brandenburgers in Bohemia, reached that stage in 1866, followed a few months later by his second opera, The Bartered Bride.
Smetana composed The Bartered Bride between 1863 and 1866. The librettist, Karel Sabina, adapted the Czech text from a shorter scenario he had originally written in German. In the country village where the story takes place, the young Mařenka has fallen in love with Jeník, while her parents have arranged for her to marry a wealthy stranger. Through various schemes and subterfuges (interwoven with comic relief in the form of drinking songs, dances, a traveling circus, a conniving stepmother, and a man in a bear costume) the lovers eventually receive the blessing to wed. The first production in 1866 was only a modest success and Smetana revised the opera several times until 1870. An 1892 revival in Vienna brought The Bartered Bride back into the spotlight and it became the first Czech work to enter the standard repertory of operas houses around the world.
The overture to The Bartered Bride is a raucous jumble of restless lines and tipsy dance tunes. Here and throughout the opera, the music sounds rustic and folk-like without delving into actual folk material. And while the themes are cloudless and catchy, they are assembled in sophisticated ways, as in the fugal layering of the strings or the wandering harmonies during a brief lull. Smetana's masterpiece does more than capture the lively energy of the Czech countryside; it infuses that local spirit into a musical language with universal and lasting appeal.
Robert Schumann
Concerto in A minor for Piano and Orchestra, Op. 54 (1841-45)

Approximate duration: 30 minutes
When Robert Schumann moved to Leipzig in 1828 to study law, he approached a distinguished teacher, Friedrich Wieck, for piano lessons. Schumann eventually left school and moved in with the Wieck family, but his piano studies ended when he injured his hand with a strengthening device. In the meantime, Schumann had caught the eye of Wieck's daughter Clara, a budding piano virtuoso and a talented composer herself. Schumann eventually asked Wieck for his daughter's hand in 1837, when Clara was 17. Wieck delayed the marriage for three years, until the couple took legal action in 1840.
Clara was instrumental in encouraging her husband to write orchestral music. Throughout his 20s, he had been most effective when writing for solo piano, whereas his attempts at symphonies and concertos had all faltered. In 1840 Schumann became fixated on lieder, completing 168 songs that year alone. Finally, he conquered larger forms in 1841, his so-called "year of the orchestra." He completed two symphonies and a three-movement "symphonette" (later recast as the Overture, Scherzo and Finale), plus a Phantasie for piano and orchestra designed as a feature vehicle for his wife. Clara, more than eight months pregnant, read through the single-movement work that August at a private session with the Leipzig Gewandhaus Orchestra, conducted by Mendelssohn.
In 1845 Schumann converted the standalone Phantasie into the first movement of the Piano Concerto in A minor. He added two linked movements, an Intermezzo and Finale, rounding out his only true piano concerto. (He later wrote two more single-movement works for piano and orchestra, each debuted by his wife.) Clara gave the first performance of the Concerto that December in Dresden, under the baton of Ferdinand Hiller, to whom Schumann dedicated the work.
Schumann's Piano Concerto makes an arresting entrance, with a punctuated unison note unleashing a cascade of chords from the piano. A gentle wind chorale establishes the movement's central melody, beginning with a three-note descent to the repeated keynote, A. Musicologist Michael Steinberg made the apt observation that the pitches in this motive, C-B-A-A, hold a double meaning. In German musical notation, the note B is known as H, so the melody spelled C-H-A-A, suggesting "Chiara," the Italian rendering of Clara. This theme suffuses the first movement and makes a significant appearance at the end of the Intermezzo.
Although four years separated the composition of the first two movements, they fit together perfectly. The dry exchanges of short, rising motives that begin and end the Intermezzo counterbalance the lush descent of the earlier "Chiara" theme. In a contrasting central section, the cellos soar in an impassioned melody. Overall, it is far leaner and livelier than a typical slow movement, simply parting the air between the substantial outer movements. Whereas the first movement theme descended tenderly and the second movement motive rose hesitantly, the finale's signature tune careens halfway up the major scale and then leaps up assertively, dispelling any lingering tension from the concerto's lovesick start.
James Lee III
Sukkot Through Orion's Nebula (2011)

Approximate duration: 10 minutes
James Lee III studied at the University of Michigan, where his teachers included Michael Daugherty, William Bolcom and Bright Sheng. The Tanglewood Music Center named Lee a Seiji Ozawa Composition Fellow in 2002 and the American Academy of Arts and Letters granted him the Charles Ives Scholarship in 2003. After completing his doctoral studies in 2005, Lee joined the faculty of Morgan State University in Baltimore. He composed Beyond Rivers of Vision in 2005 for the National Symphony Orchestra, and A Different Soldier's Tale in 2008 for the Detroit Symphony Orchestra, both conducted by Leonard Slatkin. He provided the following description of this new work, commissioned by the Sphinx Commissioning Consortium.
Sukkot Through Orion's Nebula is a festive work for orchestra. Sukkot is a Hebrew word for the "Feast of Tabernacles." In the biblical days, this holiday was celebrated on the 15th day of the month of Tishrei (late September to late October). It was the most joyous of the fall festivals that God mandated the Hebrews to observe. It was also a thanksgiving celebration for the blessings of the fall harvest. Orion's Nebula refers to the Orion constellation in space. The structure of this nebula forms a roughly spherical cloud that peaks in density near the core. The cloud displays a range of velocities and turbulence, particularly around the core region.
This work is constructed in seven sections:
Reminiscences of the Feast of Trumpets (Rosh Hashanah) and the Day of Atonement (Yom Kippur) open the work with percussive, forceful sounds of the snare and bass drums. This is further enhanced by the horns, which imitate the calls of the shofar (a ram's horn sounded on those holy days).
The full orchestra continues to a cadence foreshadowing the grand advent of God.
The woodwinds follow with joyful flourishes and dancelike celebrations, which imitate the people's reception of the Messiah. As this music continues, the motives pass on to the percussion section, piano, harp, and eventually the strings.
Previous melodies and motives are developed and transformed among the orchestra. This section celebrates the Second Coming of God.
Orion is the one constellation mentioned specifically in the Old Testament. The muted brass, singing violins, percussion instruments, and woodwinds are intended to evoke celestial images of the Messiah coming down out of heaven through the Orion constellation, then the redeemed saints traveling through the constellation, and finally the New Jerusalem coming down out of heaven. Violins soar in the higher registers, which tend to have a quality of weightlessness. Trills among the strings cease as they continue to climb to heights of bliss in paradise.
The bass and snare drums provide a reprise of the "shofar theme." This continues with orchestral exclamations of joy.
There are passages of call and response among the ensemble in the final celebration, which continues until the work ends with an explosion of sound.
                              – James Lee III
Sukkot Through Orion's Nebula was commissioned by the Sphinx Commissioning Consortium, an alliance between the Sphinx Organization and a consortium of American orchestras that seeks to build the repertoire of music for orchestra by Black and Latinx composers. The New World Symphony is a founding member of the Consortium and was proud to give the world premiere performances of Sukkot Through Orion's Nebula with this original 2011 performance.
Leoš Janáček
Sinfonietta (1926)

Approximate duration: 23 minutes
Leoš Janáček was born into a musical family in Moravia, a Hapsburg-controlled region that now forms the eastern portion of the Czech Republic. At 11, he left home for the Queen's Monastery in Brno, where he excelled as a chorister. After brief periods of study in Prague and Vienna, he established himself in Brno as a teacher, choir director, critic and musicologist. He undertook an exhaustive study of Moravian folk music, co-editing a collection of more than 2000 songs and dances published between 1899 and 1901. At the same time, he was working on his second full opera, Jenůfa. Its premiere in Brno in 1904 did little for Janáček's career; it was not until a 1916 production in Prague that the world took notice. Jenůfa spread rapidly among the Europe's opera houses and it reached New York's Metropolitan Opera in 1924.
Buoyed by his newfound professional success (not to mention his infatuation with a younger woman to whom he wrote more than 700 letters), Janáček enjoyed a late flowering of his creative powers. He came out with the operas The Cunning Little Vixen (1923) and The Makropulos Affair (1925), and also issued his First String Quartet (1923) and other chamber works. At the age of 72, he completed his largest symphonic work, the Sinfonietta.
The end of World War I and the fall of the Austro-Hungarian Empire had caused dramatic shifts in Central and Eastern Europe. Czechoslovakia emerged as an independent country, combining Bohemia (including the capital, Prague), Silesia and Moravia with neighboring Slovakia. Janáček embraced his new national identity, and history has remembered him as one of the three greatest Czech composers, along with Smetana and Dvořák (both born in Bohemia). The Sinfonietta is full of Nationalistic spirit: Janáček referred to it as the "Military Sinfonietta," and he dedicated it to the Czechoslovak Armed Forces. He described the work as an expression of the "contemporary free man, his spiritual beauty and joy, his courage, strength and determination to fight for victory."
The impetus for the Sinfonietta came from fanfares Janáček wrote for a major exhibition of a gymnastics organization in 1926. He folded the fanfares into the larger orchestral work, featuring an expanded brass complement in the opening movement and during a reprise of the fanfare at the end. The rest of the work became an homage to Janáček's beloved Brno, with movement subtitles corresponding to specific places and scenes. After the thunderous introductory movement, The Castle strikes a sinister, macabre tone. It represents, as Janáček explained, "Špilberk jail, inside whose depths so much misery had been suffered." He also recalled "the holy quiet" of his old school, known as The Queen's Monastery. That movement starts with the warm glow of muted strings and serene melodies, building in intensity through deep brass chorales and outrageous braying from a horn. The fourth movement, labeled The Street, bustles by with a folksy theme providing a colorful backdrop.
The finale surveys The Town Hall. In a 1927 article, "My Town," Janáček wrote, "One day suddenly I saw a miraculous change in the town. My antagonism to the gloomy town hall vanished. … Over the town the light of freedom blazed, the rebirth of the 28th October, 1918! I was part of it, I belonged to it." The closing music brings back "the blare of victorious trumpets" for a rousing finish.
— Copyright © 2011 Aaron Grad
Aaron Grad is a composer, guitarist and writer based in Seattle. Besides providing program notes for the New World Symphony, he has been the Orpheus Chamber Orchestra's program annotator since 2005 and also contributes notes to the Saint Paul Chamber Orchestra and Seattle Symphony.
Michael Tilson Thomas, conductor
Michael Tilson Thomas is Co-Founder and Artistic Director of the New World Symphony, America's Orchestral Academy; Music Director Laureate of the San Francisco Symphony; and Conductor Laureate of the London Symphony Orchestra. In addition to these posts, he maintains an active presence guest conducting with the major orchestras of Europe and the United States.
Born in Los Angeles, Mr. Tilson Thomas is the third generation of his family to follow an artistic career. His grandparents, Boris and Bessie Thomashefsky, were founding members of the Yiddish Theater in America. His father, Ted Thomas, was a producer in the Mercury Theater Company in New York before moving to Los Angeles where he worked in films and television. His mother, Roberta Thomas, was the head of research for Columbia Pictures.
Mr. Tilson Thomas began his formal studies at the University of Southern California, where he studied piano with John Crown, and conducting and composition with Ingolf Dahl. At age 19 he was named Music Director of the Young Musicians Foundation Debut Orchestra. During this same period, he was the pianist and conductor in master classes of Gregor Piatigorsky and Jascha Heifetz and worked with Stravinsky, Boulez, Stockhausen and Copland on premieres of their compositions at Los Angeles' Monday Evening Concerts.
In 1969, after winning the Koussevitzky Prize at Tanglewood, he was appointed Assistant Conductor of the Boston Symphony Orchestra. That year he also made his New York debut with the Boston Symphony and gained international recognition after replacing Music Director William Steinberg in mid-concert. He was later appointed Principal Guest Conductor of the Boston Symphony Orchestra where he remained until 1974. He was Music Director of the Buffalo Philharmonic from 1971 to 1979 and a Principal Guest Conductor of the Los Angeles Philharmonic from 1981 to 1985. His guest conducting includes appearances with the major orchestras of Europe and the United States.
Mr. Tilson Thomas is a two-time Carnegie Hall Perspectives artist, curating and conducting series at the hall from 2003 to 2005 and from 2018 to 2019. In the most recent series, he led Carnegie Hall's National Youth Orchestra of the United States of America both at the hall and on tour in Asia, opened the Carnegie Hall season over two evenings with the San Francisco Symphony, conducted two programs with the Vienna Philharmonic and finished with a pair of concerts leading the New World Symphony.
A winner of eleven Grammy Awards, Mr. Tilson Thomas appears on more than 120 recordings. His discography includes The Mahler Project, a collection of the composer's complete symphonies and works for voice and orchestra performed with the San Francisco Symphony, in addition to pioneering recordings of music by Charles Ives, Carl Ruggles, Steve Reich, John Cage, Ingolf Dahl, Morton Feldman, George Gershwin, John McLaughlin and Elvis Costello. His recordings span repertoire from Bach and Beethoven to Debussy and Stravinsky, and from Sarah Vaughan to Metallica.
His television work includes a series with the London Symphony Orchestra for BBC Television, broadcasts of the New York Philharmonic Young People's Concerts from 1971 to 1977 and numerous productions on PBS's Great Performances. With the San Francisco Symphony, he created a multi-tiered media project, Keeping Score, which includes a television series, web sites, and radio programs. He received a Peabody Award for his SFS Media radio series The MTT Files.
Mr. Tilson Thomas's compositions are published by G. Schirmer. In 1991, he and the New World Symphony were presented in a series of benefit concerts for UNICEF in the United States, featuring Audrey Hepburn as narrator of his work From the Diary of Anne Frank, which was commissioned by UNICEF. This piece has since been translated and performed in many languages worldwide. In August 1995, he led the Pacific Music Festival Orchestra in the premiere of his composition Shówa/Shoáh, commemorating the 50th anniversary of the bombing of Hiroshima. His vocal music includes settings of poetry by Walt Whitman and Emily Dickinson, which were premiered by Thomas Hampson and Renée Fleming, respectively. In 2016, Yuja Wang premiered his piano piece You Come Here Often?.
Mr. Tilson Thomas' song cycle Four Preludes on Playthings of the Wind, a setting of Carl Sandburg's poem, was premiered in 2016 by the New World Symphony, with Measha Brueggergosman as soloist. In 2019 the piece was recorded for Medici.tv at the New World Center and given its New York premiere as part of Mr. Tilson Thomas's second Carnegie Hall Perspectives series. His first Perspectives series also featured performances of his own compositions, including Island Music for four marimbas and percussion; Notturno for solo flute and strings, featuring soloist Paula Robison; and new settings of poems by Rainer Maria Rilke. In 2020, he led the San Francisco Symphony in the world premiere of his six-part song cycle Meditations on Rilke, and he subsequently conducted the work at the Cleveland Orchestra. Additional compositions include Street Song for brass instruments; Agnegram, an overture for orchestra; and Urban Legend, a concerto for contrabassoon that was premiered by the San Francisco Symphony. In June 2020, SFS Media released an album of works composed by Mr. Tilson Thomas, featuring live concert recordings of From the Diary of Anne Frank, narrated by mezzo-soprano Isabel Leonard, and Meditations on Rilke, sung by mezzo-soprano Sasha Cooke and bass-baritone Ryan McKinny.
Mr. Tilson Thomas is an Officier de l'Ordre des Arts et des Lettres of France, is a member of the American Academy of Arts and Sciences, was Musical America's Musician of the Year and Conductor of the Year, was Gramophone magazine's Artist of the Year and has been profiled on CBS's 60 Minutes and ABC's Nightline. He has been awarded the National Medal of Arts, has been inducted into the California Hall of Fame and the American Academy of Arts and Letters, and was a 2019 recipient of the Kennedy Center Honors.
Javier Perianes, piano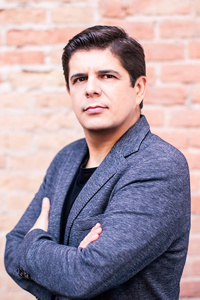 The international career of Javier Perianes has led him to perform in the most prestigious concert halls, with the world's foremost orchestras. He has collaborated with conductors such as Michael Tilson Thomas, Daniel Barenboim, Charles Dutoit, Zubin Mehta, Gustavo Dudamel, Klaus Mäkelä, Sakari Oramo, Yuri Temirkanov, Gianandrea Noseda, Gustavo Gimeno, Santtu-Matias Rouvali, Simone Young, Juanjo Mena, Vladimir Jurowski, David Afkham, François-Xavier Roth and Daniel Harding. Mr Perianes has appeared at festivals such as the BBC Proms, Lucerne, La Roque d'Anthéron, Grafenegg, Prague Spring, Ravello, Stresa, San Sebastian, Santander, Granada, Vail, Blossom and Ravinia. He was awarded the National Music Prize in 2012 by the Ministry of Culture of Spain and named Artist of the Year at the International Classical Music Awards (ICMA) in 2019.  
Mr. Perianes' 2020-21 season features an array of high-profile concerts, including his debuts with the London Symphony (followed by tour dates in Spain), Tonhalle Zürich, Orchestra dell'Accademia Nazionale di Santa Cecilia, Aurora Orchestra, Netherlands Philharmonic and NHK Symphony Orchestra, and returns to the Konzerthausorchester Berlin, Cincinnati Symphony, Orchestre National de Lille, Orquesta Nacional de España and Aalborg Symphony.
Mr. Perianes frequently appears in recital across the globe and is also a natural and keen chamber musician, regularly collaborating with violist Tabea Zimmermann and the Quiroga Quartet. This season he takes on tour a program titled Love and Death, featuring works by Chopin, Granados, Liszt and Beethoven to Europe, the Middle East, and North and South America.  
Career highlights have included concerts with Wiener Philhamoniker; Leipzig Gewandhausorchester; Chicago, Boston, San Francisco, Washington's National, Yomiuri Nippon and Danish National symphonies; Oslo, London, New York, Los Angeles and Czech philharmonics; Orchestre de Paris; Cleveland, Royal Concertgebouw, Orchestre Symphonique de Montréal and Philharmonia orchestras; Swedish and Norwegian radio orchestras and Rundfunk-Sinfonieorchester Berlin.  
Recording exclusively for harmonia mundi, Mr. Perianes has developed a diverse discography ranging from Beethoven, Mendelssohn, Schubert, Grieg, Chopin, Debussy, Ravel and Bartók to Blasco de Nebra, Mompou, Falla, Granados and Turina. Last season Mr. Perianes released two albums: Ravel Jeux de Miroirs and Cantilena. Jeux de Miroirs centers around Ravel's Concerto in G recorded with Orchestre de Paris and Josep Pons and includes the piano and orchestral versions of Le tombeau de Couperin and Alborada del gracioso. Together with Tabea Zimmerman, he released Cantilena; an album which is a celebration of music from Spanish and Latin America. His other recent albums pay tribute to Claude Debussy on the centenary of his death with a recording of the first book of his Préludes and Estampes, and Les Trois Sonates - The Late Works which won a Gramophone Award in 2019. Mr. Perianes returns to the studio this season to record Chopin's Second and Third Sonatas.