Events & Tickets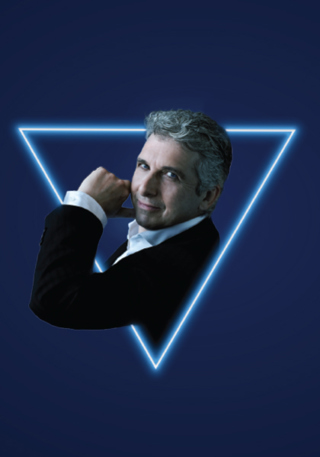 Orchestra Concert
Enigma Variations
New World Center, Michael Tilson Thomas Performance Hall
Friday, April 14, 2023 at 7:30 PM
Saturday, April 15, 2023 at 8:00 PM
Program
Conductor Emeritus of the Toronto Symphony and frequent NWS guest Peter Oundjian explores the power of friendship and unity alongside NWS Fellows. Elgar pays homage to those he knew and loved in his Enigma Variations, a heartwarming and heartbreaking array of tributes—including the famous Nimrod—that Elgar felt accurately revealed his "friends pictured within." Fueled by the social and political unrest of 2020, Joel Thompson creates a provocative meditation for symphony and narrator using words by James Baldwin. Instruments pairs go toe-to-toe in Joan Tower's Duets, and Conducting Fellow Chad Goodman leads Mozart's whimsical Overture to The Magic Flute.
---
This concert is part of the Friday Evening and Saturday Evening Two series. With either of these series, you'll enjoy phenomenal artists like Randall Goosby, Jeannette Sorrell, Carlos Miguel Prieto and orchestral master works like Elgar's Enigma Variations, Tchaikovsky's Violin Concerto, two works by Gabriela Ortiz and selections from Handel's Water Music. Subscriptions for the Friday Series (3 concerts) begin at $90 ($30/concert). Subscriptions to the Saturday Evening Two Series (4 concerts) begin at $132 ($33/concert). Click to explore the full subscriptions! 
COMPOSE YOUR OWN SUBSCRIPTION PACKAGE! 
Want to try a little of everything? Customize your own subscription of three or more concerts to exercise full creative freedom while enjoying all the flexibility and perks of being a New World Symphony subscriber. Click here to build your CYO subscription or call the Box Office at 305.673.3331 to compose your series today.  
SUBSCRIBERS ENJOY THE BEST OF NWS! 
As an NWS Subscriber, you receive amazing benefits to enjoy throughout the season, including the best seats for the lowest prices and access to our incredibly talented Fellows. Click here to learn more! 
Program
Joan Tower
(b. 1938)
Approx. Duration: 19 minutes

Joel Thompson
(b. 1988)
Text by James Baldwin
Approx. Duration: 21 minutes

To Awaken the Sleeper for Orator and Orchestra 
(2021; text by James Baldwin)

Wolfgang Amadeus Mozart
(1756-1791)
Approx. Duration: 6 minutes

Overture to The Magic Flute, K. 620 (1791)

Edward Elgar
(1857-1934)
Approx. Duration: 30 minutes

Variations on an Original Theme, "Enigma" Op. 36  (1899)

Theme: Andante 
Variation I. L'istesso tempo, "C.A.E." 
Variation II. Allegro, "H.D.S-P." 
Variation III. Allegretto, "R.B.T." 
Variation IV. Allegro di molto, "W.M.B." 
Variation V. Moderato, "R.P.A." 
Variation VI. Andantino, "Ysobel" 
Variation VII. Presto, "Troyte" 
Variation VIII. Allegretto, "W.N." 
Variation IX. Adagio, "Nimrod" 
Variation X. Intermezzo: Allegretto, "Dorabella" 
Variation XI. Allegro di molto, "G.R.S." 
Variation XII. Andante, "B.G.N." 
Variation XIII. Romanza: Moderato, "* * *" 
Variation XIV. Finale: Allegro Presto, "E.D.U." 
Joan Tower
Duets

(1994)

Approximate duration: 19 minutes
When Joan Tower won the prestigious Grawemeyer Award for Music Composition in 1990—the first woman and the first American to do so—it confirmed her place among the highest echelon of international composers, a stature that has only increased as she continues to work into her eighties.
Her knack for zooming in on chamber music textures within the orchestra developed in a series of concertos (for flute, clarinet and violin) that included candenzas pairing the soloist with the corresponding principal player in the orchestra, and she decided to magnify that idea when the Los Angeles Chamber Orchestra commissioned the work that would become Duets from 1994.
In a single movement, divided into four sections that alternate slow and fast tempos, matched pairs of instruments claim the foreground, starting with cellos, flutes and horns in the slow first section. The pairings cycle more quickly in the fast section that comes next, introducing duets for clarinets, oboes and violins in short order. The title understably focuses attention on these intimate moments, but just as important is the way the sonic contrast builds when the rest of the chamber orchestra chimes in with punctuations and commentaries. After a slow third section that features an even longer cello moment, the final fast section gets especially exciting when the timpani and tom-toms get in on the duet action.
Joel Thompson
To Awaken the Sleeper

for

Orator

and Orchestra

 


(2021; text by James Baldwin)

Approximate duration: 21 minutes
When orchestras across America opened their eyes to systemic racism in the wake of George Floyd's murder, they found in their midst a young Black composer who had been beating the drum for racial justice years before he could expect any sort of acceptance for that type of work in concert halls. Joel Thompson was born in The Bahamas and raised in Jamaica, where he began piano lessons at age seven. His family moved to Texas and then Atlanta, and he went on to double major in music and pre-med at Atlanta's Emory University. He continued there for a master's degree in choral conducting, honing his understanding of vocal music that paid off in his breakthrough score: The Seven Last Words of the Unarmed, a choir piece from 2015 that sets the final words of seven Black men killed in recent years. He is now pursuing a doctorate at Yale University.
Co-commissioned by the Colorado Music Festival and the Seattle and Baltimore symphonies, To Awaken the Sleeper from 2021 was one of the first large-scale responses to the killing of George Floyd to make its way into the orchestral repertoire, and it has continued to reverberate in performances around the country and beyond. The music for orchestra intertwines with the spoken words of James Baldwin, which Thompson selected in consultation with a noted Baldwin scholar at Princeton. The opening excerpt and title come from "An Open Letter to My Sister, Miss Angela Davis," published in 1971.Other portions come from the 1972 essay "No Name in the Street" and a speech Baldwin gave to the National Press Club in 1986.
In a note written for the London Symphony Orchestra, Thompson explained, "James Baldwin sought to bear witness to the country that birthed him and hated him, a country that murdered his friends (Evers, King, X) for speaking out against injustice. Despite the pain of those wounds, it is evident that, although Baldwin didn't hesitate to hold our deeply flawed society to account, his words were rooted in an impossible love of this country. Though they were written decades ago, his words still ring true… It is in that spirit that my piece To Awaken the Sleeper was born, and I hope that same spirit can continue to move each of us toward a more perfect union."
Wolfgang Amadeus Mozart
Overture to The Magic Flute, K. 620 (1791)

Approximate duration: 6 minutes
In 1791 Mozart joined with his friend and fellow Freemason Emanuel Schikaneder to create a Singspiel, a popular format that blended singing and spoken dialogue in native German, akin to today's Broadway musicals. This new comic opera, The Magic Flute, took shape during the spring and summer of 1791 and debuted on September 30, just months before Mozart's untimely death.
Mozart had completed most of The Magic Flute by July, and then he paused it to dash off another opera, La clemenza di Tito, which would be his last. He finished the Overture to The Magic Flute just in time, marking its date of completion as September 28, two days before the premiere.
The Overture's slow and solemn introduction draws out the sense of anticipation, until resolution comes in the surprising form of a breathless fugue that serves to whip the first main theme into a glorious frenzy. Ceremonial chords, mysterious detours and even a passing flute solo all hint at the supernatural mischief and power struggles of the forthcoming opera.
Edward Elgar
Variations on an Original Theme, "Enigma" Op. 36  (1899)

Approximate duration: 30 minutes
Before Edward Elgar became England's most successful homegrown composer in centuries, he was just a small-town working musician who came home one October night to unwind at the piano after a day of teaching violin lessons. When his wife, Alice, commented that she liked the theme he had improvised, he joked around by rehashing it in styles meant to parody various friends of theirs. And so was born the composition that soon put Elgar on the map: the Variations on an Original Theme, to use its proper title, or as everyone knows it, the "Enigma" Variations.
It was Elgar's friend and publisher Augustus Jaeger who penciled in the word "Enigma" above the theme on the autograph score, but that heading only applied to the initial section. And there is not much enigma in guessing the identities in the 14 variations; Elgar made that easy enough by including initials or names on all but one. He only gave a hint in his program note for the premiere performance in June 1899, writing, "The 'Enigma' I will not explain – its 'dark saying' must be left unguessed, and I warn you that the apparent connection between the Variations and the Theme is often of the slightest texture; further, through and over the whole set another and larger theme 'goes' but is not played."
Dedicated "to my friends pictured within," Elgar's colorful orchestral palette and incisive characterizations explain this work's lasting appeal even more than its unsolved puzzle. He wrote that he began "in a spirit of humor and continued in deep seriousness." In that regard, another theory on the "enigma" posits that love or friendship is in fact the unheard "larger theme."
– © 2023 Aaron Grad
Aaron Grad is a composer and writer based in Seattle. In addition to providing program notes for the New World Symphony, Orpheus Chamber Orchestra, Baltimore Symphony Orchestra and others, he is also the artistic director of Many Messiahs, a project that reframes George Frideric Handel's masterpiece as a collective call for justice.
Program
Joel Thompson
(b. 1988)
Texto de James Baldwin


To Awaken the Sleeper para Orador y Orquesta  
(2021)
Wolfgang Amadeus Mozart
(1756-1791)


Obertura de La Flauta Mágica, K. 620 (1791)
Variations on an Original Theme, "Enigma" Op. 36  (1899)
Theme: Andante 
Variation I. L'istesso tempo, "C.A.E." 
Variation II. Allegro, "H.D.S-P." 
Variation III. Allegretto, "R.B.T." 
Variation IV. Allegro di molto, "W.M.B." 
Variation V. Moderato, "R.P.A." 
Variation VI. Andantino, "Ysobel" 
Variation VII. Presto, "Troyte" 
Variation VIII. Allegretto, "W.N." 
Variation IX. Adagio, "Nimrod" 
Variation X. Intermezzo: Allegretto, "Dorabella" 
Variation XI. Allegro di molto, "G.R.S." 
Variation XII. Andante, "B.G.N." 
Variation XIII. Romanza: Moderato, "* * *" 
Variation XIV. Finale: Allegro Presto, "E.D.U." 
Joan Tower
Duets

(

Dúos

)

(1994)

Duración aproximada: 19 minutos
Cuando Joan Tower ganó el prestigioso Premio Grawemeyer de Composición Musical en 1990 – la primera mujer y primera estadounidense en hacerlo – confirmó su lugar entre los compositores internacionales de más alto nivel, un estatus que solo ha ido en aumento a medida que continúa trabajando ya entrados sus ochenta años.
Su facilidad para acercarse a las texturas de la música de cámara dentro de la orquesta se desarrolló en una serie de conciertos (para flauta, clarinete y violín) que incluyeron cadenzas que combinaban al solista con el instrumentista principal correspondiente en la orquesta, y decidió magnificar esta idea cuando La Orquesta de Cámara de Los Ángeles encargó la obra que se convertiría en Duets (Dúos) de 1994.
En un solo movimiento, dividido en cuatro secciones que alternan tempos lentos y rápidos, dúos del mismo instrumento se destacan en primer plano, empezando con los chelos, las flautas y las trompas en la primera sección lenta. Los pares de instrumentos avanzan más ágilmente en la  sección rápida que le sigue, introduciendo dúos de clarinetes, oboes y violines en un corto período de tiempo. El título comprensiblemente se enfoca en estos momentos íntimos, pero igual de importante es la forma en que se desarrolla el contraste sonoro cuando el resto de la orquesta de cámara interviene con puntuaciones y comentarios. Después de una tercera sección lenta que nos presenta un momento de violonchelo aún más extenso, la movida sección final se torna especialmente emocionante cuando el tímpani y el tam-tam se unen a la acción.
Joel Thompson
To Awaken the Sleeper

para Orador y Orquesta

 


(2021; text by James Baldwin)

Duración aproximada: 21 minutos
Cuando las orquestas alrededor de Estados Unidos abrieron sus ojos al racismo sistémico después del asesinato de George Floyd, encontraron entre ellos un joven compositor afroamericano que había estado sonando el tambor de la justicia racial años antes de que pudiera esperar algún tipo de aceptación por este trabajo en las salas de conciertos. Joel Thompson nació en las Bahamas y creció en Jamaica, donde comenzó a tomar clases de piano a la edad de siete años. Su familia se mudó a Texas y luego a Atlanta, y se graduó de Música y Pre-Medicina en la Emory University de Atlanta. Recibió su maestría en Dirección Coral de la misma institución, perfeccionando su conocimiento de música vocal, lo cual le dio frutos en su novedosa obra: The Seven Last Words of the Unarmed (Las Siete Últimas Palabras de los Desarmados), una pieza coral de 2015 que musicaliza las últimas palabras de siete hombres negros asesinados en los últimos años. Actualmente realiza estudios de doctorado en la Universidad de Yale.
Encargado conjuntamente por el Festival de Música de Colorado y las Sinfónicas de Baltimore y Seattle, To Awaken the Sleeper (Despertar al durmiente) de 2021 fue una de las primeras respuestas a gran escala al asesinato de George Floyd que llegó hasta el repertorio orquestal, y ha continuado reverberando en presentaciones a través del país y más allá. La música para orquesta se entrelaza con el texto hablado de James Baldwin, el cual Thompson seleccionó consultando con un notable estudioso de Baldwin de la Universidad de Princeton. El pasaje inicial y el título provienen de "An Open Letter to My Sister, Miss Angela Davis"(Una carta abierta a mi hermana, Miss Angela Davis), publicada en 1971. Otras porciones de la obra son sacadas del ensayo de 1971 "No Name in the Street"(No hay nombre en la calle) y de un discurso que Baldwin pronunció en el Club Nacional de Prensa en 1986.
En una nota escrita para la Orquesta Sinfónica de Londres, Thompson explicó, "James Baldwin buscó dar testimonio del país que lo vio nacer y lo odiaba, un país que asesinó a sus amigos (Evers, King, X) por hablar en contra de la injusticia. A pesar del dolor de esas heridas, es evidente que, aunque Baldwin no dudó en hacer responsable a nuestra sociedad imperfecta, sus palabras están arraigadas en un amor imposible por este país. Aunque fueron escritas hace décadas, las palabras aún tienen vigencia…Es con ese espíritu que nació mi pieza To Awaken the Sleeper, y espero que ese mismo espíritu pueda continuar moviéndonos,  a cada uno de nosotros, hacia una unión más perfecta."
Wolfgang Amadeus Mozart
Obertura de La Flauta Mágica, K. 620 (1791)

Duración aproximada: 6 minutos
En 1791, Mozart se unió a su amigo y compañero francmasón Emanuel Schikaneder para crear un Singspiel, un popular formato que mezclaba el canto con el diálogo en alemán nativo, semejante a los musicales de Broadway de nuestra época. Esta nueva ópera cómica, La flauta mágica, tomó forma durante la primavera y el verano de 1791 y debutó el 30 de septiembre, solo unos meses antes de la prematura muerte de Mozart.
Mozart había terminado la mayor parte de La flauta mágica desde julio, y cuando hizo una pausa para escribir corriendo otra ópera, La clemenza di Tito, que sería la última. Terminó la obertura de La flauta mágica justo a tiempo, marcando en la partitura la fecha del 28 de septiembre, dos días antes del estreno.
La lenta y solemne introducción de la obertura prolonga el sentido de anticipación, hasta que llega la resolución en la sorprendente forma de una fuga jadeante que sirve para dirigir el primer tema principal a un glorioso frenesí. Acordes ceremoniales, misteriosas desviaciones y hasta un pasajero solo de flauta insinúan las travesuras sobrenaturales y las luchas de poder que se avecinan en la ópera.
Edward Elgar
Variations on an Original Theme, "Enigma" Op. 36  (1899)

Duración aproximada: 30 minutos
Antes de que Edward Elgar se convirtiera en el compositor local más exitoso en siglos, era solo un músico trabajador en un pequeño pueblo que llegó a la casa una noche de Octubre a relajarse en el piano después un día enseñando clases de violín. Cuando su esposa, Alice, comentó que le gustó el tema que había improvisado, el bromeó rehaciéndolo en estilos que parodiaban a varios amigos de ellos. Y así nació la composición que pronto pondría a Elgar en el mapa: las Variaciones sobre un tema original, para usar su nombre correcto, o como todos la conocen, las Variaciones "Enigma".
Fue el editor y amigo de Elgar, Augustus Jaeger, quien escribió a lápiz la palabra "Enigma" sobre el tema en el manuscrito original, pero ese encabezamiento solo aplicaba a la sección inicial. Y no existe mucho enigma en adivinar las identidades en las 14 variaciones; Elgar lo facilitó al incluir iniciales o nombres en todas menos una. Él solo ofreció una pista en sus notas al programa del estreno en junio de 1899, escribiendo, "El 'Enigma' no lo voy a explicar, su 'dicho oscuro' debe quedar sin descubrir, y les aviso que la conexión aparente entre las variaciones y el tema es a menudo de la más fina textura; más allá, a través de toda la obra otro tema más grande 'existe' pero no es interpretado."
Dedicado "a mis amigos retratados adentro", la colorida paleta orquestal de Elgar y sus incisivas caracterizaciones explican el duradero atractivo de esta obra aún más que su acertijo sin resolución. Elgar escribió que comenzó "en un espíritu de humor y continuó con profunda seriedad". Con respecto a eso, otra teoría del "enigma" propone que el amor o la amistad es de hecho el tema "más grande" que no escuchamos.
– © 2023 Aaron Grad
Aaron Grad es un compositor y escritor radicado en Seattle. Además de escribir notas al programa para la New World Symphony, la Orpheus Chamber Orchestra, la Baltimore Symphony entre otras, también se desempeña como director artístico de Many Messiahs (Muchos Mesías), un proyecto que recrea la obra maestra de George Frideric Handel como un llamado  colectivo a la justicia.
Translation by Maria Paulina García
Peter Oundjian, conductor
A dynamic presence in the conducting world, Peter Oundjian is renowned for his probing musicality, collaborative spirit and engaging personality.
The 2018-19 season includes debuts with the Indianapolis and New Zealand symphonies and return engagements with the St. Louis, Baltimore, Atlanta, Utah, Colorado and New World symphonies, as well as the Los Angeles Chamber Orchestra and Orchestre de la Suisse Romande. He completes his second season as Artistic Advisor of the Colorado Music Festival.
2017-18 marked Mr. Oundjian's 14th and final season as Music Director of the Toronto Symphony (TSO). His appointment in 2004 reinvigorated the orchestra with recordings, tours and acclaimed, innovative programming, as well as extensive audience growth, significantly strengthening the ensemble's presence in the world. In 2014 he led the TSO on a tour of Europe, which included a sold-out performance at Amsterdam's Concertgebouw and the first performance of a North American orchestra at Reykjavík's Harpa. In the 2016-17 season, Mr. Oundjian led the TSO on a major tour of Israel and Europe.
From 2012 to 2018, Mr. Oundjian was Music Director of the Royal Scottish National Orchestra. Under his baton, the orchestra toured China, the U.S. and across Europe. Together they recorded extensively for Sony and Chandos.
Few conductors bring such musicianship and engagement to the world's great podiums—from Berlin, Amsterdam and Tel Aviv, to New York, Chicago and Sydney. Mr. Oundjian has also appeared at some of the great annual gatherings of music and music-lovers: from the BBC Proms and the Prague Spring Festival, to the Edinburgh Festival and The Philadelphia Orchestra's Mozart Festival, where he was Artistic Director from 2003 to 2005.
Mr. Oundjian was Principal Guest Conductor of the Detroit Symphony from 2006 to 2010 and Artistic Director of the Caramoor International Music Festival in New York from 1997 to 2007. Since 1981 he has been a visiting professor at the Yale School of Music and earned the university's Sanford Medal for distinguished service to music in 2013.
Joel Thompson, orator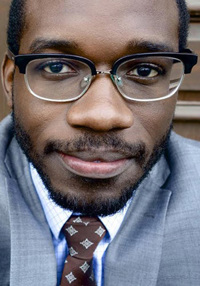 Joel Thompson is an Atlanta-based composer, conductor, pianist and educator, best known for the choral work, Seven Last Words of the Unarmed, which was premiered in 2015 by the University of Michigan Men's Glee Club and Dr. Eugene Rogers and won the 2018 American Prize for Choral Composition. In 2021 he premiered To Awaken the Sleeper in Boulder at the Colorado Music Festival; the piece sets the writings of James Baldwin to music.
Mr. Thompson's works have been performed by esteemed ensembles such as the Atlanta Symphony, Tallahassee Symphony, Atlanta Master Chorale, Los Angeles Master Chorale, EXIGENCE and San Francisco Gay Men's Chorus. Currently a doctoral student at the Yale School of Music, Mr. Thompson was also a 2017 post-graduate fellow in Arizona State University's Ensemble Lab/Projecting All Voices Initiative and a composition fellow at the 2017 Aspen Music Festival and School, where he studied with composers Stephen Hartke and Christopher Theofanidis and won the 2017 Hermitage Prize.

Mr. Thompson taught at Holy Innocents' Episcopal School in Atlanta from 2015 to 2017, and also served as Director of Choral Studies and Assistant Professor of Music at Andrew College from 2013 to 2015. He has a bachelor of arts degree in music and a master's degree in choral conducting, both from Emory University.
Chad Goodman, conductor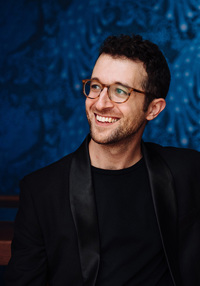 With a flair for inventive programming and a bold presence on stage and in the community, Chad Goodman has been praised for "bringing innovation to classical music" (Forbes).
As the Conducting Fellow of the New World Symphony, Mr. Goodman conducts on subscription, education, family and holiday programs. His program, "SPARK: How Composers Find Inspiration," blended captivating light design and videography with engaging audience participation to explore how a composition is created and brought to life by an orchestra.
Since 2018 Mr. Goodman has served as an Assistant Conductor to the San Francisco Symphony, assisting Esa-Pekka Salonen, Manfred Honeck, Daniel Harding, Pablo Heras-Casado, Simone Young and James Gaffigan among others.
Mr. Goodman's 2022-23 Season will include debut appearances with the Elgin Symphony, Baton Rouge Symphony, Greensboro Symphony and San Francisco Chamber Orchestra.
As Founder and Artistic Director of Elevate Ensemble, Mr. Goodman's ambitious vision for concert programming resulted in the pairing of music from Bay Area composers with underappreciated gems of the 20th and 21st centuries. Under his leadership, Elevate Ensemble established a Composer-in-Residence program and commissioned fifteen works from Bay Area composers. Elevate collaborated with photographers, videographers, poets and culinary artists, bringing new music and vibrant multi-genre experiences to unique venues such as yoga studios, historic Victorian homes and art studio warehouses.
Mr. Goodman has previously served as Conducting Fellow of Festival Napa Valley, Music Director of the Contra Costa Chamber Orchestra, Conducting Fellow of the Atlantic Music Festival, and a rehearsal and cover conductor for the San Francisco Ballet.
In addition to his performing career, he teaches young musicians the business and entrepreneurial skills needed to successfully navigate the world as a working musician in his workshop "You Earned a Music Degree. Now What?"
Mr. Goodman holds a bachelor of music degree from the Eastman School of Music and a master of music degree from San Francisco State University. His mentors include Michael Tilson Thomas, Alasdair Neale, Cyrus Ginwala and Martin Seggelke.