Events & Tickets
Orchestra Concert
Enigma Variations
New World Center, Michael Tilson Thomas Performance Hall
Friday, April 14, 2023 at 7:30 PM
Saturday, April 15, 2023 at 8:00 PM
Program
Conductor Emeritus of the Toronto Symphony and frequent NWS guest Peter Oundjian explores the power of friendship and unity alongside NWS Fellows. Elgar pays homage to those he knew and loved in his Enigma Variations, a heartwarming and heartbreaking array of tributes—including the famous Nimrod—that Elgar felt accurately revealed his "friends pictured within." Fueled by the social and political unrest of 2020, Joel Thompson creates a provocative meditation for symphony and narrator using words by James Baldwin. Instruments pairs go toe-to-toe in Joan Tower's Duets, and Conducting Fellow Chad Goodman leads Mozart's whimsical Overture to The Magic Flute.
---
This concert is part of the Friday Evening and Saturday Evening Two series. With either of these series, you'll enjoy phenomenal artists like Randall Goosby, Jeannette Sorrell, Carlos Miguel Prieto and orchestral master works like Elgar's Enigma Variations, Tchaikovsky's Violin Concerto, two works by Gabriela Ortiz and selections from Handel's Water Music. Subscriptions for the Friday Series (3 concerts) begin at $90 ($30/concert). Subscriptions to the Saturday Evening Two Series (4 concerts) begin at $132 ($33/concert). Click to explore the full subscriptions! 
COMPOSE YOUR OWN SUBSCRIPTION PACKAGE! 
Want to try a little of everything? Customize your own subscription of three or more concerts to exercise full creative freedom while enjoying all the flexibility and perks of being a New World Symphony subscriber. Click here to build your CYO subscription or call the Box Office at 305.673.3331 to compose your series today.  
SUBSCRIBERS ENJOY THE BEST OF NWS! 
As an NWS Subscriber, you receive amazing benefits to enjoy throughout the season, including the best seats for the lowest prices and access to our incredibly talented Fellows. Click here to learn more! 
Loading Concert Information
Program
Joan Tower
(b. 1938)
Approx. Duration: 19 minutes

Joel Thompson
(b. 1988)
Text by James Baldwin
Approx. Duration: 21 minutes

To Awaken the Sleeper for Orator and Orchestra 
(2021)

Wolfgang Amadeus Mozart
(1756-1791)
Approx. Duration: 7 minutes

Overture to The Magic Flute (1791)

Edward Elgar
(1857-1934)
Approx. Duration: 30 minutes

Variations on an Original Theme, "Enigma" Op. 36  (1899)

Theme (Andante) 
Variation I. L'istesso tempo "C.A.E." 
Variation II. Allegro "H.D.S-P." 
Variation III. Allegretto "R.B.T." 
Variation IV. Allegro di molto "W.M.B." 
Variation V. Moderato "R.P.A." 
Variation VI. Andantino "Ysobel" 
Variation VII. Presto "Troyte" 
Variation VIII. Allegretto "W.N." 
Variation IX. Adagio "Nimrod" 
Variation X. Intermezzo: Allegretto "Dorabella" 
Variation XI. Allegro di molto "G.R.S." 
Variation XII. Andante "B.G.N." 
Variation XIII. Romanza: Moderato "* * *" 
Variation XIV. Finale: Allegro Presto "E.D.U." 
Peter Oundjian, conductor
A dynamic presence in the conducting world, Peter Oundjian is renowned for his probing musicality, collaborative spirit and engaging personality.
The 2018-19 season includes debuts with the Indianapolis and New Zealand symphonies and return engagements with the St. Louis, Baltimore, Atlanta, Utah, Colorado and New World symphonies, as well as the Los Angeles Chamber Orchestra and Orchestre de la Suisse Romande. He completes his second season as Artistic Advisor of the Colorado Music Festival.
2017-18 marked Mr. Oundjian's 14th and final season as Music Director of the Toronto Symphony (TSO). His appointment in 2004 reinvigorated the orchestra with recordings, tours and acclaimed, innovative programming, as well as extensive audience growth, significantly strengthening the ensemble's presence in the world. In 2014 he led the TSO on a tour of Europe, which included a sold-out performance at Amsterdam's Concertgebouw and the first performance of a North American orchestra at Reykjavík's Harpa. In the 2016-17 season, Mr. Oundjian led the TSO on a major tour of Israel and Europe.
From 2012 to 2018, Mr. Oundjian was Music Director of the Royal Scottish National Orchestra. Under his baton, the orchestra toured China, the U.S. and across Europe. Together they recorded extensively for Sony and Chandos.
Few conductors bring such musicianship and engagement to the world's great podiums—from Berlin, Amsterdam and Tel Aviv, to New York, Chicago and Sydney. Mr. Oundjian has also appeared at some of the great annual gatherings of music and music-lovers: from the BBC Proms and the Prague Spring Festival, to the Edinburgh Festival and The Philadelphia Orchestra's Mozart Festival, where he was Artistic Director from 2003 to 2005.
Mr. Oundjian was Principal Guest Conductor of the Detroit Symphony from 2006 to 2010 and Artistic Director of the Caramoor International Music Festival in New York from 1997 to 2007. Since 1981 he has been a visiting professor at the Yale School of Music and earned the university's Sanford Medal for distinguished service to music in 2013.
Joel Thompson, orator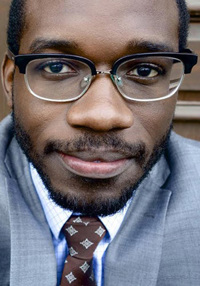 Joel Thompson is an Atlanta-based composer, conductor, pianist and educator, best known for the choral work, Seven Last Words of the Unarmed, which was premiered in 2015 by the University of Michigan Men's Glee Club and Dr. Eugene Rogers and won the 2018 American Prize for Choral Composition. In 2021 he premiered To Awaken the Sleeper in Boulder at the Colorado Music Festival; the piece sets the writings of James Baldwin to music.
Mr. Thompson's works have been performed by esteemed ensembles such as the Atlanta Symphony, Tallahassee Symphony, Atlanta Master Chorale, Los Angeles Master Chorale, EXIGENCE and San Francisco Gay Men's Chorus. Currently a doctoral student at the Yale School of Music, Mr. Thompson was also a 2017 post-graduate fellow in Arizona State University's Ensemble Lab/Projecting All Voices Initiative and a composition fellow at the 2017 Aspen Music Festival and School, where he studied with composers Stephen Hartke and Christopher Theofanidis and won the 2017 Hermitage Prize.

Mr. Thompson taught at Holy Innocents' Episcopal School in Atlanta from 2015 to 2017, and also served as Director of Choral Studies and Assistant Professor of Music at Andrew College from 2013 to 2015. He has a bachelor of arts degree in music and a master's degree in choral conducting, both from Emory University.
Chad Goodman, conductor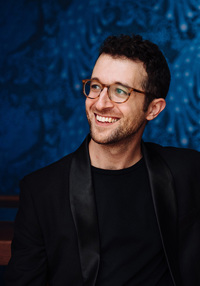 With a flair for inventive programming and a bold presence on stage and in the community, Chad Goodman has been praised for "bringing innovation to classical music" (Forbes).
As the Conducting Fellow of the New World Symphony, Mr. Goodman conducts on subscription, education, family and holiday programs. His program, "SPARK: How Composers Find Inspiration," blended captivating light design and videography with engaging audience participation to explore how a composition is created and brought to life by an orchestra.
Since 2018 Mr. Goodman has served as an Assistant Conductor to the San Francisco Symphony, assisting Esa-Pekka Salonen, Manfred Honeck, Daniel Harding, Pablo Heras-Casado, Simone Young and James Gaffigan among others.
Mr. Goodman's 2022-23 Season will include debut appearances with the Elgin Symphony, Baton Rouge Symphony, Greensboro Symphony and San Francisco Chamber Orchestra.
As Founder and Artistic Director of Elevate Ensemble, Mr. Goodman's ambitious vision for concert programming resulted in the pairing of music from Bay Area composers with underappreciated gems of the 20th and 21st centuries. Under his leadership, Elevate Ensemble established a Composer-in-Residence program and commissioned fifteen works from Bay Area composers. Elevate collaborated with photographers, videographers, poets and culinary artists, bringing new music and vibrant multi-genre experiences to unique venues such as yoga studios, historic Victorian homes and art studio warehouses.
Mr. Goodman has previously served as Conducting Fellow of Festival Napa Valley, Music Director of the Contra Costa Chamber Orchestra, Conducting Fellow of the Atlantic Music Festival, and a rehearsal and cover conductor for the San Francisco Ballet.
In addition to his performing career, he teaches young musicians the business and entrepreneurial skills needed to successfully navigate the world as a working musician in his workshop "You Earned a Music Degree. Now What?"
Mr. Goodman holds a bachelor of music degree from the Eastman School of Music and a master of music degree from San Francisco State University. His mentors include Michael Tilson Thomas, Alasdair Neale, Cyrus Ginwala and Martin Seggelke.