Events & Tickets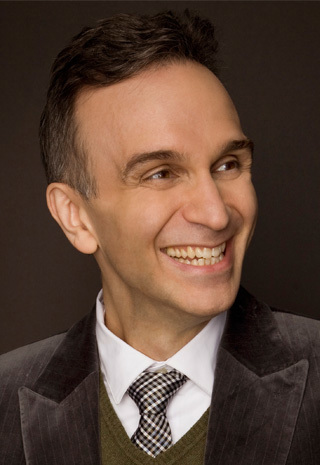 Orchestra Concert
GIL SHAHAM PLAYS TCHAIKOVSKY
Adrienne Arsht Center
Saturday, January 9 at 8:00 PM
Program
Grammy Award-winning and internationally-lauded violinist Gil Shaham joins NWS for an exclusive evening at the Adrienne Arsht Center. Deemed "unplayable" before its premiere, Tchaikovsky's masterpiece Concerto demands virtuosic fireworks with its unwavering passion, flowing lyricism and folkloric dance rhythms, especially in its flamboyant finale. Beethoven's serene Sixth Symphony calms the storm with blissful-sounding winds and soaring strings—setting the scene for a picturesque stroll through the Vienna countryside with bird calls, yodeling, hymns and more. Both styles are masterful in the hands of Cristian Măcelaru, a University of Miami Frost School of Music graduate who is now Conductor-in-Residence of The Philadelphia Orchestra. 
Program
Piotr Ilyich Tchaikovsky
(1840-1893)
Approx. Duration: 34 minutes

Concerto in D major for Violin and Orchestra, Op. 35 (1878)

Allegro moderato
Canzonetta: Andante
Finale: Allegro vivacissimo
Ludwig van Beethoven
(1770-1827)
Approx. Duration: 40 minutes

Symphony No. 6 in F major, Op. 68, "Pastoral" (1808)

Awakening of Cheerful Feelings upon Arrival in the Country: Allegro ma non troppo
Scene by the Brook: Andante molto mosso
Merry Gathering of Country Folk: Allegro
Thunderstorm: Allegro
Shepherd's Song:  Happy and Thankful Feelings after the Storm: Allegretto
Piotr Ilyich Tchaikovsky
Concerto in D major for Violin and Orchestra, Op. 35 (1878)

Approximate duration: 34 minutes
After Tchaikovsky's disastrous marriage and subsequent mental breakdown in 1877, a visit to Switzerland in November did wonders for his health and spirit. He returned the following March for another retreat, this time joined by Iosef Kotek, a violinist and former composition student for whom Tchaikovsky had developed a strong (and not entirely platonic) affection. Together they played through major works of violin repertoire, a process that sparked in Tchaikovsky a "burning inspiration" to compose a violin concerto, as he explained in a letter to his patron, Nadezhda von Meck. 
It took Tchaikovsky only 25 days to compose the Concerto, including the orchestration. Kotek proved an indispensable assistant, trying out the solo parts and allowing Tchaikovsky to hear and reshape passages as needed. Tchaikovsky considered having Kotek perform the premiere and also thought of dedicating the work to him, but instead he chose to offer the debut to Leopold Auer, a Hungarian virtuoso based in Saint Petersburg. Auer, however, found aspects of the work unplayable (or at least too technically awkward to sound good), and Tchaikovsky was forced to cancel the scheduled premiere and look for another soloist. The work did not reach the public until an 1881 performance in Vienna by Adolph Brodsky, to whom Tchaikovsky rededicated the score. In time, violinists—even Auer, eventually—warmed to the work's passionate lyricism and fiery virtuosity, and it has become essential repertoire for all serious soloists. 
As impressive as the rapid passagework may be, it is the luscious melodies that make Tchaikovsky's Concerto a perennial favorite. 
The opening movement frames the violin's seductive themes in a grand and spacious form. Borrowing a device from the Mendelssohn Violin Concerto, the cadenza arrives early and flows seamlessly into a sweet recapitulation. 
The second movement is a nostalgic Canzonetta, or "little song." 
Tchaikovsky wrote this movement to replace a discarded version of the slow movement, which he recycled a few months later in a work for violin and piano, Souvenir d'un lieu cher (Memory of a Dear Place). 
The finale commences without a pause, launching right into a suspenseful solo cadenza. 
In the Allegro vivacissimo body of the movement, the violin blazes through thrilling pyrotechnics and several contrasting themes en route to a breathless conclusion. 
Additional Resources 
PDF score from the IMSLP Petrucci Music Library 
Description of the Violin Concerto on the Tchaikovsky Research site 
Article in The New York Times on controversial statements about sexuality by the Russian director of a Tchaikovsky biopic
Ludwig van Beethoven
Symphony No. 6 in F major, Op. 68, "Pastoral" (1808)

Approximate duration: 40 minutes
Beethoven composed his Fifth and Sixth Symphonies concurrently in 1808, and introduced them together (with their numbers switched) as part of a four-hour extravaganza in Vienna. The following year, they were published in the familiar order, with adjacent opus numbers. Beethoven's Sixth stands as one of the first programmatic symphonies, using descriptive movement headings to evoke specific ideas and images. The "Pastoral" nickname came from Beethoven himself, when he marked the parts for the initial performance with the heading "Pastoral Symphony, or Recollections of Country Life: More an Expression of Feeling than Painting."
Beethoven's journals and letters reveal his love of nature, as when he wrote in 1810, "How delighted I will be to ramble for awhile through the bushes, woods, under trees, through grass and around rocks. No one can love the country as much as I do. For surely woods, trees and rocks produce the echo that man desires to hear." Recognizing and appreciating the natural world was a cornerstone of the Romantic ethos, and Beethoven's "Pastoral" Symphony joined a common thread in music, art and literature of the early 19th century that rhapsodized on the beauty and grandeur of the natural world, with a reverence that was in no small part spiritual.
Just as the first four notes of the Fifth Symphony influence every measure of the opening movement, the Sixth Symphony builds an expansive essay out of a seemingly naïve theme. The first movement, characterized as the "Awakening of Cheerful Feelings upon Arrival in the Country," enters bashfully, with four quiet measures that trail off.
Fragments of this figure build slowly, basking in long stretches of unmoving harmony.
The development section, often an opportunity for increased turbulence and activity, instead sinks deeper into a country calm, savoring each radiant chord change.
The second movement, "Scene by the Brook," establishes a lapping triplet pulse under another mere wisp of melody.
The idyllic scene ends with a trio of birdcalls from the woodwinds, representing a nightingale, quail and cuckoo.
From here, the Symphony diverges from a typical four-movement pattern. There is a scherzo-like third movement, "Merry Gathering of Country Folk."
The rollicking dance music halts unresolved and is supplanted by the first staccato raindrops of the "Thunderstorm."
Fearful dissonances and thunderous timpani strikes make for a convincing tempest, until it trails off in one last upward patter from the flute.
A clarinet takes over to establish the sing-song contours of the "Shepherd's Song:  Happy and Thankful Feelings after the Storm."
This tune, at once humble and heroic, returns the Symphony to its pastoral calm. Near the end, a hymn-like variant lends a deeper resonance to this sunny conclusion.
Additional Resources
PDF score from the IMSLP Petrucci Music Library
Guide to the Sixth Symphony from The Guardian
Depictions of Beethoven in nature from the Beethoven-Haus in Bonn, his birthplace
-- Copyright © 2016 Aaron Grad
Aaron Grad is a composer, guitarist and writer based in Seattle. Besides providing program notes for the New World Symphony, he has been the Orpheus Chamber Orchestra's program annotator since 2005 and also contributes notes to the Saint Paul Chamber Orchestra and Seattle Symphony.
Audio clips provided by Naxos of America, Inc.
Cristian Măcelaru, conductor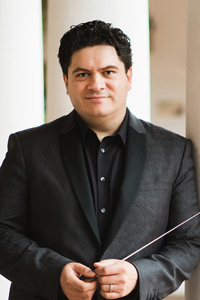 Currently in his first season as Chief Conductor of the WDR Symphony Orchestra Cologne, Cristian Măcelaru is one of the fast-rising stars of the conducting world. Recently appointed as Music Director as the National Orchestra of France, he will begin this position in September 2021.
In January 2020 Mr. Măcelaru received his first-ever Grammy Award for conducting the Decca Classics recording of Wynton Marsalis' Violin Concerto with Nicola Benedetti and The Philadelphia Orchestra.
Summer 2020 will commence Mr. Măcelaru's first season as Inaugural Artistic Director and Principal Conductor of the World Youth Symphony Orchestra at Interlochen Center for the Arts. It will also mark his fourth season as Music Director and Conductor of the Cabrillo Festival of Contemporary Music, the world's leading festival dedicated to contemporary symphonic repertoire. Among the 2020 season's highlights are a dozen composers-in-residence, including Sean Shepherd who premieres a new work for the Festival.
Mr. Măcelaru attracted international attention for the first time in 2012, when he stepped into the breach with the Chicago Symphony, deputizing for Pierre Boulez. In the same year, he received the Solti Emerging Conductor Award for young conductors, followed in 2014 with the Solti Conducting Award. Since then, he has performed regularly at the podium of the best American orchestras, including the Chicago Symphony, New York Philharmonic, Los Angeles Philharmonic, Cleveland Orchestra, St. Louis Symphony and National Symphony. A particularly close collaboration connects him with The Philadelphia Orchestra, where he served for three seasons as Conductor-in-Residence.
Mr. Măcelaru has been in great demand as guest conductor with many reputable orchestras worldwide, among others the Bavarian Radio Symphony Orchestra, Royal Concertgebouw Orchestra, Dresden Philharmonic, Leipzig Gewandhaus Orchestra, Deutsches Symphonie-Orchester (DSO) Berlin, Orchestre de Paris, Orchestre Philharmonique de Radio France, BBC Symphony Orchestra, Rotterdam Philharmonic Orchestra, Hallé Orchestra, Scottish Chamber Orchestra, City of Birmingham Symphony and Danish National Symphony.
The 2020-21 season marks Mr. Măcelaru's second year as Chief Conductor at the WDR Symphony Orchestra Cologne. He continues to strengthen his European presence with appearances including with the Royal Concertgebouw Orchestra, Dresden Philharmonic, German Chamber Philharmonic Bremen, Bamberg Symphony, Netherlands Radio Philharmonic, Monte Carlo Philharmonic and Belgian National Orchestra. In North America, he returns to the San Francisco, Atlanta, Baltimore, Seattle and St. Louis symphonies.
As part of the 2020 Beethoven Year celebrations, Mr. Măcelaru leads the New Japan Philharmonic in an all-Beethoven program at Suntory Hall in Tokyo with violinist Anne-Sophie Mutter, cellist Daniel Müller-Schott and pianist Lambert Orkis.
Mr. Măcelaru was born in Timișoara, Romania and comes from a musical family. His studies took him from Romania to the Interlochen Arts Academy in Michigan, University of Miami in Florida and Rice University in Houston, where he studied conducting with Larry Rachleff. He then deepened his knowledge at Tanglewood Music Center and Aspen Music Festival. He resides in Bonn with his wife Cheryl and children Beniamin and Maria.
Gil Shaham, violin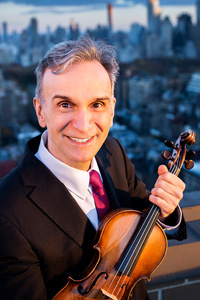 Gil Shaham is one of the foremost violinists of our time: his flawless technique combined with his inimitable warmth and generosity of spirit has solidified his renown as an American master. He is sought after throughout the world for concerto appearances with leading orchestras and conductors, and regularly gives recitals and appears with ensembles on the world's great concert stages and at the most prestigious festivals.
Mr. Shaham's highlights of recent years include a recording and performances of J.S. Bach's complete sonatas and partitas for solo violin, and recitals with his long time duo partner pianist, Akira Eguchi. He regularly appears with the Berlin Philharmonic; Boston, Chicago, and San Francisco symphonies; Israel, Los Angeles and New York philharmonics; Orchestre de Paris; and in multi-year residencies with the orchestras of Montreal, Stuttgart and Singapore. 
Mr. Shaham has more than two dozen concerto and solo CDs to his name, earning multiple Grammy Awards, a Grand Prix du Disque, Diapason d'Or and Gramophone Editor's Choice. His most recent recording in the series 1930s Violin Concertos Vol. 2 was nominated for a Grammy Award. His latest recording of Beethoven and Brahms Concertos with The Knights was released in 2021.
Mr. Shaham was awarded an Avery Fisher Career Grant in 1990, and in 2008, received the coveted Avery Fisher Prize. In 2012 he was named "Instrumentalist of the Year" by Musical America. He plays the 1699 "Countess Polignac" Stradivarius, and lives in New York City with his wife, violinist Adele Anthony, and their three children.