Events & Tickets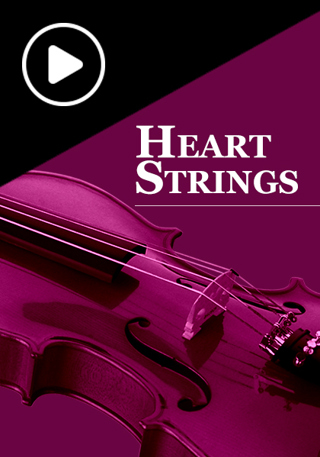 Online Event
Heart Strings: Samuel Coleridge-Taylor and Johannes Brahms
Online Event
Saturday, February 6, 2021 at 7:30 PM ET
Streaming until Tuesday, February 9, 2021 at 7:30 PM ET
Program
Sponsored by:

NWS kicks off its Spring 2021 season with a two-week series devoted to the music our hearts need right now -- soaring, lyrical works that exude pure emotional bliss. The series' featured composers--Samuel Coleridge-Taylor, Ludovic Lamothe, Johannes Brahms, William Grant Still and Florence Price--embraced the Romantic era's sweeping musical gestures to create melodies that appeal to the heart, heal and provide an escape.
*Tickets for this virtual concert are available for purchase until 5:30 PM on Tuesday, February 9, 2021. The streaming window ends at 7:30 PM that day.
NWS thanks its 2020-21 donors.
Program
Samuel Coleridge-Taylor
(1875-1912)
Edited by Patrick Meadows
Approx. Duration: 26 minutes

Nonet in F minor, Op. 2 (1894)

Allegro moderato
Andante con moto
Scherzo: Allegro
Finale: Allegro vivace
Mark Debski, oboe; Kelsi Doolittle, clarinet
Justin Cummings, bassoon; Scott Leger, horn
Jonathan Mak, piano
Christina Choi, violin; Marlea Simpson, viola
Vivian Chang, cello; Eric Windmeier, bass
Ludovic Lamothe
(1882-1953)
Approx. Duration: 4 minutes

Album Leaf No. 1 in F-sharp minor (before 1937)

Johannes Brahms
(1833-1897)
Arranged by Peter Stangel
Approx. Duration: 10 minutes

Serenade No. 1 in D major, Op. 11 (1857-58)

Johanna Gruskin, flute; Victoria Chung, oboe
Jesse McCandless, Jesse Gilday, clarinet
Bee Ungar, bassoon; Jessica Elder, horn
Natsuko Takashima, Sergio Carleo, violin
Peter Ayuso, viola; James Churchill, cello
Levi Jones, bass
Johannes Brahms
(1833-1897)
Arranged by Matthew Knight
Approx. Duration: 3 minutes

Geistliches Lied, Op. 30 (1856)

Gianluca Farina, Morgen Low, Luke Balslov, trumpet
Guangwei Fan, Arno Tri Pramudia, trombone
Noah Roper, bass trombone; Andrew Abel, tuba
William Grant Still
(1895-1978)
Approx. Duration: 8 minutes

Suite for Violin and Piano (1943)

II. Mother and Child
III. Gamin
Brendon Elliott, violin
Thomas Steigerwald, piano
Johannes Brahms
(1833-1897)
Approx. Duration: 7 minutes

Serenade No. 1 in D major, Op. 11 (1857-58)

Johanna Gruskin, flute; Victoria Chung, oboe
Jesse McCandless, Jesse Gilday, clarinet
Bee Ungar, bassoon; Jessica Elder, horn
Natsuko Takashima, Sergio Carleo, violin
Peter Ayuso, viola; James Churchill, cello
Levi Jones, bass
Samuel Coleridge-Taylor
Nonet in F minor, Op. 2 (1894)

Approximate duration: 26 minutes
Samuel Coleridge-Taylor received the last part of his name from his father, who had returned home to Sierra Leone (the British colony in Africa originally established as a refuge for freed and escaped slaves) without learning that a white British woman was pregnant with his son. Samuel's mother gifted her son with an auspicious name modeled after the English poet Samuel Taylor Coleridge, and the boy's grandfather passed on an even greater gift by introducing Samuel to his own instrument, the violin.
Coleridge-Taylor went on to enroll at London's Royal Academy of Music at the age of 15 as a violinist, and three years later he began composition lessons as well. But even then, he was already a published composer, and the Nonet he wrote in 1894, during his first year of formal composition study, shows how far he had already come in absorbing the styles of his heroes, Brahms and Dvořák. It was only in later years that Coleridge-Taylor channeled African and African-American themes into works that proved hugely influential for future generations of American composers, a project that was still gathering steam when he died of pneumonia at the age of 37.
Coleridge-Taylor showed quite a bit of originality in his Opus 2 by assembling a non-standard nonet of oboe, clarinet, bassoon, horn, violin, viola, cello, bass and piano. Mixed ensembles of strings and winds had been popular since the time of Mozart and Beethoven, and there was ample chamber music from the past century combining piano with strings or winds, but this particular configuration added a new level of sonic complexity that the young composer handled with aplomb. The musical materials could easily be mistaken for the themes and harmonies of Brahms or Dvořák, which is quite admirable for the work of a British teenager, and the four attractive movements oriented around the high emotions of F minor make a strong case for the enormous talent that allowed Coleridge-Taylor to become a trendsetter and role model.
Ludovic Lamothe
Album Leaf No. 1 in F-sharp minor (before 1937)

Approximate duration: 4 minutes
Upon returning to his native Haiti in 1911 after a year of music lessons in Paris, Ludovic Lamothe was dubbed the "Black Chopin"—an apt comparison between two composer-pianists who specialized in solo pieces rooted in the dances of their respective homelands. For all the decades that Lamothe was a fixture in Haiti's musical community, almost none of his music was published in his lifetime, although he did make his own 78 RPM recording in 1937 of this melancholy vignette titled "Album Leaf," a term used by Chopin and many other Romantic composers for a short piano meditation.
Johannes Brahms
Serenade No. 1 in D major, Op. 11 (1857-58)

Approximate duration: 10 minutes
After the death of his mentor and champion Robert Schumann in 1856, Johannes Brahms did not publish any music for the next four years, and he performed only sporadically at the piano. While supporting himself by teaching and conducting, he labored over a Piano Concerto, studied counterpoint and other musical styles of the past, and challenged himself to experiment in new forms. Each year from 1857 to 1859, he spent a few months conducting a choir and offering piano lessons in Detmold, Germany, and it was there that he wrote two Serenades, using as his guide the Classical-era tradition of lighthearted music for evening gatherings. The Serenade No. 1 in D major (1857-58) existed in a version for nine players, until Brahms expanded the scoring to chamber orchestra in 1860. The Serenade No. 2 in A major (1858-59) also used less than a full orchestral complement, omitting violins.
The Serenades were important laboratories for Brahms. Free of the gravitas of symphonies (a form that stymied him for decades) but extending beyond the small-scale comfort zone of solo piano music and songs (genres that dominated his early output), these fruitful trials in large-ensemble writing brought forward the full potential that Schumann had seen years earlier.
This version of the First Serenade was arranged in 2008 by conductor Peter Stangel for a German group known as Taschenphilharmonie, or Pocket Philharmonic. Brahms' original nonet version is lost, but this edition returns the music to similar proportions, using the same mixed group of winds and strings plus an added oboe and second violin. Even once he expanded it for full orchestra, Brahms kept the Serenade unabashedly spacious and pastoral, setting the mood in the opening Allegro molto movement with horn and clarinet solos over droning strings.
Johannes Brahms
Geistliches Lied, Op. 30 (1856)

Approximate duration: 3 minutes
Thanks to an introduction from a mutual friend, the 20-year-old Brahms went to Düsseldorf in 1853 to visit Robert and Clara Schumann, an encounter that had a profound impact on all three of them. Along with their late friend Felix Mendelssohn, the Schumanns had become staunch champions of the musical traditions forged in the 18th-century, preserving the meticulous counterpoint and elegant structures mastered by the likes of Bach and Mozart. At a time when many modern composers wanted to make grandiose breaks with the past, Brahms took up the mantle and proved to be a dutiful keeper of that old flame. He also showed his loyalty and deep affection for the Schumann family in the wake of Robert's suicide attempt in 1854 and confinement in a psychiatric hospital. Brahms moved to Düsseldorf to help manage the household while Clara, a former child prodigy and a leading pianist of her generation, supported the family playing concert tours.
It was during this period that Brahms wrote his first work for accompanied chorus, Geistliches Lied, setting a 17th-century text by a German author of poems and hymns. As Robert slipped toward death, we can imagine that Brahms might have been thinking of Clara when he chose a text that begins, "Let nothing indeed make you endure grief; Be at peace!" He employed one of those historic musical techniques that the Schumanns revered by writing in canon, where one voice follows another with the same music after a certain interval. The vocal parts and keyboard accompaniment translate smoothly into this instrumental transcription for brass septet by Matthew Knight.
William Grant Still
Suite for Violin and Piano (1943)

Approximate duration: 8 minutes
As a gifted composer, conductor and arranger fluid in both classical and popular styles, William Grant Still achieved a level of success that had been inaccessible to any African-American musician before him. After studying at Wilberforce University, a historically Black college in Ohio, he found work arranging songs for the bandleader W. C. Handy, i.e. "The Father of the Blues." Still went back to school at Oberlin College to refine his skills in theory and counterpoint, and he kept seeking out mentors for private composition lessons even as his career in music theater progressed admirably. Having earned a spot as the oboe player for the show Shuffle Along—the first Black musical to play in white theaters—Still used the production's long run in Boston to study with George Chadwick, an esteemed composer and the director of the New England Conservatory. (Still, incidentally, had picked up oboe on his own, on top of playing piano, violin and cello.)
In the early 1920s, while scraping by from gig to gig arranging scores for short-lived Broadway shows, Still found his most important teacher in Edgard Varèse, an avant-garde French composer based in New York who "taught me to be independent," as Still recounted in a biographical note. Varèse also used his platform as the founder of the International Composers' Guild to promote Still's early experiments with concert music. In 1931 Still became the first African-American composer to have a symphony performed by a major orchestra.
The Suite for Violin and Piano that Still composed in 1943 took inspiration from three sculptures by pioneering Black artists. The slow second movement, based on Mother and Child by Sargent Johnson, has the rocking, consoling strains of a lullaby. The mischievous finale takes its inspiration and title from Augusta Savage's Gamin, an old term for a boy who hangs out on the streets.
Johannes Brahms
Serenade No. 1 in D major, Op. 11 (1857-58)

Approximate duration: 7 minutes
Brahms almost titled the First Serenade a "Symphony-Serenade," and without the twin scherzos inserted after the first movement and before the last, the remaining four movements do resemble a symphony. More than the organization of the movements, it is the bucolic mood of the Serenade that differentiates it from Brahms' conception of a symphony—especially his First Symphony, a weighty minor-key work Brahms grappled with for two decades. The outdoorsy tone established in the first movement reaches a rustic and rollicking climax in the finale, a Rondo built around a theme in lopsided "dotted" rhythms, like the galloping strides of a horse.
-- © 2021 Aaron Grad
Aaron Grad is a composer, guitarist and writer based in Seattle. Besides providing program notes for the New World Symphony, he has been the Orpheus Chamber Orchestra's program annotator since 2005 and also contributes notes to the Saint Paul Chamber Orchestra and Seattle Symphony.
Musicians of the New World Symphony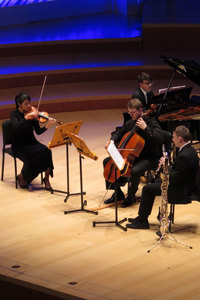 A laboratory for the way music is taught, presented and experienced, the New World Symphony consists of 87 young musicians who are granted fellowships lasting up to three years. The fellowship program offers in-depth exposure to traditional and modern repertoire, professional development training and personalized experiences working with leading guest conductors, soloists and visiting faculty. 
NWS Fellows take advantage of the innovative performance facilities and state-of-the art practice and ensemble rooms of the Frank Gehry-designed New World Center, the campus of the New World Symphony and home of the Knight New Media Center.
In the hopes of joining NWS, nearly 1,000 recent music school and conservatory graduates compete for available fellowships each year. The Fellows are selected for this highly competitive, prestigious opportunity based on their musical achievement and promise, as well as their passion for the future of classical music.