Events & Tickets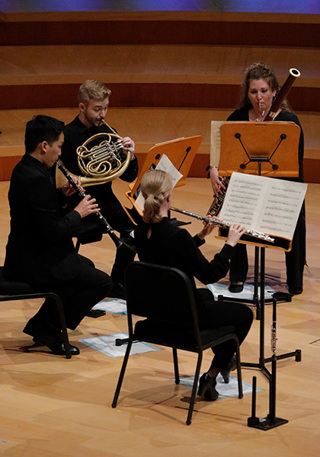 Special Event
I Dream a World: Chamber Music in Historic Overtown
Lyric Theater of the Black Archives, Overtown
Friday, February 10, 2023 at 7:30 PM
Location: 819 NW 2nd Ave, Miami, FL 33136
Program
In collaboration with the Black Archives History & Research Foundation of South Florida, Inc., join New World Symphony for an evening of jazz and chamber music at the Historic Lyric Theater in Overtown. Like Harlem, Overtown experienced its own cultural renaissance in the 1930s, and served as a refuge for artists like Billie Holiday and Ella Fitzgerald when they performed in Miami. 
Location: Historic Lyric Theater - 819 NW 2nd Ave, Miami, FL 33136
This concert is part of the I Dream a World festival. Click here for a full listing of festival events.
I Dream a World: The Harlem Renaissance and Beyond is made possible with support from the NWS Collaborations Fund, the NWS Fund for New Ventures and the Keith and Renata Ward Family Fund. Knight Foundation and New World Symphony: Reimagining Classical Music in the Digital Age.
I Dream a World Festival Pass
A Festival Pass is your ticket to two weeks of live music, film, art and learning. For $150 or less, attend as many events as you'd like by showing your festival pass at the door. Click here to choose a Festival Pass.
Loading Concert Information
Program
Robert Nathaniel Dett
(1882-1943)

Scott Joplin
(1868-1917)
Arranged by David Zimbalist

James Zabawa-Martinez, violin I; Luis Salazar, violin II
Elizabeth Doubrawa, viola; Vivian Chang, cello
James Reese Europe
(1881-1919)
Arranged by Michael Linville

Benjamin Cruz, clarinet; Morgen Low, trumpet
Chase Waterbury, trombone; Andrew Abel, tuba
Jennifer Marasti, drums; Noah Sonderling, piano
James Zabawa-Martinez, violin; Elizabeth Doubrawa, viola
Vivian Chang, cello; Jakob Gerritsen, bass
Fats Waller
(1904-1943)
Arranged by Wesley Ducote

Mary Lou Williams
(1910-1981)

Wesley Ducote, piano
Jakob Gerritsen, bass
Jennifer Marasti, drums
Fats Waller
(1904-1943)
Arranged by David Zimbalist

James Zabawa-Martinez, violin I; Luis Salazar, violin II
Elizabeth Doubrawa, viola; Vivian Chang, cello
Florence Price
(1887-1953)

Octet for Brasses and Piano (1930)

II. Andante cantabile
III. Tempo moderato
Noah Sonderling, piano; Spencer Bay, Henry Bond, horn
Kenneth Chauby, Morgen Low, trumpet
Guangwei Fan, Chase Waterbury, trombone; Andrew Abel, tuba
Clarence Cameron White
(1880-1960)

Benjamin Cruz, clarinet
Noah Sonderling, piano
William Grant Still
(1895-1978)

Suite for Violin and Piano (1943)

Luis Salazar, violin
Wesley Ducote, piano
Darius Milhaud
(1892-1974)
Lyrics by Jean Cocteau

"Caramel mou," Op. 68 (1920)

Erin Alford, mezzo-soprano; Benjamin Cruz, clarinet
Morgen Low, trumpet; Guangwei Fan, trombone
Jennifer Marasti, percussion; Wesley Ducote, piano
James P. Johnson
(1894-1955)
Arranged by David Zimbalist

James Zabawa-Martinez, violin I; Luis Salazar, violin II
Elizabeth Doubrawa, viola; Vivian Chang, cello
BLACK RENAISSANCE: CHAMBER MUSIC IN HISTORIC OVERTOWN
The music comprising this program is emblematic of the full, reverberating nature of both Black sound beyond the geographic borders of the spaces that framed Black life and the geopolitical borders of America. The harmonies, rhythms and melodies you will hear only frame one aspect of this story, as this music is intertwined with larger cultural narratives that represent how Black people embodied freedom, resistance and transcendence through their movement. It is no mistake that this concert begins and ends with music that references the shifting of Black dance practices from the insularity of their respective communities to global stages. We begin with the Juba, a dance that represented resistance to subjugation and the denial of personal freedom in the American context, and we end with a dance that symbolized the liberation of Europe from its cultural norms following World War I.
In the Bottoms is one of R. Nathaniel Dett's most well-known piano works. It reflected the utility, practicality and accessibility that underscored many of his early works, which correlated with teaching stints at various Black colleges. This five-movement suite depicts various aspects of Black life in the river bottoms of the South. Juba is its final movement and is based on the dance and musical practices that evolved out of the enslaved experience. It marks one of the earliest forms of Black dance that entered America's consciousness in the 19th century. The Juba's origins extend back to slaves from the Kongo region that were brought to Charleston, SC. It involved stomping and the slapping or "patting" of various parts of the body (e.g., arms, legs, chest, etc.). After the Stono Rebellion in 1739, drums and other rhythmic instruments were outlawed in slave communities. The percussive sequence of intricate rhythmic patterns associated with the Juba represents how enslaved Africans adapted their traditional practices to the constraints of the New World and created a new idiom of expression.
In the mid-to-late 19th century, lyrics and instrumental accompaniment were added to the dance, and it was integrated into minstrel shows. Despite this dubious connection, Black composers like Dett and later Florence Price, embraced the intricate rhythmic patterns associated with the Juba, and employed it as a sonic marker of Blackness in their compositions.
James P. Johnson's "The Charleston" and Darius Milhaud's "Caramel mou" (Shimmy) signify how folk dances like the Juba spawned variant forms of Black dance practices as Blacks migrated and birthed new identities. These dances and their promotion through various forms of popular culture during the first two decades of the 20th century significantly influenced a generation of American and European composers. There are many speculations about the origins of the Shimmy. However, most historians trace its origins back to the dance tune "Shimmy Sha Wabble," written by Spencer Williams in 1917. The song and the dance, which largely encompassed the shaking of one's shoulders or upper body, grew in popularity when white performers, most notably Mae West, integrated it into their performances.
The Charleston reflected the emergence of new cultural forms as southern Blacks migrated northward to urban cities. Much like the Juba, the Charleston draws its origins from the dance practices of enslaved Africans in the city it refers to. The rhythmic pattern heard is a clave or habanera rhythm James P. Johnson heard and articulated in numerous ways during his time in Charleston in the early 1920s. The song and dance were introduced in the 1923 musical Runnin' Wild and, like the Shimmy, they became associated with jazz culture during the 1920s. The Black music theater culture that Johnson worked in can be heard in the music that defined a generation of composers who emerged during this period, including Darius Milhaud. His "Caramel mou" represents how European composers advanced an idiom that drew on the nuances, harmonies and rhythms that defined the early New Orleans jazz aesthetic. Its beginning invokes the collective improvisation and melodic interplay that took place between lead instruments in early jazz. Milhaud heard these sounds in London in 1919, and they sparked in him an interest in jazz culture that ultimately led to him visiting the U.S. and Harlem years later.
The influence of Black dance practices also extends to the compositions of Scott Joplin. Ragtime emerged in the late 19th century as a new form of popular music and spawned several dances that shifted the context of America's dance culture away from those of Old-World Europe well into the first four decades of the 20th century. Although most associate the syncopated melodies of Ragtime with dances like the Cakewalk, Turkey Trot and Tango, the origins of this genre and its distinct performance approaches extend back to slavery.
Ragtime was one of many forms of syncopated instrumental music that enslaved musicians performed during slave gatherings. The melodies were largely played on fiddle or banjo and accompanied by handclapping and stomping. The juxtaposition of the two created the distinct rhythmic tension or unexpected rhythmic accents. The word "ragtime" developed out of Black musicians' identification of playing in a highly polyrhythmic style as "ragging the rhythm." Ragtime's popularity and growing impact beyond the Black community was fueled by a perfect storm of factors: 1) the growing popularity and affordability of pianos in the late 19th and early 20th century; 2) a growing infatuation amongst Americans with leisure culture or the activities that defined their non-work lives; 3) growing debates about what defined American culture and identity; and 4) the intellectual and cultural imprint of the 1893 Chicago's World Fair.
While not the first to publish Ragtime compositions, Scott Joplin's works signified the standardization of a particular structure and harmonic formula. Joplin's compositions displayed a fusion of elements drawn from European marches, Romantic-era piano repertory and Black folk music traditions. At the time of his death in 1917, Joplin had composed one ballet, two operas and approximately 53 rags. His music fell into relative obscurity until the 1970s, when his music was featured in the award-winning film, The Sting, and pianist Joshua Rifkin recorded a series of albums focused on the compositions of Joplin.
The compositions of Mary Lou Williams, Fats Waller, Florence Price and William Grant Still included in this concert point to the divergent sides of the Renaissance's identity. They represent the paradox that existed between the assimilationist, elitist politics that underscored the movement and the aspirational and influential sounds of Harlem's migrant community and the leisure culture industry it cultivated. Night Life and Handful of Keys represent how the piano served as a means of survival in the lives of southern Blacks during the first wave of the Great Migration. The Stride piano style developed out of the rent party culture of the Northeast. These parties not only provided a financial safety net for working class Blacks who had their dreams of freedom squeezed by low wages and high rents in Northern cities, but they also served as important sub-communities that provided respite from the social and psychological effects of racism. Lastly, the transition of this virtuosic form of piano music from the insularity of these Black spaces to the stages of America's theaters and nightclubs during the 1920s primed American and European audiences for the emergence of early jazz.
Florence Price and William Grant Still exemplified what the ideological leader of the Harlem Renaissance, Alain Locke, envisioned as the New Negro-era composer. Both grew up in the prodigious Black community of Little Rock, Arkansas. Their exposure to a vibrant musical life, but also advanced public-school curriculum in the segregated school system contributed to their matriculation to prominent colleges. Although their lives would take different directions, both would become important in advancing the Renaissance movement.
Still spent his early years as a composer immersed in the musical life of New York, working first for W.C. Handy's publishing company, then as musical director for the first Black-owned recording company, Black Swan Records. His aspiration, however, extended to the classical music realm. By the time he composed the Suite for Violin and Piano, Still was no longer living in New York. He and his second wife, Verna Arvey, had moved to Los Angeles. However, this work displays how the culture of Harlem and the artistic communities that defined the Renaissance still influenced his work. Each movement of this composition is based on a noted Black artist. The movement performed during this concert was based on sculptor Augusta Savage's famous work Gamin. The title derives from a French word used to characterize streetwise kids. Still's music seemingly represents the energy that emanates from one navigating the streets of Harlem. The left hand summons the vernacular forms of piano music that came out of the rent parties and nightclubs of Harlem. It first invokes the rhythmic and harmonic ostinato that characterizes Boogie-woogie, a blues-based form of piano music. It soon shifts to the type of intricate bass motives associated with Harlem stride piano. The violin fills out this musical interplay with blues-tinged melodies.
Following her studies at the New England Conservatory of Music, Florence Price began a career teaching. She served as the chair of the music department at Clark University (now Clark-Atlanta University) before marrying Thomas J. Price. Seeking an escape from the racial violence that pervaded the South during the years following World War I, Florence Price and her family moved to Chicago in 1927. Her Octet for Brasses and Piano points to the budding Renaissance movement that was taken shape in Chicago during the 1930s. It is emblematic of Price's engagement with the fertile musical life of Chicago's Black community and the reawakening of her compositional voice. Although this work is dated three years after her arrival, little is known about its performance history. This work was one of dozens found in an abandoned home outside of Chicago in 2009. Its lost history is symbolic of the challenges Price and the other Black composers featured in this concert faced in having their music regularly performed during their lifetimes.
—Dr. Tammy L. Kernodle
Dr. Tammy L. Kernodle is University Distinguished Professor at Miami University in Ohio. Her scholarship and teaching have been primarily in the areas of African American music (classical and popular), jazz, and gender and popular music. She served as the Scholar in Residence for the Women in Jazz Initiative at the American Jazz Museum in Kansas City (1999-2001) and has worked closely with a number of educational programs including the Kennedy Center's Mary Lou Williams Women in Jazz Festival, Jazz@Lincoln Center, NPR, Rock `n' Roll Hall of Fame Lecture series and the BBC. She is the author of biography Soul on Soul: The Life and Music of Mary Lou Williams and served as Associate Editor of the three-volume Encyclopedia of African American Music. She holds degrees from The Ohio State University and Virginia State University and is curator of the New World Symphony's annual I Dream a World festival.
Musicians of the New World Symphony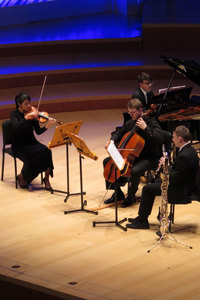 A laboratory for the way music is taught, presented and experienced, the New World Symphony consists of 87 young musicians who are granted fellowships lasting up to three years. The fellowship program offers in-depth exposure to traditional and modern repertoire, professional development training and personalized experiences working with leading guest conductors, soloists and visiting faculty. 
NWS Fellows take advantage of the innovative performance facilities and state-of-the art practice and ensemble rooms of the Frank Gehry-designed New World Center, the campus of the New World Symphony and home of the Knight New Media Center.
In the hopes of joining NWS, nearly 1,000 recent music school and conservatory graduates compete for available fellowships each year. The Fellows are selected for this highly competitive, prestigious opportunity based on their musical achievement and promise, as well as their passion for the future of classical music.