Events & Tickets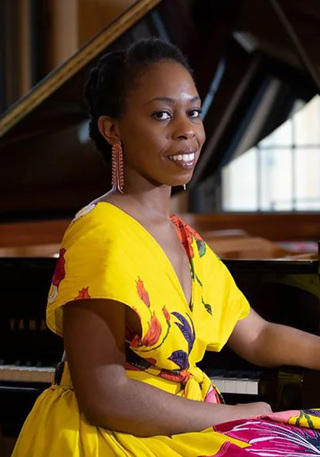 Special Event
Transatlantic Conversations: Black Renaissance Pianism across the Pond
New World Center, Truist Pavilion
British musicologist and pianist Dr. Samantha Ege shares moving and memorable piano-centric music by influential Black composers including Amanda Aldridge, Harry T. Burleigh and Robert Nathaniel Dett. Joining Dr. Ege in performance and discussion are conductor and NWS alum William Eddins and NWS's current Piano Fellows. 
Recordings from this concert will be included in the NWS's 36Keys.org, a digital resource library to ensure this work is available to students, teachers, programmers and music lovers.
This concert is part of the I Dream a World festival. Click here for a full listing of festival events.
I Dream a World: The Harlem Renaissance and Beyond is made possible with support from the NWS Collaborations Fund, the NWS Fund for New Ventures and the Keith and Renata Ward Family Fund. Knight Foundation and New World Symphony: Reimagining Classical Music in the Digital Age.
Festival Exhibition
LE PARIS NOIR: HENRY OSSAWA TANNER & LOÏS MAILOU JONES
February 3-12, 2023
New World Center, Clinton Family Fund Ensemble Room
Christopher Norwood, curator and founder of Hampton Art Lovers at the Historic Ward Rooming House, curates an installation from The Norwood Collection with art and related works of African American painters Henry Ossawa Tanner (1859-1937) & Loïs Mailou Jones (1905-1998). As the first internationally recognized male and female African American artists, they both found human and artistic freedom in France. Ticketholders can view the exhibition throughout the duration of the festival.
I Dream a World Festival Pass
A Festival Pass is your ticket to two weeks of live music, film, art and learning. For $150 or less, attend as many events as you'd like by showing your festival pass at the door. Click here to choose a Festival Pass.
Loading Concert Information
Program
Samuel Coleridge-Taylor
(1875-1912)

Moorish Dance, Op. 55 (1904)

Harry T. Burleigh
(1866-1949)
Poetry by Louise Alston Burleigh

From the Southland (1910)

Through Moanin' Pines
The Frolic
In De Col' Moonlight
A Jubilee
On Bended Knees
A New Hidin' Place
Noah Sonderling
Melba King, poetry recitation
Robert Nathaniel Dett
(1882-1943)

Prelude: Night
His Song
Honey (Humoresque)
Barcarolle: Morning
Juba (Dance)
Amanda Aldridge
(1866-1956)

Three African Dances (1913)

A Call to Feast
Luleta's Dance
Dance of the Warriors
TRANSATLANTIC CONVERSATIONS: BLACK RENAISSANCE PIANISM ACROSS THE POND
The Black Renaissances of Harlem, Chicago, Philadelphia, Detroit and all of the urban centers where Black creatives and intellectuals thrived, not only ushered in an era of rebirth, but also one of reconnection. If rebirth was about people of African descent establishing a new and empowered sense of how to move forward against the tyranny of Jim Crow, then reconnection was about drawing strength from the past and harnessing the beauty and power of ancestral traditions. Transatlantic Conversations: Black Renaissance Pianism across the Pond explores these themes of rebirth and reconnection, journeying through the ancient world of the Moors to plantation dances of the enslaved, and through the classical music cultures of Europe to Afrocentric reshapings of North America.
Although the Black Renaissance reflects a unique period in U.S. history, it also encompasses the foundational work of the British Samuel Coleridge-Taylor and Canadian Robert Nathaniel Dett, both of whom developed a musical style that would inspire new generations of African American composers. Coleridge-Taylor was a mixed-race composer, violinist and conductor of both English and Sierra Leonean descent, on his mother's and father's side, respectively. Many of his works drew influence from Black folk songs, which proved empowering for Black composers in the States. Coleridge-Taylor used the word "Negro" with pride when he wrote his 24 Negro Melodies in 1905.
The piece that opens Transatlantic Conversations is Coleridge-Taylor's Moorish Dance, which was published the year before 24 Negro Melodies. Again, the term Moor took on derogatory connotations in relation to people of African descent. However, Coleridge-Taylor restored pride and power with a work that is both regal and grand. When you hear Coleridge-Taylor's Moorish Dance, you will see why the revival of ancient Black histories and traditional folk heritages resonated so deeply in an era that epitomized rebirth and reconnection.
Coleridge-Taylor's treatment of Black folk songs revealed greater possibilities for Robert Nathaniel Dett. Like Coleridge-Taylor, Dett was a product of the Romantic tradition—a tradition characterized by lyrical melodies, impassioned harmonies and dramatic flair. But, also like his British predecessor, Dett was inspired by the narratives of 19th-century Black life, as celebrated in his piano suite In the Bottoms.
Similar to Dett's piano suite, Harry T. Burleigh's From the Southland is another evocative portrait of Black Antebellum life. Burleigh was predominantly known for his art song compositions and international performance career. His piano suite is a rare work that showcases his brilliance as a composer of piano music. However, the vocal element is still there as each movement of the suite is prefaced by a spoken passage in African American vernacular dialect. Additionally, Burleigh dedicates this work "To my friend S. Coleridge Taylor Esq."
Nora Holt's Negro Dance builds on the creative legacies of those who came before her. It draws inspiration from 19th-century plantation dances, most notably the Pattin' Juba (which we also hear in Dett's In the Bottoms). Negro Dance is Holt's only surviving work for solo piano. At some point during the 1920s, she kept her music in storage while she studied in Paris with Nadia Boulanger. Holt returned home to find her belongings had been ransacked, but Negro Dance survived as it was one of the few pieces she published elsewhere.
Transatlantic Conversations comes full circle with the music of Amanda Aldridge, a mixed-race British composer—daughter of the famed African American Shakespearean actor Ira Aldridge (whose portrait hangs in London's National Portrait Gallery) and the Swedish Amanda Brandt. Like Coleridge-Taylor, Aldridge studied at the Royal College of Music and immersed herself in the country's flourishing classical scene. Closing the program, Aldridge brings us to the Africa of her imagination with her Three African Dances. Put together, each piece in this program illuminates the rich tapestry that emerges from these transatlantic threads.
—Dr. Samantha Ege
Dr. Samantha Ege is an award-winning musicologist, internationally recognized concert pianist and Anniversary Research Fellow at the University of Southampton. Her forthcoming book is called South Side Impresarios: Race Women in the Realm of Music (University of Illinois Press) and her latest album is available now and called Homage: Chamber Music from the African Continent and Diaspora, featuring the music of Bongani Ndodana-Breen, Undine Smith Moore, Samuel Coleridge-Taylor, Zenobia Powell Perry and Frederick C. Tillis.