Events & Tickets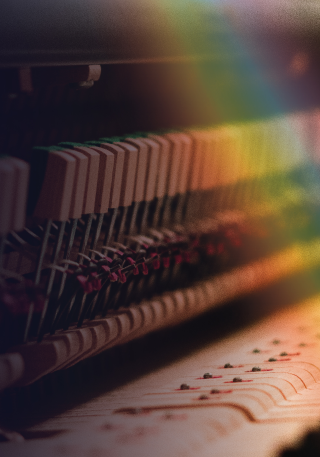 Free
Inside the Music: Queer Americana
New World Center, Truist Pavilion
Tuesday, April 18, 2023 at 7:00 PM
Program
Programmed within Miami Beach Pride Month, celebrate the rich history of queer U.S. artists in this concert highlighting the many contributions of LGBTQIA+ musicians to American classical music. 
Performances part of the Inside the Music series are NWS BLUE projects. Fellow-driven projects are sponsored in part by the Maxine and Stuart Frankel Foundation and NWS's Fund for New Ventures.
Tickets no longer available online.
Program
Billy Strayhorn
(1915-1967)
Approx. Duration: 4 minutes

Henry Cowell
(1897-1965)
Approx. Duration: 2 minutes

Lou Harrison
(1917-2003)
Approx. Duration: 3 minutes

Solo to Anthony Cirone (1972)

Lou Harrison
(1917-2003)
Approx. Duration: 15 minutes

Gending
Bowl Bells
Elegy
Rondeau in Honor of Fragonard             
Dance
Aryton Pisco, violin
Ben Cornavaca, percussion
Julius Eastman
(1940-90)
Approx. Duration: 7 minutes

Catelyn Hawkins, alto saxophone
Jacob Buhler, violin
Seth van Embden, viola
Pauline Oliveros
(1932-2016)
Approx. Duration: 10 minutes

Michael Tilson Thomas
(b. 1944)
Approx. Duration: 5 minutes

You Come Here Often? (2013)

Wesley Ducote, piano
Wesley Ducote is a third-year Piano Fellow at the New World Symphony. He has led a versatile musical career pursuing a diverse set of interests.
As a collaborator, Mr. Ducote has been featured with many of today's brightest stars including composer/vocalist Kate Soper, Emmy Award-winning composer and Vietnamese folk musician Van Anh Vo, flutists Leone Buyse and Carol Wincenc, soprano Ana Maria Martinez, and many others. He has served as principal keyboardist with the Shepherd School Symphony and Houston Grand Opera Orchestra. As a chamber musician he has been a featured artist with MUSIQA and the Nantucket Rossini Club, and in 2017 was selected by the Shepherd School of Music to perform with the Gyldfeldt quartet from Leipzig. Mr. Ducote has even worked as a keyboardist/composer in his own jazz-fusion sextet Steve Cox's Beard.
An enthusiastic performer of new and contemporary music, Mr. Ducote has premiered over 40 new works and worked with faculty at institutions in China, South Korea, Canada and all over the United States. His new music experience includes works for solo piano, chamber ensembles, orchestra and even a piano concerto written for him. He is currently working on an upcoming commissioning project of new solo piano music.
Mr. Ducote is an Artist Fellow with the Louis Moreau Institute and was a Young Artist Fellow with Da Camera of Houston, Resident Piano Fellow with the Cortona Sessions for New Music, and a fellow with CPI at the Composer's Conference, SICPP, Encore Chamber Music, Round Top Festival Institute and Aspen Music Festival. Mr. Ducote holds graduate and undergraduate degrees in music from Rice University, where he studied with Brian Connelly, as well as an undergraduate degree in mathematics.