Events & Tickets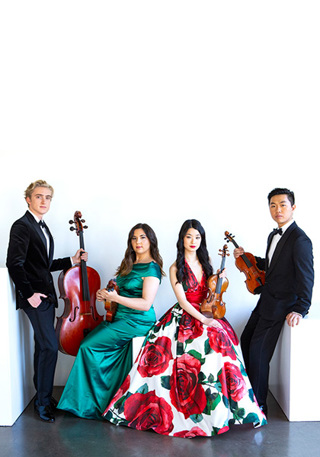 Free
Inside the Music: Honoring Healthcare Workers
New World Center, Truist Pavilion
Tuesday, December 6, 2022 at 7:00 PM
Program
WAYS TO WATCH ON DEC. 06:

In a project designed by Trumpet Fellow Alan Tolbert, Honoring Healthcare Heroes shares the stories of frontline healthcare workers in their own words. Through a new work for string quartet, electronics and spoken word by Edward Babcock, five members of the Philadelphia Jefferson Hospital's administration, faculty and staff share their experiences throughout the COVID-19 pandemic. Meet members of the Viano String Quartet and composer Edward Babcock following the performance. 
Performances part of the Inside the Music series are NWS BLUE projects. Fellow-driven projects are sponsored in part by the Maxine and Stuart Frankel Foundation and NWS's Fund for New Ventures.
Tickets no longer available online.
Program
Edward "Ted" Babcock
(b. 1992)
Approx. Duration: 45 minutes

Quartet No. 2: A Hero's Quartet for Strings and Electronics (2022)

Viano Quartet
Lucy Wang, Hao Zhou, violin
Aiden Kane, viola; Tate Zawadiuk, cello
Viano String Quartet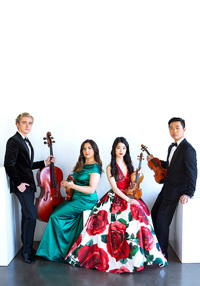 Praised for their "huge range of dynamics, massive sound and spontaneity" (American Record Guide), the Viano String Quartet is the First Prize Winner of the 2019 Banff International String Quartet Competition and the current Nina von Maltzahn String Quartet-in-Residence at the Curtis Institute of Music. Formed in 2015 at the Colburn Conservatory of Music in Los Angeles, the quartet has performed all over the world in venues such as Wigmore Hall, Place Flagey, Izumi Hall, Konzerthaus Berlin and Segerstrom Center for the Arts.
The 2022-23 season brings the Viano String Quartet on extensive tours throughout Europe, Canada and the United States, with recital debuts in New York City, Hannover, Zurich, Budapest, Cologne, Heidelberg, Eisenstadt, San Diego, Denver, Calgary, Newport and Philadelphia, among other cities. The quartet will also return to Southern Methodist University, where they are in residence through the 2022-23 season.
Since the 2020 COVID-19 pandemic, the Viano String Quartet has been actively presenting virtual and socially distanced live concerts for various organizations, including the Dallas Chamber Music Society, Great Lakes Chamber Music Festival, Friends of Chamber Music of Troy, Corpus Christi Chamber Music Society, Salt Lake Chamber Music Society, Women's Musical Club of Toronto, Schneider Series at the New School, Bravo! Vail Music Festival, Rockport Chamber Music Festival and the Banff International String Quartet Festival. With their colleagues in the Calidore String Quartet, they presented a movement of the Mendelssohn Octet while distanced across countries in a film project named The Way Forward.
The Quartet achieved incredible success in their formative years, with an unbroken streak of top prizes. In addition to their career-defining achievement at the 2019 Banff International String Quartet Competition, they received the Grand Prize at the 2019 ENKOR International Music Competition and second prize at the 2019 Yellow Springs Chamber Music Competition. At the 2018 Wigmore Hall International String Quartet Competition they received Third Prize, the Haydn Prize for the best performance of a Haydn quartet and the Sidney Griller Award for the best performance of the compulsory work, Thomas Ades' The Four Quarters. They received the Silver Medal at the 2018 Fischoff National Chamber Music Competition and Third Prize at the 2017 9th Osaka International Chamber Music Competition before any of the members turned 20.
Committed to engaging with communities outside the concert hall, the Viano String Quartet has given presentations for school children and students of all ages through residencies in Bellingham, Washington—the "Play it Forward" residency, a collaboration between the Bellingham Festival of Music and the Whatcom Symphony to reach school children in the northern Washington State area—Northern Michigan University and the Santa Monica Conservatory. In 2019 they gave multiple performances of Over the Top, a Musical Encounter Interactive presentation they scripted, developed and performed at the Colburn School for inner city school children.
At the Curtis Institute, the Viano String Quartet is chiefly mentored by the Dover Quartet and other members of the Curtis faculty, including Shmuel Ashkenasi, Pamela Frank, Ida Kavafian, Arnold Steinhardt, Steven Tenenbom and Peter Wiley. As the inaugural ensemble-in-residence at the Colburn Conservatory of Music from 2019-21, they were mentored extensively by Martin Beaver, Scott St. John, Clive Greensmith, Paul Coletti and Fabio Bidini. The Vianos have also received coachings from artists such as David Finckel, Gary Hoffman, Jean-Yves Thibaudet and members of the Alban Berg, Brentano, Emerson, Miró, Shanghai, St. Lawrence and Takács String Quartets. They have attended the Ravinia Steans Chamber Music Institute, St. Lawrence String Quartet Seminar, Festival d'Aix en Provence, Norfolk Chamber Music Festival, Great lakes Chamber Music Festival and the McGill International String Quartet Academy.
Over the years, the Quartet has collaborated in performance with artists such as Emanuel Ax, Noah Bendix-Balgley, Marc-Andre Hamelin, Rodolfo Leone, Eliso Virsaladze and Orion Weiss, and look forward to collaborations with Inon Barnatan, Michelle Cann and Roberto Diaz in the upcoming season.
The name "Viano" was created to describe the four individual instruments in a string quartet interacting as one. Each of the four instruments begins with the letter "v" and, like a piano, all four string instruments together play both harmony and melody, creating a unified instrument called the "Viano."
Ted Babcock, composer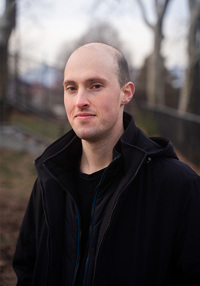 Ted Babcock is a Philadelphia based composer and percussionist. As a composer, his works ride the boundaries between conceptual electronics, percussive counterpoint, and an instinctual lyricism. The 2021/2022 season includes the premiere of his first solo album Trilogies for solo percussionist and electronics, which was praised by I Care if You Listen as "...worthy of redefining the repertoire on the vibraphone."Other premieres include new works for pianist Amy Yang and the Viano String Quartet. Past commissions include works for the arx percussion duo, Fringe Arts Philadelphia, the Philadelphia Wind Symphony, and percussionist/ videographer Evan Chapman and flutist Antonina Styczen. His recent work for Chapman was featured by the band Wilco in a 'Wilco Recommends' playlist.
As a percussionist, he has performed with Grammy award winning contemporary music groups such as the Boston Modern Orchestra Project, The Crossing choir, and eighth blackbird. His playing has been featured in the New York Times, NPR and Rolling Stone Magazine, and can be heard on labels such as Navona, Tzadik, and New Focus Records. He has also appeared with many leading chamber ensembles such as Opera Philadelphia, Astral Artists, PRISM Saxophone quartet and the NOVUS ensemble of Trinity Wall St. As a student he was featured as a marimba soloist in the premiere of Gabriella Smith's marimba concerto Riprap with the Curtis 20/21 ensemble.
A committed educator, he spent three seasons as a teaching artist for Play On, Philly!, an after school music program offering orchestral training to underserved youth in the Philadelphia area free of charge. He received degrees in composition, percussion, and community artistry from Boston Conservatory at Berklee and the Curtis Institute of Music.
Debra Harder, speaker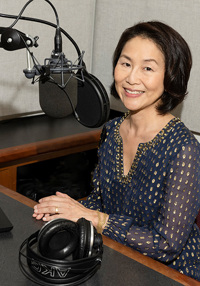 Pianist Debra Lew Harder is the radio host for the Metropolitan Opera. With doctorates in both medicine and music, Debra believes in the power of art to transform people's lives.
Born in Vermont of Korean parents, Debra Lew Harder started playing the piano by ear at age three. She began formal studies at six and made her orchestral debut at twelve. When she was sixteen, she performed and recorded the Ravel G Major Concerto with the World Youth Symphony.
After earning her combined bachelors of science and medical degree from the Northeastern Ohio Universities College of Medicine, she practiced as an emergency room physician before earning a second doctorate in music, from the Ohio State University, where she studied with, and served as teaching assistant to, the legendary American virtuoso Earl Wild.
Since then, Debra has pursued a fulfilling career in music, as a solo and collaborative pianist, broadcaster, and educator. In 2016 she joined the on-air staff of WRTI-FM in Philadelphia, and served as the creator and host of Saturday Morning Classical Coffeehouse, and as Mid-day host. She interviewed many of the world's elite conductors and performers for WRTI's Philadelphia Orchestra broadcasts, and hosted live broadcasts in the performance studio and in public with the station's community partners.
Debra joined the media team of the Metropolitan Opera in fall of 2021, as the fifth radio host in the company's 90-year broadcast history. There she hosts live broadcasts for Sirius-XM and the Toll Brothers International Radio Network, and interviews the great singers, conductors, and creative minds from the world of opera.
A devoted music educator, Debra is the co-director of Medicine + Music, a co-curricular program at Sidney Kimmel Medical College of Thomas Jefferson University. She was on the applied music faculty of Haverford and Bryn Mawr Colleges for many years. Her commitment to the arts community included service on the boards of the William Appling Singers and Orchestra, the Advancement of Music Committee of the Presser Foundation, and the East Asian Advisory Committee of the Philadelphia Museum of Art.
Melissa Ash, speaker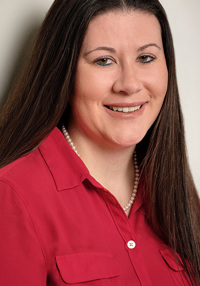 Melissa Ash BS, RRT, RRT-ACCS, RRT-NPS, graduated from West Chester University with a Bachelor of Science in Respiratory Care in 2004. After graduation, she began working at Thomas Jefferson University Hospital in Philadelphia, Pa where she has worked for the past 18 years in both the Surgical Intensive Care Unit and the Neonatal Intensive Care Unit. Last August, Melissa accepted a position at Gwynedd Mercy University where she teaches future respiratory therapists. Melissa has spoken at many conferences about ethics and end of life issues as well as topics related to respiratory care. She, along with the interdisciplinary team from the SICU, won the prestigious Daisy award for excellence in patient care, for end of life care that they provided to a patient and his family.
Nicole Cavaliere, speaker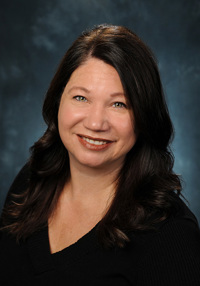 Nicole Cavaliere, DNP, CRNP, is a Nurse Practitioner in the Cardiac Surgery Intensive Care Unit (CVICU) at Thomas Jefferson University Hospital, as well as Faculty for the Adult-Gerontology Acute Care Nurse Practitioner Program at Jefferson College of Nursing. Nicole's work during the pandemic in the CVICU consisted of taking care of the sickest of the sick patients requiring Extracorporeal Membrane Oxygenation (ECMO) support. Her doctoral work was focused on the investigation regarding the predictors of mortality for this specific patient population, with the results being disseminated at international conferences and future publications. Formerly, prior to transitioning to healthcare, Nicole was immersed in the arts as a dancer, dance teacher, choreographer and arts administrator. The opportunity to share in this experience, bridging the experience of the healthcare provider with artistic interpretation, was most rewarding for Nicole.
Dr. Shruti Chandra, speaker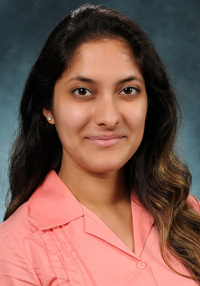 Dr. Shruti Chandra is an Associate Professor of Emergency Medicine at Thomas Jefferson University and Methodist Hospital. She received her MD from Jefferson Medical College. She completed her Emergency Medicine residency and a Medical Education fellowship at Jefferson. She received a Masters in Education for Health Professions at Johns Hopkins University.
Dr Chandra is the Director for Phase 3 for JeffMD at SKMC, the expanded fourth year medical school curriculum. She is the program director for Digital Health and Telehealth certificate programs. Shruti is also involved in education and medical research having co-authored and published papers and poster presentations.
Charlotte Tatum, speaker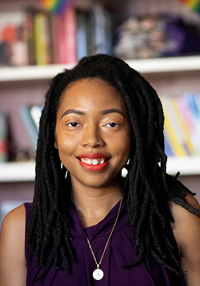 Charlotte Tatum works as a Critical Care Technician at Thomas Jefferson University Hospital in Philadelphia, Pennsylvania. Over the last 7 years she has served patients in pre-hospital, urgent, and acute care settings. As a Black woman in healthcare, she seeks to ensure all patients receive quality care including Black and Brown communities.