Events & Tickets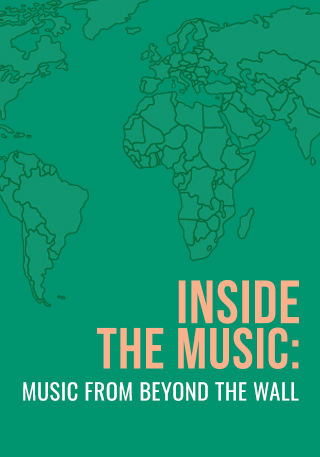 Free
INSIDE THE MUSIC: MUSIC BEYOND THE WALL
New World Center, SunTrust Pavilion
Tuesday, December 17 at 7:00 PM
WAYS TO WATCH:
Music holds the power to convey emotion and connect people in ways that words often fail. It can withstand the passage of time, transcend cultural differences, and overcome language barriers. Living in a society dominated by the media and sensational headlines, we can easily forget that the communities we hear about in the news also have incredible people and culture. In this evening of chamber music, we will explore music by composers who are from parts of the world that appear different from our own, and who are creating beautiful music inspired by their surroundings. Through their music, we have the opportunity to get to know communities, rather than stereotypes, and to connect with people in unexpected ways.
Featuring music by today's composers:
Oliver Messiaen (France)
Dina Shilleh (Palestine)
Rastgo Yadgar (Iraq / Kurdistan)                             
Daniel Domínguez (El Salvador) 
Víctor Agudelo (Colombia)
Music from Beyond the Wall is a NWS BLUE project. Fellow-driven projects are sponsored in part by the Maxine and Stuart Frankel Foundation.
Tickets no longer available online.
Program
Musicians of the New World Symphony
Yada Lee, Margeaux Maloney, Christopher Robinson, violin
Sam Pedersen, viola; Chava Appiah, cello; Andrea Beyer, bass
Johanna Gruskin, flute; Joo Bin Yi, oboe; Angelo Quail, clarinet
Justin Cummings, bassoon; Corbin Castro, horn; Thomas Steigerwald, piano

Oliver Messiaen                          Quartet for the End of Time
(1854-1928)                                   IV. Interlude
Dina Shilleh                                 Three Miniatures on Patriarchy
(b. 1984)                                         I. Trapped in memory
                                                      II. Why do you do this to us?
                                                     III. We are angry!
Rastgo Yadgar                             Awara Bum
(b. 1995)
Daniel Domínguez                       Picture of a Revolution
(b. 1988)
                                                     Indigenous Song
Víctor Agudelo                            Cinco palo$
(b. 1979)                                       I. Uno de Cinco - Tempo de Joropo
                                                    II. Dos de Cinco - Tempo de Cumbia
                                                    V. Cinco de Cinco - Tempo de Puya
Andrea Beyer, host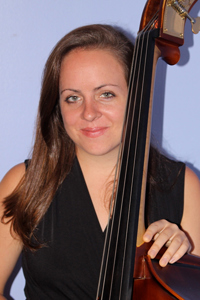 Third-year Bass Fellow Andrea Beyer is an avid performer, teacher and advocate for using music as a tool for social growth. As an orchestral musician, she has performed in concerts at Carnegie Hall and Lincoln Center, as well as national halls in Central and South America. She has performed with artists such as Yo-Yo Ma, Sarah Chang and DaXun Zhang, and under the batons of renowned conductors including John Adams, Peter Oundjian and Carlos Miguel Prieto. Additionally, she was a member of the orchestra in pianist Gabriella Montero's self-titled album that won the 2015 Latin Grammy Award for Best Classical Music Album.
A frequent traveler, Ms. Beyer has performed recitals and taught master classes in Mexico, El Salvador, Uruguay and Bolivia, and toured in Central America and Chile as a member of the Youth Orchestra of the Americas. Since 2015 she has worked with the MusAid Organization, which supports music programs in under-resourced parts of the world with volunteer music teachers and donated instruments and materials. With MusAid, she has coordinated and taught in workshops in Belize, El Salvador, Bolivia and the Philippines. 
An active teacher, Ms. Beyer spent six months teaching bass and music theory at the Edward Said National Conservatory of Music in Palestine, and she is on the faculty of Bass Works, a summer bass program in Maryland. Throughout her graduate studies she was a teaching artist in Yale's Music in Schools program where she worked regularly with New Haven Public School students and was also a teacher for Yale undergraduate bass students. 
Ms. Beyer holds a master of music degree from Yale University, where she studied with Don Palma, and a bachelor of music degree from Oberlin Conservatory, where she studied with Thomas Sperl. She grew up studying with Colin O'Bryan in her hometown of Baltimore, Maryland.
Johanna Gruskin, flute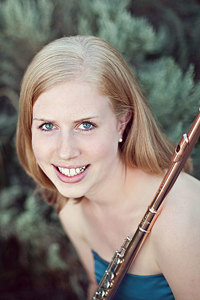 Johanna Gruskin is a third-year Flute Fellow at the New World Symphony. Previously she held the position of Principal Flute with the Knoxville Symphony and the YMF Debut Orchestra. She has performed as a guest with the Milwaukee Symphony, Malaysian Philharmonic, Kansas City Symphony, Louisiana Philharmonic and San Antonio Symphony. She was twice a fellow at the Tanglewood Music Center and returned as a featured performer of contemporary music with the New Fromm Players. She has also attended the Aspen Music Festival (including one summer as the piccolo fellow), National Repertory Orchestra and the Orchestra of the Americas. As a member of the wind quintet Midic Winds, she was a medalist in the Fischoff National Chamber Music Competition.
Ms. Gruskin received a bachelor of music degree from the Eastman School of Music, a master of music degree from New England Conservatory and a professional studies certificate from The Colburn School. Her primary teachers include Bonita Boyd, NWS alumna Elizabeth Rowe and James Walker.