Events & Tickets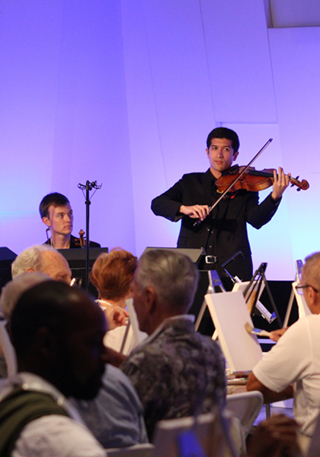 Free
Inside the Music: Composers in Conflict
New World Center, Truist Pavilion
Monday, October 24, 2022 at 7:00 PM
Program
Join NWS Fellows for an intimate glimpse into their craft with behind-the-scenes presentations. String Fellows present Steve Reich's Different Trains—a semi-autobiographical account of the Holocaust that electronically mixes his memories of being a Jewish child in the 1940s with those of child-survivors of the Holocaust who later recorded their testimonies (Music and the Holocaust). The piece won the 1990 Grammy Award for Best Contemporary Classical Composition.
Inside the Music: Composers in Conflict is a NWS BLUE project. Fellow-driven projects are sponsored in part by the Maxine and Stuart Frankel Foundation and NWS's Fund for New Ventures. 
Tickets no longer available online.
Program
Dmitri Shostakovich
(1906-1975)

Quintet in G minor for Piano and Strings, Op. 57 (1940)

III. Scherzo: Allegretto 
IV. Intermezzo: Lento – Appassionato
Maurice Ravel
(1875-1937)

Le Tombeau de Couperin (1914-17)

Different Trains for String Quartet and Tape (1988)

America – Before the War
Europe – During the War
After the War
Gustav Mahler
(1860-1911)
Arranged by Samuele Amidei

Symphony No. 5 in C-sharp minor (1901-02)

America – Before the War  
From Chicago to New York
One of the fastest trains 
Track train from New York 
From New York to Los Angeles 
Different trains everyday 
From Chicago to New York 
In 1939 
1940 
1941 
I guess it must've been 
Europe – During the War  
1940 
On my birthday 
The Germans walked 
Walked into Holland 
Germans invaded Hungary 
I was in second grade 
I had a teacher 
A very tall man 
His head was completely plastered smooth 
He said, 
"Black Crows invaded our country,  
many years ago" 
And he pointed right at me 
"No more school, 
you must go away" 
And she said, "Quick, go!" 
And he said, "Don't breathe!" 
Into the cattle wagons 
And for four days and four nights 
And then they went through these strange sounding names 
Polish names 
Lots of cattle wagons there 
They were loaded with people 
They shaved us 
They tattooed a number on our arm 
Flames going up in the sky 
It was smoky 
After the War  
Then the war was over 
Are you sure? 
The war is over 
Going to America 
To Los Angeles 
To New York 
From New York to Los Angeles 
One of the fastest trains 
But today, they're all gone 
There was one girl who had a beautiful voice 
And they loved to listen to the singing 
The Germans 
And when she stopped singing 
They said, "More! More!"  
And they applauded 
Christina Choi, Violin Fellow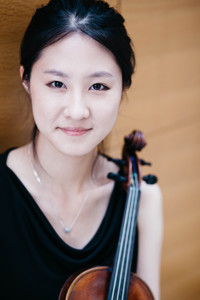 Violinist Christina (Jung Yun) Choi, recipient of the 2015 Hnatyshyn Developing Artist grant, played her first concerto performance in 2006 with the Queensland Symphony. Since then, she has performed around the world in venues such as Koerner Hall, the Sydney Opera House, Carnegie Hall and Bridgewater Hall. 
Ms. Choi has been a finalist and prizewinner in competitions such as the Canadian Music Competition Nationals, Stepping Stone Competition and Shean Competition, and has recently been a trialist for the position of sub-principal second violin with the BBC Philharmonic. 
During summers, Ms. Choi has attended festivals and programs such as the Aspen Music Festival, Banff Masterclass Residency, Banff Chamber Music Festival and Young Artist Program of NAC. In 2016 she was part of the Quartet in the Community during the Banff International String Quartet Competition, and she has also studied and collaborated with members of the Tokyo, St. Lawrence and Guarneri quartets. 
Ms. Choi completed her undergraduate and graduate studies at The Glenn Gould School and The Colburn School, under Barry Shiffman, Paul Kantor and Martin Beaver. She is a third-year Fellow at the New World Symphony. 
Ye Jin Min, Violin Fellow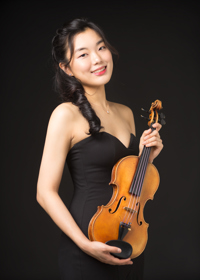 Ye Jin Min is a first-year Violin Fellow at the New World Symphony and a doctor of musical arts candidate at Yale School of Music. Born and raised in South Korea, she completed her undergraduate studies in Australia at the Sydney Conservatorium under Professor Goetz Richter and a master's degree at Yale University with Professor Syoko Aki, where she received the Yale Alumni Award. She also spent a year in Germany, receiving tutelage from Professor Ulf Hoelscher. 
Ms. Min has performed extensively as a soloist, chamber and orchestral musician. She has performed in the U.S., Germany, Australia, Austria, Switzerland, Thailand and South Korea. Most recently, she was a fellow at the Davos Music Festival in 2022, Sarasota Music Festival in 2022, and Bowdoin International Music Festival in 2021. While in Australia, she was a member of the Sydney Symphony's Sinfonia Orchestra. She also was a first prize winner of the Kendall National Violin Competition and Animato International Violin Competition. 
Ms. Min is passionate about performing contemporary and 20th-century music, and music by underrepresented composers. Her doctoral thesis is about the Australian violinist Alma Moodie and the music dedicated to her, including the works of Max Reger, Ernst Krenek and Eduard Erdmann. She participated in a variety of concerts and projects, including a concert with Caroline Shaw and Gabriel Kahane, a recording of music by Ulysses Kay and Louise Farrenc for the New Muses Project, and her own project 'Re:present.' Ms. Min occasionally composes as well, and most recently she premiered her Hymn for Violin and Cello in St. Theodul Kirche during the Davos Music Festival in 2022.
Hyunjae Bae, Viola Fellow and Team Leader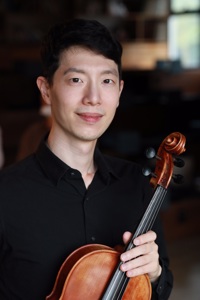 Hyunjae Bae, a first-year Viola Fellow at the New World Symphony, enjoys a versatile career as an orchestral musician, soloist and chamber musician across United States, Europe and Asia. He previously served as a second soloist at the Belgian National Opera La Monnaie Orchestra and was a member of the Chuncheon Philharmonic Orchestra, Hyogo Performing Arts Center Orchestra and KT Chamber Orchestra. Additionally, he was a substitute musician with the Malaysian Philharmonic and KBS Symphony Orchestra. 
Mr. Bae has won prizes at the Osaka International Music Competition, Nanpa Music Competition and Yeum Music Competition. He has performed and participated at the Tenerife Viola Masterclass, National Music Festival and the Koreana Music Chamber Society Music Camp. 
Mr. Bae received his dual undergraduate degrees with highest honors in music and business administration at Yonsei University. He completed his master's degree from Yale School of Music and the specialized master program from the Royal Conservatory of Brussels with great distinction. His primary teachers include Vladimír Bukač, Hung-Wei Huang, William Frampton and Ira Weller.
James Churchill, cello and NWS alumnus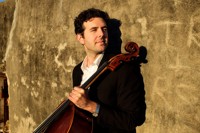 James Churchill is a recent alumnus of the New World Symphony. A native of Sydney, Australia, he has performed with the Canadian Opera Company as an Academy Fellow, in addition to regular substitute engagements with Orchestra Victoria and Melbourne Symphony. 
A passionate chamber musician, Mr. Churchill has spent summers at Le Domaine Forget and in July 2018 was a fellow at Music By The Sea in Bamfield, British Columbia. As cellist of the Zené quartet, he has been a prizewinner in The Glenn Gould School's Chamber Music Competition. In 2017 he joined the ARC ensemble in performance at the Royal Conservatory, Toronto. An accredited Suzuki teacher, Mr. Churchill is a committed educator, regularly coaching ensembles of the Royal Conservatory School and the Taylor Academy (Toronto). 
Mr. Churchill was the 2017-18 Orchestral Scholar at The Glenn Gould School, where he also completed an artist diploma working with Desmond Hoebig and Andrés Díaz. He received his bachelor's degree from the Yong Siew Toh Conservatory studying with Li-Wei Qin. Previously he attended the Australian National Academy of Music under the tutelage of Howard Penny and Nicholas Bochner. He has performed in master classes for such artists as Colin Carr, Clive Greensmith, Michel Strauss, Ralph Kirshbaum, Steven Isserlis and Pieter Wispelwey.
Sun-A Park, piano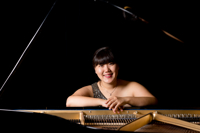 Acclaimed for "exquisite clarity" and "remarkable virtuosity," Korean-American pianist Sun-A Park is quickly establishing herself as one of the exciting pianists of her generation. Since making her orchestral debut with the New Jersey and Houston symphonies, she has performed at the Kennedy Center for the Performing Arts in Washington, D.C., Tel Aviv Museum of Art in Israel, Manuel de Falla Auditorium in Spain, Bass Hall in Fort Worth, and Carnegie Hall's Weill Recital Hall and the Juilliard Theater in New York.  
As an active soloist and recitalist, Ms. Park has collaborated with such eminent conductors as Peter Oundjian, Eiji Oue, Arthur Hagen and Krzysztof Urbanski. She has performed with the Yale Philharmonia, Albany Symphony, Sendai City Orchestra in Japan, San Marino Republic Orchestra, Orchester Haydn in Italy, Hannover Hochschulorchester in Germany, Symphonic Orchestra of Castilla y León and Orquesta Ciudad de Granada in Spain. Ms. Park has been heard on recital series throughout the United States, Europe and Asia, making appearances in Horowitz Recital Series at Yale University, Stecher and Horowitz Foundation, German-American Institute in Germany, Pusan National University and Performing Arts Center in South Korea, among many others.  
Ms. Park is a first prize winner of the Olga and Serge Koussevitzky Young Artists Awards and the Kosciuszko Chopin Competition. Her other accomplishments include second prize and the Rosa Sabater award for best interpretation of Spanish music at the 2019 Jaén International Piano Competition (Spain), and major prizes at the 5th International Sendai Music Competition (Japan), 58th Ferruccio Busoni International Piano Competition (Italy) and Gina Bachauer International Piano Competition.  
As a period-keyboard music lover, Ms. Park has performed in fortepiano master classes with fortepianists Alexander Lubimov and Kristian Bezuidenhout at the Yale University Collection of Musical Instruments. Her performances on the fortepiano were featured at Virtuoso e Belcanto Festival in Lucca, Italy and Peabody Institute. Her research topics during her residency at Peabody Institute included development of keyboard technique in 18th-century English fortepiano school.  
Ms. Park was born in Busan, South Korea and grew up in New Jersey. She began to play the piano at the age of four and later studied with Seymour Bernstein of New York University. Ms. Park completed her undergraduate and graduate studies with Yoheved Kaplinsky and Matti Raekallio at The Juilliard School. In 2014 Ms. Park received the Soloklasse Programm diploma in Hannover, Germany with Bernd Goetzke. She is the recipient of Elizabeth Parisot Piano Award for the most outstanding pianist at the Yale School of Music under the tutelage of Boris Berman. Her recording of early keyboard sonatas by Muzio Clementi was released under the Naxos label in 2019. Currently, Ms. Park is Assistant Professor of Piano at University of Central Florida in Orlando.