Events & Tickets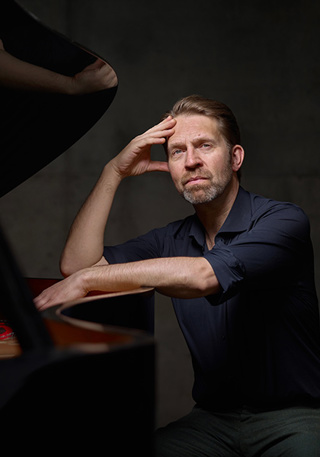 Orchestra Concert
Leif Ove Andsnes plays The Emperor
New World Center, Michael Tilson Thomas Performance Hall
Saturday, September 30, 2023 at 7:30 PM
Program
Known for his fresh interpretations of Ludwig van Beethoven's piano works, Leif Ove Andsnes shines in the composer's final, majestic concerto, "The Emperor." With roaring percussion and brass, Olly Wilson pays homage to the Nigerian god of thunder. For a whirlwind finale led by conductor Andrew Grams, Brahms' Piano Quartet was given a symphonic makeover in the hands of Arnold Schoenberg, who dubbed it "Brahms' Fifth Symphony."
Pay what you wish for this concert's tickets. Whether it's $10 or $500, your purchase will support NWS's Fellows, the next generation of orchestral leaders.
Tickets no longer available online.
Program
Olly Wilson
(1937-2018)
Approx. Duration: 8 minutes

Ludwig van Beethoven
(1770-1827)
Approx. Duration: 45 minutes

Concerto No. 5 in E-flat major for Piano and Orchestra, Op. 73, "The Emperor" (1809)

Allgro 
Adagio un poco mosso
Rondo: Allegro
Johannes Brahms
(1833-1897)
Orchestrated by Arnold Schoenberg
Approx. Duration: 43 minutes

Piano Quartet No. 1 in G minor, Op. 25 (1861; orchestrated 1937)

Allegro
Intermezzo: Allegro, ma non troppo
Andante con moto
Rondo alla zingarese: Presto
Olly Wilson
Shango Memory (1995)

Approximate duration: 8 minutes
Olly Wilson grew up in St. Louis playing the piano and clarinet, and he went on to study composition and electronic music. Shortly after joining the faculty of the University of California, Berkeley, Wilson received a Guggenheim Fellowship that allowed him to spend a year in Ghana. It was a formative experience that helped Wilson integrate his own roots as a Black American into his acoustic and electronic compositions, and it shaped the rest of his long and distinguished career.
Wilson composed Shango Memory for the 150th anniversary of the New York Philharmonic in 1997. The work, Wilson explained in a program note, "is inspired by the Yoruban deity Shango, the god of thunder and lightning, who holds a prominent position in the pantheon of deities of not only the Yoruba people of West Africa but also in many places of the African diaspora, particularly the Caribbean and South America. In this composition I attempted to use Shango as a metaphor for West African musical concepts that were reinterpreted in the American context and became the basis for African American music."
Ludwig van Beethoven
Concerto No. 5 in E-flat major for Piano and Orchestra, Op. 73, "The Emperor" (1809)

Approximate duration: 45 minutes
Beethoven completed his fifth and final piano concerto during the miserable summer of 1809, when Napoleon's army occupied Vienna for the second time in four years. By the time of the premiere two years later, Beethoven's hearing had deteriorated so much that he could not perform the Concerto himself. His long run as the leading pianist-composer in Vienna had officially come to an end.
To begin the Concerto, the orchestra proclaims the home key with a single chord, and the piano leaps in with a virtuosic cadenza. The ensemble holds back its traditional statement of the themes until the pianist completes three of these fanciful solo flights.
The slow movement enters in the luminous and unexpected key of B-major with a simple theme, first stated as a chorale for muted strings. To bridge the distance back to the home key, the finale pivots effortlessly on a single held note that relaxes down a half-step, setting up the piano's propulsive entrance.
Johannes Brahms
Piano Quartet No. 1 in G minor, Op. 25 (1861; orchestrated 1937)

Approximate duration: 43 minutes
Johannes Brahms struggled in the late 1850's as he mourned the death of his mentor Robert Schumann, sorted out his romantic feelings for Robert's widow, Clara, and tested new directions in his musical style. After a period of regeneration, he found his footing in the realm of chamber music, completing seven such works between 1860 and 1865.
With the Piano Quartet No. 1 in G minor, Brahms stretched the length to more than 40 minutes, far beyond any precedent in the genre, and he made the most of that massive scope by constantly growing and evolving his thematic materials. In the Allegro first movement, four-note phrases with characteristic leaps and chromatic ascents (first heard in the piano's plain octaves) expand and multiply to shape much of the musical progress. The second movement Intermezzo, with its ghostly textures, functions as a mysterious alternative to a scherzo. After a lush and nostalgic Andante con moto, the quartet closes with a Rondo alla zingarese, a testament to Brahms' lifelong affection for "gypsy" music.
The orchestral version by Arnold Schoenberg originated in 1937, when this central figure in modern European music found himself adrift and out of work as a refugee in Los Angeles. His stated intention was "to remain strictly in the style of Brahms and not to go farther than he himself would have gone if he had lived today."
– © 2023 Aaron Grad
Aaron Grad is a composer and writer based in Seattle. In addition to providing program notes for the New World Symphony, Orpheus Chamber Orchestra, Baltimore Symphony Orchestra and others, he is also the artistic director of Many Messiahs, a project that reframes George Frideric Handel's masterpiece as a collective call for justice.
Program
Ludwig van Beethoven
(1770-1827)


Concierto No. 5 en Mi bemol mayor para Piano y Orquesta, Op. 73, "El Emperador" (1809)
Allgro 
Adagio un poco mosso
Rondo: Allegro
Johannes Brahms
(1833-1897)
Orquestado por Arnold Schoenberg


Cuarteto con Piano No. 1 en Sol menor, Op. 25 (1861; orquestado en 1937)
Allegro
Intermezzo: Allegro, ma non troppo
Andante con moto
Rondo alla zingarese: Presto
Olly Wilson
Shango Memory
 

(1995)


Duración aproximada: 8 minutos

Olly Wilson creció en St. Louis tocando el piano y el clarinete, y luego pasó a estudiar composición y música electrónica. Poco después de convertirse en profesor de la Universidad de California, Berkeley, Wilson recibió la Beca Guggenheim, la cual le permitió vivir un año en Ghana. Fue una experiencia formativa, que ayudó a Wilson a integrar sus propias raíces afroamericanas con sus composiciones acústicas y electrónicas, y marcó el resto de su larga y distinguida carrera.

Wilson compuso Shango Memory para el 150 aniversario de la Filarmónica de Nueva York en 1997. La obra, como explicó Wilson en una nota del programa, "está inspirada en la deidad Yoruba Shango, el dios del trueno y el rayo, el cual ocupa un lugar prominente en el panteón de las deidades no solo del pueblo Yoruba de África Occidental, sino también en muchos lugares donde se encuentra la diáspora africana, particularmente el Caribe y América del Sur. En esta composición intenté utilizar a Shango como una metáfora de los conceptos musicales de África Occidental que fueron reinterpretados en el contexto americano y se convirtieron en la base de la música Afroamericana."
Ludwig van Beethoven
Concierto No. 5 en Mi bemol mayor para Piano y Orquesta, Op. 73, "El Emperador" (1809)

Duración aproximada: 45 minutos
Beethoven terminó su quinto y último concierto para piano durante el difícil verano de 1809, cuando el ejército de Napoleón invadió Viena por segunda vez en cuatro años. Para el momento de su estreno dos años después, la capacidad auditiva de Beethoven se había deteriorado tanto que no pudo interpretar el Concierto él mismo. Su larga carrera como el principal pianista y compositor de Viena había llegado oficialmente a su fin.
Al comenzar el Concierto, la orquesta proclama la tonalidad principal con un solo acorde, y el piano se integra con una virtuosa cadenza. El conjunto contiene su tradicional presentación de los temas hasta que el pianista termina tres de estos elaborados solos.
El movimiento lento comienza en la inesperada y luminosa tonalidad de Si mayor con un tema simple, primero presentado como un coral para cuerdas silenciadas. Para regresar a la tonalidad principal, el finale hace un giro sin esfuerzo sosteniendo una sola nota que se relaja un medio tono hacia abajo, preparando así la impulsiva entrada del piano.
Johannes Brahms
Cuarteto con Piano No. 1 en Sol menor, Op. 25 (1861; orquestado en 1937)
Orquestado por Arnold Schoenberg

Duración aproximada: 43 minutos
Johannes Brahms vivió tiempos difíciles a finales de los 1850 mientras sufría por la muerte de su mentor Robert Schumann, trataba de descifrar sus sentimientos por la viuda de Robert, Clara, y probaba nuevos caminos en su estilo musical.  Después de un periodo regenerativo, encontró su lugar en el mundo de la música de cámara, componiendo siete de estas obras entre 1860 y 1865.
El Cuarteto con Piano en Sol menor se alargó más de 40 minutos, mucho más que cualquier precedente en su género, y Brahms aprovechó al máximo el ámbito de la obra constantemente creciendo y evolucionando su material temático. En el primer movimiento Allegro, frases de cuatro notas con saltos característicos y ascensos cromáticos (escuchados primero en las simples octavas del piano), se expanden y multiplican para dar forma a gran parte del progreso musical. El segundo movimiento Intermezzo, con sus texturas fantasmales, funciona como una misteriosa alternativa a un scherzo. Después de un rico y nostálgico Andante con moto, el cuarteto cierra con un Rondo alla zingarese, un testimonio al cariño de Brahms por la música "gitana".
La versión orquestal de Arnold Schoenberg se originó en 1937, cuando esta figura central de la música europea se encontraba a la deriva y sin trabajo como refugiado en Los Angeles. Su intención fue "permanecer estrictamente en el estilo de Brahms y no ir más allá de lo que él mismo hubiera ido de haber estado vivo hoy."
– © 2023 Aaron Grad
Aaron Grad es un compositor y escritor que reside en Seattle. Además de escribir las notas al programa para la New World Symphony, Orpheus Chamber Orchestra, Baltimore Symphony Orchestra, entre otras, también se desempeña como director artístico  de Many Messiahs, un proyecto que reenmarca la obra maestra de George Frideric Handel como un llamado colectivo a la justicia.
Translated by Maria Paulina Garcia
Andrew Grams, conductor
With a unique combination of intensity, enthusiasm and technical clarity, American conductor Andrew Grams has steadily built a reputation for his dynamic concerts, ability to connect with audiences and long-term orchestra building. He was named 2015 Conductor of the Year by the Illinois Council of Orchestras and has led orchestras throughout the United States, including the symphonies of Chicago, Detroit, St. Louis, Cincinnati, Baltimore, Dallas and Houston, as well as The Philadelphia Orchestra and National Symphony.
Grams became Music Director of the Elgin Symphony after an international search in 2013 and concluded his tenure there after eight seasons. His charismatic conducting and easy accessibility have made him a favorite of Elgin Symphony audiences.
A frequent traveler, Grams has worked extensively with orchestras abroad, including the symphony orchestras of Toronto, Montreal and Vancouver; the Orchestre National de France; Hong Kong Philharmonic; BBC Symphony Orchestra in London; the symphony orchestras of Sydney, Melbourne and Adelaide; New Zealand Symphony, Barcelona Symphony and Het Residentie Orchestra in The Hague, Netherlands. He has led multiple performances of New York City Ballet's George Balanchine's The Nutcracker® and the first performances of the new production of The Nutcracker for the Norwegian National Ballet in Oslo.
Also an educator, Grams has worked with orchestras at institutions such as the Curtis Institute of Music, Cleveland Institute of Music, Indiana University, Roosevelt University, National Orchestral Institute at the University of Maryland and the Amsterdam Conservatorium.
Born in Severn, Maryland, Grams began studying the violin when he was eight years old. In 1999 he received a bachelor of music degree in violin performance from The Juilliard School, and in 2003 he received a conducting degree from the Curtis Institute of Music, where he studied with Otto-Werner Mueller. He was selected to spend the summer of 2003 studying with David Zinman, Murry Sidlin and Michael Stern at the American Academy of Conducting at Aspen and returned to that program again in 2004. Grams served as Assistant Conductor of The Cleveland Orchestra from 2004-07, where he worked under the guidance of Franz Welser-Möst and has since returned for several engagements.
As an accomplished violinist, Grams was a member of the New York City Ballet Orchestra from 1998-2004, serving as acting Associate Principal Second Violin in 2002 and 2004. Additionally, he has performed with ensembles including the Orpheus Chamber Orchestra, Orchestra of St. Luke's, Brooklyn Philharmonic and New Jersey Symphony.
Leif Ove Andsnes, piano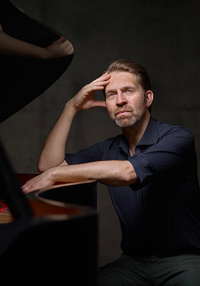 "A pianist of magisterial elegance, power, and insight" (The New York Times), Leif Ove Andsnes is "one of the most gifted musicians of his generation" (Wall Street Journal). With his commanding technique and searching interpretations, the celebrated Norwegian pianist has won international acclaim, playing concertos and recitals in the world's leading concert halls and with its foremost orchestras, while building an esteemed and extensive discography. As an avid chamber musician, he is also the founding director of the Rosendal Chamber Music Festival which takes place every August on the west coast of Norway.
Mr. Andsnes has received Norway's distinguished honor, Commander of the Royal Norwegian Order of St. Olav, as well as the prestigious Peer Gynt Prize and been honored with honorary doctorates from New York's The Juilliard School and the universities of Bergen and Oslo. He is also the recipient of the Royal Philharmonic Society's Instrumentalist Award and the Gilmore Artist Award and was inducted into the Gramophone Hall of Fame in 2013.
Mr. Andsnes was born in Karmøy, Norway in 1970, and studied at the Bergen Music Conservatory under the renowned Czech professor Jirí Hlinka. He has also received invaluable advice from the Belgian piano teacher Jacques de Tiège who, like Hlinka, has greatly influenced his style and philosophy of playing. He is currently an Artistic Adviser for the Prof. Jirí Hlinka Piano Academy in Bergen, where he gives annual master classes to participating students. Mr. Andsnes lives in Bergen with his partner and their three children.