Events & Tickets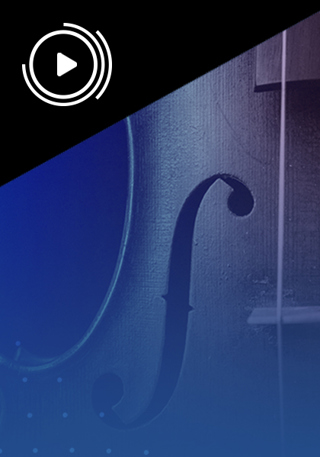 Online Event
Live from our Living Room
Friday, September 18 at 7:00 PM
Facebook Live (@NewWorldSymphony)
Program
WAYS TO WATCH ON SEPT. 18:
FACEBOOK LIVE    NEW WORLD SYMPHONY
Live from our Living Room is back! This series that features NWS Fellows performing live, informal chamber music concerts began from their home in Miami Beach last March when the pandemic first struck. The September 18 episode is a collection of highlights from this summer's concerts and features Cello Fellow Chava Appiah as host.
Each Live from our Living Room is streamed on Facebook Live, includes Fellow remarks and an opportunity to chat with the Fellows throughout the performances and ask any questions you may have. Starting on September 25, this series will broadcast from the New World Center stage. Click here to follow NWS on Facebook.
Program
Ludwig van Beethoven
(1770-1827)

Duet for Two Obbligato Eyeglasses, WoO 32 (1796)

Stephanie Block, viola
Nicholas Mariscal, cello
Gunther Schuller
(1925-2015)

Duets for Unaccompanied Horns (1962)

Carlos Salzedo
(1885-1961)

Variations on a Theme in Ancient Style (c. 1914)

Richard Strauss
(1864-1949)

Sonata for Violin and Piano, Op. 18 (1888)

II. Improvisation: Andante cantabile
Margeaux Maloney, violin
Wesley Ducote, piano
Isolamento for Solo Marimba (2020; world premiere)

Marcelina Suchocka, marimba
Johann Sebastian Bach
(1685-1750)

Concerto in C minor for Violin and Oboe, BWV 1060 (1736)

James Riggs, oboe
Yada Lee, violin
Jessica Pasternak, viola
Antonio Escobedo, bass
Charles Ives
(1874-1954)
Approx. Duration: 1914-17; revised 1919 minutes

Brendon Elliott, violin
Thomas Steigerwald, piano
Claude Debussy
(1862-1918)
Arranged by Alexander Gretchaninov

"Beau Soir" (1880; revised 1890-91)

Chava Appiah, cello
Wesley Ducote, piano
Claude Debussy
"Beau Soir" (1880; revised 1890-91)
Beau Soir
Lorsque au soleil couchant les rivières sont roses,
Et qu'un tiède frisson court sur les champs de blé,
Un conseil d'être heureux semble sortir des choses
Et monter vers le cœur troublé;
Un conseil de goûter le charme d'être au monde
Cependant qu'on est jeune et que le soir est beau,
Car nous nous en allons, comme s'en va cette onde:
Elle à la mer—nous au tombeau!
Beautiful evening
When at sunset the rivers are pink
And a warm breeze ripples the fields of wheat,
All things seem to advise content -
And rise toward the troubled heart;
Advise us to savour the gift of life,
While we are young and the evening fair,
For our life slips by, as that river does:
It to the sea—we to the tomb.
Translation © Richard Stokes, from
A French Song Companion
(Oxford, 2000)
Musicians of the New World Symphony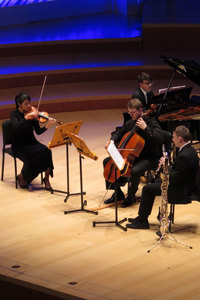 A laboratory for the way music is taught, presented and experienced, the New World Symphony consists of 87 young musicians who are granted fellowships lasting up to three years. The fellowship program offers in-depth exposure to traditional and modern repertoire, professional development training and personalized experiences working with leading guest conductors, soloists and visiting faculty. 
NWS Fellows take advantage of the innovative performance facilities and state-of-the art practice and ensemble rooms of the Frank Gehry-designed New World Center, the campus of the New World Symphony and home of the Knight New Media Center.
In the hopes of joining NWS, nearly 1,000 recent music school and conservatory graduates compete for available fellowships each year. The Fellows are selected for this highly competitive, prestigious opportunity based on their musical achievement and promise, as well as their passion for the future of classical music.