Events & Tickets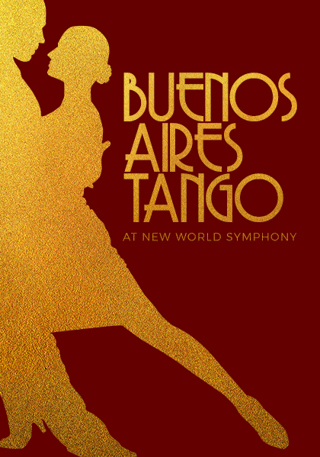 Special Event
Buenos Aires Tango
New World Center
Friday, January 7, 2022
6:30 PM: Beginner Tango Class
7:30 PM: Performance
Curated entirely by NWS Fellows, this intoxicating tango program will have you on your feet -- the perfect way to kick off a new year! Audiences will enjoy a lively selection of both new and traditional tango, waltz and milonga repertoire. Featuring guest artists Héctor del Curto and Alex Roitman on bandoneón and Pablo Estigarribia on piano, with dancers Analía Centurión and Jeremias Fors. Ticket price includes all event activities. 
Event Activities
6:30 PM: Beginner Tango Class
7:30 PM: Performance
Click here for directions to New World Center and parking options. 
Safety Protocols
Buenos Aires Tango is an NWS BLUE Project, made possible with support from the Maxine and Stuart Frankel Foundation and NWS's Fund for New Ventures.
Tickets no longer available online.
Program
ASTOR PIAZZOLLA                                           Michelangelo 70
(1921-1992)
                                                                               
ASTOR PIAZZOLLA                                           Introducción al Ángel
Arranged by
Pablo Ziegler  

ARMANDO PONTIER                                         Milongueando en el 40
(1917-1983)
Transcription of
Anibal Trolio's Orquesta típica


JULIÁN PLAZA                                                    Danzarín
(1928-2003)
Transcription of
Anibal Trolio's Orquesta típica                                    


PINTÍN CASTELLANOS                                    La Puñalada
(1905-1983)
                                                                               
ANSELMO AIETA                                              Palomita Blanca
(1896-1964)
Arranged by Héctor Del Curto                    
and Pablo Estigarribia

AGUSTÍN BARDI                                                Gallo Ciego
(1884-1941)
                                                                               
PABLO ESTIGARRIBIA                                     Victorioso
(b. 1985)

                                                                            Cochabamba

ALFREDO BEVILACQUA                                 Emancipación in the style of O. Pugliese
(1874-1942)
Transcribed by
Héctor Del Curto


ORCHESTRA
Violin
Scott Jackson
Jesse Kasinger
Jiyoung Lee
Luis Salazar
Viola
Camila Berg
Cello
Isabel Kwon
Bass
Douglas Aliano
Eric Windmeier
NWS BLUE PROJECT TEAM
Buenos Aires Tango was created by NWS Fellows as an NWS BLUE Project. Fellow-driven projects are possible with support by the Maxine and Stuart Frankel Foundation and NWS's Fund for New Ventures.
Isabel Kwon
Camila Berg
Ann Cho
Julia Karstens
Jiyoung Lee
Bradley Parrimore
Joo Bin Yi
FOR YOUR SAFETY 
As of September 18, 2021, these are the guidelines that all guests at New World Symphony concerts must follow. These guidelines will apply to all members of your party before they are allowed to enter the New World Center and to any users of the tickets purchased by you.  Click here for additional information.
COVID REQUIREMENTS: 
We request that all guests are fully vaccinated against COVID-19 (at least two weeks after final dose) and provide proof of vaccination; i.e. original vaccination card, copy of vaccination card, or picture of vaccination card. Name on vaccination card must match name on ID. 

In lieu of proof of vaccination, we require proof of a negative COVID-19 diagnostic test result within 72-hours (including for unvaccinated children under 12 years of age). Name on test result must match name on ID. Results from self-test kits and test-at-home kits will not be accepted.

All guests may undergo a temperature screening upon entry into the building. 

Masks are required inside New World Center at all times, regardless of vaccination status. 
DAY OF EVENT 
Please arrive early for check-in process. 

Please bring your ID and proof of vaccination or negative test result. As noted above, the full name on your ID must match the name on your vaccination card or COVID test result. 

Please remember to bring a mask. 
By attending our events, you voluntarily accept responsibility for all risks related to exposure to COVID-19.
Héctor Del Curto, bandoneon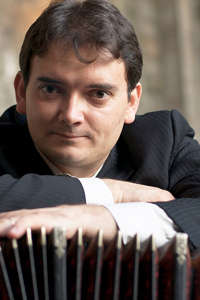 Praised by The New York Times as a "splendid player," Grammy Award-winning musician, composer, recording artist and educator Héctor Del Curto is one of the world's most sought–after bandoneonists. He has performed with many renowned artists across musical genres and appeared with the world's leading orchestras, including the Metropolitan Opera Orchestra, Dallas Symphony Orchestra, National Symphony Orchestra, Saint Louis Symphony, Orpheus Chamber Orchestra and Rochester Philharmonic Orchestra.
Mr. Del Curto's recent engagements include a recorded performance of Piazzolla's bandoneon concerto Aconcagua with the Boston Symphony and Thomas Wilkins, a performance of Piazzolla's Four Seasons of Buenos Aires with the Indianapolis Chamber Orchestra, and a performance with the Portland Symphony Orchestra, which included Del Curto's composition, Paris to Cannes. His 2021-22 season highlights include performances with the Buffalo Philharmonic Orchestra and Hilton Head Symphony, and a world premiere performance of his newly commissioned work for the Apollo Chamber Players.
Buenos Aires-born Del Curto is a fourth-generation bandoneonist who won the title "Best Bandoneon Player Under 25" in Argentina at age 17, and was subsequently invited to join the orchestra of the legendary Osvaldo Pugliese, the "Last Giant of Tango." In 1998 Mr. Del Curto became music director of Forever Tango, a Broadway hit that continues to tour the world. Soon after, he founded the Eternal Tango Orchestra, a 10-piece ensemble that debuted at New York's Lincoln Center, as well as the Hector Del Curto Tango Quintet. Both are featured on his self-produced albums, Eternal Piazzolla and Eternal Tango, which were profiled by BBC News and Public Radio International.
Mr. Del Curto has appeared on recordings with such artists as Osvaldo Pugliese, Astor Piazzolla, Paquito D'Rivera, Tito Puente and Plácido Domingo. As part of the Pablo Ziegler Trio, he received a 2018 Grammy Award for Jazz Tango.
Dedicated to the education, outreach and the preservation of tango, Mr. Del Curto co-founded the Stowe Tango Music Festival in 2014, and continues to serve as its artistic director. The premier tango music festival in the United States, it draws the most talented tango musicians and dancers, as well as fans, from all over the globe. He also produced the festival's award-winning album Live at the 2016 Stowe Tango Music Festival.
Alex Roitman, bandoneon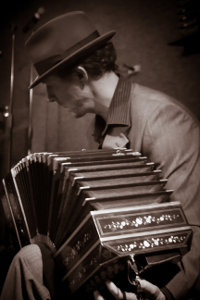 Born and raised in Moscow, Alex Roitman began playing the piano when he was seven years old. He has studied accordion with Peter DiBono, San Francisco's premier accordionist. During his accordion years, he enjoyed playing Klezmer, Italian, French musette and Russian music. His playing has been featured in Pure Piaf, a musical about the life of Edith Piaf.
Mr. Roitman's passion for Argentine Tango led him to study the bandoneon, first on his own, then with Ville Hiltula and finally with Héctor Del Curto. As a bandoneonist, he plays locally in San Francisco with his band Tangonero. He is also a member of a Stowe Tango Music Festival tango orchestra, and was a bronze medalist in the 2018 and 2019 Che Bandoneon International Competition. Mr. Roitman has shared the stage with legendary tango musicians as Victor Lavallen, Horacio Cabarcos, Pablo Estigarribia, Jose Colangelo, Pablo Agri, Nicolas Ledesma, Humberto Ridolfi, Julio Pane and Nestor Marconi, as well as the members of Héctor Del Curto's quintet. In addition to his bandoneon work, Mr. Roitman has composed several tango pieces, made original arrangements and continues to work on transcribing and arranging great tango music of the past. In the fall of 2020, he relocated to the East Coast, and is currently performing with Boston Tango Orchestra, as well as forming his own group in Sarasota.
Pablo Estigarribia, piano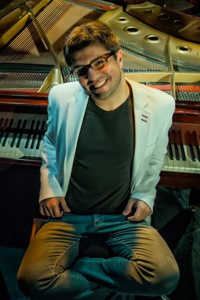 Pablo Estigarribia is a Latin Grammy Award nominee and world-renowned tango pianist, arranger and composer. Like many artists of this genre, he began his training as a classical musician and soon branched out into the world of tango. He studied at the National Conservatory in Buenos Aires, where he won the Bienal Juvenil National Competition for Young Artists. After graduating, he spent several years on the frenzied performance circuit in Argentina, collaborating with the Congress Chamber Orchestra, National Radio Orchestra and Chaco Symphony, among many others. Seeking to broaden his musical horizons beyond the classical realm, Mr. Estigarribia took a brief detour through jazz and then discovered tango in 2005. He quickly won the Orquesta Escuela de Tango scholarship and performed with this superb ensemble under the direction of Emilio Balcarce. Mr. Estigarribia continued working with Balcarce shortly thereafter when he first toured Europe.
Mr. Estigarribia rapidly established himself as a nuanced and masterful tango performer in Germany, France, Belgium, Japan, Russia, Finland, Canada, the United States and Cuba. He has been featured in over a thousand concerts, joining Argentine tango legends like Maria Graña, Victor Lavallén, Leopoldo Federico, Nestor Marconi, Horacio Cabarcos, Emilio Balcarce and many others. Mr. Estigarribia's album Tangos Para Piano (EPSA) won the prestigious 2015 Gardel Prize for Best Tango Album by a New Artist. After receiving wide acclaim for this album, he earned coveted recognition from the Argentine tango industry as an expert in the art of tango music. He is a recipient of the Argentine Tango Society's Medal of Honor for his educational forays at the Stowe Tango Music Festival (Vermont, USA) in multiple years. Mr. Estigarribia's ascendancy brought him to Japan in 2016 where he was lauded in the Tokyo press following his performances. He then became sought after in the United States, where he played in New York's famous Blue Note Jazz Club. He has made performance and interview appearances on NBC, Univision, Telemundo and the Huffington Post.
After enjoying the privilege of 13 years of mentorship by legendary Osvaldo Pugliese arranger and bandoneonist Victor Lavallén, Mr. Estigarribia is proud to assume the role of teacher and transmitter of the tango tradition. He is delighted to showcase and share the beauty of tango's rich lineage, and gladly invites both the experienced and uninitiated to study the unique, seductive flair of tango. New generations of students and seasoned enthusiasts alike can advance their technical knowledge with Mr. Estigarribia's compositions and arrangements. Above all, he seeks to reopen the passage of tango music repertoire to musicians who may not know where to start, so they too can delight in the genre's legacy. With that goal in mind, Mr, Estigarribia published his original compositions and arrangements of traditional pieces, Tangos de Concierto, and teaches, judges and performs regularly at tango festivals and events all over the world.
Mr. Estigarribia splits his time between his native Buenos Aires, Argentina and New York City.
Analía Centurión, dancer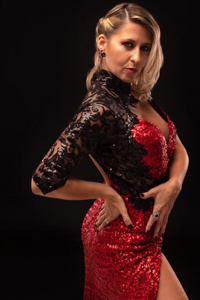 Analía Centurión is an internationally renowned Tango dancer and instructor. From the tender age of six, her formation included piano and classical ballet. She began to dance Argentine Tango in 1995. Two years later she became stage tango champion in the most prestigious youth competitions in the province of Buenos Aires. Her trajectory includes dancing with the companies of Juan Carlos Copes, Mora Godoy and the great Mariano Mores, as well as some of the most famous Tango Dinner/Shows of Buenos Aires: Piazzolla Tango, Madero Tango, La Ventana Tango and many more. Most recently she has represented her Argentine Culture in the Vail International Dance Festival, along with great stars of the American Ballet Theatre and Martha Graham Dance Company, amongst others. Her artistry gained her recognition in magazines like The New Yorker and made headlines nine times in The New York Times. She is the young master that divulges the historic tango to the masses. The elder milongueros in Argentina respect and adore her. She is to these elders the ambassador that transmits in everyone the original tango. Learn more tangocenturion.com.
Jeremias Fors, dancer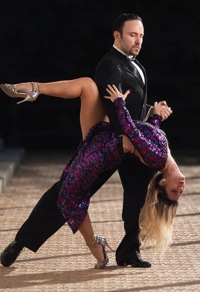 Argentine Native, Jeremias Fors, is one of the most sought out tango performers in the United States today. He has danced and choreographed with renowned shows like Luis Bravo's Forever Tango (2016), Piazzolla's Operetta Maria de Buenos Aires (NYC Opera 2018, Atlanta Opera 2019 & 2017, New Orleans Opera 2017, Nashville Opera 2017, Florida Grand Opera 2013), 2020 Super Bowl LIV Parade, Black & White: A Theatrical Tango Production (2019), the U.S. tours of This Is Tango Now-Identidad (2013, 2012), Luis Bravo's La Cumparsita de Argentina (2019), Homenaje a Mariano Mores (2017), Carmen de Buenos Aires (2015), La Magia del Tango (2016, 2015), A Puro Tango II (2014), Masters of Tango by Tango Fantasy (2011), Amor de Tango (2011) and Tango Lovers (2009) among many others.
Mr. Fors is a trained musician, he attended the music programs of New World School of the Arts and Florida International University on full scholarships as a Music Performance Mayor. The discipline and knowledge acquired through his musical education carried over into his tango: As a dancer, teacher and choreographer. This personal journey resulted in the co-founding of Tango Axis LLC back in 2010, creating the shows Eras del Tango (2010) and Amor Porteño a.k.a Tango Suites (2016), making him the youngest tango choreographer and producer in the United States.
Mr. Fors' TV appearances include Telemundo's 2019 Miss Universe Special, Un Nuevo Día, Siempre Niños and WFAA's Good Morning Texas. As well as being a choreographer for the reality show Así se baila.
His artistry garnered great reviews in newspapers and media like The Washington Post, Broadway World, Miami New Times, Miami Herald, Edge Media Network, D.C. Theater Scene and Argentina's CARAS Magazine among others. His performance with FGO's production of Piazzolla's Operetta, Maria de Buenos Aires and Robert Rodriguez's musical piece Tango, were both chosen "Top 10 Performances of 2013″ by South Florida Classical Review.
As a teacher, Mr. Fors has developed a progressive teaching style that embarks the full vocabulary of the tango dance today. He is fluent in both English and Spanish and has taught and performed in the following festivals: International Tango Summit (2019, 2018), Alegria Mini Tango Festival (2018), NYC Spring Tango Weekend (2019), Yunta Brava Florida (2016), Florida Tango Encounter (2017, 2016), 15th Miami Tango Fantasy Festival (2011), 9th Annual Boston Tango Festival (2012), Boulder Tango Festival (2016, 2014), as well as workshops throughout the United States. In 2013 he co-founded and directed an Argentine Tango School in Miami, receiving a proclamation by the Mayor of Miami-Dade County, Carlos Gimenez, for enriching the art and knowledge of argentine tango in South Florida.
As a Tango dancer, teacher, choreographer and producer, Mr. Fors has certainly become an influential force in the development of the South Florida Tango Community. He is now working on his newest project: Miami Tango Show, an initiative to honor the heritage and art of Argentine Tango Performance, what it can transmit, teach and create. Its mission, to present the highest standard of Argentine Tango to audiences in South Florida and throughout the United States.