Events & Tickets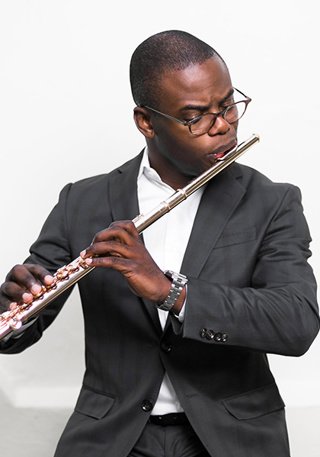 Chamber Music
MAVERICKS
New World Center
Sunday, November 24 at 2:00 PM
Program
NWS Fellows celebrate visionary composers who both broke and honored traditions in creating their art. NWS's own MTT hints at Italian operatic styles in the "high-flying flute pyrotechnics" (South Florida Sun Sentinel) of his Notturno, performed by Seattle Symphony's Demarre McGill. Lured by the exotic sounds of Indonesian gamelans, Lou Harrison fused East and West in his Solstice ballet, and conjured a lilting trance in his Suite for Cello and Harp. A solo flute takes the spotlight in Harrison's Concerto before imitating birdsong in Oliver Messiaen's competition showpiece. Ludwig van Beethoven emerges from Mozart's shadow to establish his musical voice in his Quintet for piano and winds.     
COMPOSE YOUR OWN SUBSCRIPTION PACKAGE!
Choose this plus two more concerts to customize your own subscription. It's the ultimate flexibility with all the subscriber benefits, including free exchanges when plans change! Click here to create your own series today.
SUBSCRIBERS ENJOY THE BEST OF NWS!
As an NWS Subscriber, you receive amazing benefits to enjoy throughout the season, including the best seats for the lowest prices and access to our incredibly talented Fellows. Click here to learn more!
Program
Lou Harrison
(1917-2003)
Approx. Duration: 10 minutes

Selections from Solstice (1950)

Garden of the Sun
Entrance of the Moon Bull
Vernal Dance
Johanna Gruskin, flute; James Riggs, oboe
Aaron Ney, trumpet
Thomas Steigerwald, celesta; Wesley Ducote, tack piano
Emily Yoshimoto, Chava Appiah, cello
Douglas Aliano, bass
Michael Tilson Thomas
(b. 1944)
Approx. Duration: 13 minutes

Notturno for Flute, Harp and String Quintet (2005)

Demarre McGill, flute
Chloe Tula, harp
Michael Rau, violin I; Christina Choi, violin II
Daniel Fellows, viola; Alan Ohkubo, cello
Antonio Escobedo, bass
Lou Harrison
(1917-2003)
Approx. Duration: 8 minutes

Suite for Cello and Harp (1949)

James Churchill, cello; Chloe Tula, harp
Lou Harrison
(1917-2003)
Approx. Duration: 8 minutes

Concerto No. 1 for Flute and Percussion (1939)

Earnest, fresh and fastish
Slow and poignant
Strong, swinging, and fastish
Demarre McGill, flute
Michael Daley, Charlie Rosmarin, percussion
Olivier Messiaen
(1908-1992)
Approx. Duration: 6 minutes

The Blackbird for Flute and Piano (1951)

Johanna Gruskin, flute; Wesley Ducote, piano
Ludwig van Beethoven
(1770-1827)
Approx. Duration: 25 minutes

Quintet in E-flat major for Winds and Piano, Op. 16 (1796)

Grave – Allegro ma non troppo
Andante cantabile
Rondo: Allegro ma non troppo 
Thomas Steigerwald, piano
Joo Bin Yi, oboe; Angelo Quail, clarinet
Justin Cummings, bassoon; Dominic Brancazio, horn
Lou Harrison
Selections from Solstice (1950)

Approximate duration: 10 minutes
Lou Harrison was the high priest of an ecstatic American musical tradition, one rooted on the West Coast and oriented toward the Asian cultures across the Pacific, rather than European models. Born in Portland, he was raised near San Francisco, where he encountered his first significant teacher and longtime mentor, Henry Cowell. Through Cowell, Harrison met John Cage, and the two renegade composers joined forces for a series of percussion concerts in Seattle and beyond, helping to solidify the percussion ensemble—complete with homemade and salvaged instruments—as a viable genre. Harrison continued his studies in Los Angeles with Arnold Schoenberg, and then he moved to New York, where he worked under fellow composer Virgil Thomson writing hundreds of newspaper reviews.
The stress of living as a starving artist in New York led to a nervous breakdown and a nine-month hospitalization, which marked a compositional turning point for Harrison. In the dance score Solstice, one of the first works that followed his breakdown, Harrison embraced the melodic simplicity and acoustic resonance of Asian music, particularly the Indonesian gamelan (an ensemble of tuned bells and other percussion) he first heard in 1943. To achieve a similar effect using concert instruments, Harrison wrote a part for tack-piano—meaning a standard piano with metal tacks pinned into the felt hammers, creating a more jangling, harpsichord-like sound. He also included a part for celesta, a keyboard instrument where the sound comes from striking tuned metal bars.
The Ballet's structure was devised by its choreographer, Jean Erdman, who sought input from her husband, the writer and mythologist Joseph Campbell. It begins with an introduction set In the Garden of the Sun, but the idyll breaks when a trumpet heralds the Entrance of the Moon Bull, who represents winter and darkness. The Vernal Dance unites the jubilant "Sun Lion" (personifying the warmth of summer) with "The Bride of Spring."
Michael Tilson Thomas
Notturno for Flute, Harp and String Quintet (2005)

Approximate duration: 13 minutes
Since studying composition with Ingolf Dahl at the University of Southern California, Michael Tilson Thomas has produced a small but impressive body of works, ranging from profound (such as Showa/Shoah, a commemoration of the bombing at Hiroshima) to playful (continuing the legacy of his grandparents, the Thomashefskys, the biggest stars of Yiddish musical theater in their day). He composed the Notturno for flute, harp and string quintet in 2005 for flutist Paula Robison, with the work intended as a tribute to Paul Renzi, the principal flutist of the San Francisco Symphony for 50 years. Tilson Thomas wrote the following description of the work.
Notturno is a virtuoso piece evoking the lyrical world of Italian music. Its shape recalls concert arias, "études de concert" and salon pieces—creations of a bygone world that I still hold in great esteem. I remember the great care and attention that Piatigorsky and Heifetz lavished on such pieces, and some of the seemingly effortless charm of that genre has found its way into this work.
This piece has a subtext. It's about the role music plays in the life of a musician and the role we musicians play (must play?) in life. It's about musicians first discovering the wonder of music and their own unique voice. Then, of course, there's the profession: the concerts, gigs, the routine, and the wear and tear that can lead you to ask, "Why am I carrying on with all this trilling and arpeggiating?" But, we play what we must play with excellence and commitment, even if it drives us nearly over the edge. The great part is, if we have a chance to take a little breath, we discover that the wonder never goes away. 
– Michael Tilson Thomas
Lou Harrison
Suite for Cello and Harp (1949)

Approximate duration: 8 minutes
Harrison's Suite for Cello and Harp dates from the same period as Solstice, immediately after his nervous breakdown in New York. He pulled it together quickly to fulfill a promise to the cellist Seymour Barab, extracting portions from other projects, including the dreamy Aria that originated as part of Harrison's Symphony on G. The second movement, Pastorale, came from an unused score for a film about the Lascaux cave paintings in France, with this music meant to evoke "the willowed, rivered landscape of the valley of the Dordogne where the caves were discovered."
Lou Harrison
Concerto No. 1 for Flute and Percussion (1939)

Approximate duration: 8 minutes
In the late 1930s, while Harrison was based in San Francisco and John Cage in Seattle, the two young composers revolutionized the art of music for percussion under the guidance of Henry Cowell, who contributed his own new percussion scores from behind bars in San Quentin State Prison. Cowell was free by 1941, when he played one of the two percussion parts at the premiere of Harrison's First Concerto for Flute and Percussion at Bennington College in Vermont, an epicenter of the contemporary dance scene for which Harrison and Cage were such vital contributors.
This compact Concerto, written at the age of 22, already exhibits the tendencies that would define Harrison's music for the next 60-plus years. The first movement, marked "Earnest, fresh, and fastish," superimposes separate rhythmic cycles in the flute and percussion parts, such that they align periodically to form a larger cycle together. The "Slow and poignant" middle movement uses bells and gongs at fixed pitches to support the meandering flute line with a repeating bass line, almost like a Baroque passacaglia. As a bookend to the first movement, the "Strong, swinging and fastish" finale again uses ornate ostinatos to accompany the flute's modular, rhythmic phrases.
Olivier Messiaen
The Blackbird for Flute and Piano (1951)

Approximate duration: 6 minutes
Olivier Messiaen developed his singular approach to composition by infusing French musical traditions with elements drawn from his Catholic faith, Eastern theories of harmony, and sounds observed in nature—especially the bird calls he transcribed and collected all over the world. In 1951 he was teaching at his alma mater, the Paris Conservatory, when the school invited him to compose a short piece to be used for a flute competition. The resulting work, La merle noir (The Blackbird), turned out to be the first of many scores in which Messiaen represented specific birds, as opposed to the generalized birdsongs heard in earlier works like the Quartet for the End of Time. Unaccompanied flute passages, delivered with loose and organic rhythms, conjure the famously chatty males of the species.
Ludwig van Beethoven
Quintet in E-flat major for Winds and Piano, Op. 16 (1796)

Approximate duration: 25 minutes
When Beethoven arrived in Vienna in 1792, he was following in the footsteps of his hero Mozart, whose death a year earlier had created a void that the 21-year-old Beethoven eagerly filled. In those early years, before his reputation earned him a measure of artistic independence (and before his deafness cut him off from the world), Beethoven hustled for all sorts of paying gigs around town, just like Mozart before him, using his piano prowess to open new doors for his compositions.
After hearing a performance of Mozart's Quintet in E-flat major for Piano and Winds in 1796, Beethoven decided to write a work of his own for the same ensemble. He even chose the same key setting of E-flat (which worked particularly well for the natural horn), and the parallels continued when Beethoven copied Mozart's plan of prefacing the first movement with a slow introduction.
Written at a time when the small wind ensemble known as the Harmonie was all the rage among Austrian aristocrats, this score tends to use the four winds as a self-contained unit that plays against the piano, almost like a small concerto. The same could be said of Mozart's Quintet, but as was so often the case with Beethoven, he pushed it further, making the most of his virtuosity at the keyboard. (There's a story from the premiere that Beethoven's improvised cadenza in the finale kept going and going, and apparently his band-mates did not enjoy being fooled more than once by hints that he might be wrapping up, only to have to pull their instruments away from their lips again.)
The most Mozartean movement is the central Andante cantabile, representing that type of ambling, songlike slow movement born of Mozart's love for opera. In fact, Mozart's biographer Detmar Huchting noticed a telling coincidence: The descending scale segment at the core of Beethoven's theme imitates an aria from Don Giovanni. The closing movement has plenty of Mozart in its galloping Rondo, but it also suggests Beethoven's other idol, Joseph Haydn, the master of the hunt-inspired finale.
-- © 2019 Aaron Grad
Aaron Grad is a composer, guitarist and writer based in Seattle. Besides providing program notes for the New World Symphony, he has been the Orpheus Chamber Orchestra's program annotator since 2005 and also contributes notes to the Saint Paul Chamber Orchestra and Seattle Symphony.
Demarre McGill, flute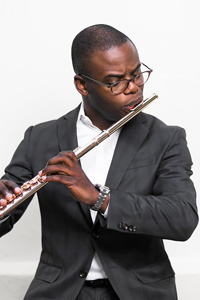 Demarre McGill has gained international recognition as a soloist, recitalist, chamber and orchestral musician. Winner of an Avery Fisher Career Grant and the Sphinx Medal of Excellence, he has appeared as soloist with The Philadelphia Orchestra and the Seattle, Pittsburgh, Dallas, Grant Park, San Diego and Baltimore symphonies and, at age 15, the Chicago Symphony.
Now Principal Flute of the Seattle Symphony, Mr. McGill previously served as Principal Flute of the Dallas Symphony, San Diego Symphony, Florida Orchestra and Santa Fe Opera Orchestra. He recently served as Acting Principal Flute of The Metropolitan Opera Orchestra and earlier with the Pittsburgh Symphony.
As an educator, Mr. McGill has performed, coached and presented master classes in South Africa, Korea, Japan, Quebec and throughout the United States. With his brother Anthony, he was a speaker and performer at the 2018 League of American Orchestras Conference. He has also served on the faculties of the National Youth Orchestra of the United States, National Orchestral Institute at the University of Maryland, Orford Music Festival and participated in Summerfests at the Curtis Institute of Music. In August 2019, he was named Associate Professor of Flute at the University of Cincinnati College-Conservatory of Music, and is an artist-faculty member of the Aspen Music Festival and School.
A founding member of The Myriad Trio, and former member of Chamber Music Society Two, Mr. McGill has participated in the Santa Fe, Marlboro, Seattle and Stellenbosch chamber music festivals, to name a few. He is the co-founder of The Art of Élan and, along with clarinetist Anthony McGill and pianist Michael McHale, founded the McGill/McHale Trio in 2014. Their first CD, Portraits (2017), received rave reviews, as has Winged Creatures, his recording with Anthony McGill and the Chicago Youth Symphony. In 2019-20 the McGill/McHale Trio performs at New York City's 92nd Street Y, as well as in Washington, D.C. and on chamber music series throughout the Midwest.
Mr. McGill's media credits include appearances on PBS's Live from Lincoln Center, A&E Network's The Gifted Ones, NBC's Today Show, NBC Nightly News and, with his brother Anthony when they were teenagers, Mr. Rogers' Neighborhood.
A native of Chicago, Mr. McGill began studying the flute at age seven and attended the Merit School of Music. In the years that followed, he studied with Susan Levitin. He received his bachelor's degree from The Curtis Institute and a master's degree from The Juilliard School.
Musicians of the New World Symphony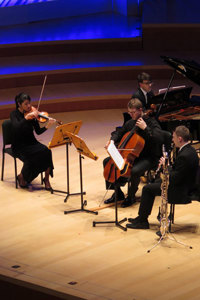 A laboratory for the way music is taught, presented and experienced, the New World Symphony consists of 87 young musicians who are granted fellowships lasting up to three years. The fellowship program offers in-depth exposure to traditional and modern repertoire, professional development training and personalized experiences working with leading guest conductors, soloists and visiting faculty. 
NWS Fellows take advantage of the innovative performance facilities and state-of-the art practice and ensemble rooms of the Frank Gehry-designed New World Center, the campus of the New World Symphony and home of the Knight New Media Center.
In the hopes of joining NWS, more than 1,500 recent music school and conservatory graduates compete for about 35 available fellowships each year. The Fellows are selected for this highly competitive, prestigious opportunity based on their musical achievement and promise, as well as their passion for the future of classical music.