Events & Tickets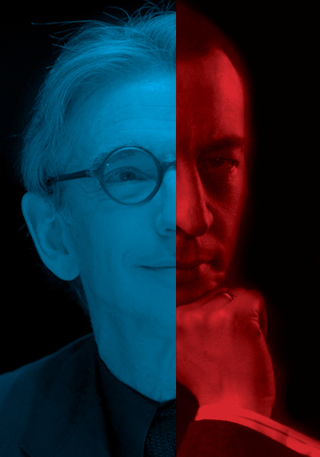 Orchestra Concert
MTT + Rachmaninoff
Adrienne Arsht Center
Saturday, October 22, 2022 at 8:00 PM
Program
Michael Tilson Thomas, NWS Co-Founder and Artistic Director Laureate, returns for a one-night-only extravaganza devoted to the music of Sergei Rachmaninoff. Pianist Yefim Bronfman—a "marvel of digital dexterity, warmly romantic sentiment and jaw-dropping bravura" (Chicago Tribune)—commands the Third Piano Concerto, a towering masterpiece that requires feats of stamina, virtuosity and courage. MTT leads this unforgettable program, which ends on a sweet note with Rachmaninoff's exquisite Second Symphony as it surges with haunting beauty and joyful redemption.
Ticket exchanges not permitted into this performance.
---
COMPOSE YOUR OWN SUBSCRIPTION PACKAGE! 
Want to try a little of everything? Customize your own subscription of three or more concerts to exercise full creative freedom while enjoying all the flexibility and perks of being a New World Symphony subscriber. Click here to build your CYO subscription or call the Box Office at 305.673.3331 to compose your series today.  
SUBSCRIBERS ENJOY THE BEST OF NWS! 
As an NWS Subscriber, you receive amazing benefits to enjoy throughout the season, including the best seats for the lowest prices and access to our incredibly talented Fellows. Click here to learn more! 
Program
Sergei Rachmaninoff
(1873-1943)
Approx. Duration: 3 minutes

"Spring Waters," Op. 14, No. 11 (1896)

Mr. Goodman
Alan Tolbert, solo trumpet

Sergei Rachmaninoff
(1873-1943)
Approx. Duration: 45 minutes

Concerto No. 3 in D minor for Piano and Orchestra, Op. 30 (1909)

Allegro ma non tanto 
Intermezzo: Adagio 
Finale: Alla breve 

Sergei Rachmaninoff
(1873-1943)
Approx. Duration: 60 minutes

Symphony No. 2 in E minor, Op. 27 (1906-08)

Largo – Allegro moderato 
Allegro molto 
Adagio 
Allegro vivace
Sergei Rachmaninoff
"Spring Waters," Op. 14, No. 11 (1896)

Approximate duration: 3 minutes
Sergei Rachmaninoff graduated from the piano program at the Moscow Conservatory with honors in 1891, and he capped his composition studies the next year by earning a rare "Great Gold Medal" and attracting his first publishing contract. The early part of his career saw him balancing his talents as a composer of large scores (starting with his debut Piano Concerto as his Opus 1) and small works (including songs, piano albums and other salon music), while also conducting and performing as a pianist. It was only in his later years of exile in the West that his legendary keyboard skills came to overshadow his other talents—meaning that endless concert tours crowded out his composing time.
The set of 12 Romances for voice and piano that Rachmaninoff composed and published in 1896 demonstrate how effective this larger-than-life musician could be in intimate forms. Just 23 and overflowing with vitality, Rachmaninoff was understandably drawn to a poem written almost 70 years earlier by another eager young Russian, the poet Fyodor Tyutchev. To evoke the excitement of snowmelt ushering in the "ruddy brilliant throng" and "warm sweet days" of spring, the piano, or orchestra in tonight's performance, plays an effervescent accompaniment of swelling triplets, supporting a vocal line, performed tonight by NWS Trumpet Fellow Kenneth Chauby, that renders the text's many exclamation points in soaring climax upon climax.
– © 2022 Aaron Grad
Aaron Grad is a composer and writer based in Seattle. In addition to providing program notes for the New World Symphony, Orpheus Chamber Orchestra, Baltimore Symphony Orchestra and others, he is also the artistic director of Many Messiahs, a project that reframes George Frideric Handel's masterpiece as a collective call for justice.
Sergei Rachmaninoff
Concerto No. 3 in D minor for Piano and Orchestra, Op. 30

(1909)

Approximate duration: 45 minutes
Rachmaninoff composed four piano concertos spread through his career—in 1890-91, 1900-01, 1909 and 1926 (revised through 1941)—plus a fifth, ever-popular work for piano and orchestra, the Rhapsody on a Theme of Paganini (1934). The plush Second Concerto and the knuckle-busting Third, along with the Rhapsody, have staked especially firm places in the repertoire. The Third has earned a reputation as one of the most technically daunting of all the standard piano concertos. Rachmaninoff maintained that it was "more comfortable" to play than his Second. Perhaps it was more comfortable for him because his hands individually spanned the interval of a 13th and his keyboard stamina was apparently limitless, but it was not more comfortable for most other pianists. It was even out of reach of the renowned Josef Hoffman, whom Rachmaninoff admired above all other pianists and to whom he dedicated this score; Hoffman had considerably smaller hands, and as a result he never was able to perform this Concerto that bears his name at the top of its first page.
Rachmaninoff composed it for his debut North American tour, which he undertook in 1909 with trepidation since he had devoted the preceding three years to composing rather than performing. Nonetheless, he did not stint in crafting this work to capitalize on dizzying keyboard skills, and his ever-increasing experience as a composer yielded a work in which the solo and orchestral parts are melded with remarkable sophistication. Following the premiere that November, with Walter Damrosch conducting the New York Symphony Society, the critics were cool but the audience was delighted. The New York Herald reported: "Mr. Rachmaninoff was recalled several times in the determined effort of the audience to make him play again, but he held up his hands with a gesture which meant that although he was willing, his fingers were not."
Later in the same tour he played the piece again in New York, this time with the New York Philharmonic conducted by Gustav Mahler, who extended the rehearsal by an hour to do justice to the piece. This Concerto remained in the shadow of Rachmaninoff's Second Piano Concerto for more than two decades. Not until the 1930s did it catapult to great popularity, thanks in large part to such interpreters as Vladimir Horowitz and Walter Gieseking—and, of course, Rachmaninoff himself, whose recording from 1939-40 with Eugene Ormandy and The Philadelphia Orchestra was embraced as a classic.
Sergei Rachmaninoff
Symphony No. 2 in E minor, Op. 27

(1906-08)

Approximate duration: 60 minutes
Rachmaninoff was very nearly undone by the mean-spirited criticism that greeted his First Symphony, unveiled in 1897—so much so that for the next three years he didn't write a note and turned his focus instead to conducting. Daily visits with Dr. Nikolai Dahl, who was investigating psychological therapy through hypnosis, steered him back on track, and by 1906 he felt ready to confront whatever compositional demons were still lingering. He had recently moved with his wife and daughter to Dresden, hoping to escape some of the constant social and professional pressures that accompanied his mounting celebrity.
In February 1907 he wrote to a friend back in Russia: "A month ago, or more, I really did finish a symphony, but to this must be added the phrase 'in draft.' I have not announced it to 'the world,' because I want first to complete its final writing." Word was out, and Rachmaninoff promptly received an invitation to conduct it during the upcoming season—before he was anywhere near polishing the piece. "I can tell you privately that I am displeased with it," Rachmaninoff's letter continued, "but that it really 'will be,' though not before autumn, as I shall not begin its orchestration until summer." He toughed it out, finally vindicating himself as a gifted symphonist. His Second Symphony scored a popular success at its premiere, which he conducted in St. Petersburg in early 1908, and in December it was honored with a prestigious Glinka Award for symphonic composition.
The Second Symphony is indeed imbued with Rachmaninoff's recognizable fingerprints, right from its brooding outset. That introduction contains melodic material that reappears transformed as the surging first movement unrolls, and it comes back again at the end of the second movement, which is an often boisterous scherzo that demands athleticism from all players. In the scherzo's coda he works in a reference to the "Dies irae" chant from the Mass for the Dead, a Rachmaninoff signature, if a macabre one.
In the Adagio third movement, he spins out a rhapsody par excellence. The finale seems part tarantella and part march, with the tarantella winning out in the end. But the spirit of the dance is melded to Rachmaninoff's trademark lyricism, which keeps the emotional pitch high right up to the final measure.
– © James M. Keller
James M. Keller is the longtime Program Annotator of the San Francisco Symphony and was formerly Program Annotator of the New York Philharmonic and a staff writer-editor at The New Yorker. The author of Chamber Music: A Listener's Guide (Oxford University Press), he is writing a sequel volume about piano music for the same publisher.
Sergei Rachmaninoff
(1873-1943)
"Spring Waters," Op. 14, No. 11 (1896)
Mr. Goodman
Alan Tolbert, solo trumpet

Sergei Rachmaninoff
(1873-1943)
Concerto No. 3 in D minor for Piano and Orchestra, Op. 30 (1909)
Allegro ma non tanto 
Intermezzo: Adagio 
Finale: Alla breve 

Sergei Rachmaninoff
(1873-1943)
Symphony No. 2 in E minor, Op. 27 (1906-08)
Largo – Allegro moderato 
Allegro molto 
Adagio 
Allegro vivace
Sergei Rachmaninoff
"Spring Waters," Op. 14, No. 11 (1896)
Duración aproximada
: 3 minutos
Sergei Rachmaninoff se graduó con honores del programa de piano del Conservatorio de Moscú en 1891, y culminó sus estudios de composición al año siguiente ganando la inusual "Gran Medalla de Oro" y atrayendo su primer contrato editorial. En la primera parte de su carrera se encontró equilibrando su talento como compositor de grandes partituras (empezando con su primer Concierto para Piano como su Opus 1) y de obras pequeñas (como canciones, discos de piano y música de salón), mientras se desempeñaba como director de orquesta y pianista. Fue solo en sus últimos años de exilio en Occidente que sus legendarias habilidades en el teclado llegaron a eclipsar sus otros talentos, lo cual significó que las interminables giras de conciertos consumieron su tiempo para componer.
La colección de 12 romanzas para voz y piano que Rachmaninoff compuso y publicó en 1896 demostró la habilidad de este magistral músico en géneros más íntimos. Con solo 23 años y rebosante de vitalidad, Rachmaninoff se sintió lógicamente atraído por un poema escrito casi 70 años antes por otro apasionado joven ruso, el poeta Fyodor Tyutchev. Para evocar el entusiasmo del deshielo dando paso al "gran paisaje rojizo y brillante" y los "días cálidos y dulces" de la primavera, el piano, o la orquesta en nuestra presentación de esta noche, tocan un efervescente acompañamiento de crecientes tresillos que proveen soporte a una melodía vocal interpretada esta noche por el becario de trompeta de la NWS Kenneth Chauby, la cual representa los muchos signos de exclamación del texto que se elevan hasta alcanzar el punto culminante.
– © 2022 Aaron Grad
Aaron Grad es un compositor y escritor que reside en Seattle. Además de escribir notas de programa para la New World Symphony, Orpheus Chamber Orchestra, Baltimore Symphony Orchestra, entre otras, es también el director artístico de Many Messiahs (Muchos Mesías), un proyecto que reinventa la obra maestra de Handel en un llamado colectivo a la justicia.
Sergei Rachmaninoff
Concerto No. 3 in D minor for Piano and Orchestra, Op. 30
 

(1909)
Duración aproximada

: 45 minutos

Rachmaninoff compuso cuatro conciertos para piano a lo largo de su carrera, en 1890-91, 1900-01, 1909 y 1926 (revisados hasta 1941), más una quinta obra para piano y orquesta especialmente popular, la Rapsodia sobre un tema de Paganini (1934). El fastuoso segundo concierto y el trepidante tercero, junto con la Rapsodia, han ocupado lugares sólidos en el repertorio. El tercero se ha ganado la reputación de ser uno de los conciertos estándar para piano más intimidantes desde el punto de vista técnico. Rachmaninoff mantuvo que "era más cómodo" de tocar que el segundo. Quizás era más cómodo para él porque sus manos abarcaban individualmente un intervalo de trecena y su resistencia al teclado no tenía limites aparentes, pero no era más cómodo para la mayoría de los otros pianistas. Incluso estuvo fuera del alcance del renombrado Josef Hoffman, a quien Rachmaninoff admiraba por encima de todos los demás pianistas y a quien Rachmaninoff dedicó esta partitura; Hoffman tenía las manos considerablemente más pequeñas, y como resultado de esto nunca pudo interpretar este concierto que lleva su nombre en la parte superior de la primera página.

Rachmaninoff lo compuso para su primera gira por América del Norte, la cual emprendió con inquietud en 1909 ya que había dedicado los tres años anteriores a componer más que a interpretar. No obstante, no escatimó en la creación de esta pieza para capitalizar sus vertiginosas habilidades en el teclado, y su creciente experiencia como compositor nos brindó una obra en la cual las partes del solista y la orquesta se entremezclan con increíble sofisticación. Después del estreno en noviembre, con Walter Damrosch dirigiendo la New York Symphony Society, los críticos se mostraron fríos pero la audiencia quedó encantada. El periódico New York Herald reportó: "El Señor Rachmaninoff se vio obligado a volver al escenario varias veces gracias al determinado esfuerzo del público en hacerlo tocar una vez más, pero él levantó las manos en un gesto que significaba que aunque él estaba dispuesto, sus dedos no."

Más adelante en el mismo tour interpretó la pieza nuevamente en Nueva York, esta vez con la Filarmónica de Nueva York dirigida por Gustav Mahler, quien extendió el ensayo una hora extra para hacer justicia a la obra. Este concierto permaneció en la sombra del Concierto No. 2 para Piano y Orquesta de Rachmaninoff por más de dos décadas.  No fue hasta la década de 1930 que se catapultó a una gran popularidad,  gracias en gran parte a intérpretes como Vladimir Horowitz y Walter Gieseking, y por supuesto, el mismo Rachmaninoff, cuya grabación de 1939-40 con Eugene Ormandy y la Orquesta de Filadelfia fue acogida como un clásico.       
Sergei Rachmaninoff
Symphony No. 2 in E minor, Op. 27
 

(1906-08)
Duración aproximada

: 60 minutos

Rachmaninoff quedó destrozado por las crueles críticas que recibió su primera sinfonía, presentada en 1897, de tal manera que durante los tres años que siguieron no escribió ni una nota y decidió concentrarse en la dirección orquestal. Las visitas diarias al doctor Nikolai Dahl, quien estaba investigando la terapia psicológica a través de la hipnosis, lo volvieron a encaminar, y en 1906 se sintió listo para enfrentarse a los demonios composicionales que aún le quedaban. Se había mudado recientemente a Dresde con su esposa e hija, con la esperanza de escapar algunas de las presiones sociales y profesionales que acompañaban su creciente celebridad.

En febrero de 1907 le escribió a un amigo en Rusia: "Hace un mes, o más, terminé una sinfonía, pero a esto debo agregarle la frase 'en borrador'. No lo he anunciado al 'mundo', porque primero quiero completar la versión final". Se corrió la voz, y Rachmaninoff recibió rápidamente una invitación a dirigirla durante la próxima temporada, antes de que pudiera terminar de pulirla. "Le puedo decir en privado que no estoy satisfecho con la pieza," continuó la carta de Rachmaninoff, "pero lo estaré, aunque no antes del otoño, ya que no comenzaré su orquestación hasta el verano." Rachmaninoff resistió la presión y finalmente se reivindicó como un talentoso sinfonista. Su segunda sinfonía gozó de gran éxito del público en su estreno, el cual dirigió en San Petersburgo  a principios de 1908, y en diciembre le fue otorgado el prestigioso Premio Glinka de composición sinfónica.

La segunda sinfonía está imbuida de las huellas reconocibles de Rachmaninoff, desde su inquietante comienzo. Esa introducción contiene material melódico que reaparece transformado a medida que se desarrolla el primer movimiento, y regresa nuevamente al final del segundo movimiento, que es un scherzo a menudo bullicioso que requiere gran atletismo por parte de todos los instrumentistas. En la coda del scherzo él incluye una referencia al canto de "Dies irae" de  la Misa de Muertos, una marca distintiva de Rachmaninoff, aunque macabra. En el tercer movimiento Adagio, nos teje una rapsodia por excelencia. El finale parece parte tarantela parte marcha, con la tarantela prevaleciendo al final. Pero el espíritu de la danza se funde con el lirismo característico de Rachmaninoff, quien mantiene alto el tono emocional hasta el último compás.

– © James M. Keller

James M. Keller ha sido escritor de programas de la Sinfónica de San Francisco por largo tiempo y anteriormente realizó el mismo trabajo para la Filarmónica de Nueva York, donde también fue miembro y editor del staff de redacción de la revista The New Yorker. El autor del libro: Chamber Music: A Listener's Guide (Música de Cámara: Guía para un oyente) publicado por la Editorial Oxford University Press, actualmente está escribiendo un segundo volumen sobre música para piano para la misma editorial.

Translated by Maria Paulina García
Michael Tilson Thomas, conductor
Michael Tilson Thomas is Co-Founder and Artistic Director Laureate of the New World Symphony, America's Orchestral Academy; Music Director Laureate of the San Francisco Symphony; and Conductor Laureate of the London Symphony Orchestra. In addition to these posts, he maintains an active presence guest conducting with the major orchestras of Europe and the United States.
Born in Los Angeles, Mr. Tilson Thomas is the third generation of his family to follow an artistic career. His grandparents, Boris and Bessie Thomashefsky, were founding members of the Yiddish Theater in America. His father, Ted Thomas, was a producer in the Mercury Theater Company in New York before moving to Los Angeles where he worked in films and television. His mother, Roberta Thomas, was the head of research for Columbia Pictures.
Mr. Tilson Thomas began his formal studies at the University of Southern California, where he studied piano with John Crown, and conducting and composition with Ingolf Dahl. At age 19 he was named Music Director of the Young Musicians Foundation Debut Orchestra. During this same period, he was the pianist and conductor in master classes of Gregor Piatigorsky and Jascha Heifetz and worked with Stravinsky, Boulez, Stockhausen and Copland on premieres of their compositions at Los Angeles' Monday Evening Concerts.
In 1969, after winning the Koussevitzky Prize at Tanglewood, he was appointed Assistant Conductor of the Boston Symphony Orchestra. That year he also made his New York debut with the Boston Symphony and gained international recognition after replacing Music Director William Steinberg in mid-concert. He was later appointed Principal Guest Conductor of the Boston Symphony Orchestra where he remained until 1974. He was Music Director of the Buffalo Philharmonic from 1971 to 1979 and a Principal Guest Conductor of the Los Angeles Philharmonic from 1981 to 1985. His guest conducting includes appearances with the major orchestras of Europe and the United States.
Mr. Tilson Thomas is a two-time Carnegie Hall Perspectives artist, curating and conducting series at the hall from 2003 to 2005 and from 2018 to 2019. In the most recent series, he led Carnegie Hall's National Youth Orchestra of the United States of America both at the hall and on tour in Asia, opened the Carnegie Hall season over two evenings with the San Francisco Symphony, conducted two programs with the Vienna Philharmonic and finished with a pair of concerts leading the New World Symphony.
A winner of eleven Grammy Awards, Mr. Tilson Thomas appears on more than 120 recordings. His discography includes The Mahler Project, a collection of the composer's complete symphonies and works for voice and orchestra performed with the San Francisco Symphony, in addition to pioneering recordings of music by Charles Ives, Carl Ruggles, Steve Reich, John Cage, Ingolf Dahl, Morton Feldman, George Gershwin, John McLaughlin and Elvis Costello. His recordings span repertoire from Bach and Beethoven to Debussy and Stravinsky, and from Sarah Vaughan to Metallica.
His television work includes a series with the London Symphony Orchestra for BBC Television, broadcasts of the New York Philharmonic Young People's Concerts from 1971 to 1977 and numerous productions on PBS's Great Performances. With the San Francisco Symphony, he created a multi-tiered media project, Keeping Score, which includes a television series, web sites, and radio programs. He received a Peabody Award for his SFS Media radio series The MTT Files.
Mr. Tilson Thomas's compositions are published by G. Schirmer. In 1991, he and the New World Symphony were presented in a series of benefit concerts for UNICEF in the United States, featuring Audrey Hepburn as narrator of his work From the Diary of Anne Frank, which was commissioned by UNICEF. This piece has since been translated and performed in many languages worldwide. In August 1995, he led the Pacific Music Festival Orchestra in the premiere of his composition Shówa/Shoáh, commemorating the 50th anniversary of the bombing of Hiroshima. His vocal music includes settings of poetry by Walt Whitman and Emily Dickinson, which were premiered by Thomas Hampson and Renée Fleming, respectively. In 2016, Yuja Wang premiered his piano piece You Come Here Often?.
Mr. Tilson Thomas' song cycle Four Preludes on Playthings of the Wind, a setting of Carl Sandburg's poem, was premiered in 2016 by the New World Symphony, with Measha Brueggergosman as soloist. In 2019 the piece was recorded for Medici.tv at the New World Center and given its New York premiere as part of Mr. Tilson Thomas's second Carnegie Hall Perspectives series. His first Perspectives series also featured performances of his own compositions, including Island Music for four marimbas and percussion; Notturno for solo flute and strings, featuring soloist Paula Robison; and new settings of poems by Rainer Maria Rilke. In 2020, he led the San Francisco Symphony in the world premiere of his six-part song cycle Meditations on Rilke, and he subsequently conducted the work at the Cleveland Orchestra. Additional compositions include Street Song for brass instruments; Agnegram, an overture for orchestra; and Urban Legend, a concerto for contrabassoon that was premiered by the San Francisco Symphony. In June 2020, SFS Media released an album of works composed by Mr. Tilson Thomas, featuring live concert recordings of From the Diary of Anne Frank, narrated by mezzo-soprano Isabel Leonard, and Meditations on Rilke, sung by mezzo-soprano Sasha Cooke and bass-baritone Ryan McKinny.
Mr. Tilson Thomas is an Officier de l'Ordre des Arts et des Lettres of France, is a member of the American Academy of Arts and Sciences, was Musical America's Musician of the Year and Conductor of the Year, was Gramophone magazine's Artist of the Year and has been profiled on CBS's 60 Minutes and ABC's Nightline. He has been awarded the National Medal of Arts, has been inducted into the California Hall of Fame and the American Academy of Arts and Letters, and was a 2019 recipient of the Kennedy Center Honors.
Yefim Bronfman, piano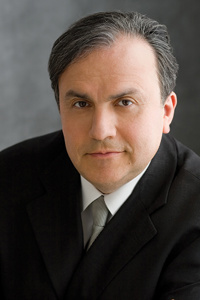 Internationally recognized as one of today's most acclaimed and admired pianists, Yefim Bronfman stands among a handful of artists regularly sought by festivals, orchestras, conductors and recital series. His commanding technique, power and exceptional lyrical gifts are consistently acknowledged by the press and audiences alike. 
In recognition of a relationship of more than 30 years, Mr. Bronfman joined the Israel Philharmonic conducted by Zubin Mehta for concerts during the orchestra's U.S. tour in the fall including Carnegie Hall, followed by concerts in Munich, London and Vienna with the Bayerischer Rundfunk Orchestra and Mariss Jansons, another frequent partnership and collaborator. In addition to returns to the orchestras of New York, Cleveland, Los Angeles, Philadelphia, Pittsburgh, Washington, Indianapolis and Toronto, he will tour with the Vienna Philharmonic and Andrés Orozco-Estrada in a special program celebrating his 60th birthday in the spring. In Europe he can also be heard in Berlin with the Philharmonic as well as in recital; Italy, France, Belgium, Germany and London also in recital; and on tour with the Leipzig Gewandhaus Orchestra conducted by Andris Nelsons. A tour in Asia with the London Symphony and Gianandrea Noseda brings the season to a close in June. 
Mr. Bronfman works regularly with an illustrious group of conductors, including Daniel Barenboim, Herbert Blomstedt, Semyon Bychkov, Riccardo Chailly, Christoph von Dohnányi, Gustavo Dudamel, Charles Dutoit, Daniele Gatti, Valery Gergiev, Alan Gilbert, Mariss Jansons, Vladimir Jurowski, Zubin Mehta, Riccardo Muti, Andris Nelsons, Yannick Nézet-Séguin, Sir Simon Rattle, Esa-Pekka Salonen, Franz Welser-Möst and David Zinman. Summer engagements have regularly taken him to the major festivals of Europe and the U.S. Always keen to explore chamber music repertoire, his partners have included Pinchas Zukerman, Martha Argerich, Magdalena Kožená, Anne-Sophie Mutter, Emmanuel Pahud and many others. 
Mr. Bronfman has also given numerous solo recitals in the leading halls of North America, Europe and the Far East, including acclaimed debuts at Carnegie Hall in 1989 and Avery Fisher Hall in 1993. In 1991 he gave a series of joint recitals with Isaac Stern in Russia, marking Mr. Bronfman's first public performances there since his emigration to Israel at age 15. That same year he was awarded the prestigious Avery Fisher Prize, one of the highest honors given to American instrumentalists. In 2010 he was honored as the recipient of the Jean Gimbel Lane prize in piano performance from Northwestern University. 
Widely praised for his solo, chamber and orchestral recordings, Mr. Bronfman has been nominated for six Grammy Awards, winning in 1997 with Esa-Pekka Salonen and the Los Angeles Philharmonic for their recording of the three Bartók Piano Concertos. His prolific catalog of recordings includes works for two pianos by Rachmaninoff and Brahms with Emanuel Ax, the complete Prokofiev concertos with the Israel Philharmonic and Zubin Mehta, a Schubert/Mozart disc with the Zukerman Chamber Players and the soundtrack to Disney's Fantasia 2000. His most recent CD releases include the 2014 Grammy-nominated recording of Magnus Lindberg's Piano Concerto No. 2 commissioned for him and performed by the New York Philharmonic with Alan Gilbert on the Da Capo label; Tchaikovsky's Piano Concerto No. 1 with Mariss Jansons and the Bayerischer Rundfunk; a recital disc, Perspectives, complementing Mr. Bronfman's designation as a Carnegie Hall 'Perspectives' artist for the 2007-08 season; and recordings of all the Beethoven piano concertos as well as the Triple Concerto together with violinist Gil Shaham, cellist Truls Mørk, and the Tönhalle Orchestra Zürich under David Zinman for the Arte Nova/BMG label. 
Now available on DVD are Mr. Bronfman's performances of Liszt's Second Piano Concerto with Franz Welser-Möst and the Vienna Philharmonic from Schoenbrunn, 2010 on Deutsche Grammophon; Beethoven's Fifth Piano Concerto with Andris Nelsons and the Royal Concertgebouw Orchestra from the 2011 Lucerne Festival; Rachmaninoff's Third Concerto with the Berlin Philharmonic and Sir Simon Rattle on the EuroArts label and both Brahms Concertos with Franz Welser-Möst and The Cleveland Orchestra (2015). 
Born in Tashkent in the Soviet Union, Mr. Bronfman immigrated to Israel with his family in 1973, where he studied with pianist Arie Vardi, head of the Rubin Academy of Music at Tel Aviv University. In the United States, he studied at The Juilliard School, Marlboro School of Music and Curtis Institute of Music, under Rudolf Firkusny, Leon Fleisher and Rudolf Serkin. He is a 2015 recipient of an honorary doctorate from the Manhattan School of Music. 
Mr. Bronfman became an American citizen in July 1989.
Chad Goodman, conductor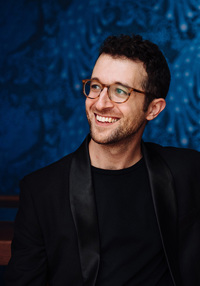 With a flair for inventive programming and a bold presence on stage and in the community, Chad Goodman has been praised for "bringing innovation to classical music" (Forbes).
As the Conducting Fellow of the New World Symphony, Mr. Goodman conducts on subscription, education, family and holiday programs. His program, "SPARK: How Composers Find Inspiration," blended captivating light design and videography with engaging audience participation to explore how a composition is created and brought to life by an orchestra.
Since 2018 Mr. Goodman has served as an Assistant Conductor to the San Francisco Symphony, assisting Esa-Pekka Salonen, Manfred Honeck, Daniel Harding, Pablo Heras-Casado, Simone Young and James Gaffigan among others.
Mr. Goodman's 2022-23 Season will include debut appearances with the Elgin Symphony, Baton Rouge Symphony, Greensboro Symphony and San Francisco Chamber Orchestra.
As Founder and Artistic Director of Elevate Ensemble, Mr. Goodman's ambitious vision for concert programming resulted in the pairing of music from Bay Area composers with underappreciated gems of the 20th and 21st centuries. Under his leadership, Elevate Ensemble established a Composer-in-Residence program and commissioned fifteen works from Bay Area composers. Elevate collaborated with photographers, videographers, poets and culinary artists, bringing new music and vibrant multi-genre experiences to unique venues such as yoga studios, historic Victorian homes and art studio warehouses.
Mr. Goodman has previously served as Conducting Fellow of Festival Napa Valley, Music Director of the Contra Costa Chamber Orchestra, Conducting Fellow of the Atlantic Music Festival, and a rehearsal and cover conductor for the San Francisco Ballet.
In addition to his performing career, he teaches young musicians the business and entrepreneurial skills needed to successfully navigate the world as a working musician in his workshop "You Earned a Music Degree. Now What?"
Mr. Goodman holds a bachelor of music degree from the Eastman School of Music and a master of music degree from San Francisco State University. His mentors include Michael Tilson Thomas, Alasdair Neale, Cyrus Ginwala and Martin Seggelke.