Events & Tickets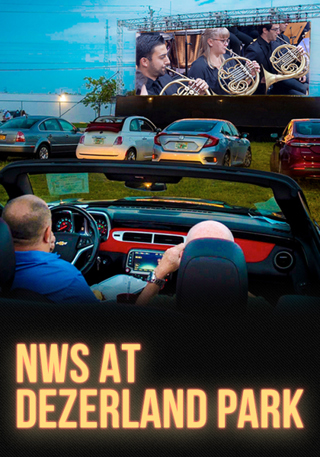 Special Event
Saturday, October 17, 2020 at 7:30 PM
WALLCAST event at Dezerland Park
14401 NE 19th Ave.
North Miami, FL 33181
Program
NWS kicks off its 33rd season with a special Drive-In WALLCAST® concert experience at Dezerland Park! Enjoy the Fellows, MTT and special guests on Dezerland's 13 x 36-foot LED screen from the comfort of your own cars. Program selections include highlights from previous seasons, live performances by this season's Fellows and more surprises. Honk your horns and flash those lights for the standing ovation we've all missed.
This event marks the season's first in-person event and will be a celebration of the communal concert-going experience, one of the great traditions of classical music, in a safe, socially distanced setting. 
Are you a NWS subscriber to either the Vivace or Allegro package? You can opt-in to this performance by calling the NWS Box Office or emailing tickets@nws.edu. RSVP required by 4:00 PM ET on Saturday, October 17.
To become a NWS subscriber, click here or call the NWS Box Office at 305.673.3331. 
*Advance reservations required. Ticket sales end at 4:00 pm on the day of the event. Tickets will not be available for purchase at Dezerland Park.
Tickets no longer available online.
Program
George Gershwin
(1898-1937)
Approx. Duration: 11 minutes

Wolfgang Amadeus Mozart
(1756-1791)
Approx. Duration: 6 minutes

Concerto No. 14 in E-flat major for Piano and Orchestra, K. 449 (1784)

III. Allegro ma non troppo
Ottorino Respighi
(1879-1936)
Approx. Duration: 21 minutes

The Pines of the Villa Borghese
Pines Near a Catacomb
The Pines of the Janiculum
The Pines of the Appian Way
Gustav Mahler
(1860-1911)
Approx. Duration: 16 minutes

Symphony No. 5 in C-sharp minor (1901-02)

V. Rondo — Finale: Allegro
George Gershwin
Cuban Overture (1932)

Approximate duration: 11 minutes
George Gershwin was 11 when his family first brought a piano into their apartment. Four years later, after some lessons in classical repertoire including Chopin and Debussy, Gershwin dropped out of high school and found work as a "song plugger" on Tin Pan Alley, New York's row of music publishing firms. His breakthrough came in 1919, when the influential performer Al Jolson added the song "Swanee" to a revue; Jolson's recording sold millions of copies and put Gershwin on the map as a top songwriter.
While Broadway (and, eventually, Hollywood) made Gershwin rich and famous, he still aspired to create serious concert music. Gershwin's earliest efforts could hardly have been more successful—they included Rhapsody in Blue (1924), the Piano Concerto in F (1925) and An American in Paris (1928)—but he decided to seek guidance anyway from a Russian composer and teacher in New York, Joseph Schillinger.
The first score Gershwin prepared under Schillinger's supervision was a concert overture inspired by a recent vacation to Cuba. The work debuted under the title Rumba on August 16, 1932, in front of a stadium audience of more than 17,000 New Yorkers. Gershwin later changed the title to Cuban Overture, which he thought offered "a more just idea of the character and intent of the music." He brought home an arsenal of Cuban percussion from his trip, including claves, bongos and maracas, which all figure prominently in the raucous outer sections. The five-note pattern played by what Gershwin called "Cuban sticks" is an authentic clave rhythm, one which he would have heard many times in his nights out in Havana.
Wolfgang Amadeus Mozart
Concerto No. 14 in E-flat major for Piano and Orchestra, K. 449 (1784)

Approximate duration: 6 minutes
Fed up with his hometown of Salzburg and unable to find a suitable long-term job, the 25-year-old Mozart moved to Vienna in 1781. He was soon married with a growing family to feed, and he kept up a breakneck schedule of freelance gigs that included teaching keyboard lessons, pursuing opera commissions, selling scores for publication, cultivating private patrons and producing subscription concerts where he debuted his new piano concertos and other works that exploited his talents as a performer.
He may have started the Piano Concerto in E-flat major (K. 449) as early as 1782 with the intention of playing it on one of his self-produced concerts, but he set it aside and only finished the score in February of 1784. In his log of compositions, he noted that it was intended for Barbara Ployer, a teenaged piano student for whom he wrote two (or maybe three) of his concertos. She lived in Vienna with her uncle, an agent for the Salzburg court, and he funded this private commission and staged the debut concert in his own house the month after the score was finished.
Not long after Mozart had arrived in Vienna, a supportive older patron drew him deep into the neglected art of fugue as practiced earlier in the century by Bach and Handel. The crisp counterpoint of this Concerto finale is an enduring sign of Mozart's respect for that learned tradition, starting with a passage that gives the second violins a prominent counter-line against the bouncy melody played by the first violins. The same quality fuels an approach to the piano part that often gives equal weight to the right and left hands, rather than splitting them into a hierarchy of melody and accompaniment.
Ottorino Respighi
Pines of Rome (1924)

Approximate duration: 21 minutes
Ottorino Resphigi, a native of Bologna, Italy, will forever be linked to his adopted city of Rome. After studying violin and composition in his hometown, he set out for Russia, where he spent two seasons playing viola in an orchestra and taking lessons from master orchestrator Nikolai Rimsky-Korsakov. Further time abroad in Berlin, studying with Max Bruch, helped hone Respighi's voice. A teaching position brought him to Rome in 1913 and he soon made his first big splash with Fountains of Rome in 1916. He eventually expanded his tribute into a trilogy, adding Pines of Rome in 1924 and Roman Festivals in 1928.
The trees that Respighi referenced were stone pines or "umbrella" pines, a common sight in Rome with their broad, umbrella-shaped canopies rising over bare trunks. (These trees also produce the pine nuts that are a staple of Italian cuisine.) He crafted the score as four connected vignettes, beginning with a sparkling scene meant to evoke children playing at the Villa Borghese, Rome's large park occupying the former gardens of the wealthy Borghese family.
The second episode depicts pines near an unspecified catacomb, the hallowed ground represented by slow music in the manner of plainchant.
The third section, featuring a long clarinet solo set up by a piano interlude, captures a full moon illuminating the pines on the Janiculum, a hill with an expansive view over the city. In an early example of electro-acoustic music, the score calls for a particular recording of a nightingale call to play over the closing measures.
The final section represents pines on the Appian Way, the legendary road into ancient Rome that stretched all the way to the Adriatic Sea (on the heel of Italy's "boot"). As Respighi wrote in his own program note, the marching music ushers in "a fantastic vision of past glories. Trumpets blare, and the army of the Consul bursts forth in the grandeur of a newly risen sun."
Gustav Mahler
Symphony No. 5 in C-sharp minor (1901-02)

Approximate duration: 16 minutes
Gustav Mahler began his Fifth Symphony in the summer of 1901, a few months after nearly dying from an intestinal hemorrhage. By the time he returned to his summer villa to complete the symphony in 1902, his world had turned much rosier: he had met and married Alma Schindler, and she was expecting their first child. Mahler tinkered with the symphony's orchestration until the premiere performance, which he conducted in October 1904 in Cologne, and he continued to make various changes in the following years. Reflecting later about his struggles to perfect the Fifth Symphony, he wrote, "Clearly the routine I had acquired in the first four symphonies had deserted me altogether, as though a totally new message demanded a new technique."
Mahler's first four symphonies drew much of their energy from vocal music, in particular his own settings of Des Knaben Wunderhorn, with the first quoting its melodies and the next three incorporating actual singers. With the Fifth Symphony, Mahler's "new message" steered him closer to absolute music than in any previous work. One new factor in Mahler's musical thinking was counterpoint, triggered by a study of Bach's music. The Bach influence arises directly in brief fugato passages and more generally in the careful layering of simultaneous motives. On a larger scale, the work reflects the epic tradition of Beethoven's Fifth and Ninth symphonies, which, like Mahler's Fifth, journey from minor-key openings to major-key conclusions.
The Finale gives the horn a prominent role, joined at the beginning by other pastoral woodwind solos. Then, in a sign of Bach's influence, a fugue works its way through the strings as the finale gathers momentum.
A variant of the same bright chorale that offered false promise in the second movement returns at the end, and this time it delivers the symphony to a triumphant conclusion, completing the strange and scenic journey from C-sharp minor to D major.
Even Mahler himself seemed overwhelmed by the perplexing depth and range of this symphony. "Oh, heavens," he wrote in that same letter to Alma, "what is the public to make of this chaos in which new worlds are forever being engendered, only to crumble into ruin the next moment? What are they to say to this primeval music, this foaming, roaring, raging sea of sound, to these dancing stars, to these breathtaking, iridescent and flashing breakers?"
-- Copyright © Aaron Grad
Aaron Grad is a composer, guitarist and writer based in Seattle. Besides providing program notes for the New World Symphony, he has been the Orpheus Chamber Orchestra's program annotator since 2005 and also contributes notes to the Saint Paul Chamber Orchestra and Seattle Symphony.
What to Expect:
SAFETY POLICIES
Click here to read Dezerland Park's venue rules. Ticketholders must follow all posted instructions while visiting Dezerland Park. When outside your vehicle, face coverings and social distancing are required. 
 FOOD OPTIONS
 Two food trucks will be available on site: Bohemian Kitchen and La Nostra Pizza. Order right from your car for contact-less pick-up or delivery.
CLICK HERE TO VIEW MENUS AND PLACE ORDER
HOW TO TUNE IN 
Tune your car radios to 107.1 FM for the pre-concert performances and concert.
 RESTROOMS 
 Restrooms are available on site. To access, cross the street outside the entrance gate to the Dezerland offices. A bathroom attendant is on duty and will clean and disinfect after each use. 
WHERE IS DEZERLAND?
 Dezerland Park is located at 14401 NE 19th Ave., North Miami, 33181. Gates open at 6:00 PM and the concert begins at 7:30 PM. For best viewing spots, we recommend arriving early.
 
 WEATHER 
 NWS at Dezerland Park will take place rain or shine. There are no refunds for inclement weather. 
NWS Salutes Our Donors 
We are pleased to recognize the following donations made between July 1, 2019 and June 30, 2020. 
Maestro's Circle Diamond Tier 
$250,000+ 
Anonymous (2) 
Mr. and Mrs. Adam Carlin 
City of Miami Beach 
Miami-Dade County Department of Cultural Affairs* 
The Hearst Foundation 
John S. and James L. Knight Foundation 
The Kovner Foundation 
Maestro's Circle Gold Tier 
$100,000 - $249,999 
The Micky and Madeleine Arison Family Foundation 
Sarah Arison and Thomas Wilhelm 
Art Mentor Foundation Lucerne 
Baptist Health 
Carnival Corporation & PLC* 
Maxine and Stuart Frankel Foundation 
Kleh Family Foundation, Mr. and Mrs. William Kleh 
Sir Michael Moritz and Ms. Harriet Heyman 
Northern Trust Bank, John Fumagalli  
Helena Rubinstein Philanthropic Fund at The Miami Foundation, Diane and Robert Moss 
Karen Bechtel and William Osborne 
Susan D. Kronick and Edward Manno Shumsky 
Maestro's Circle Silver Tier 
$50,000-$99,999 
Anonymous 
Sari and Arthur Agatston 
AMD Family Fund 
Cassie Arison 
Louise Austin 
Blavatnik Family Foundation 
Bruce and Martha Clinton, The Clinton Family Fund 
Dan J. Epstein Family Foundation 
Frank Family Charitable Foundation, Mary and Howard S. Frank 
Rose Ellen Greene 
Mr. and Mrs. Harry M. Hersh 
Mr. and Mrs. William L. Morrison 
National Endowment for the Arts 
Dr. M. Lee Pearce Foundation, Inc. 
SunTrust now Truist | Beth and John Geraghty 
Sol Taplin Charitable Foundation 
Ms. Dorothy A. Terrell 
Michael Tilson Thomas and Joshua Robison 
The Wege Foundation 
Ira M. Birns and Arlenis Birns, World Fuel Services Corporation 
Conductor's Circle 
$25,000-$49,999 
Anonymous  
Akerman LLP – Andrew Smulian and Neisen Kasdin 
Florence and Sheldon Anderson 
Arthur F. and Alice E. Adams Charitable Foundation 
The Batchelor Foundation, Mr. and Mrs. Jon Batchelor 
Mr. & Mrs. Richard B. Bermont 
Dr. Matthew Budd and Ms. Rosalind E. Gorin 
Mr. and Mrs. Michael Carpenter 
Trudy and Paul Cejas 
Wayne and Arlene Chaplin 
City National Bank 
Tracey Corwin 
Mr. and Mrs. John Dasburg 
Dr. and Mrs. David F. Frankel 
John and Jama Haley 
Hitachi Kokusai Electric America, Ltd. 
Jackson Health System 
Jane and Gerald Katcher 
Mr. Mark Kingdon and Mr. Alon Rehany 
The Kirk Foundation 
Mr. and Mrs. Enrique Lerner 
Alan and Diane Lieberman 
Albert H. and Jane D. Nahmad Foundation, INc. 
The Nowak Family Charitable Remainder Trust, Robert J. Nowak 
Merle and Michael Orlove 
Patricia Papper* 
Kristin Podack 
The Robert and Jane Toll Foundation 
Judith Rodin and Paul Verkuil 
Ms. Judith Schalit 
State of Florida, Department of State, Division of Cultural Affairs and the Florida Council on Arts and Culture 
Sylvester Comprehensive Cancer Center 
Rhonda S. Zinner Foundation 
Composer's Society 
$15,000-$24,999 
The Andrew W. Mellon Foundation 
Jennifer Stearns Buttrick and Matthew W. Buttrick 
Cornelia T. Bailey Charitable Trust 
Ernst & Young 
Funding Arts Network 
Kristi and Dean Jernigan 
Ana and Neisen Kasdin 
Akiva Gross and Ruth F. Mayer 
Mr. and Mrs. Edward J. Nicoll 
PricewaterhouseCoopers LLP, Mario de Armas 
Donald and Shelley Rubin 
United Data Technologies, Inc. 
Harry T. Wilson III 
Dr. and Mrs. Richard J. Wurtman 
Concertmaster's Circle 
$5,000-$14,999 
Anonymous (2) 
The Aaron Copland Fund for Music 
Mr. and Mrs. Ernest Bachrach 
Banco Santander Central Hispano Int'l 
Mr. Adam Boalt 
Mr. and Mrs. Ernest Bogen 
Teresa I. Blanca, Blanca Commercial Real Estate, Inc. 
Mr. Robert R. Brinker and Ms. Nancy S. Fleischman 
Stephen Brint and Mark Brown 
Mr. and Mrs. William Broeder 
The Charles N. And Eleanor Knight Leigh Foundation 
Chartwell Investment Partners 
Adrianne and Jerry L. Cohen 
Phillip Lloyd Coleman°, Coleman Family Trust 
The Cowles Charitable Trust 
Mr. Douglas S. Cramer and Mr. Hubert S. Bush 
Jim and Jean Crystal 
Mr. George Dandrige and Mr. Marcos Tychbrochjer 
Mr. Jeffrey W. Davis and Mr. Michael T. Miller 
Deloitte & Touche 
Mr. and Mrs. John Despres 
Dr. and Mrs. Gilbert Drozdow 
Mr. and Mrs. Gregory C. Ferrero 
Mrs. Anne Flippin 
For-A Corporation Of America 
Mr. Marvin Ross Friedman and Ms. Adrienne bon Haes 
Barbara and Richard Furman 
Mr. and Mrs. Emile Geisenheimer 
Dr. and Mrs. Philip H. Glogover 
Mr. Steven Gombinski and Ms. Yvette Costas 
Peter Gottsegen 
Graystone Consulting | Morgan Stanley 
Saul and Jane Gross 
Ann and Graham Gund 
Danet Linares and Matt Haggman 
Dominguez De Haro Art Gallery, Four Seasons Hotel Miami 
Mrs. Joan W. Harris 
Diane Star Heller° 
Mr. and Ms. Christopher Hoehn-Saric 
Mr. and Mrs. Larry J. Hoffman 
Dr. Bruce Horten and Aaron Lieber 
Judith and Richard Jacobs 
Ms. Sandra Jaffe 
Mr. and Mrs. Lawrence Kamin 
Dr. and Hon. Herbert Kean 
Maura and Richard Kobusch 
Richard Koenigsberg 
Mr. Joel D. Krauss and Ms. Sophia Sieczkowski 
Mr. and Mrs. Larry Kuppin 
Dr. Gordon Miller and Ms. Vicki Hirsch 
League of American Orchestras 
Mr. and Mrs. Richard LeFrak 
Alfred A. Lewis 
Dr. Frayda Lindemann 
Dr. and Mrs. Richard E. Litt 
Mrs. Beth P. Lotspeich 
Loud Hound Foundation 
Theresa and Richard Lubman 
Joy and Fred Malakoff 
Ruth Ann Marshall and Patricia Houtz 
Marymor Family Fund 
Mr. and Mrs. Jay Massirman 
Mr. and Mrs. David Melin 
Ann and Don Morrison 
Mr. Jack Nieman and Mr. Rick Reder 
David and Melanie Niemiec 
Omega Healthcare Investors 
Mr. and Mrs. Stephen Owens 
Linda and David Paresky 
Mr. David R. Parker and Mrs. Marian E. Davis 
Steven Perles 
PNC Bank 
Dorothy and Aaron Podhurst and Podhurst Orseck P.A.  
Thomas C. Ragan, in memory of James K. Brehm 
Mr. Kenneth A. Rivkin and Ms. Deborah Slott 
Dr. Stephen Roper and Dr. Nirupa Chaudhari 
Mr. and Mrs. John Rutherfurd 
Marvin Sackner 
The Samuel Freeman Charitable Trust 
Mr. and Mrs. Charles Sands 
PKS & OIS 
Janet Shein 
The Shepard Broad Foundation 
Lois Siegel 
Carol and Irv Smokler 
Sara Solomon 
Thomas van Straaten and Nadine Asin 
Bill and Rose Strong 
Mr. and Mrs. Stephen M. Sullivan 
Richard Tager 
Mr. and Mrs. Bruce Taub 
Telemundo 
Trio Foundation of St. Louis 
Verity Partners, Inc. 
Wells Fargo 
Willis Towers Watson 
Augusta I. Zimmerman 
Concerto Society 
$2,500-$4,999 
Adelson Galleries 
Toby Lerner Ansin 
Ms. Georgette Ballance 
Bank of America 
Helene Berger* 
Dr. and Mrs. Wil Blechman 
Mr. and Mrs. James Bodnar 
Conagra Foods, Inc. 
Congress Asset Management Company 
Joan Glade de Pontet 
Dr. and Dr. Ranjan Duara 
Mr. Bill Durham 
Dr. Alfred and Susan Feingold 
Paula and Michael Finkle 
Cindy and Robert Friezo Foundation 
Barbara and Steven Galen 
Sue Garcia 
Arlyn and Edward Gardner 
Pamela Garrison 
Peter A. Gorski, MD, MPA 
Greater Miami Convention and Visitors Bureau 
Ms. Monique Halberstein 
Ms. Francinelee Hand and Mr. David Siegel 
Benjamin E. Hein 
Mr. and Mrs. Robert Hertzberg 
Mr. Scott Hodes and Mrs. Maria Bechily Hodes 
Hideko Klebanoff* 
Jacqueline Kott 
David Kudish 
Mr. Jose Lamela Jr. 
Langer Holdings Corp., Lynne and Roger Langer, Sr. 
Dr. and Mrs. Richard Levitt 
Lincoln Drexel Building 
Mr. Rene H. Males 
Mr. Mark Mandel 
Martin Z. Margulies 
Jorge and Amanda Mejia 
Miami Beach Convention Center Hotel l Terra 
Morrison, Brown, Argiz, & Farra, LLC 
Nelson Family Foundation 
Ms. Christa Paul 
David J. Phillips and Denis J. Jacobs 
Publix Super Markets Charities 
Agnes Rein 
Victoria Rogers 
Carmen and Donna Romeo 
Mrs. Hazel Rosen 
Alvin Schechter and Janine Gordon 
Dr. and Mrs. Robert D. Schwimmer 
Mr. and Mrs. Norman Shabel 
David and Holly Siegel 
Ms. Marilyn Singer 
Nancy Stavis  
Ms. Roselyne Swig 
Total Wine & More 
Teresa Galang-Viñas and Joaquín Viñas 
Mr. and Mrs. Stephen R. Volk 
Renata and Keith Ward 
Dr. and Mrs. Peter Weissman 
Alexa and Adam Wolman 
Patrons of NWS  
$1,000-$2,499 
Anonymous (5) 
Drs. Mercedes and Edward Ajhar 
The Amphion Foundation, Inc. 
Mr. Richard D. Banziger 
Mr. and Mrs. Michael Berke 
Dee Dee & Richard K. Berkowitz 
Mr. and Mrs. Pedro Bermann 
Linda Binder 
Mr. Hal Birchfield 
Brigitte and Georges Bourgoignie 
Richard and Margaret Brodsky 
Dr. Jack and Ilana Burstiner 
Diane Camber 
Stanley and Gala Cohen 
Jane L. and Andrew Dolkart Fund at The Miami Foundation 
Mr. and Mrs. Chuck Edelstein 
Mr. Stuart Eichner 
Enlighten Digital, LLC 
Mr.° and Mrs. Sidney Epstein 
Jeanne and Joseph Farcus* 
Mr. and Mrs. Stephen Ferriss 
Eugene Finkin and Linda Witham Finkin 
Mr. and Mrs. John R. Frank 
Richard French and Jacqueline Greenberg 
Ms. Laura Frohman 
Lenore Gaynor* 
Stuart and Micki Gilbert 
Dr. and Mrs. Larry Gilderman 
Robert Govaerts and Chantal Voorbraak 
Stanley Greenstein 
Mr. and Mrs. Alfredo Gutierrez 
Mrs. Lydia Harrison 
Mr. Thomas Hawkins 
Mr. and Mrs. Lewis Heafitz 
Thomas M. Henderson 
Mr. and Mrs. Didier Hirsch 
Naomi and Burton Honig 
Mr. and Mrs. Richard Horvitz 
Mr. Sigrid Huth 
Ms. Carin Kahgan 
Mr. Jeffrey Kofman 
Mr. and Mrs. Edward E. Kopelman 
Mr. and Mrs. Paul Korchin 
Wendy G. Lapidus 
Dr. Maurice H. Laszlo 
Albert Lepage 
Winston T. Lett, Esq 
Daniel R. Lewis 
Mrs. Rosalyn Lichtman 
Renée and David Lieberman 
Mr. and Mrs. Norman H. Lipoff 
Monica Lopez 
Dr. and Mrs. Alberto Luchtan 
Barbara and Chris Lunding 
Mr. and Mrs. Peter Luria 
Sylvia Meeker 
Marla and Michael Melamud 
The Miami Foundation 
Mr. and Mrs. Don Michelson 
Mr. and Mrs.° Jim Mooney 
Ms. Dale Moses 
Moses Maimonides Fund of The Erie Community Foundation 
Mr. and Mrs. Samuel Mowerman 
Marnie and Larry Paikin 
Tom Pitmon and Debra Newell-Pitmon 
Mr. and Mrs. Eugene Posman 
Bill and Melissa Quesenberry 
The Ress Family Foundation, Esta and Lewis Ress 
Dr. and Mrs. Paul Richman 
Stephen Richman 
Mrs. Ruth Rosenwasser 
Mr. Rodolfo Ruiz 
Mr. and Mrs. Craig & Murrell Salner 
Sydney and David Schaecter 
Susan and Sheldon Schneider 
Martin Segal 
Anica and David Shpilberg 
Stephen Stansell 
Dolores Stern 
Joel and Shelley Tauber 
Ms. Barbara Tejada 
Dr. Takeko Toyama 
Judith Rood Traum and Sydney Traum 
Dr. and Mrs. Michael B. Troner 
Annsheila Turkel 
Suzanne and Neil Useden 
David Waterbor Uthe 
Mr. Michael Valerio 
Mr. Brenton Verploeg 
Rita Green Wallach Family Trust 
Nora and Ted Weinreich 
Mr.° and Mrs. Sherwood M. Weiser* 
Mr. Paul S. Woehrle 
Alene Workman 
Dr. and Mrs. Stanley Worton 
Allan Yudacufski 
Michael Tilson Thomas, co-host
Michael Tilson Thomas is Co-Founder and Artistic Director of the New World Symphony, America's Orchestral Academy; Music Director Laureate of the San Francisco Symphony; and Conductor Laureate of the London Symphony Orchestra. In addition to these posts, he maintains an active presence guest conducting with the major orchestras of Europe and the United States.
Born in Los Angeles, Mr. Tilson Thomas is the third generation of his family to follow an artistic career. His grandparents, Boris and Bessie Thomashefsky, were founding members of the Yiddish Theater in America. His father, Ted Thomas, was a producer in the Mercury Theater Company in New York before moving to Los Angeles where he worked in films and television. His mother, Roberta Thomas, was the head of research for Columbia Pictures.
Mr. Tilson Thomas began his formal studies at the University of Southern California, where he studied piano with John Crown, and conducting and composition with Ingolf Dahl. At age 19 he was named Music Director of the Young Musicians Foundation Debut Orchestra. During this same period, he was the pianist and conductor in master classes of Gregor Piatigorsky and Jascha Heifetz and worked with Stravinsky, Boulez, Stockhausen and Copland on premieres of their compositions at Los Angeles' Monday Evening Concerts.
In 1969, after winning the Koussevitzky Prize at Tanglewood, he was appointed Assistant Conductor of the Boston Symphony Orchestra. That year he also made his New York debut with the Boston Symphony and gained international recognition after replacing Music Director William Steinberg in mid-concert. He was later appointed Principal Guest Conductor of the Boston Symphony Orchestra where he remained until 1974. He was Music Director of the Buffalo Philharmonic from 1971 to 1979 and a Principal Guest Conductor of the Los Angeles Philharmonic from 1981 to 1985. His guest conducting includes appearances with the major orchestras of Europe and the United States.
Mr. Tilson Thomas is a two-time Carnegie Hall Perspectives artist, curating and conducting series at the hall from 2003 to 2005 and from 2018 to 2019. In the most recent series, he led Carnegie Hall's National Youth Orchestra of the United States of America both at the hall and on tour in Asia, opened the Carnegie Hall season over two evenings with the San Francisco Symphony, conducted two programs with the Vienna Philharmonic and finished with a pair of concerts leading the New World Symphony.
A winner of eleven Grammy Awards, Mr. Tilson Thomas appears on more than 120 recordings. His discography includes The Mahler Project, a collection of the composer's complete symphonies and works for voice and orchestra performed with the San Francisco Symphony, in addition to pioneering recordings of music by Charles Ives, Carl Ruggles, Steve Reich, John Cage, Ingolf Dahl, Morton Feldman, George Gershwin, John McLaughlin and Elvis Costello. His recordings span repertoire from Bach and Beethoven to Debussy and Stravinsky, and from Sarah Vaughan to Metallica.
His television work includes a series with the London Symphony Orchestra for BBC Television, broadcasts of the New York Philharmonic Young People's Concerts from 1971 to 1977 and numerous productions on PBS's Great Performances. With the San Francisco Symphony, he created a multi-tiered media project, Keeping Score, which includes a television series, web sites, and radio programs. He received a Peabody Award for his SFS Media radio series The MTT Files.
Mr. Tilson Thomas's compositions are published by G. Schirmer. In 1991, he and the New World Symphony were presented in a series of benefit concerts for UNICEF in the United States, featuring Audrey Hepburn as narrator of his work From the Diary of Anne Frank, which was commissioned by UNICEF. This piece has since been translated and performed in many languages worldwide. In August 1995, he led the Pacific Music Festival Orchestra in the premiere of his composition Shówa/Shoáh, commemorating the 50th anniversary of the bombing of Hiroshima. His vocal music includes settings of poetry by Walt Whitman and Emily Dickinson, which were premiered by Thomas Hampson and Renée Fleming, respectively. In 2016, Yuja Wang premiered his piano piece You Come Here Often?.
Mr. Tilson Thomas' song cycle Four Preludes on Playthings of the Wind, a setting of Carl Sandburg's poem, was premiered in 2016 by the New World Symphony, with Measha Brueggergosman as soloist. In 2019 the piece was recorded for Medici.tv at the New World Center and given its New York premiere as part of Mr. Tilson Thomas's second Carnegie Hall Perspectives series. His first Perspectives series also featured performances of his own compositions, including Island Music for four marimbas and percussion; Notturno for solo flute and strings, featuring soloist Paula Robison; and new settings of poems by Rainer Maria Rilke. In 2020, he led the San Francisco Symphony in the world premiere of his six-part song cycle Meditations on Rilke, and he subsequently conducted the work at the Cleveland Orchestra. Additional compositions include Street Song for brass instruments; Agnegram, an overture for orchestra; and Urban Legend, a concerto for contrabassoon that was premiered by the San Francisco Symphony. In June 2020, SFS Media released an album of works composed by Mr. Tilson Thomas, featuring live concert recordings of From the Diary of Anne Frank, narrated by mezzo-soprano Isabel Leonard, and Meditations on Rilke, sung by mezzo-soprano Sasha Cooke and bass-baritone Ryan McKinny.
Mr. Tilson Thomas is an Officier de l'Ordre des Arts et des Lettres of France, is a member of the American Academy of Arts and Sciences, was Musical America's Musician of the Year and Conductor of the Year, was Gramophone magazine's Artist of the Year and has been profiled on CBS's 60 Minutes and ABC's Nightline. He has been awarded the National Medal of Arts, has been inducted into the California Hall of Fame and the American Academy of Arts and Letters, and was a 2019 recipient of the Kennedy Center Honors.
Gabriela Montero, piano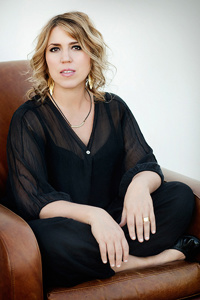 Gabriela Montero's visionary interpretations and unique improvisational gifts have garnered her critical acclaim and a devoted following on the world stage. Anthony Tommasini remarked in The New York Times that her "playing had everything: crackling rhythmic brio, subtle shadings, steely power…soulful lyricism…unsentimental expressivity."
A graduate and Fellow of the Royal Academy of Music in London, Ms. Montero has performed with many of the world's leading orchestras to date, including the Royal Liverpool, Rotterdam and Oslo philharmonic orchestras; Gewandhausorchester Leipzig, NDR Sinfonieorchester Hamburg, Zürcher Kammerorchester, Academy of St Martin in the Fields and Australian Chamber Orchestra; the Pittsburgh, Houston, Toronto, City of Birmingham, Barcelona, Lucerne and Sydney symphony orchestras; The Cleveland Orchestra, National Arts Centre Orchestra of Canada and orchestra of the Komische Oper Berlin.
Ms. Montero is an award-winning and bestselling recording artist. Her most recent album, released in 2015 on the Orchid Classics label, features Rachmaninov's Piano Concerto No. 2 and her first orchestral composition, Ex Patria, and won Ms. Montero her first Latin Grammy Award for Best Classical Album (Mejor Álbum de Música Clásica). Previous recordings include Bach and Beyond, which held the top spot on the Billboard Classical Charts for several months and garnered her two Echo Klassik Awards: the 2006 Keyboard Instrumentalist of the Year and 2007 Award for Classical without Borders. In 2008 she also received a Grammy Award nomination for her album Baroque, and in 2010 released Solatino, a recording inspired by her Venezuelan homeland and devoted to works by Latin American composers.
Ms. Montero made her formal debut as a composer with Ex Patria, a tone poem designed to illustrate and protest Venezuela's descent into lawlessness, corruption and violence. The piece was premiered in 2011 by the Academy of St Martin in the Fields. Her first full-length composition, Piano Concerto No. 1, "Latin", was first performed at the Leipzig Gewandhaus with the MDR Sinfonieorchester and conductor Kristjan Järvi. She gave subsequent performances of the work at the Klavier-Festival Ruhr and on tour with the Orquesta Sinfónica Nacional de Mexico and Carlos Miguel Prieto.
A committed advocate for human rights, whose voice regularly reaches beyond the concert hall, Ms. Montero was named an Honorary Consul by Amnesty International in 2015, and recognized with Outstanding Work in the Field of Human Rights by the Human Rights Foundation for her ongoing commitment to human rights advocacy in Venezuela. She was invited to participate in the 2013 Women of the World Festival at London's Southbank Centre and has spoken and performed twice at the World Economic Forum in Davos. She was also awarded the 2012 Rockefeller Award for her contribution to the arts and was a featured performer at Barack Obama's 2008 Presidential Inauguration.
Born in Venezuela, Ms. Montero gave her first public performance at the age of five. At age eight she made her concerto debut in her hometown of Caracas, which led to a scholarship from the government to study privately in the U.S. and then at the Royal Academy of Music London with Hamish Milne. She currently resides in Barcelona with her husband and two daughters.
Stéphane Denève, conductor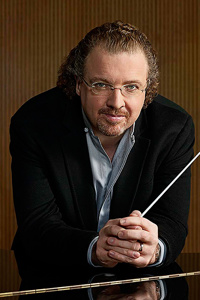 Stéphane Denève is Music Director of the Brussels Philharmonic, Principal Guest Conductor of The Philadelphia Orchestra, Music Director Designate of the St. Louis Symphony and Director of the Centre for Future Orchestral Repertoire. From 2011-16 he served as Chief Conductor of the Stuttgart Radio Symphony Orchestra and from 2005-12 as Music Director of the Royal Scottish National Orchestra.
Recognized internationally for the exceptional quality of his performances and programming, Mr. Denève regularly appears at major concert venues with the world's greatest orchestras and soloists. He has a special affinity for the music of his native France, and is a passionate advocate for new music.
Mr. Denève's recent engagements include appearances with the Royal Concertgebouw Orchestra, Orchestra Sinfonica dell'Accademia Nazionale di Santa Cecilia, Vienna Symphony, Munich Philharmonic, Orchestre National de France, Czech Philharmonic and NHK Symphony. In North America he made his Carnegie Hall debut in 2012 with the Boston Symphony, with which he has been a frequent guest both in Boston and at Tanglewood. He also appears regularly with The Cleveland Orchestra, New York Philharmonic, The Philadelphia Orchestra, Los Angeles Philharmonic, San Francisco Symphony, St. Louis Symphony and Toronto Symphony.
Mr. Denève enjoys close relationships with many of the world's leading solo artists, including Jean-Yves Thibaudet, Yo-Yo Ma, Nikolaj Znaider, James Ehnes, Leif Ove Andsnes, Leonidas Kavakos, Nicholas Angelich, Lang Lang, Frank Peter Zimmermann, Gil Shaham, Emanuel Ax, Renaud and Gautier Capuçon, Lars Vogt, Nikolai Lugansky, Paul Lewis, Joshua Bell, Hilary Hahn and Natalie Dessay.
In the field of opera, Mr. Denève has led productions at the Royal Opera House, Glyndebourne Festival, La Scala, Deutsche Oper Berlin, Saito Kinen Festival, Gran Teatro de Liceu, Netherlands Opera, La Monnaie, Deutsche Oper am Rhein and Opéra National de Paris.
As a recording artist, Mr. Denève has won critical acclaim for his recordings of the works of Poulenc, Debussy, Ravel, Roussel, Franck and Connesson. He is a triple winner of the Diapason d'Or of the Year, has been shortlisted for Gramophone's Artist of the Year Award, and has won the prize for symphonic music at the International Classical Music Awards. His most recent releases are a disc of the works of Guillaume Connesson with the Brussels Philharmonic (awarded the Diapason d'Or, Caecilia Award and Classica Magazine's CHOC of the Year) and a disc with Lucas and Arthur Jussen and the Royal Concertgebouw Orchestra, both for Deutsche Grammophon.
A graduate and prizewinner of the Paris Conservatory, Mr. Denève worked closely in his early career with Sir Georg Solti, Georges Prêtre and Seiji Ozawa. A gifted communicator and educator, he is committed to inspiring the next generation of musicians and listeners, and has worked regularly with young people in the fellowship programs of the Tanglewood Music Center and New World Symphony.
For more information, please visit www.stephanedeneve.com.