Events & Tickets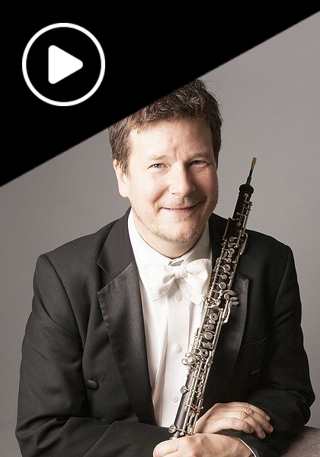 Chamber Music
Oboe Phantasy
Online Event
NWS welcomes back alumnus Jonathan Fischer, now Principal Oboe of the Houston Symphony, for an intimate concert of chamber music. The program includes evocative works by University of Miami's Valerie Coleman, Felix Mendelssohn, Benjamin Britten and more.
NWS thanks its 2020-21 donors.
Program
Valerie Coleman
(b. 1970)
Approx. Duration: 6 minutes

Red Clay & Mississippi Delta for Woodwind Quintet (2010)

Leah Stevens, flute; Mark Debski, oboe
Jesse McCandless, clarinet; Bee Ungar, bassoon
Thea Humphries, horn 
Howard Hanson
(1896-1981)
Approx. Duration: 7 minutes

Pastorale for Oboe, Harp and Strings, Op. 38 (1949)

Jonathan Fischer, oboe
Chad Goodman, conductor
Phoebe Powell, harp 
Luis Salazar, Zachary Ragent, Christina Choi, Ethan Hoppe, violin I
Michael Rau, Brendon Elliott, Yefim Romanov, Jesse Kasinger, violin II
Stephanie Block, Marlea Simpson, Spencer Ingersoll, viola 
Vivian Chang, Emily Yoshimoto, cello 
Antonio Escobedo, bass 

Karel Husa
(1921-2016)
Approx. Duration: 11 minutes

Divertimento for Brass and Percussion (1959)

Overture: Maestoso
Scherzo: Allegretto
Song: Lento
Slovak Dance: Allegro
Scott Leger, Corbin Castro, Jessica Elder, Liana Hoffman, horn
Morgen Low, Gianluca Farina, Bryant Millet, trumpet
Arno Tri Pramudia, Guangwei Fan, Noah Roper, trombone
Andrew Abel, tuba
Marcelina Suchocka, Kevin Ritenauer, percussion
Benjamin Britten
(1913-1976)
Approx. Duration: 13 minutes

Phantasy Quartet, Op. 2 (1932)

Jonathan Fischer, oboe
Jung Eun Kang, violin 
Jacquelyn O'Brien, viola
Ben Fryxell, cello 
Felix Mendelssohn
(1809-1847)
Approx. Duration: 24 minutes

Quartet No. 6 in F minor for Strings, Op. 80 (1847)

Allegro vivace assai
Allegro assai
Adagio
Finale: Allegro molto
Dillon Welch, violin I; Scott Jackson, violin II
Gabe Napoli, viola; Clare Bradford, cello 
Valerie Coleman
Red Clay & Mississippi Delta for Woodwind Quintet (2010)

Approximate duration: 6 minutes
Valerie Coleman was named Performance Today's 2020 Classical Woman of the Year, underscoring her immense contributions as a composer, performer and educator in American music. As the founder and longtime flutist of Imani Winds, Coleman has made a lasting imprint on the modern wind quintet repertoire, including this work that Imani Winds recorded on their 2016 album Startin' Sumthin'. The composer wrote the following description.
Red Clay & Mississippi Delta is short work that combines the traditional idea of musical scherzo with living in the South. It references the background of my mother's side of the family that hails from the Mississippi Delta region, from the juke joints and casino boats that line the Mississippi River to the skin tone of kinfolk in the area: a dark skin that looks like it came directly from the red clay. The solo lines are instilled with personality, meant to capture the listener's attention as they wail with "bluesy" riffs that are accompanied by the rest of the ensemble. The result is a virtuosic chamber work that merges classical technique and orchestration with the blues dialect and charm of the South. 
              — Valerie Coleman
Howard Hanson
Pastorale 

for Oboe, Harp and Strings,

 Op. 38 (1949)

Approximate duration: 7 minutes
When Howard Hanson became first American composer to be awarded the Rome Prize in 1921, he used his three-year residency in Italy to study under Ottorino Respighi, a master of lush orchestral color and Romantic grandeur. Hanson returned to the United States to become the director of a conservatory recently founded by the philanthropist George Eastman (the inventor of roll film and the Kodak camera), and over the next 40 years Hanson built the Eastman School of Music into one of the finest training grounds in the world. Besides continuing to compose his own music in a neo-Romantic vein, Hanson's advocacy as a teacher and conductor made him a trendsetter for the entire field of American composition, as when he led the Rochester Philharmonic in the first performance from a major orchestra of the pioneering Black composer William Grant Still, debuting the Afro-American Symphony in 1931.
In 1949 the U.S. Secretary of State appointed Hanson to serve as a delegate to the UNESCO Conference in Paris, which coincided with the centennial of Chopin's death. He was in excellent international company, with his music appearing alongside new works by Villa-Lobos (representing Brazil) and Martinů (representing Czechoslovakia) among other noted composers. Hanson's contribution was this Pastorale, originally composed for oboe and piano and then expanded to feature oboe with harp and strings. It was a sign of the musical times in those years after World War II that even an ostensibly bucolic piece throbs with plaintive intensity.
Karel Husa
Divertimento for Brass and Percussion (1959)

Approximate duration: 11 minutes
After studying piano, violin and composition in his native Prague, Karel Husa earned a scholarship from the French government to train in Paris, where his teachers included Arthur Honegger and Nadia Boulanger. Husa's String Quartet No. 1 and other early works  gained notice around the world, and in 1954 he was offered a faculty position at Cornell University, a post he held for 38 years.
Husa became an American citizen in 1959, the same year he reworked selections from his Eight Czech Duets for piano four-hands into the Divertimento for brass and percussion. The piano duets were written in a style accessible to students and amateurs, with simplified rhythms and textures that lend themselves well to the heft of a brass ensemble. Parts for two percussionists expand the expressive range, whether in the Stravinsky-esque dance rhythms of the Scherzo or the soothing Song, decorated with tinkling glockenspiel. The longest and most robust movement is the closing Slovak Dance, accelerating from a hesitant tuba melody to intense volleys between the timpani and trumpets.
Benjamin Britten
Phantasy Quartet, Op. 2 (1932)

Approximate duration: 13 minutes
Benjamin Britten was a true musical prodigy, composing prolifically as a child and excelling at piano and viola. In 1927 his viola teacher introduced him to the composer Frank Bridge, who agreed to give Britten private lessons. Britten lost some of his youthful swagger working with Bridge—he later wrote, "I, who thought I was already on the verge of immortality, saw my illusions shattered"—but he emerged from the demanding lessons with new rigor and technique to match his natural inventiveness.
Britten entered the Royal Conservatory of Music in 1930. His lessons there with the conservative-leaning composer John Ireland were unremarkable, but he relished his discovery of European trendsetters including Schoenberg and Stravinsky. A Sinfonietta from 1932 became Britten's official Opus 1 (superseding the hundreds of opus numbers he logged in his youth), followed by the Phantasy for oboe, violin, viola and cello, written for the oboe virtuoso Leon Goossens. The Phantasy received its first performance on BBC Radio in 1933, and it brought Britten into the international limelight with a 1934 performance at a festival in Florence.
Britten shaped the Quartet as a palindrome, with the cello beginning and ending the work with a halting march figure. The muted string trio elaborates the march, and then the oboe enters with a simple and tender theme intoned over dry plucks. The intensity builds until crunching chords and a virtuosic oboe swoop release into a series of linked episodes, including a matched pair of sections with a smoky, Spanish flavor.
Felix Mendelssohn
Quartet No. 6 in F minor for Strings, Op. 80 (1847)

Approximate duration: 24 minutes
Upon returning from a trip to London in the spring of 1847, Felix Mendelssohn was greeted with tragic news: his beloved sister Fanny had died suddenly from a stroke. That summer in Switzerland, Mendelssohn poured his grief into the String Quartet No. 6 in F minor. He then suffered a stroke himself that October and died the next month at the age of 38, leaving the quartet as his last major work.
Quivering tremolo bow strokes and rapid changes in dynamics create a simmering tension in the first movement that hardly relents for the duration of the Quartet. In the second movement, the rather fast tempo and three-beat pulse are in line with Mendelssohn's signature scherzos, but here the insistent accents and searching harmonies create far more angst and turmoil than is found in his effervescent, elfin constructions from happier times.
Fanny Mendelssohn was an accomplished composer, especially of songs, and the peaceful "song without words" that serves as this quartet's slow movement stands as a tribute to the enduring bond the siblings formed through music. Moving back into turmoil for the Finale, trills and slurred tremolo figures echo the disquieting textures from the first movement. At the end, the rhythms morph into triplets that recall the Italian tarantella, a manic folk dance that, legend has it, could ward off death after a bite from the poisonous tarantula.
-- © 2021 Aaron Grad
Aaron Grad is a composer, guitarist and writer based in Seattle. Besides providing program notes for the New World Symphony, he has been the Orpheus Chamber Orchestra's program annotator since 2005 and also contributes notes to the Saint Paul Chamber Orchestra and Seattle Symphony.
Jonathan Fischer, oboe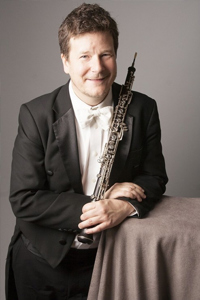 Jonathan Fischer joined the Houston Symphony as Principal Oboe in 2012 and served as the Acting Principal Oboe of the San Francisco Symphony for the 2013-14 season. He also serves as Principal Oboe with the Sun Valley Summer Symphony in Idaho.
Mr. Fischer has held positions with The Cleveland Orchestra, Lyric Opera of Chicago, Grant Park Symphony, Santa Fe Opera, Canadian Opera Company, Savannah Symphony and the New World Symphony. He has performed as a guest principal with many of the nation's leading orchestras including the Boston Symphony, Chicago Symphony, Baltimore Symphony, Los Angeles Philharmonic, Saint Louis Symphony, Atlanta Symphony and St. Paul Chamber Orchestra. He has performed as a soloist with the Grant Park Symphony, New World Symphony and several times with the San Francisco Symphony. In October 2013 made his solo debut with the Houston Symphony performing the Mozart Oboe Concerto.
Mr. Fischer has taught and performed at the Aspen Music Festival and Oberlin Conservatory.  He has given master classes at the San Francisco Conservatory, Rice University, University of Michigan and Texas Music Festival, and he enjoys coaching frequently at the New World Symphony. He holds a degree from the Curtis Institute of Music, where he studied with Richard Woodhams.
Chad Goodman, conductor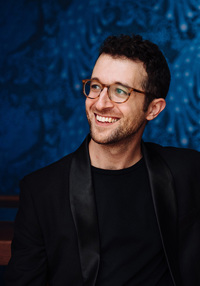 With a flair for inventive programming and a bold presence on stage and in the community, Chad Goodman has been praised for "bringing innovation to classical music" (Forbes).
As the Conducting Fellow of the New World Symphony, Mr. Goodman conducts on subscription, education, family and holiday programs. His program, "SPARK: How Composers Find Inspiration," blended captivating light design and videography with engaging audience participation to explore how a composition is created and brought to life by an orchestra.
Since 2018 Mr. Goodman has served as an Assistant Conductor to the San Francisco Symphony, assisting Esa-Pekka Salonen, Manfred Honeck, Daniel Harding, Pablo Heras-Casado, Simone Young and James Gaffigan among others.
Mr. Goodman's 2022-23 Season will include debut appearances with the Elgin Symphony, Baton Rouge Symphony, Greensboro Symphony and San Francisco Chamber Orchestra.
As Founder and Artistic Director of Elevate Ensemble, Mr. Goodman's ambitious vision for concert programming resulted in the pairing of music from Bay Area composers with underappreciated gems of the 20th and 21st centuries. Under his leadership, Elevate Ensemble established a Composer-in-Residence program and commissioned fifteen works from Bay Area composers. Elevate collaborated with photographers, videographers, poets and culinary artists, bringing new music and vibrant multi-genre experiences to unique venues such as yoga studios, historic Victorian homes and art studio warehouses.
Mr. Goodman has previously served as Conducting Fellow of Festival Napa Valley, Music Director of the Contra Costa Chamber Orchestra, Conducting Fellow of the Atlantic Music Festival, and a rehearsal and cover conductor for the San Francisco Ballet.
In addition to his performing career, he teaches young musicians the business and entrepreneurial skills needed to successfully navigate the world as a working musician in his workshop "You Earned a Music Degree. Now What?"
Mr. Goodman holds a bachelor of music degree from the Eastman School of Music and a master of music degree from San Francisco State University. His mentors include Michael Tilson Thomas, Alasdair Neale, Cyrus Ginwala and Martin Seggelke.
Musicians of the New World Symphony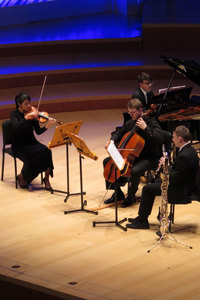 A laboratory for the way music is taught, presented and experienced, the New World Symphony consists of 87 young musicians who are granted fellowships lasting up to three years. The fellowship program offers in-depth exposure to traditional and modern repertoire, professional development training and personalized experiences working with leading guest conductors, soloists and visiting faculty. 
NWS Fellows take advantage of the innovative performance facilities and state-of-the art practice and ensemble rooms of the Frank Gehry-designed New World Center, the campus of the New World Symphony and home of the Knight New Media Center.
In the hopes of joining NWS, nearly 1,000 recent music school and conservatory graduates compete for available fellowships each year. The Fellows are selected for this highly competitive, prestigious opportunity based on their musical achievement and promise, as well as their passion for the future of classical music.