Events & Tickets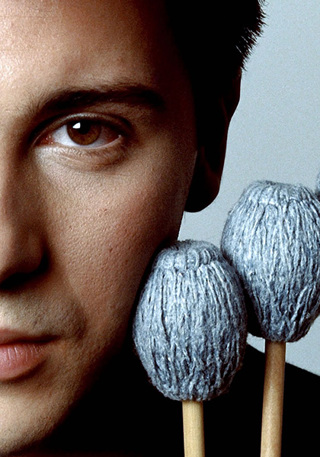 Chamber Music
Percussion Consort: MTT'S Island Music
New World Center, Michael Tilson Thomas Performance Hall
Saturday, February 25, 2023 at 7:30 PM
Program
Praised for his "unmistakable virtuosity," University of Miami professor Svet Stoyanov is a driving force in modern percussion (The New York Times). He joins NWS Percussion Fellows in a transfixing program that is uniquely Miami. Michael Tilson Thomas—NWS's Co-Founder and Artistic Director Laureate—evokes the sands of the tropics with a marimba-filled feature that draws on his own influences: Schubert, Beethoven and James Brown. Emmy Award-winning master of composition Garth Neustadter awakens sensibilities with his Seaborne, an urgent account of our endangered oceans that comes to life with powerful and poetic video projections by filmmaker Kjell Van Sice.
---
This concert is part of the Sounds of the Times Series. Explore today's most innovative and vital music. Witness groundbreaking artistic collaborations and NWS Percussion Fellows in action. Subscriptions for this 3-concert series begin at $30 ($10/concert). Click here to explore the full subscription! 
COMPOSE YOUR OWN SUBSCRIPTION PACKAGE! 
Want to try a little of everything? Customize your own subscription of three or more concerts to exercise full creative freedom while enjoying all the flexibility and perks of being a New World Symphony subscriber. Click here to build your CYO subscription or call the Box Office at 305.673.3331 to compose your series today.  
SUBSCRIBERS ENJOY THE BEST OF NWS! 
As an NWS Subscriber, you receive amazing benefits to enjoy throughout the season, including the best seats for the lowest prices and access to our incredibly talented Fellows. Click here to learn more! 
Tickets no longer available online.
Program
Garth Neustadter / Kjell van Sice
(b. 1986)
Approx. Duration: 30 minutes

Seaborne for Six Percussion and Video Projections
(2018)

Svet Stoyanov, Caleb Breidenbaugh, vibraphone
Ben Cornavaca, Jennifer Marasti, marimba
Michael Linville, Noah Sonderling, piano
Michael Tilson Thomas
(b. 1944)
Approx. Duration: 20 minutes

Introduction: Long Familiar Refrains
Part I: Thoughts on the Dance Floor
Part II: In the Clearing
Part III: Ride Outs
Svet Stoynov, Joe Desotelle, solo marimba
Caleb Breidenbaugh, Jennifer Marasti, marimba
Ben Cornavaca, Antek Olesik, percussion
Garth Neustadter / Kjell van Sice
Seaborne

for Six Percussion

and Video Projections


(2018)

Approximate duration: 30 minutes
This 30-minute work for six percussionists and video projection is at the nexus of the percussive art soundscape and the visual celebration of our endangered oceans. Just as rhythm and the percussive voice are the heartbeat of music, our precious oceans are the lifeblood of the planet and thus our very existence. Seaborne awakens sensibilities in the listener/viewer to both the importance and beauty that our oceans possess. For this project, the Collective's Artistic Director Robert van Sice brought together two extraordinary young talents: Emmy Award-winning composer Garth Neustadter and water lensman Kjell van Sice. Neustadter's mastery of cinematic composition and Kjell van Sice's poetic aquatic images produce a powerful collaboration. The piece is designed to be the sister piece to one of the seminal pieces in the percussion repertoire, Steve Reich's iconic Sextet.
— The Percussion Collective
This work explores our perception and perspectives of water from aerial, surface and underwater vantage points. Water possesses an inherent motion and rhythm, and I am interested in reflecting the tension between the potential and kinetic energies we observe, as well as our perception of time. Musically, my language attempts to find a balance between gestures that feel almost primal or ancient, juxtaposed against more modern and familiar textures. Often, motifs are introduced in simple ensemble unisons, gradually developing and evolving in ways that might emulate a communal improvisatory experience. Overall, I attempt to create a strong synergy and synesthesia with the photography, in that our perception of color and light is strongly reflected in the music throughout.
— Garth Neustadter
The conceptual core for the visual element of this piece is to give the audience, in 30 minutes, a redefining experience of a subject normally typified by the unidimensional horizon as an environment that cohabits the spaces of three distinct perspectives: aerial, surface and underwater. It is an invitation not only to see the ocean's incredible beauty and raw potency, but also an opportunity to consider how the place from which we look determines what it is we see. Although the surface layer of water is thinner than a hair, the way in which it interacts with light and the forces of wind and currents make it the most dynamic and ever-changing natural phenomenon. I have always been fascinated with this singular simplicity of substance acting under constant redefinition. Sound, like a wave through water, is a burst of energy traveling in a medium. The only difference is that one is in the ocean and the other a concert hall, destined for our interpretation. This piece draws parallels between what the audience hears and sees, combining to become an emotional experience that goes far beyond the music or visuals on their own.
— Kjell van Sice
Michael Tilson Thomas
Island Music (2003)

Approximate duration: 20 minutes
Island Music began on my first trip to Bali. Lying around our house in the village of Sian were wooden instruments belonging to the local gamelan. I couldn't resist the opportunity of improvising on them and soon evolved a bouncy little tune which became the main theme of Island Music. Everything in the piece comes from development of this tune.
The musical language of the piece "drifts" back and forth between the islands of Indonesia and the Caribbean, stopping along the way in the United States.
The piece is in the form of a rondo—a shape much favored by Schubert in his four-hand piano pieces. The form of a rondo is ABACADAE, etc. The A theme is the perky little vacation tune, and the BCD etc. music represents distracting or vexing thoughts of day-to-day or life problems that one is trying to get rid of while on vacation. Gradually, these distracting thoughts begin to affect the happy vacation tune, eventually completely changing and stopping it. Then the decision is made to work back to the tune and recover its energy and optimism.
The introduction, "Long Familiar Refrains," presents a meditative improvisation for the soloists on a melancholy reflection of the main tune, which bears a resemblance to the kind of half-heard melodies my father used to hum.
Part I, which is called "Thoughts on the Dance Floor," introduces the main theme and its dialogues within the contrasting materials. The title of this section recalls my house in Bali (which was also a dance pavilion) and also the kind of wandering thoughts that I have always found are a part of the dance club experience.
Part II, "In the Clearing," imagines a break in the dancing. The music gradually becomes more moody as it remembers, praises and laments the spirits of those who are sadly no longer with us on the dance floor. The music becomes more and more lyrical until it dissolves into arabesques.
Part III, "Ride Outs," encourages the soloists to lead the ensemble back to the original happy form of the tune with which it began. There then follows a coda, very much indebted to both Beethoven and James Brown, which brings the piece to a jubilant conclusion.
The piece, originally conceived as a small solo, grew into its present shape with the encouragement of Nancy Zeltsman. Her beautiful marimba playing, especially in the low part of the instrument, was an inspiration. Also, Jack Van Geem's virtuosic stamina pushed me on toward creating this piece, which is definitely a tour de force. I hope that listeners will hear Island Music as a reflection of the music traditions of both East and West and as an opportunity to enjoy the flexible and musical Schubert-inspired situations that I have enjoyed creating for percussion ensemble.
— Michael Tilson Thomas
Program
Garth Neustadter / Kjell van Sice
(b. 1986)


Seaborne para Seis Percusiones y Proyecciones de Video
(2018)
Svet Stoyanov, Caleb Breidenbaugh, vibraphone
Ben Cornavaca, Jennifer Marasti, marimba
Michael Linville, Noah Sonderling, piano
Michael Tilson Thomas
(b. 1944)


Introduction: Long Familiar Refrains
Part I: Thoughts on the Dance Floor
Part II: In the Clearing
Part III: Ride Outs
Svet Stoynov, Joe Desotelle, solo marimba
Caleb Breidenbaugh, Jennifer Marasti, marimba
Ben Cornavaca, Antek Olesik, percussion
Garth Neustadter / Kjell van Sice
Seaborne

para Seis Percusiones y Proyecciones de Video


(2018)

Duración aproximada: 30 minutos
Esta obra de 30 minutos para seis percusionistas y proyección de video es el nexo entre el paisaje sonoro del arte de la percusión y la celebración visual de nuestros océanos en peligro. Así como el ritmo y la voz percusiva son el latido del corazón de la música, nuestros preciados océanos son el alma de nuestro planeta y por lo tanto de nuestra propia existencia. Seaborne despierta sensibilidades en el oyente/espectador con respecto a la importancia y la belleza que poseen nuestros océanos. Para este proyecto, el Director Artístico del Percussion Collective Robert van Sice reunió a dos talentos extraordinarios: el compositor ganador del premio Emmy Garth Neustadter y el camarógrafo submarino Kjell van Sice. La maestría de Neustadter en la composición cinemática y las poéticas imágenes acuáticas de Kjell producen una poderosa colaboración. La pieza está designada a ser la obra hermana de una de las obras seminales del repertorio de percusión, el Sexteto de Steve Reich.
— The Percussion Collective
Esta obra explora nuestra percepción y perspectivas del agua desde el punto vista de lo aéreo, lo terrestre y lo submarino. La obra posee un ritmo y movimiento inherentes, y me interesa reflejar la tensión entre las energías potencial y cinética que observamos, así como nuestra percepción del tiempo. Musicalmente, mi lenguaje intenta encontrar un balance entre gestos que parecen casi antiguos o primitivos, yuxtapuestos contra texturas más modernas y familiares. A menudo, los motivos son introducidos en unísonos simples de los instrumentos, desarrollándose y evolucionando gradualmente en formas que pudieran emular una experiencia de improvisación comunal. En general, intento crear una fuerte sinergia y sinestesia con la fotografía, en la que nuestra percepción de la luz y el color se reflejan grandemente a través de toda la obra musical.
— Garth Neustadter
El centro conceptual del elemento visual de esta pieza es brindarle a la audiencia, en 30 minutos, una experiencia redefinida de un tema normalmente tipificado por el horizonte unidimensional como un ambiente que cohabita los espacios de tres perspectivas distintas: la aérea, la terrestre y la submarina. Es una invitación no solo a ver la increíble belleza y potencial del océano, sino también una oportunidad para considerar cómo el lugar desde donde observamos determina lo que vemos. Aunque la capa superficial del agua es más fina que un cabello, la manera en que interactúa  con la luz y la fuerza de los vientos y las corrientes la convierten en el fenómeno natural más dinámico y cambiante.  Siempre me ha fascinado la singular simplicidad de la sustancia actuando bajo una constante redefinición. El sonido, como una onda en el agua, es un estallido de energía que viaja en un medio. La única diferencia es que una está en el océano y la otra en la sala de conciertos, destinada a nuestra interpretación. Esta obra ofrece paralelos entre lo que el público escucha y lo que ve, combinándose para convertirse en una experiencia emocional que va mucho más allá de la música o las imágenes en sí mismas.
— Kjell van Sice
Michael Tilson Thomas
Island Music
 

(2003)


Approximate duration: 20 minutes

Island Music comenzó en mi primer viaje a Bali. Alrededor de nuestra casa en la villa de Sian habían instrumentos de madera pertenecientes al gamelán local. No pude resistir la oportunidad de improvisar con ellos y pronto evolucionó en una pequeña y vivaz melodía, la cual se convirtió en el tema principal de Island Music. Todo en esta obra proviene del desarrollo de esta melodía.

El lenguaje musical de la pieza se "mueve" de un lado a otro entre las islas de Indonesia y el Caribe, deteniéndose a su paso por los Estados Unidos.

La pieza tiene forma rondó, una forma muy favorecida por Schubert en sus piezas para piano a cuatro manos. La forma rondó es ABACADAE, etc. El tema A es una melodía alegre de vacaciones, y la música del BCD etc representa los pensamientos que distraen o molestan o los problemas de la vida de los que uno se está tratando de deshacer mientras está de vacaciones. Gradualmente, estos pensamientos que nos distraen comienzan a afectar la melodía de las vacaciones felices, eventualmente cambiándola y deteniéndola completamente. Entonces se toma la decisión de volver a trabajar en ella y recuperar su energía y optimismo.

La introducción, "Long Familiar Refrains" (Refranes largos y conocidos), presenta una improvisación meditativa de los solistas en un reflejo melancólico de la melodía principal, la cual se parece al tipo de melodía que mi padre solía tararear.

La Parte I, titulada "Thoughts on the Dance Floor" (Pensamientos en el salón de baile), introduce el tema principal y sus diálogos dentro del material contrastante. El título de esta parte me recuerda a mi casa en Bali (la cual también era un pabellón de baile) y también los pensamientos dispersos que siempre he tenido son una parte de la experiencia del club de baile.

La Parte II, "In the Clearing" (En el claro), representa una pausa en el baile. La música se vuelve gradualmente mas temperamental mientras recuerda, alaba y lamenta los espíritus de los que tristemente ya no están con nosotros en la pista de baile. La música se vuelve más lírica hasta que se disuelve en arabescos.

La Parte III, "Ride outs" (Salidas), alienta a los solistas a llevar al conjunto la forma feliz de la melodía original con la que comenzó. Después le sigue una coda, muy en deuda con Beethoven y James Brown, la cual conduce la pieza a una jubilosa conclusión.

La obra, originalmente concebida como un pequeño solo, creció hasta su forma actual con el apoyo de Nancy Zeltsman. Su bella interpretación de la marimba, especialmente en los bajos del instrumento, fue una inspiración. Además, la virtuosa resistencia de Jack Van Geem me empujó a crear esta obra, la cual es definitivamente un tour de force. Espero que los oyentes escuchen Island Music como un reflejo de las tradiciones musicales tanto del Oriente como del Occidente y como una oportunidad para disfrutar las flexibles y musicales situaciones inspiradas por Schubert que he creado con mucho placer para conjunto de percusión.

— Michael Tilson Thomas

Translated by Maria Paulina García
Svet Stoyanov, percussion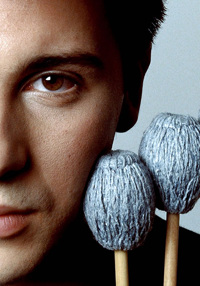 Praised by The New York Times for his "understated but unmistakable virtuosity" along with a "winning combination of gentleness and fluidity," Svet Stoyanov is a driving force in modern percussion.
Winner of the prestigious Concert Artists Guild International Competition, Mr. Stoyanov was also presented with the Johns Hopkins University Alumni Award. His career highlights include solo concerto appearances with the Chicago, Seattle and American symphonies, as well as solo performances at Lincoln Center, Carnegie Hall, Kennedy Center and Taiwan National Concert Hall, amongst many others worldwide. Some of the conductors he has performed with include Pierre Boulez, Marin Alsop, Cristian Macelaru, Gerard Schwarz, Oliver Knussen and James Conlon.
Mr. Stoyanov has recorded for numerous labels, featuring Telarc, Naxos and Bridge Records. His albums Percussive Counterpoint, as well as Textures and Threads were broadcast internationally and applauded for their artistic integrity and virtuosic ingenuity.
A passionate advocate for contemporary music, Mr. Stoyanov has commissioned a significant body of solo and chamber works. An upcoming highlight commission is a Double Percussion Concerto, written for Mr. Stoyanov by Pulitzer Prize and Grammy Award-winning composer Jennifer Higdon. The work will be premiered with co-soloist Matthew Strauss and the Houston Symphony in 2022.
Recent highlight projects feature the commission and performances of Sideman: a percussion concerto written for mr. Stoyanov by Grammy-winning Composer Mason Bates. Sideman was performed in Miami, The Kennedy Center, Kansas City's Kauffman Center and in Baltimore City. It was also recorded by Mr. Stoyanov for an upcoming CD release.
Mr. Stoyanov is a proud founding member of the groundbreaking project The Percussion Collective. This group features some of the finest percussionists in the world. With The Collective, he recently toured China and premiered Christopher Theofanidis' Drum Circles Concerto with the Oregon Symphony. Upcoming engagements include concerto performances with the Baltimore Symphony and Grant Park Orchestra, as well as a tour of Europe in 2022, visiting London, Munich, Vienna and Amsterdam.
An inspiring project of Mr. Stoyanov's features the release of multiple audio/video recordings, under the umbrella of Elemental Culture. This project embraces the cinematographic video capturing of actual musical recording sessions. It strives to deeply immerse the listener, by allowing them to also witness the intimate visual moments of musical creation. Among the featured titles is a special collaboration with European marimba virtuoso Katarzyna Mycka – a duo recording of Passacaglia by Anna Ignatowicz Glińska, as well as the percussion quintet Kyoto, by John Psathas – composer of music for the Olympic Games in Athens in 2004.
Alongside his diverse performance career, Mr. Stoyanov is the Director and Associate Professor of Percussion Studies at the Frost School of Music, University of Miami, where he has collaboratively built a most unique and innovative modern percussion program. Students of his hold positions in major orchestras, educational institutions and have won numerous competition prizes worldwide. Mr. Stopyanov endorses some of the finest percussion instruments and products today, namely Adams, Remo, Zildjian, Pearl and ProMark.
Mr. Stoyanov has performed in more than one thousand recitals and has presented over 200 master classes worldwide. His artistic mission is committed to the purity, quality and virtue of music.