Events & Tickets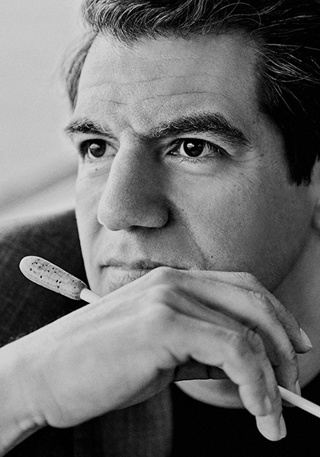 Free
PRE-SEASON FULL ORCHESTRA CONCERT: FOLK FANTASIAS
New World Center
Saturday, September 21 at 7:30 PM
Program
Get a good look at all the 2019-20 Fellows in their debut orchestra concert of the season! With boundless energy and sentiment, Piotr Ilyich Tchaikovsky's Capriccio Italien is what you might expect when you mix Russian Romanticism with Italian charm. Jimmy López embraces Peruvian folk music and shared heritage with conductor Miguel Harth-Bedoya in his five-part fantasy Perú Negro. The grand waltz takes center stage in Maurice Ravel's reflection on post-WWI Europe and Richard Strauss' heroic suite from his comic opera. 23 fresh faces converge with seasoned veterans to bring you the "new" New World Symphony.


Tickets no longer available online.
Program
Pyotr Ilyich Tchaikovsky
(1840-1893)
Approx. Duration: 16 minutes

Capriccio Italien, Op. 45 (1880)

Jimmy López Bellido
(b. 1978)
Approx. Duration: 17 minutes

Pregón I
Toro Mata
Ingá
Le dije a papá
Pregón II
Son de los Diablos
Maurice Ravel
(1875-1937)
Approx. Duration: 13 minutes

Richard Strauss
(1875-1937)
Approx. Duration: 24 minutes

Suite from Der Rosenkavalier, TrV 227d (1911; arr. 1945)

Pyotr Ilyich Tchaikovsky
Capriccio Italien, Op. 45 (1880)

Approximate duration: 16 minutes
Tchaikovsky was in Rome for the Carnival season in 1880, and the festivities inspired him to compose an "Italian Fantasia on folk themes." He harvested some of the themes from printed collections of folksongs, and others he transcribed after hearing them firsthand, such as the bugle call that begins the work, a tune that Tchaikovsky heard through his hotel window from the nearby cavalry barracks.
Upon completing the score, Tchaikovsky swapped out the working title of Fantasia for Capriccio Italien, a heading that matched the work's loose and whimsical approach to the folk material. Following the bright fanfare, the brass and bassoons maintain a martial pulse under a brooding string melody, constructed in a mode that seems more redolent of Spain (or its past Moorish conquerors) than Italy. A jolly theme harmonized in thirds brushes away the gloom, and the progression of dance tunes continues in a manner that recalls Tchaikovsky's celebrated ballet music. One distinctly Italian touch is the section styled as a tarantella, the whirlwind folk dance with a triplet pulse that was meant to ward off the deadly effects of tarantula poison, so the legend goes.
Jimmy López Bellido
Perú Negro (2012)

Approximate duration: 17 minutes
The academic career of Jimmy López Bellido took him from his native Peru to the Sibelius Academy in Finland, and finally to the University of California Berkeley, where he completed his Ph.D. in 2012, the same year he composed Perú Negro. When he was first studying music in Lima, López Bellido acknowledged in an interview, "My eyes and ears were pointed toward Europe, so I didn't pay much attention to my own country's rich musical tradition." Only after steeping himself in European and American avant-garde trends did he realize, "In order to develop a distinct voice, I could not continue ignoring my geographical origins."
López Bellido composed Perú Negro for the Fort Worth Symphony, led by another distinguished Peruvian musician, tonight's conductor Miguel Harth-Bedoya. "Miguel and I have collaborated closely for a number of years," López Bellido wrote in a program note, "so instead of simply dedicating the piece to him, I decided to imprint it with his initials." This type of coding, practiced by the likes of Bach and Shostakovich, required a mix of musical alphabets to render the full name of Miguel Harth-Bedoya González. Borrowing from the solfège system, Miguel became "Mi," or E. Using German conventions, the H and B of Harth-Bedoya represent B-natural and B-flat, respectively. González, his mother's family name, adds a G. "These four notes rule the intervallic and harmonic structure of the entire piece," López Bellido explained, starting with the horn theme that begins the work.
The other material with personal significance comes from Afro-Peruvian music, which López Bellido detailed in his program note:
The introductory section, Pregón I, captures the spirit of the old street sellers, which used to walk the streets of Lima announcing their goods and creating miniature songs in the process. These songs became extremely popular among the people of the city and some of them have survived until today.
Toro Mata, the second section, is a traditional song in slow tempo with a very striking characteristic: the ascending perfect fifth, which, coincidentally, is also the interval produced between the notes E and B natural (the first two notes of the piece). In this way, this traditional melody has been embedded into the core of the piece, now constituting one of its building blocks.
The following section, Ingá, steps up the tempo considerably and lets the string section take center stage. The melodic gestures are directly derived from this song, but the melodies are adjusted to fit into the model set forth by the initial motive.
Le dije a papá, the fourth section, is agile and virtuosic and it reaches its climax right before Pregón II, marking an important structural divide. The percussion section rises and its propulsive energy brings us to a climactic moment where the orchestra, now in full force, reaches a sudden stop.
Pregón II is based on the first section of similar name, but the main motive is now transformed into a monumental musical phrase played fortissimo by brass and percussion. When the strings come in, a long-breathed melody based on Toro Mata takes over, creating a sustained buildup that leads us to the final section.
Son de los Diablos, the fastest and final section, brings the piece to a close in a frenzy of Afro-Peruvian rhythms. The main four notes are brought back toward the very end concluding in unison on E, which is the very first and now the very last note of the piece.
Maurice Ravel
La Valse (1919-20)

Approximate duration: 13 minutes
To honor Johann Strauss II, the "Waltz King" who died in 1899, Ravel began a work entitled Wien ("Vienna") in 1906. He shelved it at the time, but he revisited the concept in 1919 to fulfill a commission from the dance impresario Serge Diaghilev. He completed the orchestral score, recast as La valse, in 1920, and he also arranged versions for solo piano and two pianos. Ravel played the two-piano version for Diaghilev, who rejected it, declaring, "It is not a ballet; it is a portrait of a ballet," a comment Ravel never forgave.
The single-movement composition follows a basic scenario outlined by Ravel in the score: "Swirling clouds afford glimpses, through rifts, of waltzing couples. The clouds scatter little by little; one can distinguish an immense hall with a whirling crowd. The scene grows progressively brighter. The light of the chandeliers bursts forth at the fortissimo. An imperial court, about 1855." The one undeniable constant is the waltz, ceaselessly pulsing its three measured beats through lovely melodies and grotesque disturbances.
Richard Strauss
Suite from Der Rosenkavalier, TrV 227d (1911; arr. 1945)

Approximate duration: 24 minutes
Richard Strauss, already a successful conductor and composer of orchestral tone poems, established himself as Germany's greatest opera composer with the shocking debut of Salome in 1905. He followed up with Elektra, based on an existing play by Hugo von Hofmannsthal, and then Der Rosenkavalier (The Knight of the Rose), which Strauss and Hofmannsthal conceived together from scratch, loosely following an 18th-century story. The opera was an immediate success, rivaling even Salome; after debuting in Dresden in 1911, it reached Milan's La Scala and Vienna's Court Opera by the end of the year, and it opened in London's Royal Opera House and New York's Metropolitan Opera in 1913. The Rosenkavalier Suite heard on this program was assembled in 1945, most likely by the Polish conductor Artur Rodziński, then the Music Director of the New York Philharmonic.
The Suite, in one interconnected movement, draws excerpts from various parts of the opera. The opening music, taken from the opera's prelude, peaks with a braying figure from the horns that hints at what has been transpiring in the bedroom where the opera begins. In another scene, Octavian (the young knight involved in that bedroom encounter) arrives dressed in silver and bearing a symbolic rose, as represented by a sparkling theme played by flutes, celesta, harp and violins. This music reappears in the Suite as a leitmotif, suggesting otherworldly beauty and Octavian's love.
The rude interruption and ensuing waltz, with its tendency to wander off-key, are hallmarks of another character, Ochs, the bumbling philanderer who eventually gets his comeuppance after a series of comic mishaps and deceits. After the waltz, a romantic passage takes music from the opera's final love duet, and then the Suite concludes with another big waltz number adapted from the third act.
-- © 2019 Aaron Grad
Aaron Grad is a composer, guitarist and writer based in Seattle. Besides providing program notes for the New World Symphony, he has been the Orpheus Chamber Orchestra's program annotator since 2005 and also contributes notes to the Saint Paul Chamber Orchestra and Seattle Symphony.
Miguel Harth-Bedoya, conductor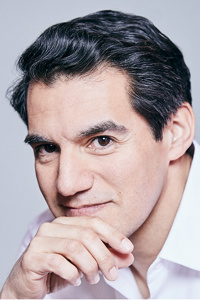 Celebrating more than 30 years of professional conducting, Miguel Harth-Bedoya is a master of color, drawing idiomatic interpretations from a wide range of repertoire in concerts across the globe.  He has amassed considerable experience at the helm of orchestras with 2019/20 his seventh season as Chief Conductor of the Norwegian Radio Orchestra and his 20th and final season as Music Director of the Fort Worth Symphony Orchestra. Previously he has held Music Director positions with the Auckland Philharmonia and Eugene Symphony.
Harth-Bedoya regularly conducts the upper level of American orchestras including the Chicago Symphony, Boston Symphony, Cleveland, Philadelphia, New York Philharmonic Atlanta Symphony, Baltimore Symphony, Cleveland, Minnesota, New York Philharmonic and Philadelphia Orchestras. Following his exceptional tenure as Associate Conductor of the Los Angeles Philharmonic during the early years of his career, Harth-Bedoya's "special chemistry" (LA Times) with the orchestra remains strong and he returns often as a guest conductor.  
With exceptional charisma, Harth-Bedoya has nurtured a number of close relationships with orchestras worldwide and is a frequent guest of the Helsinki Philharmonic, MDR Sinfonieorchester Leipzig, National Orchestra of Spain, Atlanta Symphony, New Zealand Symphony and Sydney Symphony Orchestras. In the 2019/20 season he will appear as a guest with the New World Symphony, BBC Scottish Orchestra, National Orchestra of Lyon (France), Melbourne Symphony Orchestra, and National Orchestra of Spain. Previous seasons have featured concerts with the London Philharmonic, Munich Philharmonic, Dresden Philharmonic, NDR Sinfonieorchester Hamburg, Zurich Tonhalle, Danish National Symphony, Royal Stockholm Philharmonic, Bilbao Symphony and Barcelona Orchestras.  In the summer of 2016 Harth-Bedoya made his Japanese debut conducting both the NHK Symphony and Tokyo Metropolitan Symphony Orchestras.
In 2015 Harth-Bedoya conducted the world premiere of Jennifer Higdon's first opera Cold Mountain at Santa Fe Opera the recording of which was nominated for a Grammy Award. Previous opera engagements include a new production of La Bohème at English National Opera directed by Jonathan Miller and appearances with the Canadian Opera Company, Minnesota Opera and Santa Fe Opera. He has led two productions of Golijov's Ainadamar, with the Cincinnati Opera and recently at the New Zealand Festival. 
With a passionate devotion to unearthing new South American repertoire, Miguel Harth-Bedoya is the founder and Artistic Director of Caminos Del Inka, a non-profit organization dedicated to researching, performing and preserving the rich musical legacy of South America. He commissioned moving images to accompany a symphonic program and the resulting multimedia project has been performed by the Chicago Symphony, Philadelphia Orchestra, Boston Symphony, Seattle Symphony, Baltimore Symphony Residentie Orkest and MDR Sinfonie Leipzig. In June 2017 he launched an online catalogue www.latinorchestralmusic.com.
Harth-Bedoya's impressive discography includes albums on Harmonia Mundi, Deutsche Gramophone, Decca, FWSOLive, LAWO, Naxos, and MSR Classics. The 2018 release Mussorgsky/Gorchakov: Pictures at an Exhibition/Prokofiev: Cinderella (FWSOLive) received accolades from critics, with Nick Bernard of MusicWeb-International, writing: "Throughout, music director/conductor Miguel Harth-Bedoya is a sensitive and impressive guide. He draws from the Fort Worth musicians playing of real character and considerable virtuosity." In Gramophone, Guy Rickards commented,"...Miguel Harth-Bedoya has a knack for getting the most out of players in front of him; and, as it is with the Mussorgsky; so it proves with the substantial 30 minute selection of extracts from Prokofiev's Cinderella..." 
For the prestigious Harmonia Mundi label, Harth-Bedoya has made six acclaimed recordings: Music of Lutoslawski and Brahms (arr Schoenberg);orchestral works by Jimmy Lopez; New South American Discoveries; the complete Prokofiev Piano Concertos with Cliburn winner Vadym Kholodenko, and piano concertos by Grieg and Saint-Saëns which was awarded "Editor's Choice" in Gramophone.
Other recordings include Traditions and Transformations: Sounds of Silk Road Chicago with the Chicago Symphony and Yo-Yo Ma, which received two Grammy nominations, music by Osvaldo Golijov with the Orquesta Sinfonica de Castilla y Leon and pianists Katia and Marielle Labeque on Deutsche Grammophon and Sentimiento Latino with Peruvian tenor Juan Diego Flores on Decca. For Naxos, Harth-Bedoya recorded an album devoted to music by Peruvian composer Celso Garrido-Lecca.
Upcoming recordings include an album on the MSR Classics label of orchestral music by Jimmy López Bellido performed by the Fort Worth Symphony Orchestra, and a disc devoted to works by Alberto Ginastera with the Norwegian Radio Orchestra (KORK) to be released on the Norwegian label, LAWO Classics.   
Born and raised in Peru, Harth-Bedoya received his Bachelor of Music degree from the Curtis Institute of Music and his Master of Music degree from The Juilliard School, both under the guidance of Otto-Werner Mueller. He also studied with Seiji Ozawa and Gustav Meier at Tanglewood.
Harth-Bedoya is an environmental advocate who is committed to a zero waste lifestyle. In 2016 he co-founded Cowboy Compost, a business geared to achieve food waste reduction. He lives in Fort Worth with his wife, Dr. Maritza Cáceres, a choral conductor, and their three children, Elena, Emilio, and Elisa.