Events & Tickets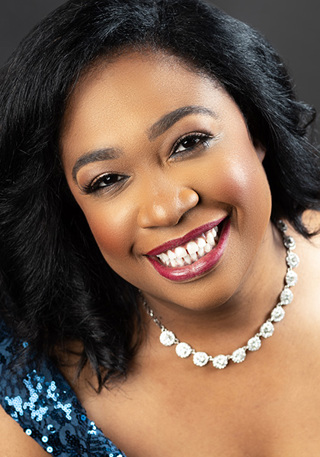 Orchestra Concert
Price + Beethoven
Adrienne Arsht Center
Saturday, March 11, 2023 at 8:00 PM
Program
Renowned guest conductor David Robertson leads an unforgettable one-night-only performance alongside celebrated pianist and fan favorite Michelle Cann. A champion of composer Florence Price, Cann presents the South Florida premiere of Price's Concerto, an evocative work that has Cann leading the "rollicking, ragtime-infused melodies with the red-hot glee of a honky-tonk pianist" (The Philadelphia Inquirer/Chicago Classical Review). Despite being tormented by his impending hearing loss, Ludwig van Beethoven infused his Second Symphony with vigor. "This Symphony is smiling throughout," Berlioz claimed of Beethoven's most jovial symphony. The boisterous Dances of Galánta celebrates the Hungarian folk and gypsy musical traditions of Zoltán Kodály's childhood.
---
This concert is part of the NWS's series at the Adrienne Arsht Center. Artistic Director Laureate Michael Tilson Thomas and NWS Fellows welcome world-renowned guest artists for a series of star-studded, one-night-only events at downtown Miami's grand concert hall. Subscriptions for this 3-concert series begin at just $36 ($12/concert). Click here to explore the full subscription! 
COMPOSE YOUR OWN SUBSCRIPTION PACKAGE! 
Want to try a little of everything? Customize your own subscription of three or more concerts to exercise full creative freedom while enjoying all the flexibility and perks of being a New World Symphony subscriber. Click here to build your CYO subscription or call the Box Office at 305.673.3331 to compose your series today.  
SUBSCRIBERS ENJOY THE BEST OF NWS! 
As an NWS Subscriber, you receive amazing benefits to enjoy throughout the season, including the best seats for the lowest prices and access to our incredibly talented Fellows. Click here to learn more! 
Loading Concert Information
Program
Zoltán Kodály
(1882-1967 )
Approx. Duration: 16 minutes

Lento 
Allegretto moderato 
Allegro con moto, grazioso 
Allegro 
Allegro vivace
Florence Price
(1887-1953)
Approx. Duration: 18 minutes

Piano Concerto in One Movement
(before 1934)

Ludwig van Beethoven
(1770-1827 )
Approx. Duration: 36 minutes

Symphony No. 2 in D major, Op. 36 
(1800-02)

Adagio molto – Allegro con brio 
Larghetto 
Scherzo: Allegro 
Allegro molto
David Robertson, conductor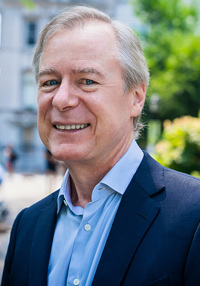 David Robertson – conductor, artist, thinker, and American musical visionary – occupies some of the most prominent platforms, internationally, in opera, orchestral music and new music.
In the 2021-22 season, Mr. Robertson made his Rome Opera debut conducting Janáček's Káťa Kabanová, and, building upon his prolific association with The Metropolitan Opera, conducted encore performances of the lauded 2019 production of The Gershwins' Porgy and Bess, for which his musical leadership was honored at the 63rd Grammy Awards, Best Opera Recording.  His breathtaking range of Met Opera endeavors include the celebrated 2018 production of Così fan tutte, set in 1950s Coney Island, and since his 1996 Met debut, The Makropulos Case, the Met premiere of John Adams' The Death of Klinghoffer, revival of Janáček's Jenůfa, premiere production of Nico Muhly's Two Boys, and many favorites. Mr. Robertson conducts projects at the world's most prestigious opera houses.
In 2018 Mr. Robertson completed his transformative 13-year tenure as Music Director of the St. Louis Symphony Orchestra, creating fruitful relationships with a spectrum of artists, and solidifying its status as among the nation's most innovative. He garnered a 2014 Grammy Award, Best Orchestral Performance, for John Adams' City Noir (Nonesuch), with two final SLSO collaborations released in 2019: Wynton Marsalis' Swing Symphony with the Jazz at Lincoln Center Orchestra (Blue Engine), and Mozart Piano Concertos with Orli Shaham (Canaray Classics). As Mr. Robertson's 2019 valedictory season as Chief Conductor and Artistic Director of the Sydney Symphony culminated, he joined the Tianjin Juilliard Advisory Council, guiding Juilliard's young Chinese campus, complementing his role as Director of Conducting Studies, Distinguished Visiting Faculty of The Juilliard School, New York.
Mr. Robertson appears regularly in Europe with the Royal Concertgebouw Orchestra, Czech Philharmonic, Wiener Symphoniker, Staatskapelle Dresden, and in London, Paris, Munich and more.  In addition to his longstanding relationship with the New York Philharmonic, frequent North American musical destinations include Boston, Philadelphia, Houston and Seattle. He conducts the New Japan Philharmonic, China NCPA Orchestra, and, in 2022, debuts with the São Paulo State Symphony.  Mr. Robertson has served in numerous artistic leadership positions: with the Orchestre National de Lyon; the Ensemble intercontemporain as a protégé of Pierre Boulez; Principal Guest Conductor, BBC Symphony Orchestra. He has been a Carnegie Hall Perspectives Artist, where he has conducted The Met Orchestra, Lucerne Festival Orchestra, SLSO, The Juilliard Orchestra and Carnegie Hall's National Youth Orchestra of the USA. 
In 2010 Mr. Robertson became a Chevalier de l'Ordre des Arts et des Lettres of France and is the recipient of numerous artistic awards. Beyond Juilliard, he is devoted to supporting young musicians and works with teaching festivals from Aspen to Lucerne. In 2020 he helped form the international digital electric guitar ensemble Another Night on Earth. Born in Santa Monica, California, Mr. Robertson was educated at London's Royal Academy of Music. He is married to pianist Orli Shaham and lives in New York.
Michelle Cann, piano
"A compelling, sparkling virtuoso" (Boston Music Intelligencer), pianist Michelle Cann made her orchestral debut at age 14 and has since performed as a soloist with numerous orchestras including The Philadelphia Orchestra, Cleveland Orchestra, Cincinnati Symphony and New Jersey Symphony.
A champion of the music of Florence Price, Ms. Cann performed the New York City premiere of the composer's Piano Concerto in One Movement with The Dream Unfinished Orchestra in 2016 and the Philadelphia premiere with The Philadelphia Orchestra in February 2021, which The Philadelphia Inquirer called "exquisite."
Highlights of Ms. Cann's 2021–22 season include debut performances with the Atlanta, Detroit and St. Louis symphonies, as well as her Canadian concert debut with the National Arts Centre Orchestra in Ottawa. She also receives the 2022 Sphinx Medal of Excellence, the highest honor bestowed by the Sphinx Organization, and the 2022 Andrew Wolf Chamber Music Award. Embracing a dual role as both performer and pedagogue, Ms. Cann's season includes teaching residencies at the Gilmore International Keyboard Festival and the National Conference of the Music Teachers National Association.
Ms. Cann regularly appears in solo and chamber recitals throughout the U.S., China and South Korea. Notable venues include the National Centre for the Performing Arts (Beijing), the John F. Kennedy Center for the Performing Arts (Washington, D.C.), Walt Disney Concert Hall (Los Angeles) and the Barbican (London). She has also appeared as cohost and collaborative pianist with NPR's From the Top.
An award winner at top international competitions, Ms. Cann served as the Cincinnati Symphony's MAC Music Innovator in 2019 in recognition of her role as an African-American classical musician who embodies artistry, innovation and a commitment to education and community engagement.
Ms. Cann studied at the Cleveland Institute of Music and Curtis Institute of Music, where she holds the inaugural Eleanor Sokoloff Chair in Piano Studies.
Chad Goodman, conductor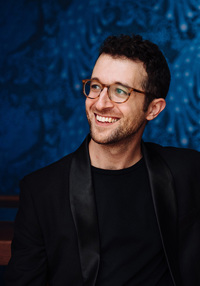 With a flair for inventive programming and a bold presence on stage and in the community, Chad Goodman has been praised for "bringing innovation to classical music" (Forbes).
As the Conducting Fellow of the New World Symphony, Mr. Goodman conducts on subscription, education, family and holiday programs. His program, "SPARK: How Composers Find Inspiration," blended captivating light design and videography with engaging audience participation to explore how a composition is created and brought to life by an orchestra.
Since 2018 Mr. Goodman has served as an Assistant Conductor to the San Francisco Symphony, assisting Esa-Pekka Salonen, Manfred Honeck, Daniel Harding, Pablo Heras-Casado, Simone Young and James Gaffigan among others.
Mr. Goodman's 2022-23 Season will include debut appearances with the Elgin Symphony, Baton Rouge Symphony, Greensboro Symphony and San Francisco Chamber Orchestra.
As Founder and Artistic Director of Elevate Ensemble, Mr. Goodman's ambitious vision for concert programming resulted in the pairing of music from Bay Area composers with underappreciated gems of the 20th and 21st centuries. Under his leadership, Elevate Ensemble established a Composer-in-Residence program and commissioned fifteen works from Bay Area composers. Elevate collaborated with photographers, videographers, poets and culinary artists, bringing new music and vibrant multi-genre experiences to unique venues such as yoga studios, historic Victorian homes and art studio warehouses.
Mr. Goodman has previously served as Conducting Fellow of Festival Napa Valley, Music Director of the Contra Costa Chamber Orchestra, Conducting Fellow of the Atlantic Music Festival, and a rehearsal and cover conductor for the San Francisco Ballet.
In addition to his performing career, he teaches young musicians the business and entrepreneurial skills needed to successfully navigate the world as a working musician in his workshop "You Earned a Music Degree. Now What?"
Mr. Goodman holds a bachelor of music degree from the Eastman School of Music and a master of music degree from San Francisco State University. His mentors include Michael Tilson Thomas, Alasdair Neale, Cyrus Ginwala and Martin Seggelke.