Events & Tickets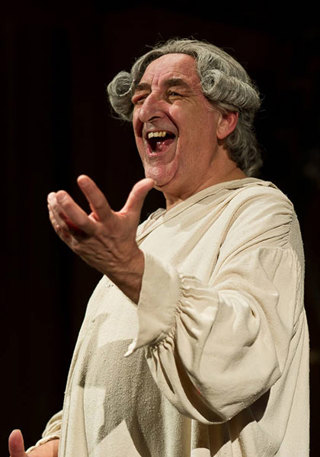 Chamber Music
ROYAL PORTRAITS
New World Center, Michael Tilson Thomas Performance Hall
From the sometimes senseless, often heartbreaking outbursts of King George III comes Peter Maxwell Davies' dynamite portrait of madness, now celebrating its 50th Anniversary. The staged monodrama, complete with NWS Fellows in costume as the King's pet birds, delivers baritone Kelvin Thomas in his most famous role that has him singing, speaking and even shouting to portray the deranged monarch. Beethoven's majestic "Archduke" is the crowning masterpiece of Piano Trios, while regal melodies reign in Henry Purcell's works for strings and harpsichord.
COMPOSE YOUR OWN SUBSCRIPTION PACKAGE!
Choose this plus two more concerts to customize your own subscription. It's the ultimate flexibility with all the subscriber benefits, including free exchanges when plans change! Click or call the NWS Box Office at 305.673.3331 to create your own series today.
Program
Henry Purcell
(1659-1695)
Approx. Duration: 5 minutes

Chacony in G minor, Z. 730 (c. 1678)

Scott Jackson, violin I
Michael Rau, violin II
Stephanie Block, viola
Blake-Anthony Johnson, cello
Thomas Steigerwald, harpsichord
Henry Purcell
(1659-1695)
Approx. Duration: 3 minutes

Fantasia upon One Note, Z. 745 (c. 1680)

Scott Jackson, violin I
Michael Rau, violin II
Stephanie Block, viola I
Spencer Ingersoll, viola II
Blake-Anthony Johnson, cello
Thomas Steigerwald, harpsichord
Ludwig van Beethoven
(1770-1827)
Approx. Duration: 40 minutes

Trio in B-flat major for Piano and Strings, Op. 97, "Archduke" (1811)

Allegro moderato
Scherzo: Allegro
Andante cantabile ma però con moto
Allegro moderato
John Wilson, piano
Dillon Welch, violin
Nicholas Mariscal, cello
Peter Maxwell Davies
(1934-2016)
Approx. Duration: 30 minutes

Eight Songs for a Mad King (1969)

The Sentry (King Prussia's Minuet)
The Country Walk (La Promenade)
The Lady-In-Waiting (Miss Musgrave's Fancy)
To Be Sung On The Water (The Waterman)
The Phantom Queen (He's Ay A-Kissing Me)
The Counterfeit (Le Conterfaite)
Country Dance (Scotch Bonnett)
The Review (A Spanish March)
Kelvin Thomas, baritone
Kayla Burggraf, flute/piccolo
Jesse McCandless, clarinet
Charlie Rosmarin, percussion
Thomas Steigerwald, piano/harpsichord
Margeaux Maloney, violin
Alexa Ciciretti, cello
Victoria Olsen, costumer
Henry Purcell
Chacony in G minor, Z. 730 (c. 1678)

Approximate duration: 5 minutes
The English composer Henry Purcell began his first professional post on his 18th birthday in 1677, when he succeeded the late Matthew Locke as court composer for the royal ensemble known as the Twenty-Four Violins. He probably wrote the Chacony in G minor for this group about a year later.
In a Chacony—or Chaconne, to use the more common French term—a short bass line or chord progression remains constant through a series of continuous variations. Purcell went on to use this technique to great effect in a number of works, including "Dido's Lament" from the opera Dido and Aeneas. The Chacony in G minor attains notable freedom within the highly structured form, moving the eight-measure ground bass into different registers and surrounding it with alternative harmonies.
Henry Purcell
Fantasia upon One Note, Z. 745 (c. 1680)

Approximate duration: 3 minutes
Fantasias for a viol consort, an ensemble that had been a fixture of the King's Private Musick since the mid-16th century. Like the violin and its siblings, viols are bowed string instruments in a range of sizes, from the treble viol to the bass violone. Unlike violins, viols have frets tied around the fingerboard, flat instead of arched backs, and are always played upright, like a cello. Purcell was one of the last composers to write for the disappearing viols, and these Fantasias may have functioned as exercises for the 20-year-old, modeled after an earlier compositional style. This performance transfers Purcell's parts to the equivalent instruments in the modern violin family.
The basic structure of a Fantasia or "Fancy" was to introduce a melody and then elaborate upon it using imitative counterpoint and other clever devices. The hook of the Fantasia upon One Note, as made plain by the title, is that a middle voice drones on the note C throughout, holding steady through chromatic alterations, key changes and tempo adjustments
Ludwig van Beethoven
Trio in B-flat major for Piano and Strings, Op. 97, "Archduke" (1811)

Approximate duration: 40 minutes
Beethoven completed the massive Piano Trio in B-flat major in 1811, during a period of ill health and in the wake of a failed marriage proposal. When he participated in the Trio's debut in Vienna in 1814, his public regard was at an all-time high, buoyed by a revival of his opera Fidelio and the glowing reception of Wellington's Victory and the Seventh Symphony. At the same time, Beethoven's advancing deafness finally forced him to accept the inevitable: After presenting the Trio, he never performed the piano in public again.
Beethoven dedicated the Piano Trio to Archduke Rudolf von Habsburg-Lothringen, the youngest brother of the Austrian Emperor. Rudolf was one of three patrons who signed on in 1809 to guarantee Beethoven a solid income for life as long as he remained in Vienna. The Archduke was also more to Beethoven than just a reliable source of income; starting with Rudolph's piano and composition lessons as a teenager, the two developed a warm, lifelong friendship.
The "Archduke" Trio places its first theme in the piano part, with the instruction to play quietly and sweetly (piano dolce). Dating from a period in which Beethoven wrote some of his most concise, single-minded music—like the Fifth Symphony with its terse "fate" motive or the ultra-concentrated "Serioso" String Quartet—the "Archduke" Trio is uncommonly expansive and melodic. Phrases stretch out gracefully in the ample opening movement, and even the more adventurous harmonic excursions preserve an overall impression of refinement and nobility.
The middle movements reverse the customary order, placing the Scherzo first. In the central trio section and matching coda, chromatic counterpoint contrasts with the peppy humor of the primary material. For the slow movement, the piano again takes the lead with a beautiful and humble opening melody, this one marked "simple," which serves as the basis for a spacious set of variations.
With a loud and unexpected flourish, the finale breaks the spell of the slow movement and plunges into the rondo wrap-up. Again the piano takes the first turn at the main theme, which is once more marked dolce. Perhaps all of those dignified melodies featuring the piano were a sign of Beethoven's regard for the loyal friend and accomplished musician whose title lives on in this Trio's nickname.
Peter Maxwell Davies
Eight Songs for a Mad King (1969)

Approximate duration: 30 minutes
The rich and eclectic musical life of Sir Peter Maxwell Davies ended in 2016, when he died in the Orkney Islands of Scotland, his adopted home since 1971. He was born in a suburb of Manchester, England, and he began his formal studies at Manchester University and the Royal Manchester College of Music, where he met another budding musician born nearby, the composer Harrison Birtwistle. They later reunited in London and co-founded the Pierrot Players in 1967, a chamber ensemble based on the instrumentation of Arnold Schoenberg's seminal theater piece Pierrot lunaire.
Davies composed Eight Songs for a Mad King for this ensemble in 1969, with a vocal part written specifically for the South African actor Roy Hart. The advanced voice techniques that Hart studied in Germany elaborated on the Sprechstimme tradition of Pierrot lunaire, which demands the range and control of a singer but allows for the free-floating fluctuations of spoken language.
Davies' Eight Songs for a Mad King peer into the troubled mind of King George III, who reigned over Great Britain from 1760 to 1820, despite suffering from what historians now suspect was bipolar disorder, including ravaging periods of mania. The text by Randolph Stow incorporates authentic quotations from George III, and its eight sections correspond to the tunes played by a small mechanical organ with which the King tried to teach his caged bullfinches to sing. Stow had a chance to see the actual organ in 1966, and "it left a peculiar and disturbing impression. One imagined the King, in his purple dressing-gown and ermine night-cap, struggling to teach birds to make the music which he could so rarely torture out of his flute and harpsichord. Or trying to sing with them, in that ravaged voice, made almost inhuman by day-long soliloquies."
In this operatic monodrama, the instrumental parts function as more than just accompaniment. The flute, clarinet, violin and cello represent the King's birds (playing from within giant cages), while the percussionist is the King's "keeper," as Davies explained in a program note: "Just as the music of the players is always a comment upon and an extension of the King's music, so the 'bullfinch' and 'keeper' aspects of the players' roles are physical extensions of the musical process—they are projections stemming from the King's words and music, becoming incarnations of facets of the King's own psyche."
In "The Lady-In-Waiting," the flute has "a dialogue with the King, replying to his phrases with mimicking, parodying versions of them, freely." Davies organized this page of the score as a literal cage, with the singer's lines forming the vertical bars that entrap the flute. "Until quite recently 'madness' was regarded as something at which to laugh and jeer," Davies wrote, and this section with its childish bird calls and chirps of "talk, talk, talk" explore a dark, uneasy humor.
Quotations and parodies of music from the past contribute to this work's disquieting setting, making the signals of madness all the more jarring. "In some ways," Davies explained, "I regard the work as a collection of musical objects borrowed from many sources, functioning as musical 'stage props,' around which the reciter's part weaves, lighting them from extraordinary angles, and throwing grotesque and distorted shadows from them, giving the musical 'objects' an unexpected and sometimes sinister significance."
As Davies noted, "The climax of the work is the end of the "Country Dance," where the King snatches the violin through the bars of the cage and breaks it. This is not just the killing of a bullfinch—it is a giving-in to insanity, and a ritual murder by the King of a part of himself, after which, at the beginning of "The Review," he can announce his own death."

-- Copyright © 2019 Aaron Grad
Aaron Grad is a composer, guitarist and writer based in Seattle. Besides providing program notes for the New World Symphony, he has been the Orpheus Chamber Orchestra's program annotator since 2005 and also contributes notes to the Saint Paul Chamber Orchestra and Seattle Symphony.
Kelvin Thomas, baritone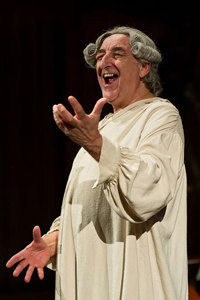 Welsh-born Kelvin Thomas has been associated with the works of Peter Maxwell Davies over many years. He has performed internationally and with many different companies and was privileged to record Eight Songs for a Mad King in collaboration with the composer in 2015.
Mr. Thomas has been a constant advocate and performer of British contemporary music, performing as a young singer in the stage premier of Welsh composer Alun Hoddinott`s opera The Magician and the BBC TV production of Mr. Hoddinott`s The Rajah's Diamond. Mr. Thomas also worked with his fellow Welshman, composer Mervyn Burtch, on performances of several of the composer`s children`s operas and as a student he was a member of the Britten-Pears School of Music, where he worked with Peter Pears and John Shirley-Quirk. He has a particular association with the Welsh National Opera and Music Theatre Wales. With Music Theatre Wales he has performed Mr. Maxwell Davies' operas The Lighthouse and The Martyrdom of St. Magnus, and also Eight Songs for a Mad King. He has performed in a BBC TV production of The Lighthouse and recorded The Martyrdom of St. Magnus with the Scottish Chamber Orchestra.
Mr. Thomas has worked extensively with the Manchester-based Psappha New Music Ensemble in performances of Eight Songs for a Mad King, as well as in Mr. Maxwell Davies' Missa super l'homme arme and Hans Werner Henze's El Cimarrón. He has also performed Eight Songs for a Mad King with the London Sinfonietta, Endymion Ensemble, Munich Chamber Orchestra, Kokoro Ensemble, Potsdam Camerata,
Holland Chamber Orchestra and Yellow Barn in Vermont and Dallas. With the French company Opus Opera and the Belgian group Musik Theater Transparant, he has performed The Lighthouse throughout Europe. He has sung at the Barossa Festival in Australia, Jerusalem Festival and throughout the United Kingdom in major music festivals including Cheltenham, Oxford, London, Orkney, Huddersfield and Edinburgh.
Alongside a busy solo performing career, including in concert and recital, Mr. Thomas was a Vocal Studies Tutor in Cardiff University for many years and also has a strong interest in encouraging and developing amateur music-making. Currently he is working with several groups performing in a variety of styles. Recently he has directed performances of Jephte by Carissimi, Handel's Messiah and Brahms' Requiem, and has developed a series of jazz-inspired concerts using a mix of amateur singers and professional instrumentalists. Future plans include performances of Dido and Aeneas by Purcell with period players and singers.
Musicians of the New World Symphony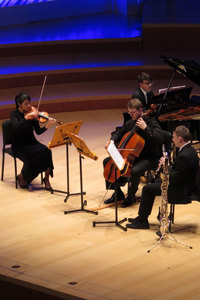 A laboratory for the way music is taught, presented and experienced, the New World Symphony consists of 87 young musicians who are granted fellowships lasting up to three years. The fellowship program offers in-depth exposure to traditional and modern repertoire, professional development training and personalized experiences working with leading guest conductors, soloists and visiting faculty. 
NWS Fellows take advantage of the innovative performance facilities and state-of-the art practice and ensemble rooms of the Frank Gehry-designed New World Center, the campus of the New World Symphony and home of the Knight New Media Center.
In the hopes of joining NWS, nearly 1,000 recent music school and conservatory graduates compete for available fellowships each year. The Fellows are selected for this highly competitive, prestigious opportunity based on their musical achievement and promise, as well as their passion for the future of classical music.