Events & Tickets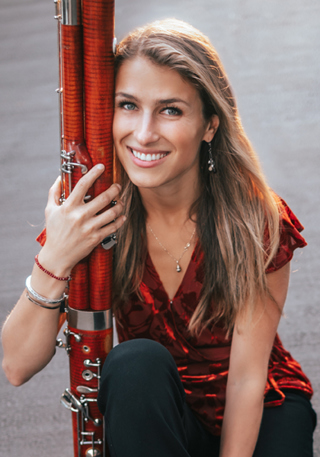 Free
Solo Spotlight: Natural Element
New World Center, Truist Pavilion
Monday, December 13, 2021 at 7:00 PM
Program
First-year Bassoon Fellow Eleni Katz presents a multimedia recital that takes the audience on a three-part journey through the natural elements: Water, Earth and Wind. The recital demonstrates the intertwinement of multiple art forms: double reed playing, voice, poetry and projection design. It will feature in performance Eleni and the Marea Duo, a chamber ensemble that seeks to explore the sounds, colors, textures, boundaries and capabilities of the bassoon, oboe and the human voice. Founded at the Yale School of Music during the summer of 2020 by Amelia Merriman (oboe) and Eleni Katz, the Marea Duo focuses on creating interactive performances, engaging audiences, expanding the boundaries of classical music, inspiring the next generation of double reed players and demonstrating the vocal approach to playing your instrument. The recital highlights living artists and will have three composers present for the recital.
Presented in the intimate Truist Pavilion (formerly SunTrust), Solo Spotlights feature one or two Fellows in recital programs they design.
Performances part of the Solo Spotlight series are NWS BLUE projects. Fellow-driven projects are sponsored in part by the Maxine and Stuart Frankel Foundation and NWS's Fund for New Ventures.
Tickets no longer available online.
FOR YOUR SAFETY 
As of September 18, 2021, these are the guidelines that all guests at New World Symphony concerts must follow. These guidelines will apply to all members of your party before they are allowed to enter the New World Center and to any users of the tickets purchased by you.  Click here for additional information.
COVID REQUIREMENTS: 
We request that all guests are fully vaccinated against COVID-19 (at least two weeks after final dose) and provide proof of vaccination; i.e. original vaccination card, copy of vaccination card, or picture of vaccination card. Name on vaccination card must match name on ID. 

In lieu of proof of vaccination, we require proof of a negative COVID-19 diagnostic test result within 72-hours (including for unvaccinated children under 12 years of age). Name on test result must match name on ID. Results from self-test kits and test-at-home kits will not be accepted.

All guests may undergo a temperature screening upon entry into the building. 

Masks are required inside New World Center at all times, regardless of vaccination status. 
DAY OF EVENT 
Please arrive early for check-in process. 

Please bring your ID and proof of vaccination or negative test result. As noted above, the full name on your ID must match the name on your vaccination card or COVID test result. 

Please remember to bring a mask. 
By attending our events, you voluntarily accept responsibility for all risks related to exposure to COVID-19.
Program
Sea Glass Partita for Singing Bassoon
Whole
Crescent Moon
Translucent Electric Blue
Dawn on the Edges
Again
Eleni Katz, bassoon and voice
Colored Stones for Solo Bassoon
Smoky Quartz
Lapis Lazuli
Tigers Eye
Elegy for Innocence for Bassoon and Piano
Eleni Katz, bassoon
Thomas Steigerwald, piano
Flux / Jusant for Oboe and Bassoon
The Weight of Wind for Oboe, Bassoon and Piano
George Gershwin
(1898-1937)
Arranged by Am're Ford

"Summertime" from Porgy and Bess
Marea Duo
Amelia Merriman, oboe and voice
Eleni Katz, bassoon
Projections for this performance designed by Clyde Scott and Michael Matamoros. 
Eleni Katz, bassoon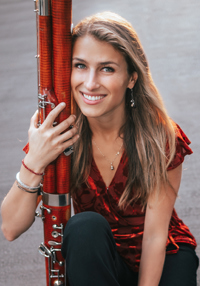 An Iowa native, Eleni Katz has always loved the art of performance and is a passionate orchestral player, chamber musician and soloist. She is excited to join the New World Symphony as a first-year Bassoon Fellow this year.
Ms. Katz is an Associate Member with the Civic Orchestra of Chicago and substitute musician for several orchestras in the Midwest. She is currently on the Center for Musical Excellence's Young Artist Roster and has performed in several chamber music ensembles throughout the Mid-Atlantic region. For the past two summers she has attended Music Academy of the West and the Lake George Music festivals. Other festival appearances include: Orchestra of the Americas, National Repertory Orchestra, Chautauqua Institution, Brevard Music Center, IMANI Winds, Madeline Island and Norfolk chamber music festivals.
In 2020 Ms. Katz became the Co-Artistic Director of the Marea Duo, a vocal and double reed chamber ensemble, with her oboe colleague Amelia Merriman at the Yale School of Music. Created during the COVID-19 pandemic, the Marea Duo is inspired by the belief that the future of classical music depends on deep collaboration with other musicians and artists outside of one's comfort zone as much as possible. During their time as graduate students at the Yale School of Music, Ms. Katz and Ms. Merriman worked as teaching artists through the Yale Music in Schools Initiative. Ms. Katz is dedicated to the power of mentorship through music.
Ms. Katz received her bachelor of music degree from the University of Wisconsin-Madison, where she was mentored by Marc Vallon. While an undergraduate at Wisconsin, she was a winner of the UW-Madison Symphony Concerto Competition.  Ms. Katz subsequently continued her musical studies under the tutelage of Frank Morelli at the Yale School of Music, where she received her master of music and master of musical arts degrees. While at Yale, she was a winner in the Woolsey Hall Concerto Competition at the Yale School of Music,  where she played the Weber Bassoon Concerto in F major Op. 75 under the baton of Peter Oundjian. She was also a semifinalist in the Meg Quigley Vivaldi competition in 2019, an international concerto competition for young women bassoon players.
When Ms. Katz is not playing the bassoon or making reeds, she enjoys practicing yoga, cooking with friends and looking for sea glass on the beach.
Thomas Steigerwald, piano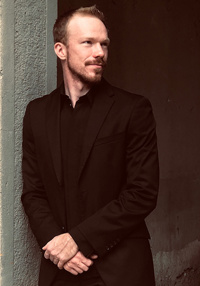 Prize-winning pianist and native Texan Thomas Steigerwald is a third-year Piano Fellow at the New World Symphony. A medal winner in the Wideman, New York, Dallas Chamber Symphony and San Jose International piano competitions, he holds a master's degree from The Juilliard School, where he studied with Matti Raekallio, and a bachelor's degree from Eastman School of Music under the tutelage of Douglas Humpherys.
A 2013 Music Teacher's National Association Young Artist prize winner, Mr. Steigerwald has pursued a multifaceted career of solo performance, chamber music and orchestral piano. He made his orchestral debut at age 18, performing Prokofiev's Piano Concerto No. 3 with the San Antonio Symphony. He performed Rachmaninoff's Piano Concerto No. 3 with the National Repertory Orchestra in Breckenridge, Colorado during its 2019 summer festival. In 2019 he collaborated with violist Brett Deubner for 20 concerts in their second tour of China. Mr. Steigerwald premiered Cosme McMoon's newly discovered piano concerto Rondo espagnol in 2018, giving performances with the Youth Orchestra of San Antonio at the Tobin Center and New World Symphony.
Representing the Eastman School of Music, Mr. Steigerwald performed Balakirev's Islamey at the Kennedy Center's Millennium Stage in Washington, D.C. in 2014. He performed Martin's Piano Quintet in the Round Top Festival's 2016 Chamber Honors Recital. In 2015 he performed Franck's Piano Quintet in the Eastman School's Chamber Honors Recital. He has also performed chamber works with Ransom Wilson, Maxim Kozlov, the Delphi Trio, Christiano Rodrigues, Anton Rist and Gretchen Pusch. Conductors with whom he has performed include Michael Tilson Thomas, Gustavo Dudamel, Brad Lubman, Emmanuel Villaume, Perry So, Thomas Adès and Gerard Schwarz.
Marea Duo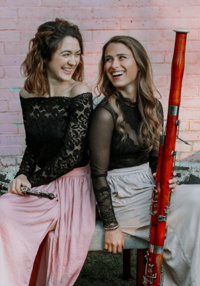 Seeking to combine two art forms, the Marea Duo (Amelia Merriman, Eleni Katz) is a chamber ensemble comprised of oboe, bassoon and voices. The Marea Duo will perform as fellows in the 2021 Phoenix Chamber Music Festival alongside musicians David Shifrin (clarinet), Valerie Coleman (flute) and Gabriel Kovach (horn).  
During their time as graduate students at the Yale School of Music, Amelia and Eleni worked as teaching artists through the Yale Music in Schools Initiative. They also worked as members of the staff choir at New Haven's Center Church on the Green. Amelia and Eleni are dedicated orchestral and chamber musicians, and they have been coached by Stephen Taylor, Frank Morelli and the Akropolis Reed Quintet among several others. The duo's cumulative festival appearances include Music Academy of the West, National Repertory Orchestra, Aspen Music Festival, Orchestra of the Americas, Norfolk Chamber Music Festival, Lake George Music Festival, Roundtop Music Festival, Chautauqua Summer Institute, Miami Summer Music Festival and Brevard Music Center.