Events & Tickets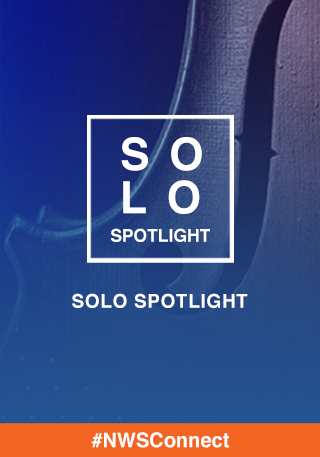 Free
SOLO SPOTLIGHT: CELLO AS OUR VOICE
New World Center, SunTrust Pavilion
Monday, January 13 at 7:00 PM
WAYS TO WATCH:
Cello Fellow Chava Appiah, whose favorite works are those whose melodies she can sing, shares special works for cello that mimic the human voice. 
For my recital, I drew inspiration from music that evokes the human voice. The idea grew from my recent experiences playing in a rehabilitation center, cancer institute and independent living facility. I prepared some cello standards, but also invited the audience--or in some cases, the individual patient--to request anything they desired. They often asked for songs not by naming the title, but singing a short passage in familiarity: The Beatles, Ode to Joy, the U.S. National Anthem, Fiddler on the Roof. I'll perform Falla songs originally for voice and a Grieg sonata that utilizes the wonder of melody in so many ways. In contrast, the Mendelssohn and Rachmaninoff songs are simpler for the listener, yet just as complex emotionally.
Solo Spotlight: Cello as Our Voice is an NWS BLUE project. Fellow-driven projects are sponsored in part by the Maxine and Stuart Frankel Foundation.
Tickets no longer available online.
Program
Felix Mendelssohn                         "Song Without Words" (1829-45)
(1809-1847)
Manuel de Falla                               Siete Canciones populares Españolas (1914-15)
(1876-1946)                                           El paño moruno
                                                               Seguidilla murciana
                                                               Asturiana
                                                               Jota
                                                               Nana
                                                               Canción
                                                               Polo
Sergei Rachmaninoff                      "Vocalise" (1912)
(1873-1943)
Edward Grieg                                    Sonata in A minor for Cello and Piano, Op. 36 (1882-83)
(1843-1907)                                           Allegro agitato
                                                               Andante molto tranquillo
                                                               Allegro molto e marcato
Chava Appiah, cello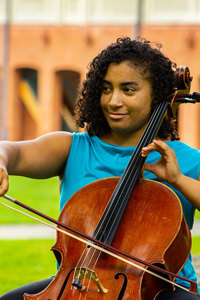 Chava Appiah is a second-year Cello Fellow at the New World Symphony. Her performance experience spans from Tokyo's Suntory Hall and Carnegie Hall, to more intimate settings such as Emmanuel Church of Boston and The Cleveland Institute of Art. She has collaborated with notable artists such as Yo-Yo Ma, Jaime Laredo, Emanuel Ax, Alisa Weilerstein, Geoff Nuttall and Chris Thile, as well as conductors Valery Gergiev, Herbert Blomstedt, Andris Nelsons and Leonard Slatkin, among many others. Prior to joining NWS she led a varied freelance career in Boston. 
Passionate about orchestral and chamber music, Ms. Appiah has played with the New York String Orchestra Seminar, Madeline Island Chamber Music, Spoleto Festival U.S.A. and most recently the Tanglewood Music Center. She was Principal Cellist with the Pacific Music Festival and Youth Orchestra of the Americas, as well as the Oberlin Orchestra and New England Conservatory Philharmonia. While at Spoleto, she performed the U.S. premieres of Vivaldi's Farnace and Lachenmann's Little Match Girl. 
A strong advocate for making the arts more accessible to a wider audience, Ms. Appiah has engaged with various communities through organizations such as the Institute of Contemporary Art/Boston, the Community Performances and Partnerships Program of New England Conservatory, Boston Philharmonic, Palaver Strings and her all-cello ensemble, Cellos Unleashed! She strives to challenge the common classical music venue and keep the live music experience available to all. 
Ms. Appiah studied at the New England Conservatory with Natasha Brofsky and at Oberlin College and Conservatory with Catharina Meints, earning degrees in both cello performance and neuroscience. 
In her free time, Ms. Appiah enjoys yoga, travel and exploring nature. She is an enthusiastic animal lover.
Thomas Steigerwald, piano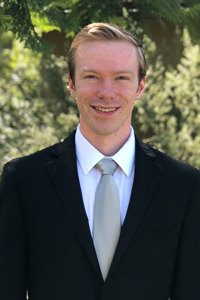 Prize-winning pianist and native Texan Thomas Steigerwald is a second-year Piano Fellow at the New World Symphony, and a medal winner in the Wideman, New York, Dallas Chamber Symphony and San Jose international piano competitions. A 2013 Music Teacher's National Association Young Artist national prizewinner, Mr. Steigerwald has pursued a multifaceted career of solo performance, chamber music and orchestral and accompanimental piano. He made his orchestral debut at age 18, performing Prokofiev's Piano Concerto No. 3 with the San Antonio Symphony. As a semi-finalist in the 2013 Citta di Cantu competition, he performed Rachmaninoff's Piano Concerto No. 3 with the Mihail Jora Philharmonic. The Eastman School of Music selected him as representative on the Kennedy Center's Millennium Stage in Washington D.C., where he performed Balakirev's Islamey in 2014. 
An avid chamber musician, Mr. Steigerwald performed Martin's Piano Quintet in the Round Top Festival's 2016 Chamber Honors Recital. In 2015 he performed Franck's Piano Quintet at the George Eastman House and in the Eastman School's Chamber Honors Recital. As violist Brett Deubner's collaborator, Mr. Steigerwald performed 18 concerts in a 2017 tour of China and will perform in Australia in 2019. He has also performed with other artists including Ransom Wilson, Maxim Kozlov, the Delphi Trio, Christiano Rodrigues, Anton Rist and Gretchen Pusch. 
Mr. Steigerwald has attended the Aspen Music Festival, Music Academy of the West, Round Top Festival Institute, Dakota Sky International Piano Festival and Schlern International Music Festival. The conductors with whom he has performed include Gustavo Dudamel, Brad Lubman, Emmanuel Villaume, Perry So, Thomas Adès and Gerard Schwarz. Mr. Steigerwald graduated with his bachelor's degree in piano performance from Dr. Douglas Humpherys' studio at the Eastman School of Music in 2015. In 2018 he graduated from Professor Matti Raekallio's studio at The Juilliard School with his master's degree.