Events & Tickets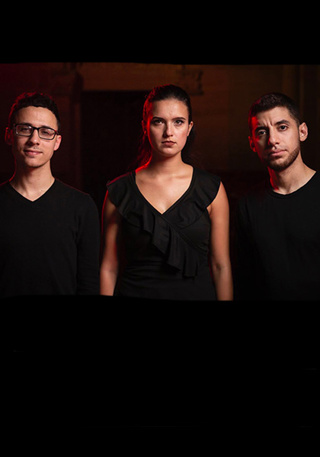 Free
SOLO SPOTLIGHT: NEW MUSIC FOR PERCUSSION TRIO
New World Center, SunTrust Pavilion
Monday, March 16 at 7:00 PM
Pathos Trio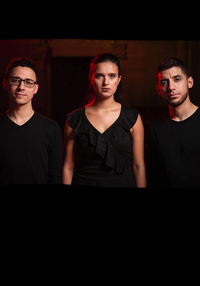 Marcelina Suchocka
Born in Bialystok, Poland, Marcelina Suchocka is a second-year Percussion Fellow at the New World Symphony. She has performed as an extra/substitute percussionist with the Chicago Symphony, Kansas City Symphony, Utah Symphony and Hudson Valley Philharmonic. She was also an Associate Percussionist with the Civic Orchestra of Chicago.
Most recently Ms. Suchocka has spent summers as a fellow at the Tanglewood Music Center in Lenox, Massachusetts and the Pacific Music Festival in Sapporo, Japan. She was also a fellow at the Music Academy of the West, National Repertory Orchestra and Spoleto Festival. She has been the recipient of many awards including first prize in the Chicago Symphony Orchestra's Young Artist Concerto Competition, Jack Kent Cooke Young Artist Award and Polish National Alliance's Young Artist Award.
Ms. Suchocka has performed as soloist with the Chicago Symphony and at Carnegie Hall as a winner of the NPR's YouTube Big Break competition. She is one of the founding members of Excelsis, an all-female percussion quartet based in New York City and is a founding member of Pathos Trio, a NYC based group whose focus is to play new commissioned works of mixed styles and genres of music. She has also performed as percussionist with the Mark Morris Dance Group as a fellow at Tanglewood, where she collaborated with the great dancer and choreographer, Mark Morris.
Ms. Suchocka graduated from Manhattan School of Music, where she completed both her Bachelor's and Master's degrees under Christopher Lamb, Duncan Patton, She e Wu, Kyle Zerna, Patsy Dash and Douglas Waddell.
Alan Hankers
A native to the world of contemporary music, Alan Hankers is a composer and pianist living in Stony Brook, New York. He was the 2017/18 Composer-in-Residence with the Danish new music ensemble, Ensemble Edge, and has been the recipient of grants and residencies from the Mid Atlantic Arts Foundation, Virginia Center for the Arts, and the Avaloch Farm Music Institute. His works have been performed throughout the United States, Europe, and Asia by ensembles such as the Texas State Symphony Orchestra, South Carolina Philharmonic Repertory Orchestra, Unheard-of//Ensemble, Sputter Box, Driftwood Trio, University of Southern Mississippi's Saxophone Orchestra, Balkan Brass Quintet, Calidore String Quartet, and many others. In addition to concert music, Alan has been an active film & television composer in New York, where he freelances as a composer and assistant at various post-production studios.
As an active pianist, he frequently performs as a soloist and collaborator, and is one of the founding members of Pathos Trio. Beyond the concert hall, he has toured nationally with prominent progressive rock/metal artists. Alan's performance has been described as "atmospheric" and "striking" by Outburn Magazine. He has also been featured in editions of Metal Hammer (UK) and Prog Magazine. In 2019, he started the progressive metal band, JIA, along with Jacob Umansky (Intervals), and Ivan Chopik (Painted in Exile). The group is set to release their first album and begin touring in 2020.
He is currently pursuing his PhD at Stony Brook University, where he studies composition with Nirmali Fenn, Margaret Schedel, Sheila Silver, Perry Goldstein, and Matthew Barnson.
Felix Reyes
Born in Brentwood, New York, Felix Reyes is Managing Director of Pathos Trio and is a freelance percussionist living in Brooklyn, NY. He has performed all over the United States and abroad, including various countries such as El Salvador, Germany, Poland, Spain, Japan, and most recently became Artistic Director of international percussion group Symmetrio.
Graduated with his Master's in Percussion Performance from Bowling Green State University, Felix studied percussion under Dr. Daniel Piccolo and marimba specialist Dr. Isabelle Huang. Furthering his emphasis on marimba performance, Felix also received a Diploma in Marimba Performance at the Toho Gakuen School of Music in Sengawa, Japan, where he studied with marimba legend/virtuoso Keiko Abe.  
      Since then Felix has performed all across NYC in venues such as Roulette Intermedium, National Sawdust, Kaufman Music Center, and most recently made his solo Lincoln Center debut in May 2018 with Swiss percussion soloist Fabian Ziegler. Over the course of his career Felix has worked and collaborated with countless acclaimed international artists/composers including all members of Sō Percussion, Ney Rosauro, Michael Colgrass, Dai Fujikura, Jennifer Hidgon, Kaoru Watanabe, Christos Hatzis and Katarzyna Mycka.
His current activities outside of Pathos Trio include being Studio Manager for Sandbox Percussion, preparing for upcoming performances in Spain in April 2020 with marimbist's Magdalena Myrczik (POL) and David Almagro Garcia (SPA), and preparing for summer 2020 performances in Columbia with percussionist Miguel Antonio Garcia Moreno (COL). Felix is a proud endorser of Marimba One instruments, Sabian Cymbals, and Vic Firth sticks.