Events & Tickets
Free
Solo Spotlight: Love Stories
New World Center, Truist Pavilion
WATCH LIVE ON MAR. 20:

Full of comfort and warmth, this program featuring Violin Fellow Ka-Yeon Lee and Bass alumnus Antonio Escobedo aims to activate the healing power of music through a lovingly selected list of works that have ignited passionate fires of musical inspiration within the Fellows performing on stage. Presented in the intimate Truist Pavilion, Solo Spotlights feature one or two Fellows in recital programs they design.
Ticketholders will enjoy both a pre- and post-recital reception in the New World Center Atrium. 
Performances part of the Solo Spotlight series are NWS BLUE projects. Fellow-driven projects are sponsored in part by the Maxine and Stuart Frankel Foundation and NWS's Fund for New Ventures.
Tickets no longer available online.
Program
Salut D'Amour, Op. 12 (1888)

Ka-Yeon Lee
Noah Sonderling, piano
Jules Massenet
(1842-1912)

Méditation from Thaïs (1893)

Ka-Yeon Lee
Noah Sonderling, piano
Ludwig van Beethoven
(1770-1827)

Romance No. 2 in F major, Op. 50 (1798)

Ka-Yeon
Noah Sonderling, piano
Astor Piazzolla
(1921-1992)

Five Tangos for Violin and Bass
J'attends
La Misma Pena
Saint Louis en L'Ile
Guardia Nueva
Adios Nonino
Ka-Yeon Lee
Antonio Escobedo
Jong-kook Kim
(b. 1976)
Arranged by Antonio Escobedo

사랑이에요 ("It's Love") (2006)

Ka-Yeon Lee
Antonio Escobedo
Noah Sonderling, piano
Ka-Yeon Lee, violin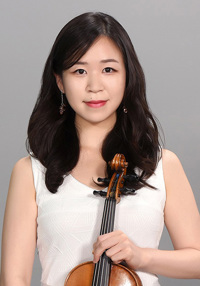 Violinist Ka-Yeon Lee is a third-year Fellow at the New World Symphony. Passionate about bringing healing through music, she has performed globally in prestigious venues, including Carnegie Hall, David Geffen Hall, Kumho Art Hall, Walt Disney Concert Hall, Adrienne Arsht Center's Knight Concert Hall, as well as museums, nursing homes, schools, shelters and hospitals.
As a soloist, Ms. Lee has performed in many countries worldwide, including Austria, China, England, Germany, Russia, South Korea and the United States. At age nine, she was invited by the King of Thailand to perform concerts in Thailand with the Sang Lock orchestra and performed Mozart's Violin Concerto No. 5. At age 11, she was the youngest winner of the Aspen Music Festival Violin Competition and performed Stravinsky's Violin Concerto with the Aspen Music Festival's American Academy of Conducting Orchestra. She is also the special prizewinner of the Henri Marteau International Violin Competition. Her other solo engagements include performing on Kumho Asiana Cultural Foundation's Kumho Prodigy Concert Series in South Korea and NPR's From the Top. Recently, she was one of the soloists with the New World Symphony, playing Vivaldi under the direction of Jeannette Sorrell.
Ms. Lee has performed at music festivals, including the Verbier Festival, Colorado Music Festival, Music Academy of the West, Aspen Music Festival and the New York String Orchestra Seminar. As a dedicated chamber musician, she has collaborated with renowned artists such as Richie Hawley and Orion Weiss.
Devoted to furthering music education for the younger generation, Ms. Lee was the youngest to become a Teaching Fellow at The Juilliard School, teaching music theory classes for first-year undergraduate music performance majors during her last year of undergraduate studies there. She was also an Instructor for the Violin for a non-majors course offered at Rice University. She enjoys serving in the communities as well and was recently a Teaching Artist at the Miami Music Project.
Ms. Lee was accepted to Juilliard as a full-scholarship student as a recipient of C.V.Starr and Stephen E. Somers scholarships and completed her bachelor of music degree under the tutelage of Glenn Dicterow and Lisa Kim. She holds her master of music degree from Rice University, where she studied with Kathleen Winkler as a full-scholarship student and recipient of the Dorothy Richard Starling Foundation scholarship and The Anne and Charles Duncan Concertmaster Chair scholarship. Before joining the New World Symphony, she pursued her artist diploma at The Colburn School with Martin Beaver. Her other primary teachers include Kyung-Sun Lee, Cho-Liang Lin and Kurt Sassmanshaus.
Antonio Escobedo, bass
Double bassist Antonio Escobedo is a New World Symphony alumnus and an active musician around Miami. A native of Seattle, he has held section positions with the Bergen Philharmonic Orchestra in Norway and Madison Symphony in Wisconsin. He is also a substitute musician with The Cleveland Orchestra, Seattle Symphony and Utah Symphony.
Mr. Escobedo received his master of music degree at Northwestern University's Bienen School of Music, studying under Andrew Raciti. While completing his studies, he performed with several orchestras in the greater Chicago area, including the Elgin Symphony and Park Ridge Civic Orchestra. He began playing with the Madison Symphony during his second year at Northwestern.
While completing his undergraduate work at the Cleveland Institute of Music, Mr. Escobedo studied with Maximilian Dimoff and worked closely with Cleveland Orchestra members Scott Dixon and Derek Zadinsky. He has performed with the Firelands Symphony in Ohio and was a member of the FiveOne Experimental Orchestra, a contemporary music ensemble based in Cleveland.
During the summers, Mr. Escobedo's musical endeavors led him to the grand outdoors and vibrant cities. He has enjoyed performing at the Aspen Music Festival, Charleston's Spoleto Festival U.S.A., Pacific Music Festival in Sapporo, Chautauqua Music Festival in New York State and the Pacific Northwest's Marrowstone Music Festival.
Supporting music education is a core belief for Mr. Escobedo, having enjoyed teaching privately in his hometown and online formats and leading group classes for eager musicians. At Cleveland Institute, he led Preparatory Program sessions for young bassists and has taught master classes by invitation at Brigham Young University.
When away from the concert hall, Mr. Escobedo enjoys indulging in puzzles and creative endeavors as well as exploring cooking of all kinds, especially Korean cuisine
Noah Sonderling, piano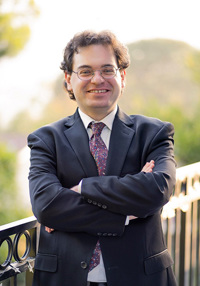 Noah Sonderling is a first-year Piano Fellow at the New World Symphony. In demand as a chamber musician, he has collaborated with artists including Norman Krieger, Anton Nel, Eric Kim, Brandon Vamos and members of the Los Angeles Philharmonic. He has also appeared as a substitute keyboardist with the New World Symphony, Owensboro Symphony and American Youth Symphony.
A champion of both classic and modern music, Mr. Sonderling was a member of the Indiana University New Music Ensemble from 2015 to 2020 and appeared twice as a concerto soloist with the ensemble.  He has worked extensively with both student composers and recognized modern masters such as Krzysztof Penderecki, Augusta Read Thomas, Andrew Norman, Dai Fujikura and Georg Friedrich Haas.
Mr. Sonderling's recent awards include second prize in the 2022 Sidney Wright Piano Accompanying Competition at the University of Texas and first prize in Indiana University's Ligeti Concerto Competition in 2018. He also received awards in the 2015 Brevard Music Center Piano Competition and 2013 Edith Knox Concerto Competition in Torrance, California. In 2019, 2021 and 2022, Mr. Sonderling received the Orchestral Keyboard Fellowship from the Aspen Music Festival. He has also participated in the Brevard Music Festival, Orford Musique Académie and Montecito International Music Festival, and in 2018 was one of three pianists chosen to be young artists in residence at the Manchester Music Festival.
Concurrently with his work at NWS, Mr. Sonderling is completing a doctorate in piano performance at the University of Texas at Austin with Anton Nel. He previously earned bachelor's and master's degrees from Indiana University, where his primary teachers were Menahem Pressler and Norman Krieger. Other mentors have included Asaf Zohar, Christopher Harding and Junko Ueno Garrett. He also studied harpsichord and fortepiano with Elisabeth Wright.