Events & Tickets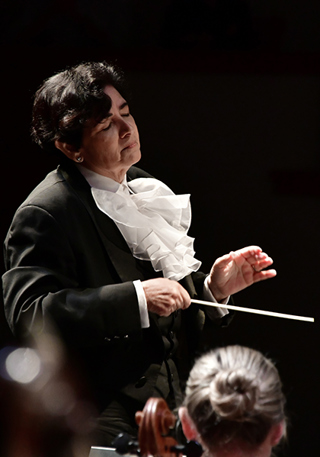 Guest Presenter
South Florida Symphony Orchestra: Shostakovich, Gottsch World Premiere & Great Opera Arias
New World Center, Michael Tilson Thomas Performance Hall
Tuesday, January 24, 2023 at 7:30 PM
South Florida Symphony Orchestra's 25th Anniversary Season continues with Shostakovich's neo-classical Ninth Symphony, a Florida-inspired World Premiere by Composer-in-Residence John Gottsch; along with great opera arias from Verdi, Puccini and more.
Tickets from just $25 are on sale now.
SUBSCRIBE AND SAVE on South Florida Symphony's 3-concert Masterworks Series at New World Center. Call the Box Office at 305.673.3331 (Monday through Friday, 10:00 AM to 5:00 PM ET)

Gottsch | Ocklawaha – World Premiere
Shostakovich | Symphony No. 9 in E-flat major, Op. 70
Great Opera Arias from Verdi, Puccini and more
Featuring vocalists:
Catalina Cuervo, soprano
Adam Diegel, tenor
Tickets no longer available online.
Sebrina Maria Alfonso, Music Director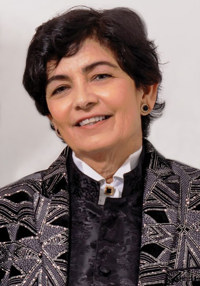 Sebrina María Alfonso, founder and Music Director of South Florida Symphony Orchestra (SFSO), made her New York debut conducting the American Symphony Orchestra at the finals of the Stokowski International Competition in Avery Fisher Hall at Lincoln Center. She studied with Frederic Prausnitz at Johns Hopkins' Peabody Conservatory and with Harold Farberman and Daniel Lewis at the Conducting Institute. Maestra Alfonso has established herself as a dynamic musical force, having performed with such world-class ensembles as the Los Angeles Philharmonic, San Jose Symphony, American Symphony Orchestra, Prague Radio Symphony, Orchestra Rus de Sienna, the Women's Philharmonic of San Francisco and the Sphinx Organization. She became the first female conductor of Cuban-American descent invited to lead Cuba's premier orchestra, the National Orchestra of Cuba, on numerous occasions.
After impressive career successes with prominent organizations including Baltimore's Goucher Symphony and the John Carrol Opera Company, in 1997 she returned to her roots in Key West, Florida – to bring orchestral music, with its associated educational and cultural benefits, to the southernmost island in the continental United States. SFSO is recognized as a "Major Cultural Institution," and is the largest symphony in the region.
"Producing works of the highest caliber that have an impact on the community has been my passion since the Symphony was conceived in Key West 25 years ago," said Alfonso, "and it's been extremely rewarding to watch us thrive."
With her national reputation continuing to expand, Maestra Alfonso has been featured on WLRN, CBS radio news, CNN, the Associated Press, MS Magazine (New York), Deco Drive, and Miami News (ABC) and Reuters. She received the Unity Coalition Award in honor of her positive contributions to the LGBTQ community and was named one of the top 100 LGBTQ Movers and Shakers in Florida by Agenda Magazine.
In 2015, SFSO joined a consortium of top Symphonies to commission American composer, Michael Daugherty, to create Tales of Hemingway. The piece itself also won GRAMMY Awards for composer Michael Daugherty (best contemporary classical composition category & best classical compendium). Zuill Bailey, cello, performing Daugherty's Tales of Hemingway, also received a GRAMMY Award.
South Florida Symphony broke new ground with a commissioned work by the first female composer to win the Pulitzer Prize for Music, Ellen Zwilich; her Concerto for Cello and Orchestra made its world premiere in March 2020.
Maestra Alfonso's collaborations shatter expectations: her modern dance commission of the renowned Martha Graham Dance Company brought to life Legend of Bird Mountain by renowned composer, Tom Hormel. Her passionate streak ran wild with Manuel de Falla's Amor Brujo, accompanied by sweeping theatrics of Siudy Garrido and her Siudy Flamenco Dance Theater, and most recently with the success of the groundbreaking production of Gershwin's great American opera Porgy and Bess. In 2020, SFSO recorded works by Key West-based Composer-in- Residence John Gottsch:  his Princess Yurievskaya and Sunset, dedicated to Maestra Alfonso. Both were distributed by the world's leading classical music label, Naxos Records, in June 2021. In recognition of the impact of early exposure to classical music on her own life, she began the Symphony in the Schools program in 1997, which has served more than 100,000 under-resourced students to date.
A strong commitment to diversity is apparent in all aspects of her career. She intentionally features female composers, promotes diversity among the members of the orchestra, as well as within the structure of SFSO, and among the students served. She is married to SFSO CEO, Jacqueline Lorber; is devoted to animals and gardening; and has reignited her interest in making craft beer in her spare time.
Maestra Alfonso is committed to presenting the finest of symphonic performances and enriching the cultural experience of South Florida. Her absolute love of music and unwavering passion to grow, expand and discover, continues to elevate Alfonso and South Florida Symphony toward ever greater achievements of excellence.
John Gottsch, Composer-In-Residence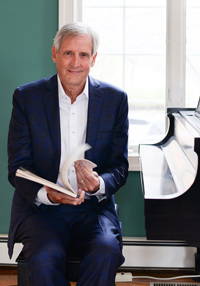 Described as "cinematic," "surging," and "lush," John D. Gottsch's musical language has been compared to "John Williams, Erich Wolfgang Korngold and the orchestral showpieces of Ottorino Respighi" (The Classical Review).
Gottsch, Composer-in-Residence for the South Florida Symphony Orchestra – and composer of a work premiering this evening, Ocklawaha -- was born in New Orleans, Louisiana and shortly afterwards his family moved to Florida. He spent his youth in the lake country of Florida on the watch for alligators while swimming and always looking down in woods and swamps to avoid rattlesnakes and water moccasins. He traveled many of the rivers of the state which would begin in the back country and eventually empty into the Gulf or the Atlantic. These explorations of Florida gave him an enduring love for the beauty and wildlife of the state.
Mr. Gottsch now splits his time between Baltimore and Key West. He has been a lifelong composer and a number of his compositions reflect his deep appreciation of the outdoors. His piano suite, Homosassa was premiered in Palm Beach (2020). His piano quintet, Maryland Hunt, was premiered at the Embassy of the Kingdom of the Netherlands in Washington, D.C (2018) and has been performed in Philadelphia, Vienna, Rotterdam, and Baltimore. The work is dedicated to his daughter, Clare Brooks Gottsch. His Paris Trio (flute, viola, and double bass) premiered at the Institut Pasteur, Paris (2019) and was performed in Boston on May 15, 2020.
In January of 2022, South Florida Symphony premiered Gottsch's original orchestral poem, Princess Yurievskaya, and in March of 2020, SFSO premiered Sunset (dedicated to Maestra Sebrina Alfonso for her devotion to music and her love for the island where she was born and raised, Key West). Both works were featured on Gottsch's 2020 debut album released by Naxos Records, the world's leading classical music label. SFSO also performed Gottsch's Bagatelles for Violin & Piano as part of its Summer With the Symphony Series in June 2021.
Catalina Cuervo, vocalist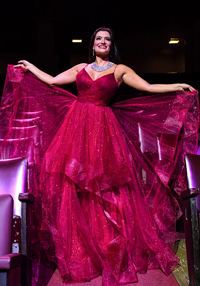 Soprano Catalina Cuervo's 2022-23 season includes her role debut as Elisetta in Cimarosa's Il matrimonio segreto with Florida Grand Opera, Micaëla in Carmen in her return to Anchorage Opera, a debut with Fort Worth Opera to star in two concerts which she has curated: Noches de Latinidad: El fuego de una mujer and Noches de Zarzuela, her celebrated Maria in Piazzolla's Maria de Buenos Aires with Opera San Antonio, a debut with Opera Naples for her much-acclaimed Frida (Robert X. Rodridguez), a concert with New World Symphony, and an opera gala with the South Florida Symphony.
Ms. Cuervo holds the outstanding distinction of having performed the most productions by any singer in history of both Astor Piazzolla's opera Maria de Buenos Aires and Frida by Robert X. Rodriguez. Consequently, she is regarded as one of the leading voices of Latin American repertoire in the world. She has performed her highly celebrated interpretation of the title role in Maria de Buenos Aires over 80 times for numerous companies, including New York City Opera, Florida Grand Opera, Arizona Opera, The Atlanta Opera and Cincinnati Opera, to name a few. As the leading performer in Frida, Ms. Cuervo recently starred in the revival in 2015 with Detroit Opera. Productions throughout the United States have seen sold-out shows and triumphant reviews, with many naming Frida the best opera of the season. Other operatic roles include Nedda in I Pagliacci, Magda in La rondine, Mimì and Musetta in La bohème, Micaëla in Carmen, Elisetta in Il matrimonio segreto, Adriana in the Zarzuela Los Gavilanes and Amapola in La Leyenda del Beso.
On the concert platform, Ms. Cuervo recently debuted at Theatro Municipal de São Paulo in Brazil with the Orchestra Sinfônica Municipal, singing Manuel de Falla's El Amor Brujo and El sombrero de tres picos. She has also performed with the Detroit Symphony, New Mexico Philharmonic, Atlanta Symphony, San Louis Symphony and Filarmonica de Medellín, among others.  
-----
La temporada 2022-23 de la soprano Catalina Cuervo incluye su debut como Elisetta en Il matrimonio segreto de Cimarosa con Florida Grand Opera, Micaëla en Carmen en su regreso a Anchorage Opera, un debut con Fort Worth Opera para actuar en dos conciertos que ella misma ha curado: Noches de latinidad: El fuego de una mujer y Noches de Zarzuela, su celebrada María en María de Buenos Aires de Piazolla con Opera San Antonio,  un debut con Opera Naples de su muy aclamada Frida (Robert X. Rodríguez), un concierto con la New World Symphony, y una gala de ópera con la South Florida Symphony.
Cuervo posee la destacada distinción de haber realizado la mayor cantidad de producciones de cualquier cantante en la historia de las óperas María de Buenos Aires de Astor Piazzolla y Frida de Robert X. Rodríguez. En consecuencia, es considerada como una de las principales voces del repertorio latinoamericano en el mundo. Se ha presentado con su muy celebrada interpretación del rol titular en María de Buenos Aires más de 80 veces con numerosas compañías, incluyendo la New York City Opera, Florida Grand Opera, Arizona Opera, Atlanta Opera y Cincinnati Opera, por nombrar algunas. Como la intérprete más destacada en el rol de Frida, Cuervo protagonizó la producción de la Detroit Opera en 2015. Las producciones en todo Estados Unidos han visto presentaciones vendidas en su totalidad y críticas triunfantes, muchas nombrando a Frida como la mejor ópera de la temporada. Otros roles operáticos incluyen Nedda en I Pagliacci, Magda en La Rondine, Mimì en La bohème, Micaëla en Carmen, Elisetta en Il Matrimonio segreto, Adriana en la zarzuela Los Gavilanes y Amapola en La leyenda del beso.
En el género de concierto, Cuervo recientemente debutó en el Teatro Municipal de São Paulo en Brasil con la Orquesta Sinfónica Municipal, cantando El amor brujo y El sombrero de tres picos de Manuel de Falla. También se ha presentado con la Sinfónica de Detroit,  la Filarmónica de Nuevo México, la Sinfónica de Atlanta, la Sinfónica de San Luis y la Filarmónica de Medellín, entre otras.
Adam Diegel, tenor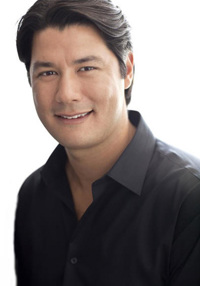 Korean American tenor Adam Diegel regularly earns international acclaim for his impassioned dramatic sensibilities, powerful voice, and for his classic leading man looks. From a performance as Cavaradossi in Tosca at Glimmerglass Opera, Opera News raved: "The opera became a showdown between Adam Diegel's impulsive, shaggily handsome Cavaradossi and Lester Lynch's fearsome, animalistic Scarpia… (Diegel's) spacious, Italianate tenor…delivered a stirring 'Recondita armonia' and built 'E lucevan le stelle' masterfully from hushed intimacy to an unfettered cri de coeur."
This season Mr. Diegel will make his Boston Lyric Opera debut as Turiddu in Cavalleria Rusticana and will debut with Opera Columbus singing Cavaradossi in Tosca, as well as a gala concert with Knoxville Opera.
The 2020-2021 Adam Diegel returned to the Pensacola Opera for Don Jose in Carmen as well as making his role and company debut singing Manrico in Il Trovatore with Opera Tampa, as well as joining New York City Opera in their Bryant Park concert series and debuting with Victoria Hall Opera in their concert series.
For the 2019-2020 season Mr. Diegel returned to the Metropolitan Opera as Froh in Das Rheingold. He made a role debut singing Narraboth in Salome with the Atlanta Opera, the Tenor soloist in Mahler's Lied von der Erde with Park Ridge Civic Orchestra, debuted with Nashville Opera singing Pinkerton in Madame Butterfly and returned to the Lithuanian National Opera for Madame Butterfly.
In the 2017-18 season, Diegel reprised his critically acclaimed role as Cavardossi in Tosca with Palm Beach Opera and returns to The Metropolitan Opera in Norma and Madama Butterfly. Additionally, Diegel performed two of his signature roles throughout the world as Pinkerton in Madama Butterfly at Opera Hong Kong and Palm Beach Opera and Don José in Carmen at San Francisco Opera, PORTopera, and Opera San Antonio. Additionally, Diegel sang the title role in Verdi's Don Carlo with Lithuanian National Opera, Ruggerio in La Rondine with Opera Santa Barbara, Ismaele in Nabucco with The Metropolitan Opera, and the tenor solo in Verdi's Requiem with Alabama Symphony Orchestra and Spokane Symphony.
Mr. Diegel made his Metropolitan Opera debut as Froh in Robert Lepage's landmark production of Das Rheingold conducted by Maestro James Levine, and later reprised the performance under Fabio Luisi. Further appearances at The Met include Pinkerton in Madama Butterfly under Plácido Domingo and Ismaele in Nabucco under Paolo Carignani. He will return to the famed house in 2019.
Other notable recent U.S. engagements include: Pinkerton in Madama Butterfly at Atlanta Opera, Fort Worth Opera, Arizona Opera, Opera San Antonio, and Kentucky Opera; Ismaele in Nabucco at Opera Philadelphia; Cavaradossi in Tosca at Vancouver Opera, Glimmerglass Opera, Seattle Opera, and Arizona Opera; Don José in Carmen at Glimmerglass Opera, Opera Theatre of St. Louis, Florida Grand Opera, Arizona Opera, and Madison Opera; and Rodolfo in La bohème at Opera Omaha and Minnesota Opera.
Also in demand overseas, Diegel collects accolades from critics in Europe, Asia, and Australia. Of his performance in Carmen at English National Opera, The Guardian wrote: "The American Adam Diegel as José, tall and sturdy, looked the part of Carmen's latest love victim and conveyed perfectly the pent-up anger of a feckless man who – we know from the original Merimée novel, but not the libretto – has already committed a murder…Diegel rose to the challenges of Acts III and IV."
Other international appearances have included: Don José in Carmen in a new production at Opera Australia's Handa Opera on Sydney Harbour; Pinkerton in Madama Butterfly with Lithuanian National Opera, The Savonlinna Opera Festival, and on tour in China at the Guangzhous Opera House in Anthony Minghella's acclaimed production; Maurizio in Adriana Lecouvreur at The National Theatre in Budapest, where he later performed Cavaradossi in Tosca; and David Alden's new production of Luisa Miller for Opéra National de Lyon.