Events & Tickets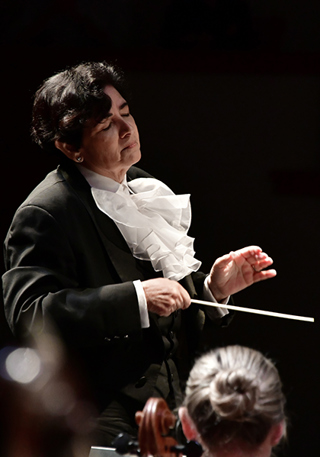 Guest Presenter
South Florida Symphony Orchestra: Shostakovich, Gottsch World Premiere & Great Opera Arias
New World Center, Michael Tilson Thomas Performance Hall
Tuesday, January 24, 2023 at 7:30 PM
South Florida Symphony Orchestra's 25th Anniversary Season continues with Shostakovich's neo-classical Ninth Symphony, a Florida-inspired World Premiere by Composer-in-Residence John Gottsch; along with great opera arias from Verdi, Puccini and more.
Tickets from just $25 are on sale now.
SUBSCRIBE AND SAVE on South Florida Symphony's 3-concert Masterworks Series at New World Center. Call the Box Office at 305.673.3331 (Monday through Friday, 10:00 AM to 5:00 PM ET)

Gottsch | Ocklawaha – World Premiere
Shostakovich | Symphony No. 9 in E-flat major, Op. 70
Great Opera Arias from Verdi, Puccini and more
Featuring vocalists:
Catalina Cuervo, soprano
Gerardo Ortega, tenor
Loading Concert Information
Sebrina Maria Alfonso, Music Director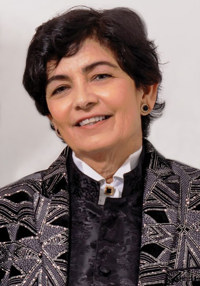 Sebrina María Alfonso, founder and Music Director of South Florida Symphony Orchestra (SFSO), made her New York debut conducting the American Symphony Orchestra at the finals of the Stokowski International Competition in Avery Fisher Hall at Lincoln Center. She studied with Frederic Prausnitz at Johns Hopkins' Peabody Conservatory and with Harold Farberman and Daniel Lewis at the Conducting Institute. Maestra Alfonso has established herself as a dynamic musical force, having performed with such world-class ensembles as the Los Angeles Philharmonic, San Jose Symphony, American Symphony Orchestra, Prague Radio Symphony, Orchestra Rus de Sienna, the Women's Philharmonic of San Francisco and the Sphinx Organization. She became the first female conductor of Cuban-American descent invited to lead Cuba's premier orchestra, the National Orchestra of Cuba, on numerous occasions.
After impressive career successes with prominent organizations including Baltimore's Goucher Symphony and the John Carrol Opera Company, in 1997 she returned to her roots in Key West, Florida – to bring orchestral music, with its associated educational and cultural benefits, to the southernmost island in the continental United States. SFSO is recognized as a "Major Cultural Institution," and is the largest symphony in the region.
"Producing works of the highest caliber that have an impact on the community has been my passion since the Symphony was conceived in Key West 25 years ago," said Alfonso, "and it's been extremely rewarding to watch us thrive."
With her national reputation continuing to expand, Maestra Alfonso has been featured on WLRN, CBS radio news, CNN, the Associated Press, MS Magazine (New York), Deco Drive, and Miami News (ABC) and Reuters. She received the Unity Coalition Award in honor of her positive contributions to the LGBTQ community and was named one of the top 100 LGBTQ Movers and Shakers in Florida by Agenda Magazine.
In 2015, SFSO joined a consortium of top Symphonies to commission American composer, Michael Daugherty, to create Tales of Hemingway. The piece itself also won GRAMMY Awards for composer Michael Daugherty (best contemporary classical composition category & best classical compendium). Zuill Bailey, cello, performing Daugherty's Tales of Hemingway, also received a GRAMMY Award.
South Florida Symphony broke new ground with a commissioned work by the first female composer to win the Pulitzer Prize for Music, Ellen Zwilich; her Concerto for Cello and Orchestra made its world premiere in March 2020.
Maestra Alfonso's collaborations shatter expectations: her modern dance commission of the renowned Martha Graham Dance Company brought to life Legend of Bird Mountain by renowned composer, Tom Hormel. Her passionate streak ran wild with Manuel de Falla's Amor Brujo, accompanied by sweeping theatrics of Siudy Garrido and her Siudy Flamenco Dance Theater, and most recently with the success of the groundbreaking production of Gershwin's great American opera Porgy and Bess. In 2020, SFSO recorded works by Key West-based Composer-in- Residence John Gottsch:  his Princess Yurievskaya and Sunset, dedicated to Maestra Alfonso. Both were distributed by the world's leading classical music label, Naxos Records, in June 2021. In recognition of the impact of early exposure to classical music on her own life, she began the Symphony in the Schools program in 1997, which has served more than 100,000 under-resourced students to date.
A strong commitment to diversity is apparent in all aspects of her career. She intentionally features female composers, promotes diversity among the members of the orchestra, as well as within the structure of SFSO, and among the students served. She is married to SFSO CEO, Jacqueline Lorber; is devoted to animals and gardening; and has reignited her interest in making craft beer in her spare time.
Maestra Alfonso is committed to presenting the finest of symphonic performances and enriching the cultural experience of South Florida. Her absolute love of music and unwavering passion to grow, expand and discover, continues to elevate Alfonso and South Florida Symphony toward ever greater achievements of excellence.
Catalina Cuervo, soprano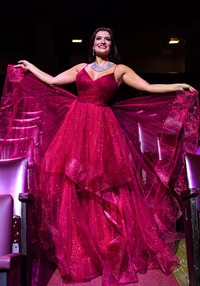 Colombian-American singer Catalina Cuervo, known internationally as the "Fiery Soprano", was named one of the "Five Most Outstanding Colombian Sopranos in the World" by the Ministry of Culture of Colombia and was nominated for the prestigious Debora Arango Medal of Female Merit in her home city. 
Ms. Cuervo represented the United States and Colombia as a finalist in the renowned international German competition Neue Stimmen, ranking among the top ten singers in the world. She also won the Chicago Division in the Classical Singer Magazine competition and was a finalist in New York for the same.
She holds the distinction of having performed the most productions by any singer of both Astor Piazzolla's opera Maria de Buenos Aires and Frida by Robert X. Rodriguez in history. Consequently, she is considered one of the leading voices of Latin American Repertoire in the world. 
Ms. Cuervo has performed the role of Maria over Eighty times for numerous companies including New York City Opera, Florida Grand Opera, Arizona Opera, The Atlanta Opera and Cincinnati Opera, and many more. Recently, she brought her celebrated portrayal of this role to Theatro Municipal de São Paulo in Brazil, where it won Best Performance of 2021.
She has also been the leading performer of the title role in Frida nationwide after starring in the revival in 2015 with Michigan Opera Theater. Productions throughout the United States have seen sold-out shows and triumphant reviews, many naming Frida best opera of the season.
Other operatic roles include Fiordiligi in Così Fan Tutte, Nedda in I Pagliacci, Magda in La Rondine, Mimi and Musetta in La bohème, Micaela in Carmen, Adriana in the Zarzuela Los Gavilanes and Amapola in La Leyenda del Beso. 
On the concert platform, Ms. Cuervo recently debuted at Theatro Municipal de São Paulo with the Orchestra Municipal de São Paulo, Brazil; singing Manuel de Falla's El Amor Brujo and The Three Cornered Hat. She has also performed with the Detroit Symphony Orchestra, New Mexico Philharmonic, The Atlanta Symphony, San Louis Symphony and Filarmonica de Medellin, among others.
Ms. Cuervo graduated with a Masters in Music and Opera from Roosevelt University in Chicago. In addition to singing opera, she is also one of the leading voices of Symphonic Rock/Metal Music in Colombia. 
Gerardo Ortega, tenor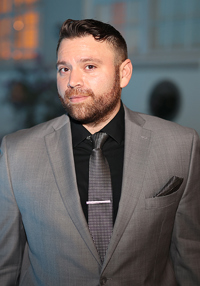 Gerardo Ortega received his Bachelor's in Vocal Performance from the University of Florida at New World School of the Arts. He is the Artistic Administrator of the Downtowner Concert Series and Director of Music at the First United Methodist Church of Miami. His most recent stage credits include performing "a fervent Lysander with a ringing tenor," (South Florida Classical Review), in Britten's A Midsummer Night's Dream with the Miami Music Festival, Danilo in Léhar's The Merry Widow with the Barry Opera Theatre, and "a charming and compelling Nemorino" (El Nuevo Herald) in Donizetti's L'Elisir d'Amore with the New World Opera Theatre. Mr. Ortega's most recent concert appearances include competing as a National Finalist in the New York Lyric Opera Competition Concert at Carnegie Hall, the Tenor Soloist in Ramírez's Misa Criolla with the Civic Chorale of Greater Miami, Rossini's Stabat Mater with Barry Chamber Group, Claussen's A New Creation with the Maryville Orchestra, and Handel's Messiah with the New Presbyterian Concert Series. In 2022/23, Mr. Ortega is looking forward to performing the title role in Monteverdi's L'Orfeo with the Miami Beach Classical Music Festival, and is interpreting the lead role Manolo in the world premiere of the musical Always Remember by Marilyn Morales- the musical about the Cuban-American experience.