Events & Tickets
Orchestra Concert
Spanish Dances
New World Center
Friday, December 9, 2022 at 7:30 PM
Saturday, December 10, 2022 at 7:30 PM
Program
This concert is part of the Friday Evening and Saturday Evening Two series. With either of these series, you'll enjoy phenomenal artists like Randall Goosby, Jeannette Sorrell, Carlos Miguel Prieto and orchestral master works like Elgar's Enigma Variations, Tchaikovsky's Violin Concerto, two works by Gabriela Ortiz and selections from Handel's Water Music. Subscriptions for the Friday Series (3 concerts) begin at $90 ($30/concert). Subscriptions to the Saturday Evening Two Series (4 concerts) begin at $132 ($33/concert). Click to explore the full subscriptions! 
COMPOSE YOUR OWN SUBSCRIPTION PACKAGE! 
Want to try a little of everything? Customize your own subscription of three or more concerts to exercise full creative freedom while enjoying all the flexibility and perks of being a New World Symphony subscriber. CYO series cannot be purchased online. Call the Box Office at 305.673.331 to compose your series today. 
SUBSCRIBERS ENJOY THE BEST OF NWS! 
As an NWS Subscriber, you receive amazing benefits to enjoy throughout the season, including the best seats for the lowest prices and access to our incredibly talented Fellows. Click here to learn more! 
Tickets on Sale 9/2/2022
Program
Primous Fountain
(b. 1949)
Approx. Duration: 5 minutes

Ritual Dances of the Amak (1973)

Carlos Chávez
(1899-1978)
Approx. Duration: 12 minutes

Symphony No. 2, "Sinfonía india" (1935-36)

Gabriela Ortiz
(b. 1964)
Approx. Duration: 12 minutes

Téenek - Invenciones de Territorio for Orchestra (2017)

Manuel de Falla
(1876-1946)
Approx. Duration: 38 minutes

The Three-Cornered Hat (1921)

Introduction 
Part I: 
   Afternoon 
   Dance of the Miller's Wife (Fandango) 
   The Grapes 
Part II: 
   The Neighbor's Dance (Seguidillas) 
   The Miller's Dance (Farruca) 
   The Corregidor's Dance 
   Final Dance (Jota)
José Pablo Moncayo
(1912-1958)
Approx. Duration: 8 minutes

Huapango for Orchestra (1941)

Carlos Miguel Prieto, conductor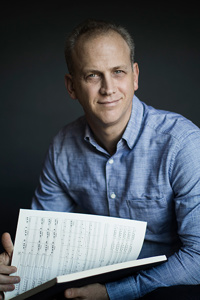 Carlos Miguel Prieto was born into a musical family of Spanish and French descent in Mexico City. His charismatic conducting is characterized by its dynamism and the expressivity of his interpretations. He is recognized as a highly influential cultural leader and is the foremost Mexican conductor of his generation. He has been the Music Director of the Orquesta Sinfónica Nacional de México, the country's most important orchestra, since 2007. Mr. Prieto has also been Music Director of the Louisiana Philharmonic since 2006, where he has led the cultural renewal of New Orleans following Hurricane Katrina. In 2008 he was appointed Music Director of the Orquesta Sinfónica de Minería, a hand-picked orchestra which performs a two-month long series of summer programs in Mexico City.
Mr. Prieto's recent highlights include debuts with the London Philharmonic, Minnesota Orchestra, National Symphony, Orquesta Sinfónica de Castilla y León, BBC National Orchestra of Wales and Los Angeles New Music Group, and his returns to the NDR Elbphilharmonie, Frankfurt Radio Symphony, Hallé, Royal Liverpool Philharmonic, Bournemouth Symphony, Strasbourg Philharmonic and Auckland Philharmonia. Mr. Prieto is in great demand as a guest conductor with many of the top North American orchestras, including those of Cleveland, Dallas, Toronto and Houston, and has enjoyed a particularly close and successful relationship with the Chicago Symphony.
Since 2002, alongside Gustavo Dudamel, Mr. Prieto has conducted the Youth Orchestra of the Americas, which draws young musicians from the entire American continent. A staunch proponent of music education, Mr. Prieto served as Principal Conductor of the YOA from its inception until 2011 when he was appointed Music Director. In early 2010 he conducted the YOA alongside Valery Gergiev on the occasion of the 40th anniversary of the World Economic Forum at Carnegie Hall. In 2018 he conducted the orchestra on a tour of European summer festivals, which included performances at the Rheingau and Edinburgh festivals, as well as Hamburg's Elbphilharmonie. He has also worked regularly with the National Youth Orchestra of Great Britain and the NYO2 in New York and Miami Beach.
Mr. Prieto is renowned for championing Latin American music, as well as his dedication to new music. He has conducted over 100 world premieres of works by Mexican and American composers, many of which were commissioned by him.
Mr. Prieto has an extensive discography that covers labels including Naxos and Sony. Recent Naxos recordings include Rachmaninov Piano Concerto No. 2 & Études tableaux, Op. 33, with Boris Giltburg and the RSNO, which won a 2018 Opus Klassik award and was listed as a 2017 Gramophone's Critics' Choice, and a recording of Korngold's Violin Concerto with violinist Philippe Quint and the Orquesta Sinfónica de Minería, which received two Grammy nominations. His recording of the Elgar and Finzi violin concertos with Ning Feng was released on Channel Classics in 2018.
A graduate of Princeton and Harvard universities, Mr. Prieto studied conducting with Jorge Mester, Enrique Diemecke, Charles Bruck and Michael Jinbo.
Chad Goodman, conductor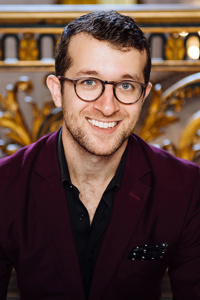 With a flair for inventive programming and a bold presence on stage and in the community, Chad Goodman has been praised for "bringing innovation to classical music" (Forbes).
As the Conducting Fellow of the New World Symphony, Mr. Goodman conducts on subscription, education, family and holiday programs. His program, "SPARK: How Composers Find Inspiration," blended captivating light design and videography with engaging audience participation to explore how a composition is created and brought to life by an orchestra.
Since 2018 Mr. Goodman has served as an Assistant Conductor to the San Francisco Symphony, assisting Esa-Pekka Salonen, Manfred Honeck, Daniel Harding, Pablo Heras-Casado, Simone Young and James Gaffigan among others.
As Founder and Artistic Director of Elevate Ensemble, Mr. Goodman's ambitious vision for concert programming resulted in the pairing of music from Bay Area composers with underappreciated gems of the 20th and 21st centuries. Under his leadership, Elevate Ensemble established a Composer-in-Residence program and commissioned fifteen works from Bay Area composers. Elevate collaborated with photographers, videographers, poets and culinary artists, bringing new music and vibrant multi-genre experiences to unique venues such as yoga studios, historic Victorian homes and art studio warehouses.
Mr. Goodman has previously served as Conducting Fellow of Festival Napa Valley, Music Director of the Contra Costa Chamber Orchestra, Conducting Fellow of the Atlantic Music Festival, and a rehearsal and cover conductor for the San Francisco Ballet.
In addition to his performing career, he teaches young musicians the business and entrepreneurial skills needed to successfully navigate the world as a working musician in his workshop "You Earned a Music Degree. Now What?"
Mr. Goodman holds a bachelor of music degree from the Eastman School of Music and a master of music degree from San Francisco State University. His mentors include Michael Tilson Thomas, Alasdair Neale, Cyrus Ginwala and Martin Seggelke.