Events & Tickets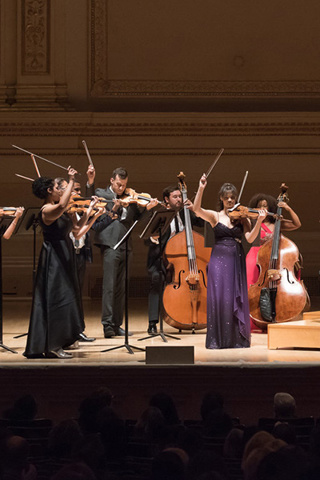 Free
Sphinx Virtuosi: Tracing Visions
New World Center
Tuesday, March 22, 2022 at 7:30 PM
Program
Sponsored by:

Tracing Visions sets out to challenge and evolve our "classical" canon by illuminating a new pathway for listening, sharing, and artistic expression. As we trace visions of the past, we summon Ginastera's epic work for strings. We revel in the sounds of gospel and Cuban dance music. We seek to tell a more complete story of America through the voice of Xavier Foley and his vision of the Black National Anthem. Jessie Montgomery's Banner unleashes the vibrancy of the many voices comprising the fabric of our country. Andrea Casarrubios honors the heroes of today who fought to save lives during the pandemic. These are the sounds of our rich history, our conflict and our celebration. These are the visions of America.
The national Sphinx Virtuosi Tour is made possible with the generous support of JPMorgan Chase & Co and Robert F. Smith, with additional support from the National Endowment for the Arts. Sphinx Virtuosi represented by MKI Artists. 
Tickets no longer available online.
Program
Florence Price
(1887-1953)
Arranged for Sphinx Virtuosi

Quartet No. 2 in A minor for Strings
Samuel Coleridge-Taylor
(1875-1912)

I. Allegro moderato
III. Andante con moto
Jessie Montgomery
(b. 1981)

Andrea Casarrubios
(b. 1988)

Ricardo Herz
(b. 1978)
Arranged for Sphinx Virtuosi

Ricardo Herz
(b. 1978)
Arranged for Sphinx Virtuosi

Alberto Ginastera
(1916-1983)

Xavier Foley
Ev'ry Voice
This work is an homage and pays tribute to the Black national anthem. "Lift Every Voice and Sing" was first written as a poem by James Weldon Johnson, an American writer and civil rights activist who also led the NAACP.  Its first performance was in celebration of President Lincoln's birthday, on February 12, 1900 in Jacksonville, Florida, performed by a group of schoolchildren. The poem was set to music by Johnson's brother, John Rosamond Johnson, and as a complete work, adopted by the NAACP as its official anthem. We often say that music is the soundtrack of our history and our lives. Today, we know "Lift Every Voice and Sing" as the soundtrack of the African American Civil Rights Movement. 
Xavier Foley, a brilliant bassist and composer, winner of the Avery Fisher Career Grant and a Sphinx Competition Laureate, created two separate versions of a work Ev'ry Voice, commissioned by the Sphinx Organization. One of the versions is set for the Sphinx Virtuosi, while the second incorporates Sphinx's professional vocal ensemble, Exigence. This piece was created in 2020 as a special feature under Sphinx's program umbrella of "Land of the Free," which illuminates the wealth of musical talent among American composers. This work has become a beloved standalone. The inspiration for the commission came at a time when the ideals of unity were invoked amidst uncertainty, tragedy and hope. In his music, Foley brings out the sonority and virtuosity of the string instruments to feature the familiar melodic material, while uncovering new timbres and sounds, almost symbolically encouraging all of us to look and listen anew, beyond the isolation of the global pandemic and the racial and cultural divide in our country. Today's soundtrack for the hopeful times ahead are ushered in by Foley's new tribute to a treasured piece of the American historical and musical heritage.
Florence Price
Quartet No. 2 in A minor for Strings
The A-minor String Quartet is Florence Price's second work of its kind, which was preceded by her G-major Quartet in 1929.  In terms of the style, this work embraces a more mature harmonic and melodic profile. Importantly, it offers insight into the soulful musical materials paying homage to the composer's heritage. The gentle, lyrical and song-like quality of the second movement is both refreshing and comforting in character. The full work also invokes the juba, a style of dance with roots in Africa, while the last movement offers an almost improvisatory breadth of the composer's fluent writing.
Samuel Coleridge-Taylor
Four Novelletten
Samuel Coleridge-Taylor's Novelletten for Strings is a set of short movements written in an elegant style of the Romantic era. Also a gifted violinist, the composer here showcases the solo violin in a virtuosic light, in addition to using the entire ensemble to its fullest scale. The work was first dedicated to Miss Ethel Barns, a composer and violin virtuoso who performed and premiered several of Coleridge-Taylor's works.

Coleridge-Taylor was the son of a white English mother and a Sierra Leonean medical student who met in London. Raised in his grandfather's household by his single mother, he showed his musical talent at a young age. A scholarship student at the Royal Conservatory, Coleridge-Taylor became increasingly interested in his own heritage and the concept of Pan-Africanism, which led him to study the history of Africans in America. He led the London Handel Society in the early 1900s and served as a composition professor at the Guildhall School of Music and Trinity College of Music. This remarkably talented composer met his untimely death at age 37, but his legacy is continuing to inform and inspire music today.
Jessie Montgomery
Banner
Banner is a tribute to the 200th Anniversary of "The Star Spangled Banner," which was officially declared the American national anthem in 1814. Scored for solo string quartet and string orchestra, Banner is a rhapsody on the theme of "The Star Spangled Banner." Drawing on musical and historical sources from various world anthems and patriotic songs, I've made an attempt to answer the question: "What does an anthem for the 21st century sound like in today's multi-cultural environment?"
I was commissioned by the Providence String Quartet and Community MusicWorks to write Anthem in 2009: a tribute to the historical election of Barack Obama. In that piece I wove together the theme from "The Star Spangled Banner" with the commonly named Black national anthem "Lift Every Voice and Sing" by James Weldon Johnson (which coincidentally share the exact same phrase structure).
Banner picks up where Anthem left off by using a similar backbone source in its middle section, but expands further both in the amount of references and also in the role play of the string quartet as the individual voice working both with and against the larger community of the orchestra behind them. The structure is loosely based on traditional marching band form where there are several strains or contrasting sections, preceded by an introduction, and I have drawn on the drum line chorus as a source for the rhythmic underpinning in the finale. Within the same tradition, I have attempted to evoke the breathing of a large brass choir as it approaches the climax of the "trio" section.
A variety of other cultural anthems, American folk songs and popular idioms interact to form various textures in the finale section, contributing to a multi-layered fanfare. "The Star Spangled Banner" is an ideal subject for the exploration of contradictions. For most Americans the song represents a paradigm of liberty and solidarity against fierce odds, and for others it implies a contradiction between the ideals of freedom and the realities of injustice and oppression. As a culture, it is my opinion that Americans are perpetually in search of ways to express and celebrate our ideals of freedom—a way to proclaim, "we've made it!" as if the very action of saying it aloud makes it so. And for many of our nation's people, that was the case: through work songs and spirituals, enslaved Africans promised themselves a way out and built up the nerve to endure the most abominable treatment for the promise of a free life. Immigrants from Europe, Central America and the Pacific have sought out a safe haven here and though met with the trials of building a multi-cultured democracy, continue to find rooting in our nation and make significant contributions to our cultural landscape. In 2014 a tribute to the U.S. national anthem means acknowledging the contradictions, leaps and bounds, and milestones that allow us to celebrate and maintain the tradition of our ideals.
                - Jessie Montgomery
Andrea Casarrubios
SEVEN
SEVEN for solo cello (2020) is a tribute to the essential workers during the COVID-19 pandemic, as well as to those who lost lives and suffered from the crisis. The piece ends with seven bell-like sounds, alluding to New York's daily 7:00 PM tribute during the lockdown—the moment when New Yorkers clapped from their windows, connected with each other and expressed appreciation for those on the front lines.
Ricardo Herz
Mourinho 
Inocente and Mourinho
These two pieces have a northeastern Brazilian atmosphere and were written initially for accompanied violin. Recorded in different versions on several albums by the Brazilian violinist and composer Ricardo Herz, Herz himself adapted this orchestral version especially for this Sphinx Virtuosi tour.
Mourinho is a forró written in 2001. Herz uses several rhythms and comping techniques for the orchestra, based on the percussion instruments and claves of the forró style, using the string instruments as they were the zabumbas, triangles and accordions typical of northeast Brazil. Inocente is a baião-coco, characterized by its first lyrical melody (baião) and a second rhythmic one (coco). In this rendition, the orchestra is fulfilling the role of the singer and the band at once.
Alberto Ginastera
Concerto for Strings
Alberto Ginastera composed his String Quartet No. 2 in 1958. His Concerto for Strings, a string-orchestra adaptation of the Quartet, came seven years later. The piece concludes with the Finale furioso: colorful, rhythmic, almost breathless. This movement showcases folk idioms, changing meters and hidden melodic ideas from preceding movements. Get immersed in the ferocious energy of the unyielding rhythm and brilliance of sound.

Program notes courtesy of The Sphinx Organization.
At the New World Center—home of the New World Symphony (NWS), the health and safety of staff, Fellows, visitors and vendors are of paramount importance. NWS continues to closely monitor the latest developments regarding COVID-19 and is committed to following recommendations from health authorities and to proactively implement measures to help maintain a safe workplace. 
Due to significantly reduced COVID-19 community transmission rates, the New World Symphony has made the following updates to its safety protocols:  
As of March 21, 2022, masks are no longer required at the New World Center. NWS encourages guests to continue to wear masks as an added precaution. Guests are also no longer required to provide a negative COVID-19 test or proof of vaccination for entry to the New World Center.  
These protocols are for all New World Symphony events at the New World Center. Third-party clients may choose to implement other protocols. Please check each event page for more information. By attending events at the New World Center, you voluntarily accept responsibility for all risks related to exposure to COVID-19. 
Sphinx Virtuosi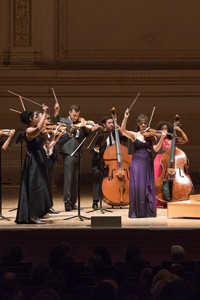 Since its founding in 2004, Sphinx Virtuosi has defined itself as the most diverse professional chamber orchestra in the country. The dynamism in this ensemble's approach to musicmaking offers an experience of unmatched vibrancy for seasoned and new audiences alike. Comprised of 18 of the nation's top Black and Latinx classical soloists, these artists tour annually as cultural ambassadors to communities far and wide.
This unique self-conducted ensemble earned rave reviews from The New York Times, Washington Post, Chicago Sun Times and beyond. Allan Kozinn of The New York Times described their performance as "first-rate in every way… producing a more beautiful, precise and carefully shaped sound than some fully professional orchestras that come through Carnegie Hall in the course of the year." Since its Carnegie Hall debut in 2004, Sphinx Virtuosi have returned to the venue annually from 2006 performing to sold-out halls and earning outstanding reviews.
At once a bridge between communities of color and the classical music establishment, Sphinx Virtuosi continue to garner critical acclaim during their annual national tours to many of the leading venues around the country. Inspired by Sphinx's overarching mission of transforming lives through the power of diversity in the arts, the Sphinx Virtuosi works to advance the social impact of music upon our greater society.  Dedicated to new music, the ensemble has pioneered the discovery of gems by composers of color, with the aim of expanding the canon and amplifying new and important voices.  Collaborations with composers like Michael Abels, Kareem Roustom, Jimmy Lopez, Gabriela Lena Frank, Jessie Montgomery, Daniel Bernard Roumain, Terence Blanchard and Xavier Foley are among many exciting highlights. Masterworks by Dmitri Shostakovich, Béla Bartók, Franz Schubert, Jennifer Higdon, John Adams, J.S. Bach and Wolfgang Amadeus Mozart are often woven into the carefully curated programs, which combine risk, exploration and homage. They have also collaborated with Denyce Graves, Sweet Honey in The Rock, Joshua Bell, Pinchas Zukerman, Chicago Children's Choir, Damien Sneed and others.
As individual artists, Sphinx Virtuosi have performed as soloists with America's major orchestras, including the New York Philharmonic and the symphonies of Cleveland, Detroit, Atlanta, Philadelphia, Seattle and Pittsburgh. Members also hold professional orchestral positions, and several have been named Laureates of other prestigious international competitions, including the Queen Elizabeth and Yehudi Menuhin. Roster members are graduates of the nation's top music schools, including The Juilliard School, the Curtis and Cleveland institutes, Eastman School and beyond. The Sphinx Virtuosi's first recording was released on the White Pine label and features music of Felix Mendelssohn, Jean Sibelius, Gabriela Lena Frank and George Walker. Sphinx Virtuosi are passionate about empowering the next generation of artists and audiences, and as such, enjoy building interactive, bi-lingual (English/Spanish) programs and working with schools in underrepresented communities.
Sphinx Virtuosi Musicians
Violin I
Patricia Quintero Garcia, Concertmaster
* Alex Gonzalez
Clayton D Penrose-Whitmore
Rubén Rengel
Violin II
Meredith Riley, Principal
* Emilia Mettenbrink
Lady Jess
Maïthéna Girault
Viola
Celia Hatton, Principal
Robert Alvarado Switala
Bill Neri
Kayla Cabrera
Cello
Tommy Mesa, Principal
Eri Snowden-Rodriguez
Ismael Guerrero Bombut
Laura Andrade
Bass
Benjamin Harris, Principal
Christopher Johnson


* NWS alumni