Events & Tickets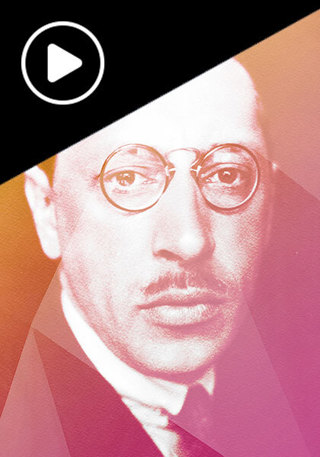 Online Event
Stravinsky in Paris
Online Event
Saturday, March 6, 2021 at 7:30 PM ET
Program
Sponsored by:

MTT honors his mentor Igor Stravinsky in a two-week festival that pairs the composer's hits with his surrounding influences. When living in Paris, Stravinsky was enamored with the jazz and ragtime that was dazzling the City of Lights. Hear Stravinsky's own Ragtime alongside those of the genre's masters Scott Joplin and James Reese Europe, and other Parisian contemporaries.
NWS thanks its 2020-21 donors.
Program
Claude-Joseph Rouget de Lisle
(1760-1836)
Arranged by Igor Stravinsky
Approx. Duration: 1 minutes

La Marseillaise for Solo Violin
Natsuko Takashima, violin
Igor Stravinsky
(1882-1971)
Arranged by Soulima Stravinsky
Approx. Duration: 2 minutes

Wesley Ducote, Thomas Steigerwald, piano
Jacob Gade
(1879-1963)
Approx. Duration: 2 minutes

Jalousie for Violin and Piano
Yefim Romanov, violin
Wesley Ducote, piano
Igor Stravinsky
(1882-1971)
Approx. Duration: 6 minutes

VI. Three Dances: Tango, Waltz, Ragtime
Jesse McCandless, clarinet; Bee Ungar, bassoon
Gianluca Farina, trumpet; Arno Tri Pramudia, trombone
Charlie Rosmarin, percussion
Michael Turkell, violin; Levi Jones, bass
Scott Joplin
(1868-1917)
Arranged by Gunther Schuller
Approx. Duration: 2 minutes

Igor Stravinsky
(1882-1971)
Approx. Duration: 5 minutes

Ragtime for 11 Instruments
James Reese Europe
(1881-1919)
Arranged by Carl F. Williams
Approx. Duration: 3 minutes

Maurice Ravel
(1875-1937)
Approx. Duration: 6 minutes

Sonata No. 2 in G major for Violin and Piano
Michael Rau, violin
Wesley Ducote, piano
Igor Stravinsky
(1882-1971)
Approx. Duration: 3 minutes

Infernal Dance from The Firebird  (1910 ballet version; 2018 archival performance)

Lili Boulanger
(1893-1918)
Approx. Duration: 3 minutes

D'un matin du printemps for Flute and Piano
Johanna Gruskin, flute
Wesley Ducote, piano
Darius Milhaud
(1892-1974)
Approx. Duration: 17 minutes

Stravinsky in Paris
Essay by Aaron Grad
There were so many phases and shifting identities in the life of Igor Stravinsky (1882-1971), and any one chapter might have ensured his immortality in the canon of great composers. Taken together, they form a composite portrait of a man with an incomparable drive to grow and adapt his craft, while always retaining the imprint of his unmistakable personality. These many Stravinskys also offer windows onto the cultures he inhabited, taking in sounds from any and all sources, and leaving a legacy that shaped every composer in his wake.
The Stravinsky we meet first is the one who was caught in limbo between his old and new worlds. A hurried exit from Russia in 1914 turned out to be the last time he set foot in his homeland, and he spent the years during and after World War I exiled in Switzerland. It didn't matter that he had composed the most famous ballet scores in the world just a few years earlier; he was cut off from royalties, war had shut down concert life, and he was barely solvent.
The Swiss Stravinsky was a canny experimenter, constantly testing out new sounds and instruments, trying on musical models from around the world, and doing anything he could to curry favor with patrons and generate income. Details are scant as to why he created a solo violin arrangement of the French national anthem, La Marseillaise, which went unpublished at the time of its creation in 1919, but regardless it shows how Stravinsky engaged (in his own idiosyncratic way) with functional, real-life music. The droning double-stops channel a fiddler's rustic flair, in line with other projects from the time rooted in folk traditions.
Fresh off a 1916 ballet tour in Spain, Stravinsky experimented with Spanish themes in a study he wrote the next year at the request of a company that manufactured pianolas (also known as player pianos). Writing for a mechanical piano that played compositions punched into paper rolls suited Stravinsky at a time when he was stripping all sentimentality out of his language, and he retained enough fondness for the result that he orchestrated it in 1928 as the last of his Four Studies for Orchestra, giving it the title Madrid. His son Soulima Stravinsky later arranged this version for four hands at the piano, restoring the austerity and motoric drive of the original pianola version.
Stravinsky was hardly alone among European composers in his receptivity to outside influences, especially from popular music styles around the globe. One case in point was the Danish violinist Jacob Gade (1879-1963), who adopted the sultry dance style of Argentina for the tango he titled Jalousie (using the French word for "jealousy"). He labeled it Tango tzigane or "Gypsy tango," using the outmoded term for the Romani people who contributed  passionate, mood-shifting music to local cultures everywhere they roamed, from Turkey to Hungary to Spain. 
These intersections of cultural borrowing and popular entertainment peaked for Stravinsky in L'Histoire du soldat (The Soldier's Tale), a small-scale theater piece he wrote in 1918 in the hopes of rescuing his precarious finances during those lean Swiss years. This Faustian tale of a soldier who trades his violin to the devil in exchange for knowledge of the future provided ample opportunities to incorporate folksy fiddling, and an episode involving the magical rescue of a princess gave an excuse to have her perform Three Dances drawn from popular culture: a Tango, a Waltz and a Ragtime.
Stravinsky's Ragtime from A Soldier's Tale and others that followed suit took inspiration from the American style of composition most closely associated with Scott Joplin (1867-1917), the son of a freed slave who rose to become one of the world's most influential composers, even though he never saw the riches nor the recognition he deserved. With his highly refined piano compositions like Maple Leaf Rag (1899) and this one, The Easy Winners (composed in 1901, the year he moved to St. Louis), Joplin adapted the cakewalk and other Black dance styles and enlivened them with syncopations that turned the smooth beat into "ragged time," giving ragtime its name. For all that his music formed a foundation for the jazz and show tunes composed in the 1920s and beyond, Joplin himself fell into obscurity until the 1970s. A major factor in his revival was the movie The Sting, starring Paul Newman and Robert Redford and featuring arrangements of Joplin rags for its soundtrack, including this one by Gunther Schuller scored for something resembling a proto-jazz dance band.
Stravinsky's most direct ragtime inspiration came from published sheet music brought back from the United States by a conductor friend in 1918. After A Soldier's Tale, he wrote a standalone Ragtime for 11 instruments that also approximated a popular dance band. The one instrument that was quite out of place was the cimbalom, a type of zither from central Europe, played by striking the strings with hammers. Stravinsky wrote the cimbalom into a number of scores after he first encountered it in 1915, and he uses it here in ways that resemble the jangly tone of the banjo, a core member of dance bands at that time, before it was supplanted by guitar. (This performance uses a synthesizer to render the cimbalom sound.) Stravinsky went on to arrange this score for solo piano, and he added one more work amid his ragtime obsession, the Piano-Rag-Music of 1919.
It was one thing for composers like Stravinsky to pick up the gist of ragtime from published scores, but the real discovery came when they got their first taste of actual dance music performed by American bands. One of the finest bandleaders of all, James Reese Europe (1880-1919), led that charge in 1918, in his role as bandmaster of the 369th U.S. Infantry ("Harlem Hellfighters") Regiment Band. The ensemble toured France, entertaining soldiers and civilians with their signature dances including rags and foxtrots—a style Europe had helped to invent when he was music director for the famous ballroom dance team of Vernon and Irene Castle. Europe wrote the Castle House Rag for the Castles and recorded it in 1914 for the Victor Talking Machine Company, marking the first time that the leading firm in the nascent record industry had featured a Black bandleader and orchestra.
After surviving World War I and triumphing on his first international tour, Europe died a year later (after being stabbed by a bandmate during an intermission argument), but his proven success and a growing European mania for American music brought a flood of other musicians, and in the 1920s the Paris neighborhood of Montmartre could almost rival Harlem as an epicenter of the dance music that morphed into jazz. By the time the French composer Maurice Ravel (1875-1937) completed his Violin Sonata No. 2 in 1927, he had the benefit of hearing some of the best jazz and blues in the world, thanks to stars like Josephine Baker who were drawn to Paris for its lucrative nightclubs and its relaxed attitudes about race and sex. In the Sonata's slow movement, Blues, the violin's sultry slides adapt the mournful inflections of vocalists singing in a tradition that linked directly back to slavery, while pulsing chords mimic the chunking strums of a banjo or guitar.
To fully understand the swirling currents of European music amid World War I and the Roaring Twenties requires a step back to an earlier Stravinsky, one rooted in the musical life of his native Russia. We can find him in Saint Petersburg in 1908, a 26-year-old protégé of Nikolai Rimsky-Korsakov, with only six years of private composition lessons under his belt after he abandoned his law studies. His only real calling cards were a couple short pieces for orchestra, but training under one of history's greatest orchestrators set Stravinsky up to be a master of orchestral color, and those early efforts were enough to attract the attention of a dance impresario with a mission to spread Russian ballet to the West: Serge Diaghilev. 
The next year, Diaghilev was planning a sensational ballet derived from Russian folklore, and when his first-choice composer fell through, the job went at the last minute to Stravinsky, who rushed to complete The Firebird in time for its 1909 debut in Paris. The ballet was such a hit that it made Stravinsky a household name, and it spawned two more ballets in the coming years, Petrushka and The Rite of Spring. In many ways The Firebird looked back to the recent past of Russian music, but if any portion could be seen as the preview of the future Stravinsky(s), it must be the Infernal Dance of King Kashchei, a fiendish romp that approaches the pounding brutality of The Rite of Spring. 
No composer in Paris could ignore the impact of Stravinsky's folklore-driven ballets. The only other contemporary musician with a similar footprint in France was the local hero Claude Debussy, who created his own sensual sound world by tapping into non-Western sources. The twin influences of Stravinsky and Debussy can be felt in the work of a most promising talent whose life was cut unfairly short: Lili Boulanger (1893-1918). In 1917, when she wrote D'un matin du printemps (On a Spring Morning) for flute or violin with piano, she was integrating the insistent rhythms of Stravinsky with the gauzy harmonies of Debussy. She died just a year later, at the age of 24, before she had the chance to fully develop her compositional voice. (Her sister Nadia Boulanger, herself a fine composer, felt compelled to stop writing music not long after Lili's death, and instead she became the go-to composition teacher for generations of expats in Paris, including Aaron Copland, Leonard Bernstein and Philip Glass.)
These intertwining threads of Russian ballet, American bands and French gusto reached new heights in 1923 through the work of Darius Milhaud (1892-1974). From his childhood spent listening to the songs of the workers in his family's almond business in Provence to his stint in Brazil serving as a diplomat, Milhaud attuned his ears to great melodies and rhythms wherever he found them. He heard an American dance band for the first time in London in 1920, and his visit to Harlem two years later during an American tour gave Milhaud a leg up among European composers drawn to jazz. These elements all call together in La création du monde(The Creation of the World), a ballet from 1923 that can rightly claim to be the first classical composition fully steeped in jazz, beating Gershwin's Rhapsody in Blue by a year. An alto saxophone takes a prominent role in Milhaud's score, bluenotes abound, and raucous percussion riles up this creation tale based loosely on African mythology. A decade after Stravinsky's Rite of Spring sent composers digging into folklore for inspiration, Milhaud answered with a Jazz Age gem that both honored and poked fun at the self-serious pursuit of art music.
Still, it hardly mattered that a clique of younger French composers had caught up with and eclipsed Stravinsky in jazz experimentation, during the phase in the 1920s and -30s when he made France his latest home base. He was already on to a new identity, as seen in NWS's March 13 program, Stravinsky in America.
-- © 2021 Aaron Grad
Aaron Grad is a composer, guitarist and writer based in Seattle. Besides providing program notes for the New World Symphony, he has been the Orpheus Chamber Orchestra's program annotator since 2005 and also contributes notes to the Saint Paul Chamber Orchestra and Seattle Symphony.
Michael Tilson Thomas, conductor
Michael Tilson Thomas is Co-Founder and Artistic Director Laureate of the New World Symphony, America's Orchestral Academy; Music Director Laureate of the San Francisco Symphony; and Conductor Laureate of the London Symphony Orchestra. In addition to these posts, he maintains an active presence guest conducting with the major orchestras of Europe and the United States.
Born in Los Angeles, Mr. Tilson Thomas is the third generation of his family to follow an artistic career. His grandparents, Boris and Bessie Thomashefsky, were founding members of the Yiddish Theater in America. His father, Ted Thomas, was a producer in the Mercury Theater Company in New York before moving to Los Angeles where he worked in films and television. His mother, Roberta Thomas, was the head of research for Columbia Pictures.
Mr. Tilson Thomas began his formal studies at the University of Southern California, where he studied piano with John Crown, and conducting and composition with Ingolf Dahl. At age 19 he was named Music Director of the Young Musicians Foundation Debut Orchestra. During this same period, he was the pianist and conductor in master classes of Gregor Piatigorsky and Jascha Heifetz and worked with Stravinsky, Boulez, Stockhausen and Copland on premieres of their compositions at Los Angeles' Monday Evening Concerts.
In 1969, after winning the Koussevitzky Prize at Tanglewood, he was appointed Assistant Conductor of the Boston Symphony Orchestra. That year he also made his New York debut with the Boston Symphony and gained international recognition after replacing Music Director William Steinberg in mid-concert. He was later appointed Principal Guest Conductor of the Boston Symphony Orchestra where he remained until 1974. He was Music Director of the Buffalo Philharmonic from 1971 to 1979 and a Principal Guest Conductor of the Los Angeles Philharmonic from 1981 to 1985. His guest conducting includes appearances with the major orchestras of Europe and the United States.
Mr. Tilson Thomas is a two-time Carnegie Hall Perspectives artist, curating and conducting series at the hall from 2003 to 2005 and from 2018 to 2019. In the most recent series, he led Carnegie Hall's National Youth Orchestra of the United States of America both at the hall and on tour in Asia, opened the Carnegie Hall season over two evenings with the San Francisco Symphony, conducted two programs with the Vienna Philharmonic and finished with a pair of concerts leading the New World Symphony.
A winner of eleven Grammy Awards, Mr. Tilson Thomas appears on more than 120 recordings. His discography includes The Mahler Project, a collection of the composer's complete symphonies and works for voice and orchestra performed with the San Francisco Symphony, in addition to pioneering recordings of music by Charles Ives, Carl Ruggles, Steve Reich, John Cage, Ingolf Dahl, Morton Feldman, George Gershwin, John McLaughlin and Elvis Costello. His recordings span repertoire from Bach and Beethoven to Debussy and Stravinsky, and from Sarah Vaughan to Metallica.
His television work includes a series with the London Symphony Orchestra for BBC Television, broadcasts of the New York Philharmonic Young People's Concerts from 1971 to 1977 and numerous productions on PBS's Great Performances. With the San Francisco Symphony, he created a multi-tiered media project, Keeping Score, which includes a television series, web sites, and radio programs. He received a Peabody Award for his SFS Media radio series The MTT Files.
Mr. Tilson Thomas's compositions are published by G. Schirmer. In 1991, he and the New World Symphony were presented in a series of benefit concerts for UNICEF in the United States, featuring Audrey Hepburn as narrator of his work From the Diary of Anne Frank, which was commissioned by UNICEF. This piece has since been translated and performed in many languages worldwide. In August 1995, he led the Pacific Music Festival Orchestra in the premiere of his composition Shówa/Shoáh, commemorating the 50th anniversary of the bombing of Hiroshima. His vocal music includes settings of poetry by Walt Whitman and Emily Dickinson, which were premiered by Thomas Hampson and Renée Fleming, respectively. In 2016, Yuja Wang premiered his piano piece You Come Here Often?.
Mr. Tilson Thomas' song cycle Four Preludes on Playthings of the Wind, a setting of Carl Sandburg's poem, was premiered in 2016 by the New World Symphony, with Measha Brueggergosman as soloist. In 2019 the piece was recorded for Medici.tv at the New World Center and given its New York premiere as part of Mr. Tilson Thomas's second Carnegie Hall Perspectives series. His first Perspectives series also featured performances of his own compositions, including Island Music for four marimbas and percussion; Notturno for solo flute and strings, featuring soloist Paula Robison; and new settings of poems by Rainer Maria Rilke. In 2020, he led the San Francisco Symphony in the world premiere of his six-part song cycle Meditations on Rilke, and he subsequently conducted the work at the Cleveland Orchestra. Additional compositions include Street Song for brass instruments; Agnegram, an overture for orchestra; and Urban Legend, a concerto for contrabassoon that was premiered by the San Francisco Symphony. In June 2020, SFS Media released an album of works composed by Mr. Tilson Thomas, featuring live concert recordings of From the Diary of Anne Frank, narrated by mezzo-soprano Isabel Leonard, and Meditations on Rilke, sung by mezzo-soprano Sasha Cooke and bass-baritone Ryan McKinny.
Mr. Tilson Thomas is an Officier de l'Ordre des Arts et des Lettres of France, is a member of the American Academy of Arts and Sciences, was Musical America's Musician of the Year and Conductor of the Year, was Gramophone magazine's Artist of the Year and has been profiled on CBS's 60 Minutes and ABC's Nightline. He has been awarded the National Medal of Arts, has been inducted into the California Hall of Fame and the American Academy of Arts and Letters, and was a 2019 recipient of the Kennedy Center Honors.
Chad Goodman, conductor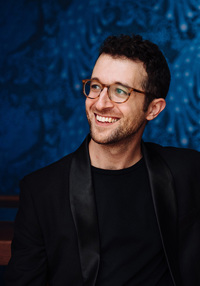 With a flair for inventive programming and a bold presence on stage and in the community, Chad Goodman has been praised for "bringing innovation to classical music" (Forbes).
As the Conducting Fellow of the New World Symphony, Mr. Goodman conducts on subscription, education, family and holiday programs. His program, "SPARK: How Composers Find Inspiration," blended captivating light design and videography with engaging audience participation to explore how a composition is created and brought to life by an orchestra.
Since 2018 Mr. Goodman has served as an Assistant Conductor to the San Francisco Symphony, assisting Esa-Pekka Salonen, Manfred Honeck, Daniel Harding, Pablo Heras-Casado, Simone Young and James Gaffigan among others.
Mr. Goodman's 2022-23 Season will include debut appearances with the Elgin Symphony, Baton Rouge Symphony, Greensboro Symphony and San Francisco Chamber Orchestra.
As Founder and Artistic Director of Elevate Ensemble, Mr. Goodman's ambitious vision for concert programming resulted in the pairing of music from Bay Area composers with underappreciated gems of the 20th and 21st centuries. Under his leadership, Elevate Ensemble established a Composer-in-Residence program and commissioned fifteen works from Bay Area composers. Elevate collaborated with photographers, videographers, poets and culinary artists, bringing new music and vibrant multi-genre experiences to unique venues such as yoga studios, historic Victorian homes and art studio warehouses.
Mr. Goodman has previously served as Conducting Fellow of Festival Napa Valley, Music Director of the Contra Costa Chamber Orchestra, Conducting Fellow of the Atlantic Music Festival, and a rehearsal and cover conductor for the San Francisco Ballet.
In addition to his performing career, he teaches young musicians the business and entrepreneurial skills needed to successfully navigate the world as a working musician in his workshop "You Earned a Music Degree. Now What?"
Mr. Goodman holds a bachelor of music degree from the Eastman School of Music and a master of music degree from San Francisco State University. His mentors include Michael Tilson Thomas, Alasdair Neale, Cyrus Ginwala and Martin Seggelke.
Musicians of the New World Symphony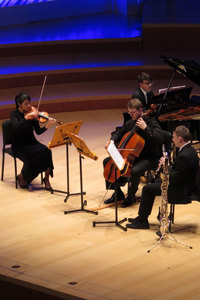 A laboratory for the way music is taught, presented and experienced, the New World Symphony consists of 87 young musicians who are granted fellowships lasting up to three years. The fellowship program offers in-depth exposure to traditional and modern repertoire, professional development training and personalized experiences working with leading guest conductors, soloists and visiting faculty. 
NWS Fellows take advantage of the innovative performance facilities and state-of-the art practice and ensemble rooms of the Frank Gehry-designed New World Center, the campus of the New World Symphony and home of the Knight New Media Center.
In the hopes of joining NWS, nearly 1,000 recent music school and conservatory graduates compete for available fellowships each year. The Fellows are selected for this highly competitive, prestigious opportunity based on their musical achievement and promise, as well as their passion for the future of classical music.