Events & Tickets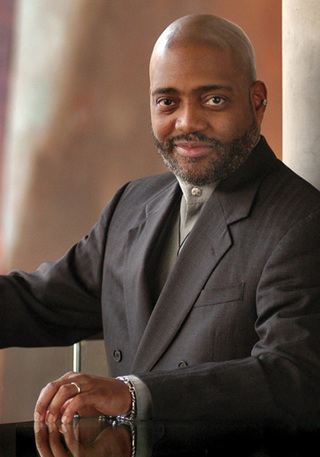 Special Event
I Dream a World: Symphonic Persuasion
New World Center, Michael Tilson Thomas Performance Hall
Saturday, February 4, 2023 at 7:30 PM
Sunday, February 5, 2023 at 2:00 PM
Program
Conductor William Eddins takes the New World Symphony podium to lead a two-night celebration of works influenced by the art and artists of the Jazz Age. These concerts will be hosted by Festival curator, Dr. Tammy Kernodle. NWS will be joined by soprano Louise Toppin in works by Samuel Coleridge-Taylor, James P. Johnson, Scott Joplin and Maurice Ravel.  
These concerts will be preceded by a discussion on African American perspectives on Europe during the Renaissance era hosted by Shawn Anthony Christian, Associate Professor and Chair, Department of English, Florida International University and Nathaniel Cadle, Associate Professor of English at Florida International University, joined by NWS Fellows.  
This event is part of NWS's I Dream a World: The Harlem Renaissance in Europe festival. Click here for a full listing of festival events. Interested in attending multiple performances? A $150 Harlem Renaissance Festival Pass will go on sale December 15 and grant you access to all I Dream a World events. 
---------------------
This concert is part of the Saturday Evening One and Sunday Symphony series. Secure a season of world-renowned artists—including Alisa Weilerstein, Heidi Melton, William Eddins and Christoph Koncz—performing an exciting range of orchestral music in one of the world's most extraordinary and intimate venues for experiencing classical music: the New World Center. Subscriptions for the Saturday One Series (4 concerts) begin at $132 ($33/concert). Subscriptions to the 5-concert Sunday Symphony Series begin at $140 ($28/concert). Click to explore the full subscriptions! 
COMPOSE YOUR OWN SUBSCRIPTION PACKAGE! 
Want to try a little of everything? Customize your own subscription of three or more concerts to exercise full creative freedom while enjoying all the flexibility and perks of being a New World Symphony subscriber. Click here to build your CYO subscription or call the Box Office at 305.673.3331 to compose your series today.  
SUBSCRIBERS ENJOY THE BEST OF NWS! 
As an NWS Subscriber, you receive amazing benefits to enjoy throughout the season, including the best seats for the lowest prices and access to our incredibly talented Fellows. Click here to learn more! 
Loading Concert Information
Program
Will Marion Cook
(1869-1944)
Arranged by James Lamb

In Dahomey: Overture (1902)

"Gué, Gué, Solingaie" (1942)

Traditional
Arranged by Robert Nathaniel Dett

Amanda Aldridge
(1866-1956)

Samuel Coleridge-Taylor
(1875-1912)

Overture to Hiawatha, Op. 30 (1900)

Overture to Treemonisha (1911)

Maurice Ravel
(1875-1937)

Sonata No. 2 for Violin and Piano (1923-27)

Harry T. Burleigh
(1866-1949)

James P. Johnson
(1894-1955)

Penn Station (Subway Ride)
Song of Harlem (April in Harlem)
The Night Club
Baptist Mission
William Eddins, conductor
William Eddins is the Music Director Emeritus of the Edmonton Symphony and a frequent guest conductor of major orchestras throughout the world. His engagements have included the New York Philharmonic, St. Louis Symphony, Philadelphia Orchestra and the symphony orchestras of San Francisco, Boston, Minnesota, Cincinnati, Atlanta, Detroit, Dallas, Baltimore, Indianapolis, Milwaukee, Houston, as well as the Los Angeles and Buffalo philharmonics.
Internationally, Mr. Eddins was Principal Guest Conductor of the RTÉ National Symphony (Ireland). He also has conducted the Berlin Staatskapelle, Berlin Radio Orchestra, Welsh National Opera, Royal Scottish National Orchestra, Bergen Philharmonic, Adelaide Symphony, Barcelona Symphony and the Lisbon Metropolitan Orchestra.
Mr. Eddins' career highlights include taking the Edmonton Symphony Orchestras to Carnegie Hall in 2012, conducting RAI Orchestra Sinfonica Nazionale on Italian television and leading the Natal Philharmonic on tour in South Africa with soprano Renée Fleming. Equally at home with opera, he conducted a full production of Porgy and Bess with Opera de Lyon both in France and the Edinburgh Festival and a revival of the production during the summer of 2010.
Mr. Eddins is an accomplished pianist and chamber musician. He regularly conducts from the piano in works by Mozart, Beethoven, Gershwin and Ravel. He has released a compact disc recording on his own label that includes Beethoven's Hammer-Klavier Sonata and William Albright's The Nightmare Fantasy Rag.
Mr. Eddins has performed at the Ravinia Festival with both the Chicago Symphony and the Ravinia Festival Orchestra. He has also conducted the orchestras of the Aspen Music Festival, Hollywood Bowl, Chautauqua Festival, Boston University Tanglewood Institute and the Civic Orchestra of Chicago.
A native of Buffalo, Mr. Eddins attended the Eastman School of Music, studying with David Effron and graduating at age 18. He also studied conducting with Daniel Lewis at the University of Southern California and was a founding Fellow of the New World Symphony.
Tammy Kernodle, festival curator, musicologist and host
Dr. Tammy L. Kernodle is University Distinguished Professor in the Department of Music at Miami University (Ohio), who specializes in African American music (concert and popular) and gender studies in music.
Her scholarship explores the intersection of gender and racial identity, performance practice and musical genre. Her work has appeared in major peer-reviewed journals including American Studies, Musical Quarterly, Black Music Research Journal, The Journal of the Society of American Music (JSAM), American Music Research Journal, The U.S Catholic Historian, and the Journal of the American Musicological Society (JAMS). She also was a contributor to The African American Lectionary Project, the Smithsonian Anthology of Hip Hop and Rap and the Carnegie Hall Digital Timeline of African American Music. Her scholarship also appears in numerous anthologies and reference works including Women's Voices Across Musical Worlds, John Coltrane and Black America's Quest for Freedom: Spirituality and the Music, and The Cambridge Companion to Women in Music Since 1900.
Kernodle is the author of biography Soul on Soul: The Life and Music of Mary Lou Williams (new edition, University of Illinois Press, 2020) She also served as Associate Editor of the three-volume Encyclopedia of African American Music and as one of the Editors for the revision of the New Grove Encyclopedia of American Music.
Kernodle served as the Scholar in Residence for the Women in Jazz Initiative at the American Jazz Museum in Kansas City from 1999 until 2001. She has worked closely with a number of educational programs including the Kennedy Center's Mary Lou Williams Women in Jazz Festival, Jazz@Lincoln Center, NPR, Canadian Public Radio, the Rock 'n' Roll Hall of Fame, and the BBC.
From 2012-2016, Kernodle served as a scholarly consultant for the exhibits entitled "Musical Crossroads" at the National Museum of African American History and Culture. She appears in a number of award-winning documentaries including Mary Lou Williams: The Lady Who Swings the Band, Girls in the Band, Miles Davis: Birth of the Cool, and How It Feels to Be Free.
 In 2014, she received the Effective Educator Award from the Miami University Alumni Association and in 2018 was awarded the Benjamin Harrison Medallion. The Harrison Award is the highest award given to a Miami University faculty member in recognition of their research, teaching and service.  She is the immediate Past President of the Society for American Music.
Louise Toppin, soprano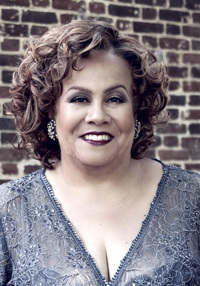 Louise Toppin has received critical acclaim for her operatic, orchestral, oratorio and recital performances worldwide.
Toppin has appeared in recital on many concert series including Carnegie Hall, Merkin Hall, Kennedy Center, and Lincoln Center. Orchestral appearances include: the Norrköping Symphony (Sweden), the Czech National Symphony, Mälmo Symphony Orchestra, (Sweden), Tokyo City Orchestra (Japan), The Montevideo Philharmonic (Uruguay), the Scotland Festival Orchestra (Aberdeen, Scotland), the Honolulu, Toledo, Akron, Canton, North Carolina, Charlotte, Lafayette, Manhattan Chamber, Experiential Chamber, Erie Chamber and Raleigh Chamber Symphony Orchestras, The Bach Aria Group, Phoenix Bach Consort, and the Washington D.C. Bach Consort with conductors such as: Murry Sidlin, Paul Freeman, Richard Aulden Clark, Justin Brown, James Meena, Vladmir Ashkenazy, and Gearhart Zimmerman.
Represented by Joanne Rile Artist Management, she toured in "Gershwin on Broadway" with pianist Leon Bates and currently tours with Joseph Joubert, piano and Robert Sims, baritone.   She has recorded more than nineteen compact disks of primarily American Music songs with piano and with orchestra including solo CDs Songs of Illumination, (Centaur Records), and on Albany Records Ah love, but a day (with John O'Brien) He'll Bring it to Pass, (Joseph Joubert, piano), Heart on the Wall with the Prague Radio Symphony and La Saison des fleurs with John Obrien.  Her newest release is Vol. I Songs of Love and Justice is the songs for soprano by Adolphus Hailstork with John O'Brien at the piano.  Due for release in 2023 are Summer.Life. Songs (songs by Adolphus Hailstork, Vol. 2); Duos (with countertenor Darryl Taylor; vocal chamber music) and The Soprano songs of T. J. Anderson. 
She edited and published 8 anthologies and collections of songs by African American composers with Classical Vocal Reprints in 2020-2021 including An Anthology of African and African Diaspora Songs, Rediscovering Margaret Bonds: Spiritual Suite for piano and Bonds Songs, five volumes of Songs by Adolphus Hailstork and an edition of Margaret Bonds's choral work "St. Francis' Prayer" for SATB with Hildegard Press in March 2021. She is currently collaborating on several other anthology and collection projects including new anthologies of Harry Burleigh, Undine Smith Moore and Margaret Bonds songs.
Her most recent performances include co-curating and hosting the Minnesota Orchestra concert of all African Diaspora compositions (10/6/22), co-curating and singing a festival in May 2021 of four concerts on Black Music in Hamburg, Germany with Thomas Hampson with Larry Brownlee, and Leah Hawkins, and in October 2021 appearing as soloist with the renowned Experiential Orchestra in New York City conducted by James Blachly, conductor, and a recital of the songs of Harry Burleigh on the Oxford Lieder Festival in Oxford, England.  The Oxford appearance marked the first appearance of African American Art Song on this prestigious festival.   Other performances include the 150th celebration of the ratification of the 13th amendment for Congress and President Obama at the U.S. Capitol; a performance in Havana, Cuba with the women's orchestra Camerata Romeu and the opening of the Smithsonian's African American Heritage Museum.  She currently tours in the "New Generation Project" with soprano Marquita Lister.  This project is a multi-cultural response to African American poetry.
Since 2010, she has been on the summer faculties of the Baltimore Summer Opera Workshop (Baltimore, MD), the Vocal Course for The National Conservatory (Bogota, Colombia), the Amalfi Coast Music Festival (Maiori, Italy), and the Accra Symphony Operatic Course (Accra, Ghana).
 As a scholar, she has lectured on the music of African American composers and has appeared on NPR's All Things Considered for many broadcasts; for many national conventions and on many college campuses including Harvard, Yale, Tufts, and Duke Universities.  As the co-founder and director of the George Shirley Vocal Competition that focuses exclusively on repertoire by African American art song, and Videmus (a non-profit organization that promotes the concert repertoire of African American and women composers), she encourages the performance and scholarship of African American compositions by students and scholars.  
Toppin studied with George Shirley, Phyllis Bryn Julson, Reri Grist, and was a fellow at the Britten Aldeburgh Festival studying with Joan Sutherland, Richard Bonynge, and Elly Ameling.  She also coached with Sylvia Olden Lee and Charlotte Holloman on a regular basis.
Toppin was the recipient of many teaching awards, including the North Carolina Board of Governor's Excellence in Teaching Award (the state's highest award). She is also a recipient of the National Opera Association Legacy Award and the African American Art Song Achievement Award.
She served on several boards including the appointments by four North Carolina Governors to the North Carolina Arts Council, NCAC Executive Board, and the African American Heritage Commission.  In addition to serving on the education committee for the Denyce Graves Foundation, she is on the boards of Opera Ebony and The Hampsong Foundation.  She is the co-founder and Director of the George Shirley Vocal Competition and Videmus (promoting African American music). She is also the founder/editor of the Africandiasporamusicproject.org that is a research tool to locate the repertoire of composers of the African Diaspora from the 1600s to the present.
Previously, Dr. Toppin was the Distinguished University Professor of Music and Chair of the Department of Music at the University of North Carolina, Chapel Hill.  She is currently Professor of Music (Voice) at The University of Michigan.