Events & Tickets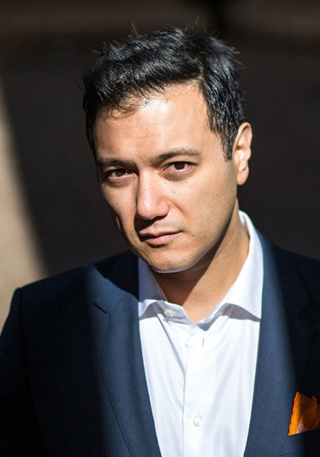 Chamber Music
THE FRENCH VOICE
New World Center, Michael Tilson Thomas Performance Hall
Sunday, February 23 at 2:00 PM
Program
Hailed as "one of the world's most remarkable singers," American lyric tenor Nicholas Phan joins NWS Fellows for intimate chamber music by French masters. Using stirring pastoral themes, Camille Saint-Saëns and Franz Schubert pair voice one-on-one with violin and horn for sublime storytelling. Francis Poulenc channels the absurd in his Cocardes, before Jake Heggie's Friendly Persuasions honors four transformative friendships in Poulenc's life. When just a teenager, boy genius Wolfgang Amadeus Mozart whipped up this delightful String Quartet while living in Milan. Maurice Ravel packs his signature color painting in this dreamy miniature harp concerto.
COMPOSE YOUR OWN SUBSCRIPTION PACKAGE!
Choose this plus two more concerts to customize your own subscription. It's the ultimate flexibility with all the subscriber benefits, including free exchanges when plans change! Click here to create your own series today.
SUBSCRIBERS ENJOY THE BEST OF NWS!
As an NWS Subscriber, you receive amazing benefits to enjoy throughout the season, including the best seats for the lowest prices and access to our incredibly talented Fellows. Click here to learn more!
Program
Maurice Ravel
(1875-1937)
Approx. Duration: 11 minutes

Introduction and Allegro for Harp, Flute, Clarinet and String Quartet (1905)

Grace Browning, harp (NWS alumna)
Jack Reddick, flute
Jesse McCandless, clarinet
Sergio Carleo, violin I
Ka-Yeon Lee, violin II
Marlea Simpson, viola
Amy Sunyoung Lee, cello
Camille Saint-Saëns
(1835-1921)
Approx. Duration: 7 minutes

Violins in the evening (1907)

Nicholas Phan
Michael Turkell, violin
Thomas Steigerwald, piano
Francis Poulenc
(1899-1963)
Approx. Duration: 7 minutes

Cocardes, FP 16b (1919-20; revised 1939)

I. Honey from Narbonne
II. Nanny
III. Circus Troupe Kid
Nicholas Phan
Zachary Ragent, violin
Gianluca Farina, cornet
Guangwei Fan, trombone
Michael Daley, Kevin Ritenauer, percussion
Jake Heggie
(b. 1961)
Approx. Duration: 11 minutes

Friendly Persuasions: Homage to Poulenc (2008)

Wanda Landowska
Pierre Bernac
Raymonde Linossier
Paul Éluard
Nicholas Phan
Jack Reddick, flute
Kelsi Doolittle, clarinet
Ben Fryxell, cello
Thomas Steigerwald, piano
Wolfgang Amadeus Mozart
(1756-1791)
Approx. Duration: 32 minutes

Quartet No. 4 in C major for Strings, K. 157 (1772-73)

Dillon Welch, violin I
Jung Eun Kang, violin II
Gabe Napoli, viola
Emily Yoshimoto, cello
Franz Schubert
(1797-1828)
Approx. Duration: 10 minutes

On the River, D. 943 (1828)

Nicholas Phan
Roy Femenella, horn
Wesley Ducote, piano
Maurice Ravel
Introduction and Allegro for Harp, Flute, Clarinet and String Quartet (1905)

Approximate duration: 11 minutes
Two masterpieces of the harp repertoire, one by Ravel and the other by Debussy, owe their existence to a rivalry between manufacturers. The Pleyel Company unveiled a new chromatic harp in 1897, and in 1904 they commissioned Debussy's Sacred and Profane Dances for harp and string orchestra as a showpiece for the instrument. The next year, Érard responded by asking Ravel to write a feature vehicle for their competing double-action pedal harp, which is still the gold standard design with its seven pedals spread on both sides of the harp's base, allowing the performer to change the pitches of the strings. (Each pedal has positions for flat, natural or sharp notes, and adjusting the pedal changes all the octaves of that note simultaneously, so that the harpist can play any chromatic pitch without needing extra strings.)
Ravel dashed off the Introduction and Allegro quickly before leaving for a cruise, confessing in a letter that June, "a week of frantic work and three sleepless nights enabled me to finish it, for better or worse." He made sure to show off the harp's characteristic arpeggios and sweeping glissandos, and he also took advantage of the ethereal sonority of harmonics. He even entrusted the harp with broad, singing melodies, freeing it from its traditional role of accompanist. There is some of Debussy's impressionistic dreaminess in the hazy introduction, but the bubbling rhythms, Spanish-inflected harmonies and repeating ostinato patterns in the Allegro are pure Ravel.
Camille Saint-Saëns
Violins in the evening (1907)

Approximate duration: 7 minutes
Composers began pairing singers with instrumental soloists more than 300 years ago, applying the Italian label of obbligato to those secondary but indispensable parts. The tradition has flourished ever since, crossing all generations, national borders and stylistic boundaries, including this example composed in 1907 by Camille Saint-Saëns, the elder statesman of French music. He took his cue for incorporating a prominent violin part from the poem by Anna de Noailles. In a nocturnal scene stirred by "a flourish of violins," the poem describes the player's bow as "a voluptuous dagger that pierces the heart / With exhausting euphoria."
Francis Poulenc
Cocardes, FP 16b (1919-20; revised 1939)

Approximate duration: 7 minutes
The music that Francis Poulenc was writing at the age of 20 already demonstrated his lifelong penchant for whimsy and irreverence, inspired by such avant-garde trailblazers as Erik Satie and Jean Cocteau. Using nonsensical texts by Cocteau and an ensemble of violin, trumpet, trombone and percussion that imitated a ragged street band (recalling Stravinsky's similar approach in The Soldier's Tale), Poulenc wrote Cocardes, a set of three charming songs that helped put him on the map the next year when Cocteau arranged for the debut performance. Poulenc shared that program with Milhaud, and soon those two upstart composers and four other young comrades were being hailed as "Les Six," placing them at the forefront of French music.
Jake Heggie
Friendly Persuasions: Homage to Poulenc (2008)

Approximate duration: 11 minutes
Jake Heggie is one of the world's premier composers of vocal music, known for his songs (nearly 300 of them) and 14 works for the stage, beginning with his operatic treatment of Dead Man Walking that has been produced 70 times since its debut in 2000. His collaborator on many of the operas, Gene Scheer, wrote the texts for Friendly Persuasions, "based on four transformative friendships and meetings in Francis Poulenc's life," as a note on Heggie's website explains. Expanding the original scoring for tenor and piano, this version adds flute, clarinet and cello.
Heggie tailored his musical language to reflect the clear surfaces and sharp edges of Poulenc's style, and he allowed the subject of each song to influence the proceedings too, as heard in the Baroque-style figurations in the first song, a tribute to the great harpsichordist Wanda Landowska for whom Poulenc wrote a concerto. The second song references the baritone Pierre Bernac, who for decades was Poulenc's primary touring partner, putting on recitals that included the 90-odd songs Poulenc wrote for them. The third song remembers Poulenc's childhood friend Raymonde Linossier, whose death in 1930 had a devastating impact on the composer. Inspiring the final portion of the cycle, the poet Paul Eluard was one of Poulenc's go-to sources for song texts.
Wolfgang Amadeus Mozart
Quartet No. 4 in C major for Strings, K. 157 (1772-73)

Approximate duration: 32 minutes
Mozart composed this String Quartet in C major around the time of his 17th birthday, while he was writing an opera in Milan. That third extended visit to Italy proved to be the last of many gigs arranged by his enterprising father, at a point when Mozart was aging out of being a child prodigy and starting to find his own footing as an independent young man. The string quartet was a burgeoning genre in Austria at the time, with Joseph Haydn leading the charge, but the examples Mozart wrote in Italy were more closely aligned with another quartet innovator, Milan's own Giovanni Battista Sammartini, who had taken the young Mozart under his wing. The most striking music of this Quartet comes in its central Andante, set in the key of C minor, with strategic silences in different voices (such as the delayed entrance of the cello) creating an unusually rich spectrum of colors and emotions. 
Franz Schubert
On the River, D. 943 (1828)

Approximate duration: 10 minutes
In 1828, when the 31-year-old Schubert finally presented his first public concert consisting entirely of his own music, the one new piece he wrote for the occasion was Auf dem Strom (On the River), a song for voice and piano with an obbligato solo horn. The concert took place exactly a year after Beethoven's death, and the new song was a clear homage to the man who had overshadowed Schubert's entire working life in Vienna—a life that was fated to end just eight months later, when Schubert succumbed to syphilis.
With lyrics drawn from a poem by Ludwig Rellstab (1799-1860), On the River comes from the perspective of a man borne away on a river and out to the sea, where "songs from the shore can no longer reach me." Just in case anyone missed the metaphor, Schubert quoted from the famous Funeral March from Beethoven's Third Symphony; the quotation first appears in the song's second stanza, which begins, "And so the waves bear me forward with unsympathetic speed." The horn heightens the sense of separation throughout, playing on the instrument's long association with woodland hunts, mail dispatches and other functions that exploited the instrument's ability to project its sound across great distances.
-- © 2020 Aaron Grad
Aaron Grad is a composer, guitarist and writer based in Seattle. Besides providing program notes for the New World Symphony, he has been the Orpheus Chamber Orchestra's program annotator since 2005 and also contributes notes to the Saint Paul Chamber Orchestra and Seattle Symphony.
Nicholas Phan, tenor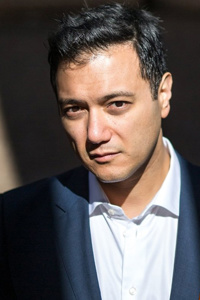 Described by The Boston Globe as "one of the world's most remarkable singers," American tenor Nicholas Phan is increasingly recognized as an artist of distinction. Phan is an avid recitalist and a passionate advocate for art song and vocal chamber music; in 2010 he co-founded Collaborative Arts Institute of Chicago (CAIC).
Highlights of Mr. Phan's 2019-20 season include returns to the New York Philharmonic and San Francisco Symphony, as well debuts with the Bavarian Radio Symphony with Riccardo Muti, London Symphony with Michael Tilson Thomas, Handel & Haydn Society with Masaaki Suzuki and New World Symphony for a program of vocal chamber music. He makes his role debut in the title role of Handel's Judas Maccabaeus with Philharmonia Baroque and Nicholas McGegan, and gives the world premiere of Antoine Plante's arrangement of Schubert's Winterreise for full orchestra with the Houston-based orchestra Mercury. In January 2020, Mr. Phan curated and performed in Emerging Voices with the Philadelphia Chamber Music Society: a series of concerts, salons and panel discussions celebrating Paris and art song. Mr. Phan will also give the world premieres of two new song cycles in 2020, one by Nico Muhly commissioned for the Emerging Voices project, and one by Gabriel Kahane. A celebrated recording artist, Mr. Phan also released his sixth solo album, Clairières, in January 2020, a recording of songs by Lili and Nadia Boulanger.
Mr. Phan's solo album, Gods and Monsters, was nominated for the 2017 Grammy Award for Best Classical Vocal Solo Album. His other previous solo albums, Illuminations, A Painted Tale, Still Fall the Rain and Winter Words, made many "best of" lists, including those of The New York Times, The New Yorker, Chicago Tribune and The Boston Globe. Mr. Phan's growing discography also includes a Grammy Award-nominated recording of Stravinsky's Pulcinella with Pierre Boulez and the Chicago Symphony, Scarlatti's La gloria di primavera with Philharmonia Baroque, Bach's St. John Passion (in which he sings both the Evangelist and the tenor arias) with Apollo's Fire, and the world premiere recordings of two orchestral song cycles: The Old Burying Ground by Evan Chambers and Elliott Carter's A Sunbeam's Architecture.
An avid proponent of vocal chamber music, Mr. Phan has collaborated with many chamber musicians, including pianists Mitsuko Uchida, Richard Goode, Jeremy Denk, Graham Johnson, Roger Vignoles, Inon Barnatan, Myra Huang and Alessio Bax; violinist James Ehnes; guitarist Eliot Fisk; harpist Sivan Magen; and horn players Jennifer Montone, Radovan Vlatkovic and Gail Williams. In both recital and chamber concerts, he has been presented by Carnegie Hall, London's Wigmore Hall, the Metropolitan Museum of Art, Chamber Music Society of Lincoln Center, Philadelphia Chamber Music Society, Atlanta's Spivey Hall, Boston's Celebrity Series and the Library of Congress in Washington, D.C. In addition to his work as artistic director of CAIC, he also has served as guest curator for projects with the Laguna Beach Music Festival, Philadelphia Chamber Music Society and San Francisco Performances, where he served as the vocal artist-in-residence from 2014-2018.
Grace Browning, harp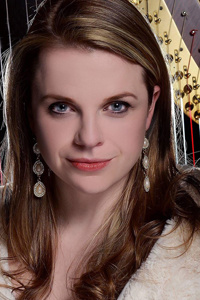 This season Grace Browning joined the Rochester Philharmonic Orchestra as their new Principal Harpist. After spending three years with the New World Symphony in Miami Beach, she moved to Dallas in 2014 to begin her tenure with the Dallas Opera Orchestra. A year later, she was appointed Principal Harpist of the Santa Fe Opera, where she continues to perform each summer.
In addition to Opera, Grace's 2017-2018 season included several performances with the Houston Symphony Orchestra as Guest Principal Harp including during their 2018 European Tour. She also appears regularly as Second Harp with the Philadelphia Orchestra and the Dallas Symphony Orchestra. Grace has enjoyed participating in music festivals around the world including the Tanglewood Music Center, Spoleto Festival USA, Aspen Music Festival, Pacific Music Festival, and the National Repertory Orchestra.
As a soloist, her most notable performances include concertos with the Pacific Symphony, New World Symphony, and the National Repertory Orchestra. In 2015, she was also a winner of the Young Texas Artists Competition and the Aspen Music Festival Harp Concerto Competition. As a Chamber Musician, Grace is a founding member of the Dallas Harp Quartet which features four of the country's premiere harpists and for whom she enjoys arranging new works. As a pedagogue, she maintained a thriving harp studio at the Suzuki Music Institute of Dallas where she taught 14 students of all ages and skill levels.
Originally from New Jersey, Grace began studying the harp at age nine. After spending two years at the Eastman School of Music, she finished her undergraduate degree at the University of Michigan in 2009, followed by her master's degree at The Juilliard School in 2011. She is excited about joining the Rochester Philharmonic Orchestra and always grateful for her teachers and mentors: Nancy Allen, Lynne Aspnes, Elizabeth Blakeslee, Kathleen Bride, Elizabeth Hainen, Joan Holland, and Anneleen Lenaerts.
Musicians of the New World Symphony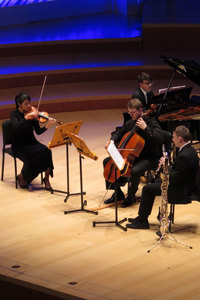 A laboratory for the way music is taught, presented and experienced, the New World Symphony consists of 87 young musicians who are granted fellowships lasting up to three years. The fellowship program offers in-depth exposure to traditional and modern repertoire, professional development training and personalized experiences working with leading guest conductors, soloists and visiting faculty. 
NWS Fellows take advantage of the innovative performance facilities and state-of-the art practice and ensemble rooms of the Frank Gehry-designed New World Center, the campus of the New World Symphony and home of the Knight New Media Center.
In the hopes of joining NWS, nearly 1,000 recent music school and conservatory graduates compete for available fellowships each year. The Fellows are selected for this highly competitive, prestigious opportunity based on their musical achievement and promise, as well as their passion for the future of classical music.