Events & Tickets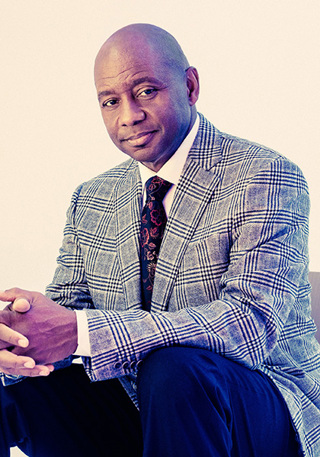 Special Event
The Sound Heard Around the World: The Music of James Reese Europe
New World Center, Michael Tilson Thomas Performance Hall
Tuesday, February 7, 2023 at 7:30 PM
Program
Through music and narration, the Grammy Award-winning saxophonist and bandleader Branford Marsalis guides New World Symphony in sharing the story of James Reese Europe, the trailblazing musician who brought ragtime into the mainstream and went on to be remembered as "the Martin Luther King Jr. of music."   
This concert is part of the I Dream a World festival. Click here for a full listing of festival events.
I Dream a World: The Harlem Renaissance and Beyond is made possible with support from the NWS Collaborations Fund, the NWS Fund for New Ventures and the Keith and Renata Ward Family Fund. Knight Foundation and New World Symphony: Reimagining Classical Music in the Digital Age.
Festival Exhibition
LE PARIS NOIR: HENRY OSSAWA TANNER & LOÏS MAILOU JONES
February 3-12, 2023
New World Center, Clinton Family Fund Ensemble Room
Christopher Norwood, curator and founder of Hampton Art Lovers at the Historic Ward Rooming House, curates an installation from The Norwood Collection with art and related works of African American painters Henry Ossawa Tanner (1859-1937) & Loïs Mailou Jones (1905-1998). As the first internationally recognized male and female African American artists, they both found human and artistic freedom in France. Ticketholders can view the exhibition throughout the duration of the festival.
I Dream a World Festival Pass
A Festival Pass is your ticket to two weeks of live music, film, art and learning. For $150 or less, attend as many events as you'd like by showing your festival pass at the door. Click here to choose a Festival Pass.
Tickets no longer available online.
Program
Eubie Blake / Noble Sissle
(1881-1983 / 1889-1975)
Arranged by Lester Brockman

Selections from Shuffle Along (1921)

Will Marion Cook
(1869-1944)
Arranged by Maurice Baron

"Swing Along!" from Three Negro Songs (1912)

James Reese Europe
(1881-1919)
Arranged by Carl F. Williams

Castle House Rag (c. 1914)

Carlos de Mesquita
(1864-1953)
Arranged by Carl F. Williams

Castle Innovation Waltz (1914)

Lorenzo Logatti
(1872-1961)
Arranged by [G. J. S. W.]

Cecil Macklin
(1883-1944)
Arranged by Emil Ascher

"Too Much Mustard" (1911)

"Ballin' the Jack" (1913)

Carl D. Bethel
(1886-1969)
Arranged by Branford Marsalis

That Moaning Trombone (1918)

Mack David / William Hewitt
Arranged by Mack David

William Christopher Handy
(1873-1958)
Arranged by Branford Marsalis

THE SOUND HEARD AROUND THE WORLD
On August 10, 2021, the U.S. Congress awarded the Congressional Gold Medal to the 369th Infantry regiment. Commonly known as the "Harlem Hellfighters," this regiment was significant in ensuring the Allied victory during World War I. The awarding of these medals was one of restorative justice, reversing the erasure of the contributions of Black soldiers. But it also unmasked one of the forgotten chapters in America's musical history—the the triumphant rise of James Reese Europe.
As leader of the Hellfighters' regimental band, James Reese Europe sparked a cultural revolution that rippled throughout Europe during the interwar years. His influence on American and European music during the first two decades of the 20th century cannot be overstated. Jim Europe was second only to John Philip Sousa in popularity and was also key to the globalization of Black music in the decades that preceded the Harlem Renaissance.
Born in Mobile, Alabama in 1881, James Reese Europe's early life exemplified the hope for racial justice, social change and the pursuit of upward mobility that underscored Black life in post-Reconstruction America. His family moved to Washington, D.C. during his formative years and it was in the vibrancy of the city's Black community that Europe excelled. Early on he displayed a consciousness that was defined by the embodied Black excellence of the New Negro aesthetic, a keen entrepreneurial vision and an awareness that music could serve as a conduit for social change. Each would be key to his ascendancy as a leader within the community of Black musicians, composers and songwriters that settled in New York during the first decade of the 20th century.
Jim Europe came to prominence working in Black musical theatre productions and much of this work was central to shifting the context of Black representations on the stage away from the racial stereotypes that lingered from minstrelsy. He was keenly aware of the economic exploitation that Black musicians experienced and the lack of union representation and advocacy. So, in 1908 he joined a collective of Black musicians, conductors and composers in forming the Clef Club. One part social club, one part labor union and one part community orchestra, the Clef Club embodied a new framing of Black music and the Black musician at a crucial in American history.
In 1912 Europe led 120 members of the Clef Club in a historic concert at Carnegie Hall. It marked the first time an all-Black orchestra performed at the venue. Beyond its historic significance, this concert and subsequent ones given in 1913 and 1914, were significant in changing public perceptions regarding Black musicians and elevating a Black concert aesthetic. These concerts also catapulted Jim Europe to national prominence.
In the ensuing years, he would widen his cultural footprint through a collaboration with famed dancers Vernon and Irene Castle and his recognition of the potential that resided in the emerging technology of the record. The latter was represented through a three year (1913-16) recording stint with the Victor Company. These recordings foreshadowed the sounds that would be marketed as jazz in the 1920s and preserved the legacy of the Europe Society Orchestra, as few of his original scores exist. This same group provided accompaniment to the array of dances that Vernon and Irene Castle popularized during this period. The racial coupling of the European-born Castles and James Europe's Black orchestra marked a significant shift in America's attitudes regarding ragtime and blues, as well as the dance culture that derived from them.
As the war in Europe continued to escalate, James Europe and Vernon Castle decided to suspend their careers and enlist. The British-born Castle joined the Royal Air Force, while Europe joined the all-Black National Guard unit being formed in New York. In addition to serving in the machine gun squadron, Jim Europe was also assigned to lead a regimental military band.
He recruited Black musicians from all over the country, but also traveled to Puerto Rico. There he encountered highly skilled musicians who developed their talents performing in the municipal bands that spread across the island. Of the 40 musicians that made up the Hellfighters Regimental Band, 18 were Afro-Puerto Rican. The coupling of Black American and Afro-Puerto Rican musicians greatly enlarges the cultural and racial context of the Hellfighters' legacy and represents how a shared history of slavery, racism and colonialism connects African people worldwide. The decision to support the U.S. war effort abroad correlated with a larger hope that the display of patriotism by Black men would precipitate social change. Despite the miliary successes of the Hellfighters, little changed in America's racial politics following the war. But the Hellfighters regimental band enacted significant culture change in Europe, that ignited a type of cultural dialogue that continues to exist between the continent and the Black Diaspora.
The band's concerts in 1918 and 1919 introduced French audiences to not only ragtime and blues, but also Black hymnody and concert music. The influence of this group continued even after their return to the U.S. following the War.
James Reese Europe's untimely death in 1919 marked the end of an epoch that extended back to 1892 when America's cultural, social and political identity began to shift out of the provincial shadow of Europe. Despite not living long enough to witness or participate in the cresting of the Harlem Renaissance, Europe's contributions resonated throughout the movement. He linked the 19th century context of New Negro ideology with that promoted by the Renaissance intelligentsia during the 1920s and 1930s, and his music foreshadowed the aura of cultural modernism that underscored the interwar years. Lastly, James Reese Europe's promotion of the Black composer, the Black orchestra and a Black concert idiom laid an important foundation for accomplishments realized by the generation of Black composers and musicians that emerged during the Renaissance movement.
—Dr. Tammy L. Kernodle
Dr. Tammy L. Kernodle is University Distinguished Professor at Miami University in Ohio. Her scholarship and teaching have been primarily in the areas of African American music (classical and popular), jazz, and gender and popular music. She served as the Scholar in Residence for the Women in Jazz Initiative at the American Jazz Museum in Kansas City (1999-2001) and has worked closely with a number of educational programs including the Kennedy Center's Mary Lou Williams Women in Jazz Festival, Jazz@Lincoln Center, NPR, Rock `n' Roll Hall of Fame Lecture series and the BBC. She is the author of biography Soul on Soul: The Life and Music of Mary Lou Williams and served as Associate Editor of the three-volume Encyclopedia of African American Music. She holds degrees from The Ohio State University and Virginia State University and is curator of the New World Symphony's annual I Dream a World festival.
Program
Eubie Blake / Noble Sissle
(1881-1983 / 1889-1975)
Arranged by Lester Brockman
Selections from Shuffle Along (1921)
Will Marion Cook
(1869-1944)
Arranged by Maurice Baron
"Swing Along!" from Three Negro Songs (1912)
James Reese Europe
(1881-1919)
Arranged by Carl F. Williams
Castle House Rag (c. 1914)
Carlos de Mesquita
(1864-1953)
Arranged by Carl F. Williams
Castle Innovation Waltz (1914)
Lorenzo Logatti
(1872-1961)
Arranged by [G. J. S. W.]
Cecil Macklin
(1883-1944)
Arranged by Emil Ascher
"Too Much Mustard" (1911)
"Ballin' the Jack" (1913)
Carl D. Bethel
(1886-1969)
Arranged by Branford Marsalis
That Moaning Trombone (1918)
Mack David / William Hewitt
Arranged by Mack David
William Christopher Handy
(1873-1958)
Arranged by Branford Marsalis
THE SOUND HEARD AROUND THE WORLD
El 10 de agosto de 2021, el Congreso de los Estados Unidos otorgó la Medalla de Oro al Regimiento de Infantería 369. Comúnmente conocidos como los "Harlem Hellfighters", este regimiento fue muy importante para asegurar la victoria de los aliados durante la Primera Guerra Mundial. El otorgamiento de estas medallas fue de una justicia restaurativa, revirtiendo la borradura de las contribuciones de los soldados afroamericanos. Pero también desenmascaró uno de los capítulos más olvidados en la historia musical de los Estados Unidos: el ascenso triunfal de James Reese Europe.
Como el líder de la banda de regimiento de los Hellfighters, James Reese Europe motivó una revolución cultural que se extendió por toda Europa durante los años de entreguerras. Su influencia en la música europea y estadounidense durante las primeras dos décadas del siglo XX no puede ser subestimada. La popularidad de James Europe solo fue superada por John Philip Sousa, y se consideró una figura clave en la globalización de la música negra en las décadas que precedieron el Renacimiento de Harlem.
Nacido en Mobile, Alabama en 1881, la niñez de James Reese Europe fue un ejemplo de esperanza por la justicia racial, un cambio social y la búsqueda de una movilidad ascendente que subrayara la vida afroamericana en la América posterior a la Reconstrucción. Su familia se mudó a Washington, D.C. durante sus primeros años y fue gracias a la energía de la comunidad negra de la ciudad que Europe sobresalió. Desde temprano mostró una conciencia que fue definida por su personificación de la excelencia afroamericana dentro de la estética del "Nuevo Negro", una entusiasta visión emprendedora y una conciencia de que la música podía servir como conducto para un cambio social. Cada una de estas características sería clave para su ascenso como líder dentro de la comunidad de músicos, compositores y cantautores afroamericanos que se asentaron en Nueva York durante la primera década del siglo XX.
Jim Europe saltó a la fama trabajando en producciones afroamericanas de teatro musical y mucho de su trabajo fue central para cambiar el contexto de la representación de los afroamericanos en el escenario, alejándola de los estereotipos raciales que aún quedaban de los tiempos de los juglares. Él estaba muy consciente de la explotación económica que experimentaban los músicos de color y la falta de representación y defensa sindical. Entonces, en 1908, se unió a un colectivo de músicos, directores de orquesta y compositores afroamericanos que formaron el Clef Club. Una parte club social, una parte unión laboral y una parte orquesta comunitaria, el Clef Club representaba un nuevo marco para la música y los músicos afroamericanos en un momento crucial de la historia de los Estados Unidos.
En 1912, Europe dirigió a 120 miembros del Clef Club en un histórico concierto en Carnegie Hall. Era la primera vez que una orquesta completamente afroamericana se presentaba en ese teatro. Más allá de su significado histórico, este concierto y otros que le siguieron en 1913 y 1914 fueron muy significativos para cambiar las percepciones sobre los músicos de color y elevar la estética afroamericana de concierto. Estos conciertos también catapultaron a Jim Europe a la fama nacional.
En los años siguientes, él ampliaría su huella cultural a través de la colaboración con los afamados bailarines Vernon e Irene Castle y su reconocimiento del potencial que existía en la emergente tecnología del disco. La última estuvo representada por un período de grabación de tres años (1913-16) con la Victor Company. Estas grabaciones presagiaron las sonoridades que se comercializarían como jazz en la década de 1920 y preservarían el legado del Europe Society Orchestra,  ya que muy pocas de sus partituras originales aún existen. Este mismo grupo le proporcionó el acompañamiento a una variedad de bailes que Vernon e Irene Castle popularizaron durante este período. La unión racial de los Castle, nacidos en Europa y  la orquesta afroamericana de James Europe marcó un giro importante en la actitud estadounidense con respecto al ragtime y el blues, así como también a la cultura de baile que se derivó de ellos.
Mientras la guerra en Europa se intensificaba, James Europe y Vernon Castle decidieron suspender sus carreras y enlistarse. Castle, nacido en Gran Bretaña, se unió a la Fuerza Aérea Real, mientras Europe se unió a la unidad de la Guardia Nacional totalmente afroamericana que se formó en Nueva York. Además de servir en el escuadrón de ametralladoras, Jim Europe también fue asignado para liderar una banda militar de regimiento.
Reclutó músicos de color por todo el país, y también viajó a Puerto Rico. Ahí se encontró con músicos altamente preparados que desarrollaron sus talentos tocando en las bandas municipales que se extendían por toda la isla. De los 40 músicos que formaron la Hellfighters Regimental Band, 18 eran afro-puertorriqueños.  La unión de músicos afroamericanos y afro-puertorriqueños amplió grandemente el contexto cultural y racial del legado de los Hellfighters y representa cómo una historia compartida de esclavitud, racismo y colonialismo conecta a las personas de origen africano en el mundo entero.  La decisión de apoyar el esfuerzo estadounidense en la guerra estaba correlacionado con una esperanza mayor de que las muestras de patriotismo de los hombres de color precipitaran el cambio social. A pesar de los éxitos militares de los Hellfighters, muy poco cambió en la política racial de los Estados Unidos después de la guerra. Pero la Hellfighters Regimental Band propició un cambio cultural en Europa, que encendió un tipo de diálogo cultural que continúa existiendo entre el continente y la Diáspora Negra.
Los conciertos de la banda en 1918 y 1919 introdujeron al público francés no solo al ragtime y el blues, sino también a los himnos negros y la música de concierto afroamericana. La influencia de este grupo continuó incluso después de su regreso a los Estados Unidos posterior a la guerra.
La muerte prematura de James Reese Europe en 1919 marcó el final de una época que se remonta a 1892 cuando la identidad cultural, social y política de los Estados Unidos comenzó a salir de la sombra provincial de Europa. A pesar de no haber vivido lo suficiente para ser testigo o participar en lo mejor del Renacimiento de Harlem, las contribuciones de Europe resonaron a través del movimiento. Él vinculó el contexto de la ideología del Nuevo Negro del siglo XIX con la que promovió la inteligencia del Renacimiento durante la década del 20 y el 30,  y su música anunció el aura de modernismo cultural que representó los años de entreguerras. Para finalizar,  la promoción de James Reese Europe del músico afroamericano, la orquesta afroamericana y el idioma de concierto afroamericano sentó una base importante para los logros realizados por la generación de músicos y compositores afroamericanos que surgió durante el movimiento del Renacimiento.
—Dr. Tammy L. Kernodle
Dr. Tammy L. Kernodle es Profesora Distinguida de la Miami University en Ohio. Sus estudios y su trabajo como pedagoga han sido principalmente en las áreas de música afroamericana, jazz, género y música popular. Participó como Becaria en Residencia en la Iniciativa de Mujeres en el Jazz del Museo de Jazz Americano en Kansas City (1999-2001) y ha trabajado con un número de programas educacionales incluyendo el Festival de Mujeres en el Jazz Mary Lou Williams del Kennedy Center, Jazz@Lincoln Center, NPR, la serie de conferencias del Rock 'n Roll Hall of Fame y la BBC. Es la autora de la biografía Alma sobre Alma: La vida y música de Mary Lou Williams y se desempeñó como editora asociada de la Enciclopedia de la Música Afroamericana, que cuenta de tres volúmenes.  Es graduada de Ohio State University y de Virginia State University y es curadora del festival anual de  New World Symphony I Dream a World (Yo sueño un Mundo).
Translated by Maria Paulina García
Branford Marsalis, bandleader, saxophone and arranger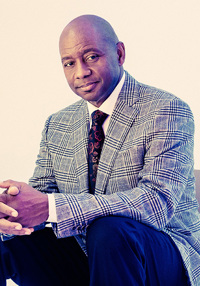 Branford Marsalis continues to thrill audiences around the world while racking up achievements across diverse musical platforms, even after four decades in the international spotlight. From his initial recognition as a young jazz lion, he has expanded his vision as an instrumentalist, composer, bandleader and educator, crossing stylistic boundaries while maintaining an unwavering creative integrity. In the process, he has become an avatar of contemporary artistic excellence winning three Grammy Awards, a Tony nomination for his work as a composer on Broadway, a citation by the National Endowment for the Arts as Jazz Master, and a 2021 Primetime EMMY nomination for the score he composed for the Tulsa Burning documentary.
Growing up in the rich environment of New Orleans as the oldest son of pianist and educator, the late Ellis Marsalis, Branford was drawn to music along with siblings Wynton, Delfeayo and Jason. The Branford Marsalis Quartet, formed in 1986, remains his primary performance vehicle. In its virtually uninterrupted three-plus decades of existence, the Quartet has established a rare breadth of stylistic range as demonstrated on the band's latest release:
The Secret Between the Shadow and the Soul. But Branford has not confined his music to the jazz quartet context. A frequent soloist with classical ensembles, Branford has become increasingly sought after as a featured soloist with acclaimed orchestras around the world, performing works by composers such as Copeland, Debussy, Glazunov, Ibert, Mahler, Milhaud, Rorem, Vaughan Williams and Villa-Lobos. And his legendary guest performances with the Grateful Dead and collaborations with Sting have made him a fan favorite in the pop arena.
Branford's screen credits as a composer include original music for: Spike Lee's Mo' Better Blues, The Immortal Life of Henrietta Lacks starring Oprah Winfrey, Ma Rainey's Black Bottom starring Viola Davis and the late Chadwick Boseman and the History Channel's documentary Tulsa Burning: The 1921 Race Massacre. The critically acclaimed Ma Rainey is the Netflix film adaptation of two-time Pulitzer Prize winner August Wilson's play, produced by Denzel Washington. And in reviewing the score Vanity Fair proclaimed "Ma Rainey's Black Bottom is a story in which the music has to be authentic and the details need to be correct. It requires the musical oversight of someone who has this history in his blood. It requires Branford Marsalis." While The Guardian noted "Marsalis's work, both recreation and original composition, is as close to perfection as I could imagine." He recently received a 2021 EMMY nomination for the original music he composed and produced for Tulsa Burning in the Outstanding Music Composition for a Documentary Series or Special (Original Dramatic Score) category. His work on Broadway has garnered a Drama Desk Award and a Tony nomination for the acclaimed revival of Fences. His previous Broadway efforts include music for the revivals of Children of a Lesser God and A Raisin in the Sun, as well as The Mountaintop which starred Angela Bassett and Samuel L. Jackson.
Branford has also shared his knowledge as an educator, forming extended teaching relationships at Michigan State, San Francisco State and North Carolina Central Universities and conducting workshops at sites throughout the United States and the world.
In the wake of the devastation wrought by Hurricane Katrina, Branford, along with friend Harry Connick, Jr., conceived of "Musicians' Village," a residential community in the Upper Ninth Ward of New Orleans. The centerpiece of the Village is the Ellis Marsalis Center for Music, honoring Branford's father. The Center uses music as the focal point of a holistic strategy to build a healthy community and to deliver a broad range of services to underserved children, youth and musicians from neighborhoods battling poverty and social injustice.
Chad Goodman, conductor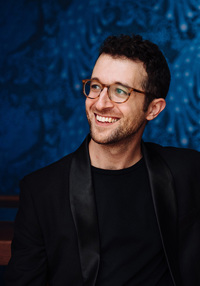 With a flair for inventive programming and a bold presence on stage and in the community, Chad Goodman has been praised for "bringing innovation to classical music" (Forbes).
As the Conducting Fellow of the New World Symphony, Mr. Goodman conducts on subscription, education, family and holiday programs. His program, "SPARK: How Composers Find Inspiration," blended captivating light design and videography with engaging audience participation to explore how a composition is created and brought to life by an orchestra.
Since 2018 Mr. Goodman has served as an Assistant Conductor to the San Francisco Symphony, assisting Esa-Pekka Salonen, Manfred Honeck, Daniel Harding, Pablo Heras-Casado, Simone Young and James Gaffigan among others.
Mr. Goodman's 2022-23 Season will include debut appearances with the Elgin Symphony, Baton Rouge Symphony, Greensboro Symphony and San Francisco Chamber Orchestra.
As Founder and Artistic Director of Elevate Ensemble, Mr. Goodman's ambitious vision for concert programming resulted in the pairing of music from Bay Area composers with underappreciated gems of the 20th and 21st centuries. Under his leadership, Elevate Ensemble established a Composer-in-Residence program and commissioned fifteen works from Bay Area composers. Elevate collaborated with photographers, videographers, poets and culinary artists, bringing new music and vibrant multi-genre experiences to unique venues such as yoga studios, historic Victorian homes and art studio warehouses.
Mr. Goodman has previously served as Conducting Fellow of Festival Napa Valley, Music Director of the Contra Costa Chamber Orchestra, Conducting Fellow of the Atlantic Music Festival, and a rehearsal and cover conductor for the San Francisco Ballet.
In addition to his performing career, he teaches young musicians the business and entrepreneurial skills needed to successfully navigate the world as a working musician in his workshop "You Earned a Music Degree. Now What?"
Mr. Goodman holds a bachelor of music degree from the Eastman School of Music and a master of music degree from San Francisco State University. His mentors include Michael Tilson Thomas, Alasdair Neale, Cyrus Ginwala and Martin Seggelke.
Russell Motley, host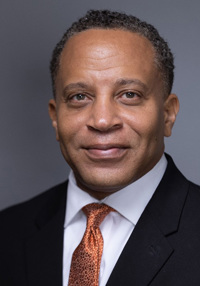 Russell Motley teaches broadcast journalism at Florida Memorial University (FMU) in Miami Gardens, FL. He joined FMU in 2010 following a 20-year career as a local TV news anchor and reporter.
Prior to joining FMU, Motley served as the primary anchor for ABC 27 News in Tallahassee, Fla. In 2006, he joined CBS 47 News in Jacksonville, FL, as a reporter and 5:30 p.m. news anchor. Motley also worked in Madison, WI, and Tulsa, OK, where he covered his first major breaking news story: the Oklahoma City bombing.
Motley earned a Bachelor's degree in broadcast journalism from the University of Miami. He earned a Master's in communications from Florida A&M University (FAMU). While at FAMU, he researched how African Americans have been portrayed throughout the history of Super Bowl commercials.
While in graduate school, Motley also conducted extensive research on movie pioneer Richard Norman, a white filmmaker in the 1920s who produced silent race films in Jacksonville, FL. Unlike most commercial films released in the 1920s, Norman's films (e.g., The Flying Ace, Black Gold) featured positive portrayals of blacks as pilots, educators, lawyers and cowboys.
While at FAMU, also Motley produced a documentary, traveling to South America to film a medical mission in the most remote, pristine areas of Guyana. Motley served as writer, photographer, and editor on the project.
Motley serves on the Board of Directors for the South Florida Black Journalists Association. He is a mentor with Big Brothers/Big Sisters of Greater Miami.
Tammy Kernodle, festival curator, musicologist and host
Dr. Tammy L. Kernodle is University Distinguished Professor in the Department of Music at Miami University (Ohio), who specializes in African American music (concert and popular) and gender studies in music.
Her scholarship explores the intersection of gender and racial identity, performance practice and musical genre. Her work has appeared in major peer-reviewed journals including American Studies, Musical Quarterly, Black Music Research Journal, The Journal of the Society of American Music (JSAM), American Music Research Journal, The U.S Catholic Historian, and the Journal of the American Musicological Society (JAMS). She also was a contributor to The African American Lectionary Project, the Smithsonian Anthology of Hip Hop and Rap and the Carnegie Hall Digital Timeline of African American Music. Her scholarship also appears in numerous anthologies and reference works including Women's Voices Across Musical Worlds, John Coltrane and Black America's Quest for Freedom: Spirituality and the Music, and The Cambridge Companion to Women in Music Since 1900.
Kernodle is the author of biography Soul on Soul: The Life and Music of Mary Lou Williams (new edition, University of Illinois Press, 2020) She also served as Associate Editor of the three-volume Encyclopedia of African American Music and as one of the Editors for the revision of the New Grove Encyclopedia of American Music.
Kernodle served as the Scholar in Residence for the Women in Jazz Initiative at the American Jazz Museum in Kansas City from 1999 until 2001. She has worked closely with a number of educational programs including the Kennedy Center's Mary Lou Williams Women in Jazz Festival, Jazz@Lincoln Center, NPR, Canadian Public Radio, the Rock 'n' Roll Hall of Fame, and the BBC.
From 2012-2016, Kernodle served as a scholarly consultant for the exhibits entitled "Musical Crossroads" at the National Museum of African American History and Culture. She appears in a number of award-winning documentaries including Mary Lou Williams: The Lady Who Swings the Band, Girls in the Band, Miles Davis: Birth of the Cool, and How It Feels to Be Free.
 In 2014, she received the Effective Educator Award from the Miami University Alumni Association and in 2018 was awarded the Benjamin Harrison Medallion. The Harrison Award is the highest award given to a Miami University faculty member in recognition of their research, teaching and service.  She is the immediate Past President of the Society for American Music.