Events & Tickets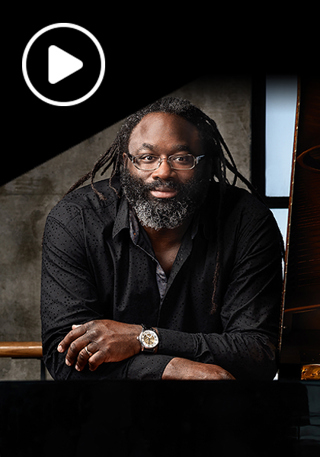 Chamber Music
Time Past, Time Future
Online Event
Sunday, April 25, 2021 at 2:00 PM ET
Program
Sponsored by:

Pianist Awadagin Pratt makes his NWS debut performing the world premiere of Alvin Singleton's Time Past, Time Future. This special chamber music concert also features Dvořák's beloved Wind Serenade  and works for brass quintet.
NWS thanks its 2020-21 donors.
Program
Alvin Singleton
(b. 1940)
Approx. Duration: 13 minutes

Time Past, Time Future for Piano and String Orchestra (2020; world premiere)

Awadagin Pratt, piano and conductor
Ethan Hoppe, Katherine Kobylarz, Sophia Bernitz
Michael Rau, Dillon Welch, violin I
Scott Jackson, Yankı Karataş, Margeaux Maloney
Brendon Elliott, Michael Turkell, violin II
Marlea Simpson, Peter Ayuso
Stephanie Block, Sam Pedersen, viola
James Churchill, Chava Appiah, Ben Fryxell
Emily Yoshimoto, cello
Antonio Escobedo, Eric Windmeier, bass
Adolphus Hailstork
(b. 1941)
Approx. Duration: 4 minutes

Fanfare on "Amazing Grace" (2003)

Scott Leger, horn
Morgen Low, Gianluca Farina, trumpet
Guangwei Fan, trombone; Andrew Abel, tuba
Matthew Kibort, timpani; Thomas Steigerwald, organ
Tania León
(b. 1943)
Approx. Duration: 3 minutes

Saoko for Brass Quintet (2009)

Morgen Low, Gianluca Farina, trumpet
Scott Leger, horn; Guangwei Fan, trombone
Andrew Abel, tuba
François Couperin
(1668-1733)
Approx. Duration: 12 minutes

Concert royal No. 2 in D major (c. 1722)

Prélude
Allemande fuguée
Air tendre
Air contrefugué
Echos (Rondeau)
Mark Debski, oboe
Clare Bradford, cello
Wesley Ducote, harpsichord
Antonín Dvořák
(1841-1904)
Approx. Duration: 23 minutes

Serenade in D major for Winds, Op. 44 (1878)

Moderato, quasi marcia
Menuetto – Trio
Andante con moto
Finale: Allegro molto
Chad Goodman, conductor
Joo Bin Yi, Victoria Chung, oboe
Kelsi Doolittle, Jesse McCandless, clarinet
Amelia del Caño , Bee Ungar, bassoon
Justin Cummings, contrabassoon
Thea Humphries, Helen Wargelin, Corbin Castro, horn
Amy Sunyoung Lee, cello; Kathryn Bradley, bass
Alvin Singleton
Time Past, Time Future for Piano and String Orchestra (2020; world premiere)

Approximate duration: 13 minutes
The stylistic diversity of Alvin Singleton's music is a product of his tremendous receptivity to different inputs, a quality that was already active when he was growing up in Brooklyn, equally captivated by arranging charts for his own jazz ensemble and devouring the symphonies of Mahler. After completing degrees at New York University and Yale, Singleton used a Fulbright Scholarship in Italy to launch a career in Europe, a time of great growth and exploration that led him to acknowledge, "I learned more about what it is to be an American living abroad than I did in America." An offer to serve as composer-in-residence for the Atlanta Symphony brought him back to the United States in 1985, and Atlanta remains his home base for a career marked by major performances and residencies on both sides of the Atlantic.
Time Past, Time Future was commissioned by The Art of the Piano Foundation for Awadagin Pratt. In a program note that accompanies the score, Singleton's colleague Carman Moore writes, "Dynamic contrast, traditionally used to spice up and influence music with variety, here becomes the principal theme and engine of the piece, alternating back and forth in the work. Big, small, crazy-loud, distantly-soft, coming and going, taking over, but all the time achieving a balanced musical effect… Time Past, Time Future is a work of extremes that seeks and ultimately finds balance. Even the title is a balancing act."
Adolphus Hailstork
Fanfare on "Amazing Grace" (2003)

Approximate duration: 4 minutes
As he celebrates his 80th birthday this April, Adolphus Hailstork is proving that he is still in the prime of his musical life, adding major new works to a substantial catalog that stretches back to the 1960s. During his student years at Howard University, Manhattan School of Music and Michigan State University, Hailstork gained notice for his finely crafted scores for large and small ensembles, including a master's thesis work performed by the Baltimore Symphony. A succession of teaching posts brought him to Virginia, where he joined the faculty of Norfolk State University and then Old Dominion University. He still serves as Professor of Music and Eminent Scholar, and current projects such as his Fourth Symphony—a tribute to George Floyd—show his continued engagement with concert music that reflects his perspective on Black life in America.
The Fanfare on "Amazing Grace" that Hailstork composed in 2003 recently had its most high-profile performance to date, when "The President's Own" United States Marine Band played it as part of the festivities surrounding the inauguration of President Biden. The melodic source material, long associated with the hymn "Amazing Grace," began as an anonymous folk tune that originated in Appalachia, where it was adopted as a hymn melody known as "New Britain." Hailstork's treatment weaves fragments of that soaring theme within bright and festive fanfare figures from the brass and timpani. 
Tania León
Saoko for Brass Quintet (2009)

Approximate duration: 3 minutes
The 24-year-old Tania León left her native Cuba in 1967 with dreams of living in Paris and touring as a piano virtuoso. Immigration restrictions led her to New York instead, where her talents as a dance accompanist got her recruited to serve as music director of the newly formed Dance Theater of Harlem. She branched out into composing and conducting, and over time she found ways to bring her own Cuban heritage into her music, especially after she made her first return visit to Cuba in 1979.
The score for her 2009 brass quintet Saoko offers three definitions for the title, a Spanish noun pronounced "sa-OH-koh":
The name given to a traditional mixed drink on the island of Cuba, consisting of rum or aguardiente with coconut water.


An idiomatic expression in the Spanish-speaking cultures of the Caribbean and Latin America:
                Tiene Saoko! It has great taste!
                Tiene Saoko! It has duende! (a genie)
                Tiene Saoko! It has soul!
3. A musical work in which grooves emerge like the brief patterns formed when stirring a drink. As the sonic concoction swirls toward its conclusion, the players let out a "Saoko!" celebratory toast.

François Couperin
Concert royal No. 2 in D major (c. 1722)

Approximate duration: 12 minutes
Born into a famous family of musicians, François Couperin distinguished himself as "Couperin the Great" through his work as a keyboard player for both the royal court of Louis XIV and one of Paris' major churches, where he held the organist post once held by his uncle and father. Taking advantage of the emerging market for published sheet music, Couperin secured a royal license in 1713 to begin printing his influential compositions, including four books of harpsichord music containing over 200 pieces.
In his third book of harpsichord pieces, published in 1722, Couperin included a series of four works labeled as Concerts royaux. These "royal concerts" were structured as dance suites in the typical French style, each beginning with a prelude. Couperin wrote the music on treble and bass staves and specified that they could either be played by harpsichord alone, or by an ensemble with treble instruments (flute, violin and/or oboe) sharing the top line and bass instruments (cello, viola da gamba and/or bassoon) sharing the bottom. The second concert is distinctive in that only the Allemande references a specific dance style, in this case a fast "German" dance. It is followed by a "tender air" and an "air with fugue"—air being a general term for a tuneful song. The final selection plays with echo figures, using quiet repetitions of phrase endings to approximate that natural phenomenon.
Antonín Dvořák
Serenade in D major for Winds, Op. 44 (1878)

Approximate duration: 23 minutes
Dvořák composed the Serenade for Winds in 1878, the same year the Slavonic Dances became the Czech composer's first international hit. As in his previous Serenade for Strings from 1875, the title referenced those light-hearted works from Mozart's time that functioned as entertainment at evening gatherings.
Dvořák's Serenade opens with march-like music, a fitting tribute to the outdoor origins of the wind ensemble, which traditionally entered and exited a performance playing a march. The minuet that follows is full of playful echoes and melodic counter-lines, making the most of a quick descending motive in the outer sections and an even quicker shaking gesture in the contrasting trio section.
The Andante con moto third movement rolls out beautiful, patient melodies over a lively accompaniment. Operating in the middle ground for most of the movement, the three horns almost steal the show with their infectious off-beats and regal commentaries. The finale features overtly "Slavonic" music, showing off Dvořák's most marketable asset during that early stage of his international career.
-- © 2021 Aaron Grad
Aaron Grad is a composer, guitarist and writer based in Seattle. Besides providing program notes for the New World Symphony, he has been the Orpheus Chamber Orchestra's program annotator since 2005 and also contributes notes to the Saint Paul Chamber Orchestra and Seattle Symphony.
Awadagin Pratt, piano and conductor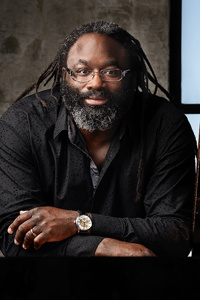 Among his generation of concert artists, pianist Awadagin Pratt is acclaimed for his musical insight and intensely involving performances in recital and with symphony orchestras.
Born in Pittsburgh, Mr. Pratt began studying piano at the age of six. Three years later, having moved to Normal, Illinois with his family, he also began studying violin. At the age of 16 he entered the University of Illinois, where he studied piano, violin and conducting. He subsequently enrolled at the Peabody Conservatory of Music where he became the first student in the school's history to receive diplomas in three performance areas: piano, violin and conducting.
In 1992 Mr. Pratt won the Naumburg International Piano Competition and two years later was awarded an Avery Fisher Career Grant. Since then, he has played numerous recitals throughout the U.S. including performances at Lincoln Center, The Kennedy Center, Dorothy Chandler Pavilion in Los Angeles, Chicago's Orchestra Hall and the New Jersey Performing Arts Center. His many orchestral performances include appearances with the New York Philharmonic, Minnesota Orchestra, and the Pittsburgh, Cincinnati, Baltimore, Indianapolis, Atlanta, St. Louis, National, Detroit and New Jersey symphonies, among many others. Summer festival engagements include appearances at Ravinia, Blossom, Wolftrap, Caramoor, Aspen and the Hollywood Bowl, and he also serves on the faculty of the Eastern Music Festival in Greensboro, North Carolina, where he coaches chamber music, teaches individual pianists and performs chamber music and concertos with the festival orchestra.
Internationally, Mr. Pratt has toured Japan four times and performed in Germany, Italy, Brazil, Switzerland, Poland, Israel, South Korea, Columbia, Canada and South Africa.
Also an experienced conductor, Mr. Pratt has conducted programs with the Toledo, New Mexico, Vancouver Washington, Winston-Salem, Santa Fe and Prince George County symphonies, Northwest Sinfonietta, Concertante di Chicago and several orchestras in Japan. Upcoming conducting activities include play/conducting the Chamber Orchestra of Pittsburgh and conducting performances of Porgy and Bess for the Greensboro Opera.
A great favorite on college and university performing arts series and a strong advocate of music education, Mr. Pratt participates in numerous residency and outreach activities wherever he appears; these activities include master classes, children's recitals, play/talk demonstrations and question/answer sessions for students of all ages. He is also frequently invited to participate on international competition juries, such as the Rubinstein International Piano Master Competition in Israel, Cleveland International Piano Competition, Minnesota e-Competition, Unisa International Piano Competition in South Africa and Competition for Young Pianists in Memory of Vladimir Horowitz in Ukraine.
In 2009 Mr. Pratt was one of four artists invited by First Lady Michelle Obama to participate in a classical music event at the White House that included student workshops and a performance for guests including President Obama. He has performed two other times at the White House, both at the invitation of President and Mrs. Clinton.
Mr. Pratt's recordings for Angel/EMI include A Long Way From Normal, an all-Beethoven Sonata disc, Live From South Africa, Transformations and an all-Bach disc with the St. Lawrence String Quartet. His most recent recordings are the Brahms Sonatas for Cello and Piano with Zuill Bailey for Telarc and a recording of the music of Judith Lang Zaimont with the Harlem Quartet for Navona Records.
Mr. Pratt is currently Professor of Piano and Artist in Residence at the College-Conservatory of Music at the University of Cincinnati. He also served as the Artistic Director of the World Piano Competition in Cincinnati and the Next Generation Festival, and is currently President and Artistic Director of the Art of the Piano Festival in Cincinnati. In recognition of his achievements in the field of classical music, he received the Distinguished Alumni Award from Johns Hopkins University, as well as honorary doctorates from Illinois Wesleyan and Susquehanna universities. He has delivered commencement addresses at those institutions as well as at Peabody Conservatory.
Mr. Pratt is a Yamaha artist.
Chad Goodman, conductor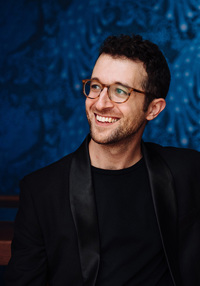 With a flair for inventive programming and a bold presence on stage and in the community, Chad Goodman has been praised for "bringing innovation to classical music" (Forbes).
As the Conducting Fellow of the New World Symphony, Mr. Goodman conducts on subscription, education, family and holiday programs. His program, "SPARK: How Composers Find Inspiration," blended captivating light design and videography with engaging audience participation to explore how a composition is created and brought to life by an orchestra.
Since 2018 Mr. Goodman has served as an Assistant Conductor to the San Francisco Symphony, assisting Esa-Pekka Salonen, Manfred Honeck, Daniel Harding, Pablo Heras-Casado, Simone Young and James Gaffigan among others.
Mr. Goodman's 2022-23 Season will include debut appearances with the Elgin Symphony, Baton Rouge Symphony, Greensboro Symphony and San Francisco Chamber Orchestra.
As Founder and Artistic Director of Elevate Ensemble, Mr. Goodman's ambitious vision for concert programming resulted in the pairing of music from Bay Area composers with underappreciated gems of the 20th and 21st centuries. Under his leadership, Elevate Ensemble established a Composer-in-Residence program and commissioned fifteen works from Bay Area composers. Elevate collaborated with photographers, videographers, poets and culinary artists, bringing new music and vibrant multi-genre experiences to unique venues such as yoga studios, historic Victorian homes and art studio warehouses.
Mr. Goodman has previously served as Conducting Fellow of Festival Napa Valley, Music Director of the Contra Costa Chamber Orchestra, Conducting Fellow of the Atlantic Music Festival, and a rehearsal and cover conductor for the San Francisco Ballet.
In addition to his performing career, he teaches young musicians the business and entrepreneurial skills needed to successfully navigate the world as a working musician in his workshop "You Earned a Music Degree. Now What?"
Mr. Goodman holds a bachelor of music degree from the Eastman School of Music and a master of music degree from San Francisco State University. His mentors include Michael Tilson Thomas, Alasdair Neale, Cyrus Ginwala and Martin Seggelke.