Events & Tickets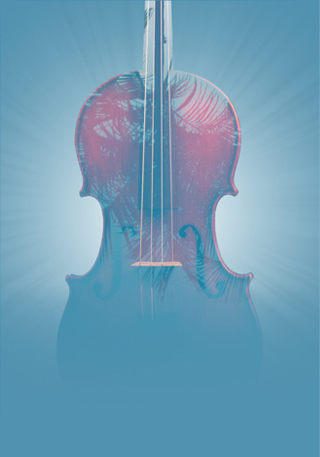 Special Event
VIOLA VISIONS: VIOLA SOLO MASTER CLASS
New World Center
Friday, October 18 at 7:30 PM
MTT joins Viola Vision guests and NWS alumni for a master class. Three young violists will perform works crowd-sourced from global online viola community. Join the global conversation by submitting your questions and comments during the broadcast on Facebook Live.
Knight Foundation and New World Symphony: Reimagining Classical Music in the Digital Age.
WAYS TO WATCH:
FACEBOOK LIVE THE VIOLIN CHANNEL
Program
JOHANN SEBASTIAN BACH   Prelude from Suite No. 1 in G major for Solo Cello, BWV 1007
(1685-1750)
                                                  Teresa Mejias

FRANZ SCHUBERT                  I. Allegro moderato from Sonata in A minor for Arpeggione and Piano, D. 821
(1797-1828) 
                                                   Mikel Rollet; Thomas Steigerwald, piano

BÉLA BARTÓK                          I. Allegro from Concerto for Viola and Orchestra, Sz. 120
(1881-1945) 
Completed by Tibor Serly          Alec Luna; Thomas Steigerwald, piano
WOLFGANG AMADEUS          I. Allegro maestoso from Sinfonia concertante in E-flat major for Violin, Viola and Orchestra, K. 364 (320d)
MOZART        
(1756-1791)                              Stephanie Block
                                                  Katherine Kobylarz, violin; Thomas Steigerwald, piano
JOHANNES BRAHMS              I. Allegro appassionato from Sonata in F minor for Clarinet and Piano, Op. 120, No. 1
(1833-1897) 
                                                 Yuan Qi; Thomas Steigerwald, piano
CARL STAMITZ                       I. Allegro non troppo from Concerto in D major for Viola and Orchestra, Op. 1
(1745-1801) 
                                                Jessica Pasternak; Wesley Ducote, piano
Michael Tilson Thomas, conductor
Michael Tilson Thomas is Co-Founder and Artistic Director Laureate of the New World Symphony, America's Orchestral Academy; Music Director Laureate of the San Francisco Symphony; and Conductor Laureate of the London Symphony Orchestra. In addition to these posts, he maintains an active presence guest conducting with the major orchestras of Europe and the United States.
Born in Los Angeles, Mr. Tilson Thomas is the third generation of his family to follow an artistic career. His grandparents, Boris and Bessie Thomashefsky, were founding members of the Yiddish Theater in America. His father, Ted Thomas, was a producer in the Mercury Theater Company in New York before moving to Los Angeles where he worked in films and television. His mother, Roberta Thomas, was the head of research for Columbia Pictures.
Mr. Tilson Thomas began his formal studies at the University of Southern California, where he studied piano with John Crown, and conducting and composition with Ingolf Dahl. At age 19 he was named Music Director of the Young Musicians Foundation Debut Orchestra. During this same period, he was the pianist and conductor in master classes of Gregor Piatigorsky and Jascha Heifetz and worked with Stravinsky, Boulez, Stockhausen and Copland on premieres of their compositions at Los Angeles' Monday Evening Concerts.
In 1969, after winning the Koussevitzky Prize at Tanglewood, he was appointed Assistant Conductor of the Boston Symphony Orchestra. That year he also made his New York debut with the Boston Symphony and gained international recognition after replacing Music Director William Steinberg in mid-concert. He was later appointed Principal Guest Conductor of the Boston Symphony Orchestra where he remained until 1974. He was Music Director of the Buffalo Philharmonic from 1971 to 1979 and a Principal Guest Conductor of the Los Angeles Philharmonic from 1981 to 1985. His guest conducting includes appearances with the major orchestras of Europe and the United States.
Mr. Tilson Thomas is a two-time Carnegie Hall Perspectives artist, curating and conducting series at the hall from 2003 to 2005 and from 2018 to 2019. In the most recent series, he led Carnegie Hall's National Youth Orchestra of the United States of America both at the hall and on tour in Asia, opened the Carnegie Hall season over two evenings with the San Francisco Symphony, conducted two programs with the Vienna Philharmonic and finished with a pair of concerts leading the New World Symphony.
A winner of eleven Grammy Awards, Mr. Tilson Thomas appears on more than 120 recordings. His discography includes The Mahler Project, a collection of the composer's complete symphonies and works for voice and orchestra performed with the San Francisco Symphony, in addition to pioneering recordings of music by Charles Ives, Carl Ruggles, Steve Reich, John Cage, Ingolf Dahl, Morton Feldman, George Gershwin, John McLaughlin and Elvis Costello. His recordings span repertoire from Bach and Beethoven to Debussy and Stravinsky, and from Sarah Vaughan to Metallica.
His television work includes a series with the London Symphony Orchestra for BBC Television, broadcasts of the New York Philharmonic Young People's Concerts from 1971 to 1977 and numerous productions on PBS's Great Performances. With the San Francisco Symphony, he created a multi-tiered media project, Keeping Score, which includes a television series, web sites, and radio programs. He received a Peabody Award for his SFS Media radio series The MTT Files.
Mr. Tilson Thomas's compositions are published by G. Schirmer. In 1991, he and the New World Symphony were presented in a series of benefit concerts for UNICEF in the United States, featuring Audrey Hepburn as narrator of his work From the Diary of Anne Frank, which was commissioned by UNICEF. This piece has since been translated and performed in many languages worldwide. In August 1995, he led the Pacific Music Festival Orchestra in the premiere of his composition Shówa/Shoáh, commemorating the 50th anniversary of the bombing of Hiroshima. His vocal music includes settings of poetry by Walt Whitman and Emily Dickinson, which were premiered by Thomas Hampson and Renée Fleming, respectively. In 2016, Yuja Wang premiered his piano piece You Come Here Often?.
Mr. Tilson Thomas' song cycle Four Preludes on Playthings of the Wind, a setting of Carl Sandburg's poem, was premiered in 2016 by the New World Symphony, with Measha Brueggergosman as soloist. In 2019 the piece was recorded for Medici.tv at the New World Center and given its New York premiere as part of Mr. Tilson Thomas's second Carnegie Hall Perspectives series. His first Perspectives series also featured performances of his own compositions, including Island Music for four marimbas and percussion; Notturno for solo flute and strings, featuring soloist Paula Robison; and new settings of poems by Rainer Maria Rilke. In 2020, he led the San Francisco Symphony in the world premiere of his six-part song cycle Meditations on Rilke, and he subsequently conducted the work at the Cleveland Orchestra. Additional compositions include Street Song for brass instruments; Agnegram, an overture for orchestra; and Urban Legend, a concerto for contrabassoon that was premiered by the San Francisco Symphony. In June 2020, SFS Media released an album of works composed by Mr. Tilson Thomas, featuring live concert recordings of From the Diary of Anne Frank, narrated by mezzo-soprano Isabel Leonard, and Meditations on Rilke, sung by mezzo-soprano Sasha Cooke and bass-baritone Ryan McKinny.
Mr. Tilson Thomas is an Officier de l'Ordre des Arts et des Lettres of France, is a member of the American Academy of Arts and Sciences, was Musical America's Musician of the Year and Conductor of the Year, was Gramophone magazine's Artist of the Year and has been profiled on CBS's 60 Minutes and ABC's Nightline. He has been awarded the National Medal of Arts, has been inducted into the California Hall of Fame and the American Academy of Arts and Letters, and was a 2019 recipient of the Kennedy Center Honors.
Young Artist Competition Winners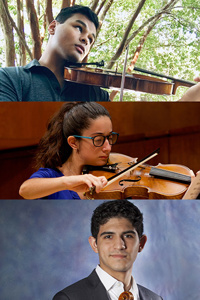 Alec Luna
Alec Luna is currently studying at the Robert McDuffie Center for Strings under Rebecca Albers and Hsin-Yun Huang. He has performed alongside the finest musicians in classical music including: Yo-Yo Ma, David Kim, and Robert McDuffie. He has also played in master classes for members of the Emerson, Ehne and Cavani string quartets.
Teresa Mejias
Teresa Mejias was introduced to the viola three years ago by her professor Adriana Virgüez-Crúz at the Mozarteum Caracas School of Music. She has participated in various festivals with the Florida Federation of Music Clubs, Stetson University and the University of Florida. She also participated in the 16th Internationale Sommerakademie für Kammermusik in Germany and the Sphinx Performance Academy at The Juilliard School.
Mikel Rollet
Mikel Rollet is a freshman at The Juilliard School, where he currently studies with Heidi Castleman and Hsin-Yun Huang. Previously, he was a student of Jeffrey Irvine in the Cleveland Institute of Music Young Artists Program. He also served as a Principal Violist of the Cleveland Orchestra Youth Orchestra.
Kim Kashkashian, viola
Kim Kashkashian, internationally recognized as a unique voice on the viola, was born of Armenian parents in Michigan. She studied the viola with Karen Tuttle and legendary violist Walter Trampler at the Peabody Conservatory of Music in Baltimore. Since fall 2000 she has taught viola and chamber music at New England Conservatory.
Following Grammy Award nominations for several previous recordings, Ms. Kashkashian received a 2012 Grammy Award in the "Best Classical Instrumental Solo" category for Kurtág and Ligeti: Music for Viola, on the ECM Records label. Ms. Kashkashian's recording, with Robert Levin, of the Brahms Sonatas won the Edison Prize in 1999. Her June 2000 recording of concertos by Bartók, Eötvös and Kurtág won the 2001 Cannes Classical Award for a premiere recording by soloist with orchestra.
In 2016 Ms. Kashkashian was elected a Fellow of the American Academy of Arts and Sciences.
Ms. Kashkashian has worked tirelessly to broaden the range of technique, advocacy, and repertoire for the viola. A staunch proponent of contemporary music, she has developed creative relationships with György Kurtág, Krzysztof Penderecki, Alfred Schnittke, Giya Kancheli, and Arvo Pärt, and commissioned works from Peter Eötvös, Ken Ueno, Thomas Larcher, Lera Auerbach and Tigran Mansurian.
Marlboro and the Viennese school represented by her mentor, Felix Galimir, were major influences in developing Ms. Kashkashian's love of chamber music. She is a regular participant at the Verbier, Salzburg, Lockenhaus, Marlboro and Ravinia festivals. She has long-standing duo partnerships with pianist Robert Levin and percussionist Robyn Schulkowsky, and played in a unique string quartet with Gidon Kremer, Daniel Phillips and Yo-Yo Ma.
As a soloist, Ms. Kashkashian has appeared with the great orchestras of Berlin, London, Vienna, Milan, New York and Cleveland, and in recital at the Metropolitan Museum of New York, Kaufmann Hall, New England Conservatory's Jordan Hall, as well as in Philadelphia, Pittsburgh, Cleveland, Frankfurt, Berlin, Paris, Athens and Tokyo.
Ms. Kashkashian's musicianship has been well represented on recordings through her association with the prestigious ECM label in a fruitful collaboration that has been continuous since 1985.
Ms. Kashkashian has taught in Bloomington, Indiana, and in Freiburg and Berlin, Germany, and now resides with her daughter in Boston. She is a founding member of Music for Food, an initiative by musicians to fight hunger in their home communities.
Tabea Zimmermann, viola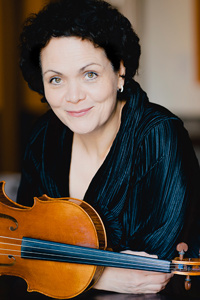 For many years, Tabea Zimmermann has been regarded as one of the most renowned musicians of our time. Audiences and fellow musicians value her charismatic personality and deep musical understanding. Arguably the finest violist in the world today, she owes her success not only to her exceptional talent, but also to the support of her parents, thorough training by excellent teachers, a tireless enthusiasm to communicate her understanding and love of music to her audience and an uncompromisingly high quality standard.
As a soloist Ms. Zimmermann regularly works with the most distinguished orchestras worldwide such as the Berlin Philharmonic, Orchestre de Paris, London Symphony, Israel Philharmonic and the Czech Philharmonic. Following residencies in Weimar, Luxembourg, Hamburg and with the Bamberg Symphony, she was artist-in-residence with the Ensemble Resonanz from 2013-15, and continues this close collaboration. In the 2015-16 season, she was artist-in-residence of the Frankfurt Museums-Gesellschaft.
Ms. Zimmermann kicked off the 2018-19 season with the Swedish Chamber Orchestra at the BBC Proms. Further highlights of the current season include her concerts with the Helsinki Philharmonic Orchestra under Susanna Mälkki, the Radio Filharmonisch Orkest under Markus Stenz and at the Philharmonie de Paris with Les Siècles under Francois-Xavier Roth. On a tour of Asia, she will perform Mantovani's Double Concerto together with Antoine Tamestit and the Tokyo Metropolitan Symphony, and appear with the Seoul Philharmonic Orchestra in York Höller's new Concerto for Viola and Orchestra, which she premiered in 2018 with the Gürzenich Orchestra Cologne under François-Xavier Roth.
The Arcanto Quartet, in which Ms. Zimmermann performs with violinists Antje Weithaas and Daniel Sepec and cellist Jean-Guihen Queyras, has provided a special focus for her chamber music activities. On the label Harmonia Mundi, they have released CDs of works by Bartók, Brahms, Ravel, Dutilleux, Debussy, Schubert and Mozart.
Ms. Zimmermann has inspired numerous composers to write for the viola and has introduced many new works into the standard concert and chamber music repertoire. In 1994 she gave the highly successful world premiere of the Sonata for Solo Viola by György Ligeti, a work composed especially for her. The subsequent premieres of this work in London, New York, Paris, Jerusalem, Amsterdam and Japan attracted great critical and public acclaim. In recent seasons, Ms. Zimmermann has premiered Recicanto for Viola and Orchestra by Heinz Holliger, the viola concerto Über die Linie IV by Wolfgang Rihm, Monh by George Lentz, Notte di pasqua by Frank Michael Beyer, a double concerto by Bruno Mantovani with Antoine Tamestit, and Filz by Enno Poppe with Ensemble Resonanz. She played the premiere of Michael Jarrell's Viola Concerto at Festival Musica Strasbourg 2017 with the Orchestre National des Pays de la Loire under Pascal Rophé; and subsequent performances with the Vienna Symphony under Ingo Metzmacher, the Orchestre de la Suisse Romande under Pascal Rophé and the Konzerthaus Orchestra Berlin under Mario Venzago.
To mark Hindemith's anniversary in 2013, Ms. Zimmermann released a highly acclaimed complete recording of the composer's works for viola on myrios classics. Following the success of her recording of solo works by Reger and Bach with myrios classics in 2009 – for which she received an Echo Klassik prize as Instrumentalist of the Year – she has released three albums with pianists Kirill Gerstein and Thomas Hoppe. Ms. Zimmerman's artistry is documented on approximately 50 CDs for labels such as EMI, Teldec and Deutsche Grammophon. A live recording of her performance on Beethoven's own viola at the Beethovenhaus Bonn, accompanied by Hartmut Höll, was released by Ars Musici.
Ms. Zimmermann has received several national and international awards for her outstanding artistic achievements. These include the Federal Cross of Merit, Frankfurter Musikpreis, Hessischer Kulturpreis, Rheingau Musikpreis, International Prize Accademia Musicale Chigiana in Sienna, the Paul-Hindemith-Prize from the city of Hanau and most recently as Artist of the Year by the ICMA International Classical Music Awards 2017. She is a foundation board member of the Hindemith Foundation in Blonay (Switzerland) as well as ambassador for the German Foundation for Children's Hospices. In 2013 she was appointed chairwoman of the board of the Beethoven-Haus Bonn. Under her aegis, the Beethoven-Woche Bonn has taken place every year since January 2015.
Ms. Zimmermann began learning the viola at the age of three, and two years later began playing the piano. She studied with Ulrich Koch at the Musikhochschule Freiburg and subsequently with Sandor Vegh at the Mozarteum Salzburg. Following her studies, she received several awards at international competitions, amongst them first prizes at the 1982 Geneva International Competition and the 1984 Budapest International Competition. As a result of winning the 1983 Maurice Vieux Competition in Paris, she received a viola by the contemporary maker Etienne Vatelot, on which she has been performing ever since. From 1987 to 2000, she regularly gave concerts in Düsseldorf, Jerusalem and Luxembourg with the late David Shallon, father of her two sons Yuval and Jonathan. Ms. Zimmermann has held teaching posts at the Musikhochschule Saarbrücken and Hochschule für Musik Frankfurt. Since 2002 she has been a professor at the Hochschule für Musik 'Hanns Eisler' in Berlin, where she now lives with her three children.
Anthony Parce, emcee, NWS viola alumnus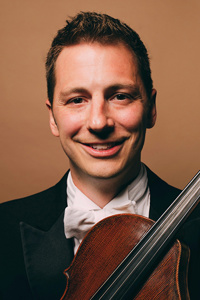 Anthony Parce has distinguished himself in exploring the versatility and relevance of today's classical music world. He enjoys bringing his energy and ideas to the Nashville Symphony, having joined in 2019. He was one of four inaugural Community Embedded Musicians with the Houston Symphony, where he taught extensively in area schools from pre-k through college, did therapeutic and palliative work in healthcare settings, organized diverse concerts in community and social centers, and curated several salon-style patron engagement experiences.
Mr. Parce has recently served as Guest Principal Violist of the Amarillo Symphony and Ashlawn opera; played with the San Francisco, Houston and North Carolina symphonies; and performed John Cage's Water Walk for solo performer and bath tub during the GRAMMY Salute to Musical Legends.
During his fellowship at the New World Symphony, Mr. Parce organized and produced innovative concert formats, lectured on and performed the early works and life of Arnold Schoenberg, produced a commemoration of Kristallnacht with testimony by Holocaust survivors, travelled many times to Medellín, Colombia to teach at the IberAcademy, and helped curate the virtual library MUSAIC. In addition to being a regular principal at NWS, Mr. Parce performed chamber music with Christian Tetzlaff, Jessye Norman and Anne Marie McDermott.
Mr. Parce has attended the Verbier, Schleswig-Holstein, Tanglewood, Artosphere and Britten-Piers summer festivals, as well as the National Orchestral Institute, Domaine Forget and Music Academy of the West. He holds degrees from the New England Conservatory and Rice University's Shepherd School of Music, studying with James Dunham, Roger Tapping and Karen Ritscher. He is a native of Seattle.
NWS Viola Fellows
Stephanie Block
Daniel Fellows
Spencer Ingersoll
Gabe Napoli
Jessica Pasternak
Sam Pedersen
Yuan Qi
Kip Riecken
Marlea Simpson 
Chien Tai Ashley Wang