Events & Tickets
WALLCAST® Concert
WALLCAST® Concert: 35th Anniversary Season Opener
SoundScape Park
Saturday, October 15, 2022 at 7:30 PM
Program
New World Symphony celebrates 35 years with two triumphant performances led by the Vienna Philharmonic's Christoph Koncz in the newly christened Michael Tilson Thomas Performance Hall. Hailed as a "revelation" and "breathtaking from start to finish" (NRC, Netherlands), Trinidadian soprano Jeanine De Bique makes her NWS debut in selections from Carl Maria von Weber's opera Der Freischütz. Join in the hilarious hijinks of troublemaker Till Eulenspiegel in Richard Strauss' dazzling tone poem before witnessing the world premiere of Fanfares from Uhrovec, a festive fusion of American and Bohemian traditions. Johannes Brahms, the ultimate romantic who once felt paralyzed by Beethoven's shadow, found immediate success in his Third Symphony, a rich panorama of endless beauty.
WALLCAST® concerts are free. No tickets required.
Document your WALLCAST® concert experience using #NWSWALLCAST on social media!
Mobile Program: Download NWS's free app for event information, program notes, musician profiles and more! Click here to download.
WALLCAST® Concert Club: Click here to join for special perks, discounts and WALLCAST® concert reminders. 
Expanded Viewing Area: In addition to the New World Center's 7,000-square-foot projection wall, NWS's new Mobile Wall, a 23x13-foot projection wall with a state-of-the-art sound system, will extend the viewing areas in SoundScape Park during the WALLCAST® concert.
Restrooms: There are always restrooms available in the south-east corner of SoundScape Park. 
What's a WALLCAST® concert? Click here to get a taste of the WALLCAST® concert experience!
Program
Carl Maria von Weber
(1786-1826)
Approx. Duration: 26 minutes

Der Freischütz, Op. 77 (1821)

Overture
"Und Und ob die Wolke sie verhülle"
"Wie nahte mir der Schlummer"
Richard Strauss
(1864-1949)
Approx. Duration: 16 minutes

Till Eulenspiegel's Merry Pranks, Op. 28 (1894-95)

Stephan Koncz
(b. 1984)
Approx. Duration: 4 minutes

Fanfares from Uhrovec (2022; world premiere)

Johannes Brahms
(1833-1897)
Approx. Duration: 33 minutes

Symphony No. 3 in F major, Op. 90 (1883)

Allegro con brio
Andante
Poco allegretto
Allegro
Carl Maria von Weber
Der Freischütz, Op. 77 (1821)

Approximate duration: 26 minutes
Carl Maria von Weber served as music director at a succession of civic and court theatres and opera houses—Breslau, Karlsruhe, Prague and Dresden, where he oversaw the German Opera Theater from 1817-21. Four of his operas—Abu Hassan, Der Freischütz (The Freeshooter), Euryanthe and Oberon—remain at least somewhat before the public ear today. Der Freischütz upholds his position as a defining figure of German Romanticism, which linked such other-worldly illusions as fairies and demons with such real ones as nationalistic longings.
In the mysterious tale of Der Freischütz, Max (an assistant forester) hopes to win the hand of Agathe (the head forester's daughter) in a marksmanship match. Through his friend Caspar, who has sold his soul to the devil, Max tries to get a leg up by going to the haunted Wolf's Glen to cast seven magic bullets, which the devil guarantees will hit their mark. Max wins the contest, but the devil causes the last bullet to hit Agathe. A holy man intercedes, Agathe recovers and Max confesses his evildoing, after which he is put on probation for year and then will be allowed to marry Agathe.
Its ultra-Romantic sensibilities coincided perfectly with the prevailing spirit of its time, and its forested inflections, in which the horn section is rarely far from the action, ushered it in as one of the great triumphs in the history of opera. "Der Freischütz opens with what is universally considered a queen among overtures," wrote Hector Berlioz. We also hear Agathe's two principal arias. She wears her wedding dress when she sings "Und ob die Wolke sie verhülle" ("And if the clouds hide it") in Act III, but has had evil premonitions in a nightmare. "Wie nahte mir der Schlummer" ("How did sleep come to me") falls earlier in the opera, in Act I, where she prays in the moonlight for the angels' protection.
Richard Strauss
Till Eulenspiegel's Merry Pranks, Op. 28 (1894-95)

Approximate duration: 16 minutes
Till Eulenspiegel was presumably a historical figure of northern Germany whose escapades made him a staple of folklore. The oldest surviving version of the Till Eulenspiegel stories dates from 1510-11, after which the tall tales proliferated with amazing vigor. No matter the specifics of a story, Till invariably played practical jokes on unsuspecting victims, often getting the better of more privileged citizens, such as clergymen or craftsmen.
Richard Strauss went so far as to sketch a scenario for an opera on the subject, but in the end, he channeled his efforts toward an un-staged dramatic exercise of the imagination in the form of a symphonic poem. For the 1895 premiere he declined to provide a written guide to the episodes depicted in this work, but some years later one of his colleagues did prepare exactly such a document. Strauss apparently considered it authoritative since he penciled phrases from it at appropriate places in his score: Till racing on horseback through the market, Till the cavalier exchanging courtesies with beautiful girls, and so on to his arrest, trial, conviction and hanging.
But what audiences love about the piece is less the story, which adds up to very little, than the music, which is at once charming and sophisticated. Strauss underscores the insouciant spirit by casting his piece in the most carefree of Classical forms, the rondo (at least a freely evolved form of one), with its recurring refrains. Within this structure he offers a stream of astonishing metamorphoses of what boils down to very few themes. The famously optimistic "Till motif" articulated by the horn near the beginning, for example, is transformed into something sarcastic and insolent when the E-flat clarinet gets hold of it, and into a yearning love-song when the flute and violins get their turn.
Stephan Koncz
Fanfares from Uhrovec (2022; world premiere)

Approximate duration: 4 minutes
Cellist Stephan Koncz, brother of violinist-conductor Christoph Koncz, has been a member of the Berlin Philharmonic since 2010. He provided the following note:
Since childhood I have been intrigued by the American tradition of incidental fanfares for orchestra—immediately those iconic sounds of Aaron Copland and John Williams come to mind and never fail to impress and move—while I kept wondering why there were barely any notable orchestral fanfares written here on our old continent, and how existing ones usually trace their roots to the Bohemian brass tradition.
Fast-forward: While pondering the question of which piece could be suitable as the opening track for my freshly recorded cello album with works by Dvořák, Tchaikovsky and Popper—music written in times of the old European empires—an irresistible urge befell me to find a synthesis of those American and Bohemian fanfare traditions, and pay tribute to Dvořák, Janáček, Williams and their peers by writing an exuberant piece of music to wake up to.
The Fanfare is loosely based on some very old (possibly medieval) tunes from the region of Slovakia/Hungary which were collected in a remarkable autograph from 1730 discovered in the town of Uhrovec—hence the title. The Slavic musical tradition gives a lot of importance and emotion to folk scenes and maybe a listener might find some of that in this short Fanfare: colorful, medieval scenes at a town square filled with the village peasants gathering for the occasional holiday fair, the king's trumpeters heralding and marching in front of the aristocracy, three pipers passing by, mighty church bells calling to mass service, itinerant musicians with fiddles and tambourines playing some ancient polkas just to be interrupted by a short and haunting horn melody that evolves into an almost apotheotic chorale in the end.
                – Stephan Koncz
Johannes Brahms
Symphony No. 3 in F major, Op. 90 (1883)

Approximate duration: 33 minutes
Johannes Brahms did much of his best work during his summer vacations, which he usually enjoyed at some bucolic getaway in the Austrian countryside. He spent the summer of 1883, during which he completed his Third Symphony, in the town of Wiesbaden, a spa resort along the Rhine. It is perhaps not coincidental that the piece's opening recalls the corresponding spot of the "Rhenish" Symphony No. 3, which Brahms' mentor Robert Schumann had composed in 1850 shortly after moving to Düsseldorf, another city on the Rhine.
The shortest of Brahms' four symphonies, the Third is a work of contrasting characters, sometimes introspective (especially in its meltingly beautiful third movement), elsewhere more given to heroic solidity. "Its foundation is self-confident, rough and ready strength," said the Viennese music critic Eduard Hanslick, and the conductor Hans Richter, who conducted its premiere, referred to it as Brahms' "Eroica." This comparison to one of Beethoven's mightiest scores must have moved Brahms deeply, since he had spent many years being intimidated about writing symphonies, worrying that his could not stand as worthy successors to Beethoven's.
The musical politics of Vienna practically guaranteed that Brahms' new works would be greeted with loud opinions pro and contra. True to form, listeners who preferred the avant-gardism of Liszt and Wagner made their displeasure known, but Brahms was pleasantly surprised by the warmth with which the piece was greeted overall. In fact, he grew to resent the Symphony's cascading popularity, feeling that it was overshadowing others of his works that he felt deserved similar enthusiasm. His friend and confidante Clara Schumann (Robert's widow) was among its devotees. "From start to finish," she wrote to him, "one is wrapped about with the mysterious charm of the woods and forests. I could not tell you which movement I loved most."
– © James M. Keller
James M. Keller is the longtime Program Annotator of the San Francisco Symphony and was formerly Program Annotator of the New York Philharmonic and a staff writer-editor at The New Yorker. The author of Chamber Music: A Listener's Guide (Oxford University Press), he is writing a sequel volume about piano music for the same publisher.
Programa
Carl Maria von Weber
(1786-1826)
Der Freischütz, Op. 77 (1821)
Overture
"Und Und ob die Wolke sie verhülle"
"Wie nahte mir der Schlummer"
Richard Strauss
(1864-1949)
Till Eulenspiegel's Merry Pranks, Op. 28 (1894-95)
Fanfares from Uhrovec (2022; world premiere)
Johannes Brahms
(1833-1897)
Symphony No. 3 in F major, Op. 90 (1883)
Allegro con brio
Andante
Poco allegretto
Allegro
Carl Maria von Weber
Selecciones de Der Freischütz, Op. 77 (1821)
Duración aproximada
: 26 minutos
Carl Maria von Weber se desempeñó como director musical en una sucesión de teatros cívicos y de la corte, así como teatros de ópera como Breslau, Karlsruhe, Praga y Dresde, donde estuvo a cargo del Teatro de la Ópera Alemana de 1817 a 1821. Cuatro de sus óperas – Abu Hassan, Der Freischütz (The Freeshooter), Euryanthe y Oberon – permanecen de alguna manera en el oído del público actual. Der Freischütz mantiene su posición como figura definitoria del romanticismo alemán, la cual vinculó ilusiones sobrenaturales como hadas y demonios con otras tan reales como los anhelos nacionalistas.
En la misteriosa historia de Der Freischütz, Max (asistente de guardabosque) espera ganar la mano de Ágata (la hija del jefe de los guardabosques) en una competencia de puntería. A través de su amigo Caspar, quien le ha vendido su alma al diablo, Max intenta ganar ventaja yendo a la embrujada Cañada del Lobo para lanzar siete balas mágicas, las cuales el diablo garantiza que darán en el blanco. Max gana el concurso, pero el diablo hace que la última bala alcance a Ágata. Un hombre santo intercede, Ágata se recupera y Max confiesa su maldad, después de lo cual es puesto en libertad condicional por un año y luego se le permitirá casarse con Ágata.
Su sensibilidad ultraromántica coincidió a la perfección con el espíritu imperante en su época, y sus inflexiones boscosas, en las cuales la sección de las trompas rara vez se aleja de la acción,  la establecieron como uno de los grandes triunfos en la historia de la ópera. "Der Freischütz abre con la que se considera universalmente una reina entre las oberturas", escribió Héctor Berlioz. También escuchamos las dos arias principales de Ágata. Ella tiene puesto su vestido de novia cuando canta "Und ob die Wolke sie verhülle" (Y si las nubes lo ocultan) en el tercer acto, pero ha tenido funestas premoniciones en una pesadilla. "Wie nahte mir der Schlummer" (¿Cómo me vino el sueño?) sucede más temprano en la ópera, en el primer acto, donde ella le reza a los ángeles a la luz de la luna pidiéndoles su protección.
Richard Strauss
Till Eulenspiegel's Merry Pranks, Op. 28 (1894-95)
Duración aproximada
: 16 minutos
Se presume que Till Eulenspiegel fue una figura histórica del norte de Alemania cuyas aventuras lo convirtieron en un símbolo del folclor. La versión más antigua que se conserva de las historias de Till Eulenspiegel data de 1510-11, después de lo cual los relatos fantásticos proliferaron con un vigor asombroso. Independientemente de los detalles de una historia, Till gastaba bromas pesadas a víctimas desprevenidas, a menudo sacando lo mejor de los ciudadanos más privilegiados, como clérigos o artesanos.
Richard Strauss llegó incluso a esbozar un guión para una ópera sobre el tema, pero al final, dirigió sus esfuerzos hacia un ejercicio dramático  de la imaginación no escenificado en forma de poema sinfónico. Para el estreno en 1895 se negó a proveer una guía por escrito de los episodios representados en esta obra, pero unos años más tarde uno de sus colegas preparó tal documento. Strauss aparentemente lo consideró autoritario ya que escribió frases en los lugares apropiados de su partitura: Till corre a caballo por el mercado, Till el caballero intercambiando cortesías con bellas muchachas, y así hasta su arresto, juicio, condena y ahorcamiento.
Pero lo que el público ama de la obra no es la historia, que añade muy poco, sino la música, que es a la vez encantadora y sofisticada.
Strauss subraya el espíritu desenfadado al presentar su pieza en la forma clásica mas despreocupada, el rondó, con sus estribillos recurrentes. Dentro de esta estructura, ofrece una corriente de asombrosas metamorfosis en lo que se reduce a muy pocos temas. El famoso y optimista "motivo Till" articulado por la trompa cerca del principio, se transforma en algo sarcástico e insolente cuando el clarinete en Mi Bemol  se apodera de él, y en una anhelante canción de amor cuando les toca el turno a la flauta y los violines.
Stephan Koncz
Fanfares from Uhrovec

 

(2022, estreno mundial)
Duración aproximada
: 4 minutos
El violonchelista Stephan Koncz, hermano del violinista y director de orquesta Christoph Koncz, ha sido miembro de la Filarmónica de Berlín desde 2010. Mr. Koncz ha proporcionado la siguiente nota: 
Desde mi infancia me ha intrigado la tradición americana de fanfarrias incidentales para orquesta – inmediatamente me vienen a la mente esas sonoridades emblemáticas de Aaron Copland y John Williams y nunca dejan de impresionarme y conmoverme- mientras me preguntaba por qué apenas se habían escrito fanfarrias orquestales notables aquí en nuestro viejo continente, y cómo las existentes suelen tener sus raíces en la tradición de los viento metales bohemios.
Mientras consideraba qué pieza podría ser adecuada para abrir mi recién grabado disco de violonchelo con obras de Dvořák, Tchaikovsky y Popper- música escrita en la época de los viejos imperios europeos- me sobrevino una necesidad irresistible de encontrar una síntesis de esas tradiciones de fanfarrias americanas y bohemias, y rendir homenaje a Dvořák, Janáček, Williams y sus colegas componiendo una obra exuberante que nos despierte.
La Fanfarria está basada libremente en algunas melodías muy antiguas (posiblemente medievales) de la región de Eslovaquia/Hungría, las cuales fueron recopiladas en un destacado manuscrito de 1730 descubierto en el pueblo de Uhrovec – de ahí el título.  La tradición musical eslava  otorga gran importancia y emoción a escenas populares y quizás el oyente encuentre algo de eso en esta corta Fanfarria: escenas medievales coloridas en una plaza de pueblo llena de campesinos que se reúnen para las festividades de ocasión, las trompetas del rey anunciando y marchando al frente de la aristocracia, tres gaiteros que pasan, las campanas de la iglesia llamando a misa, músicos itinerantes con violines y panderetas tocando algunas polkas antiguas solo para ser interrumpidos por una breve y evocadora melodía de corno que se convierte al final en un coral casi apoteósico.
                – Stephan Koncz
Johannes Brahms
Symphony No. 3 in F major, Op. 90 (1883)
Duración aproximada
: 33 minutos
Johannes Brahms hizo gran parte de su mejor trabajo durante sus vacaciones de verano, que solía disfrutar en alguna escapada bucólica en los campos de Austria. Pasó el verano de 1883, durante el cual completó su tercera sinfonía, en el pueblo de Wiesbaden, un balneario junto al Rin. Quizás no es una coincidencia que el comienzo de la pieza nos recuerde el lugar correspondiente de la Sinfonía No.3 "Renana", la cual el mentor de Brahms, Robert Schumann, había compuesto en 1850 poco después de mudarse a Dusseldorf, otra ciudad a orillas del Rin.
La más corta de las cuatro sinfonías de Brahms, la Tercera es una obra de caracteres contrastantes, introspectiva por momentos (especialmente en el extremadamente bello tercer movimiento), y en otras partes más dada a la solidez heroica. "Su base es fuerza segura de sí misma, áspera y lista", dijo el crítico musical vienés Eduard Hanslick, y el director de orquesta Hans Richter, quién dirigió el estreno, se refirió a ella como la "Eroica" de Brahms. Esta comparación con una de las partituras más poderosas de Beethoven debe haber conmovido profundamente a Brahms, ya que se había pasado muchos años temiendo escribir sinfonías, preocupado de que las suyas no pudieran ser dignas sucesoras de las de Beethoven.
La política musical de Viena prácticamente garantizaba que las nuevas obras de Brahms fueran recibidas con fuertes opiniones a favor y en contra. Fieles a su costumbre, los oyentes que preferían el vanguardismo de Liszt y Wagner dieron a conocer su disgusto, pero Brahms fue gratamente sorprendido por la calidez con que la pieza fue recibida en general. De hecho, llegó a resentir la gran popularidad de la sinfonía, sintiendo que estaba eclipsando otras de sus obras las cuales el consideraba que merecían el mismo entusiasmo. Su amiga y confidente Clara Schumann (viuda de Robert) estaba entre sus devotas. "De principio a fin", le escribió Clara, "uno está envuelto en el misterioso encanto de los bosques y montañas. No podría decirte cual movimiento me gusto más."
– © James M. Keller
James M. Keller ha sido escritor de programas de la Sinfónica de San Francisco por largo tiempo y anteriormente realizó el mismo trabajo para la Filarmónica de Nueva York, donde también fue miembro y editor del staff de redacción de la revista The New Yorker. El autor del libro: Chamber Music: A Listener's Guide (Música de Cámara: Guía para un oyente) publicado por la Editorial Oxford University Press, actualmente está escribiendo un segundo volumen sobre música para piano para la misma editorial.
Translated by Maria Paulina García
Christoph Koncz, conductor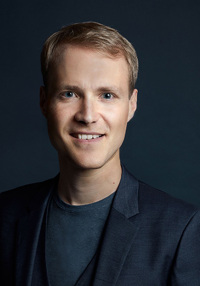 The young Austrian conductor Christoph Koncz has already established himself as one of the outstanding musicians of his generation, performing worldwide with orchestras such as the Orchestre de la Suisse Romande, Philharmonia Orchestra London, Orchestre Métropolitain de Montréal and Hong Kong Philharmonic.
During the upcoming season, Mr. Koncz will appear for the first time with the London Symphony and Swedish Radio Symphony orchestras, as well as at the National Theatre Prague and the Wiener Staatsoper. He will also return to the New World Symphony and the Opernhaus Zürich and make further debuts with the hr-Sinfonieorchester Frankfurt, Stuttgarter Philharmoniker, Düsseldorfer Symphoniker, Rundfunk-Sinfonieorchester Berlin, Royal Northern Sinfonia, Orquestra Sinfónica de Castilla y León, Aarhus Symphony and Tampere Philharmonic.
Currently in his fourth season as Chief Conductor of the Deutsche Kammerakademie Neuss am Rhein, Mr. Koncz has recently been appointed Principal Guest Conductor of the renowned French period instrument ensemble Les Musiciens du Louvre. His debut at the 2013 Salzburg Mozartwoche was followed by concerts at such prestigious venues as the Berlin, Cologne and Munich Philharmonie, Vienna Konzerthaus, KKL Lucerne and Concertgebouw Amsterdam as well as at the Salzburg Festival.
Mr. Koncz is particularly noted for his interpretations of the works by Wolfgang Amadeus Mozart. His recording of the Complete Violin Concertos as soloist and conductor with Les Musiciens du Louvre was released by Sony Classical in October 2020 under the title Mozart's Violin and caused an international sensation for being the first recording of these famous works on the composer's original Baroque violin. The Strad magazine described Koncz's performance as 'a masterly demonstration of melodic playing'.
Born 1987 in Konstanz into an Austrian-Hungarian family of musicians, Mr. Koncz received his first violin lessons at the age of four. Only two years later he entered the Vienna University of Music, where he also enrolled in the conducting class of Mark Stringer in 2005. Master classes with Daniel Barenboim, Daniel Harding and David Zinman further enriched his musical education. At the age of just nine, he received worldwide acclaim for starring as child prodigy Kaspar Weiss in the Canadian feature film The Red Violin, which won an Academy Award for Best Original Score.
Mr. Koncz made his North American debut as a violin soloist at age 12 with the Montreal Symphony Orchestra, leading to collaborations with conductors such as Sir Neville Marriner, Dmitry Sitkovetsky, Gábor Takács-Nagy and Marc Minkowski. An avid chamber musician, his musical partners include Leonidas Kavakos, Joshua Bell, Vilde Frang, Renaud Capuçon, Antoine Tamestit, Kim Kashkashian, Gautier Capuçon, Nicolas Altstaedt, Andreas Ottensamer and Rudolf Buchbinder. His concert engagements have taken him to numerous countries across Europe and to the Middle East, Asia, Australia as well as North and South America.
In 2008, at the age of 20, Mr. Koncz was appointed principal second violin of the Vienna Philharmonic, a position he has held ever since. He plays the 1707 ex Brüstlein violin by Antonio Stradivari on generous loan by the National Bank of Austria.
Jeanine De Bique, soprano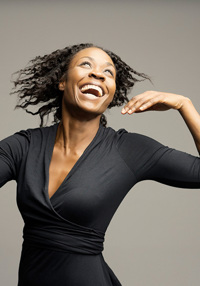 Trinidadian soprano Jeanine De Bique has in recent years gained international recognition for her "dramatic presence and versatility" (The Washington Post), and "sheer endless wealth of color and nuances […] a radiant, free-floating timbre" (Opernwelt).
Mirrors, her first solo-CD, with Concerto Köln, was released in 2021 by Berlin Classics. The album received much critical acclaim and garnered with the "Diapason D'or" découverte award for best debut album and Editor's choice award from Gramophone.
Ms. De Bique's 2021-22 season included role and house debuts as Poppea in Monteverdi's L'Incoronazione di Poppea with the Budapest Festival Orchestra and Iván Fischer, followed by the title role in Handel's Alcina in Robert Carsen's acclaimed production at l'Opera national de Paris, conducted by Thomas Hengelbrock. 
Since her breakthrough debut at the 2017 Salzburg Festival as Annio in Peter Sellar's production of La Clemenza di Tito, Ms. De Bique has appeared as Susanna in The Marriage of Figaro for San Francisco Opera, Helena in Ted Huffman's production of A Midsummer Night's Dream at Deutsche Oper Berlin, the title role of Handel's Rodelinda at Opéra de Lille, as Donna Anna in Don Giovanni for Opéra National du Rhin and as Aida in the world premiere of Caruso a Cuba by Micha Hamel in a return to De Nationale Opera Amsterdam.

Ms. De Bique's concert highlights include Brahms' German Requiem with Raphaël Pichon at La Seine Musicale in Paris and with Lorin Maazel and the Munich Philharmonic; Mahler's Symphony No. 2 with the Orchestre National du Capitole de Toulouse; Handel arias and Mozart's Requiem with the Budapest Festival Orchestra and Iván Fischer at the Hollywood Bowl and New York's Lincoln Center; Mahler's Symphony No. 4 in Milan, St. Petersburg, Munich and Budapest; return visits to the BBC Proms in works by Handel with the Chineke! Orchestra and with the Scottish Chamber Orchestra and Richard Egarr; the Messiah with the Atlanta Symphony, Royal Liverpool Philharmonic and Melbourne Symphony; Pärt's Como cierva sedienta with Iván Fischer and the Konzerthausorchester Berlin; and Mahler's Symphony No. 8 with Lorin Maazel and the New York Philharmonic, as well as the Chicago Symphony with Marin Alsop at the Ravinia Festival.
Ms. De Bique holds a master's degree from the Manhattan School of Music. Her awards include first prize at the Young Concert Artists, Inc Music Competition, Arleen Auger Prize at the Hertogenbosch International Vocal Competition and third prize in the Viotti International Music Competition. She was a prizewinner at the Gerda Lissner Vocal Competition (New York), a finalist and study grant award recipient of the 2011 Metropolitan Opera National Council Auditions and received a study grant from the Licia Albanese-Puccini Foundation. She is a recipient of the Youth Ambassador for Peace, awarded by the National Commission of UNESCO, Trinidad and Tobago.