Events & Tickets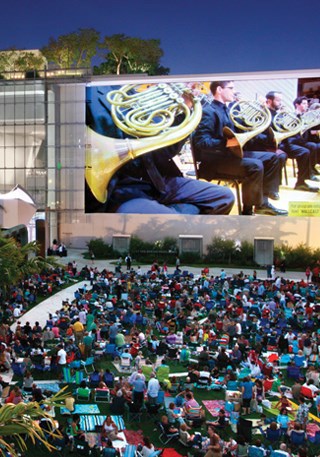 WALLCAST® Concert
WALLCAST® Concert: Brahms and Sibelius
SoundScape Park
Saturday, November 20, 2021 at 7:30 PM
Program
When violinist Augustin Hadelich made his NWS debut in 2018, South Florida Classical Review hailed him "a virtuoso of the first order." Hadelich continues to take the world by storm and returns to perform Jean Sibelius' Concerto—an unforgettable work of brilliance. Johannes Brahms, troubled by Ludwig van Beethoven's shadow, often lamented "the footsteps of a giant" behind him. With the nickname "Beethoven's 10th," Brahms' first foray into the symphonic genre ultimately proved a masterpiece all his own. The concert opens with the vibrant energy pulsing through Julia Perry's A Short Piece for Orchestra. 
WALLCAST® concerts are free. No tickets required.
Document your WALLCAST® concert experience using #WALLCAST on social media!
Mobile Program: Download NWS's free app for event information, program notes, musician profiles and more! Click here to download.
WALLCAST® Concert Club: Click here to join for special perks, discounts and WALLCAST® concert reminders. 
Restrooms: There are always restrooms available in the south-east corner of SoundScape Park. There will be no restroom access inside the New World Center. 
What's a WALLCAST® concert? Click here to get a taste of the WALLCAST® concert experience!
Program
Julia Perry
(1924-1979)
Approx. Duration: 8 minutes

A Short Piece for Orchestra (1952)

Jean Sibelius
(1865-1957)
Approx. Duration: 31 minutes

Concerto in D minor for Violin and Orchestra, Op. 47 (1903-04; revised 1905)

Allegro moderato
Adagio di molto
Allegro, ma non tanto
Johannes Brahms
(1833-1897)
Approx. Duration: 44 minutes

Symphony No. 1 in C minor, Op. 68 (1855-76)

Un poco sostenuto – Allegro 
Andante sostenuto 
Un poco allegretto e grazioso 
Adagio – Più andante – Allegro non troppo, ma con brio
Julia Perry
A Short Piece for Orchestra (1952)

Approximate duration: 8 minutes
After studying composition and conducting at Westminster Choir College, Julia Perry began to make a name for herself in the early 1950s by writing music that drew on spirituals and other African American traditions. During the first of several European residencies, she studied with the French teacher who shaped so many great American careers, Nadia Boulanger, who helped introduce an international perspective that filtered into Perry's later concert music. That sound is on display in A Short Piece for Orchestra, originally titled Study for Orchestra when the New York Philharmonic premiered it in 1965. An archival recording survives from that performance conducted by William Steinberg; it is a marvel to hear Perry's explosive and elemental gestures played by one of the great orchestras of her time, rendering a modernist sound that was not far removed from the edgy scores Bernard Hermann created for Hitchcock's iconic films in the same era. Perry suffered a series of strokes in her forties and died at 55, leaving us with only a sliver of the music we might have hoped to receive from this underrecognized talent of mid-century American music.
Jean Sibelius
Concerto in D minor for Violin and Orchestra, Op. 47 (1903-04; revised 1905)

Approximate duration: 31 minutes
When people living in what is now Finland were just starting to coalesce around a language, culture and shared dream of political independence from Russia, Jean Sibelius arose as the musical embodiment of those nationalist ideals. The works he composed at the turn of the 20th century, including Finlandia and his first two symphonies made him a folk hero and a rising international star.
Sibelius first mentioned an idea for the opening of the Violin Concerto in a letter to her in 1902, and then he composed the bulk of the music in 1903. He had intended for the German virtuoso Willy Burmester to premiere the work in Berlin, but Sibelius ended up rushing the debut (probably to get paid) and ended up with a disastrous performance from a local teacher. The star violinist Jascha Heifetz brought the work back into prominence in the 1930s, and over time it has rightfully become a pillar of the repertoire.  
Sibelius' Violin Concerto opens with the icy chill of muted strings and an expressive melody from the solo violin. The entire first movement is broad and spacious, with drawn-out harmonies and lyrical solo flights, until the violin returns to the opening melody, now voiced in its luxurious low range. That same deep contralto sound returns at the start of the slow movement, introducing the song-like opening theme with a singer's expressiveness.
The most unforgettable description of the finale, with its romping rhythmic play, came from the musicologist D. F. Tovey, who characterized the movement as a "polonaise for polar bears." The music does have the typical driving rhythm in a 3/4 meter associated with the polonaise dance, although it is hard to imagine any polar bear that could be as lithe as the acrobatic solo violin.
Johannes Brahms
Symphony No. 1 in C minor, Op. 68 (1855-76)

Approximate duration: 44 minutes
"I shall never write a symphony," Brahms claimed in 1872, after years of false starts in that genre. "You can't have any idea what it's like always to hear such a giant marching behind you!" The giant in question was Beethoven, and his legacy haunted Brahms, especially in the tradition-bound realm of symphonies and string quartets. Brahms was 40 by the time he released a quartet publicly; the same year, he completed the unconventional Variations on a Theme of Joseph Haydn for Orchestra. Having gained his confidence, Brahms returned to symphonic sketches that had languished since 1862. He labored over the First Symphony from 1874 to 1876, and he continued to make changes even once rehearsals started for the November 4 debut in Karlsruhe.
Brahms made no attempt to hide his debt to Beethoven in the First Symphony: Its key structure tracks the same course as Beethoven's Fifth Symphony, moving from C minor to C major, and the finale uses a chorale theme that resembles the famous "Ode to Joy" of Beethoven's Ninth. In response to a friend who noted the similarities, Brahms quipped, "Any ass can see that!"
The First Symphony's slow introduction enters with full intensity, with a saturated melody climbing over the pulsing timpani. Throughout the body of the movement, the unmistakable interval of a falling major third (the same drop as in the opening notes of Beethoven's Fifth Symphony) appears in particularly charged moments.
The middle movements of the Symphony visit two foreign and untroubled worlds, with the slow movement moving to the bright key of E major, and the easygoing third movement starts with a breezy clarinet melody. After a slow introduction in the minor key, the finale arrives at major-key redemption with a majestic theme that Brahms based on a rustic alphorn tune he heard in Switzerland.
-- © 2021 Aaron Grad
Aaron Grad is a composer and writer based in Seattle. In addition to providing program notes for the New World Symphony, Orpheus Chamber Orchestra, Baltimore Symphony Orchestra and others, he is also the artistic director of Many Messiahs, a project that reframes George Frideric Handel's masterpiece as a collective call for justice.
Christian Reif, conductor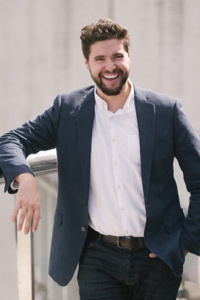 German conductor Christian Reif has quickly established a reputation for his natural musicality, technical command and leadership as an engaging communicator and outstanding orchestra builder. San Francisco Chronicle has written: "Reif is a remarkable talent... a conductor of considerable stature, and everything felt like the work of a significant musical artist."
Since the 2019-20 season, Mr.  Reif has conducted the Royal Scottish National Orchestra, Dallas Symphony, Ulster Orchestra, Romanian Radio Symphony, Aalborg Symphony, Fundación Excelentia in Madrid, North Carolina Symphony, San Antonio Symphony, Santa Barbara Symphony, Toledo Symphony, Colorado Springs Philharmonic, Orchestre National de Belgique and Orquestra Sinfonica Portuguese in Lisbon. Most recently, he conducted the Stavanger Symphony in a program of Tchaikovsky's Romeo and Juliet and Shostakovich Symphony No. 1 paired with Barber's Knoxville: Summer of 1915 with soprano Julia Bullock, and he made his debut in March 2021 with the Orchestre National d'île de France in a streamed performance of Stravinsky's Apollon Musagète.
Mr. Reif's 2021-22 engagements include appearances with the Hallé Orchestra, Gävle Symphony, Orchestre National de Lyon, Odense Symphony, Munich Radio Orchestra, Brno Philharmonic, New World Symphony and Kansas City Symphony.
Through the pandemic, Mr. Reif has taken part in several live-streamed events. He conducted the Music Academy of the West's Instrumental Fellows in their 2020 Remote Summer Learning Institute on a socially-distanced performance of Haydn's "London" Symphony No. 104. Using a virtual guide with him both conducting and playing piano with his brother Thomas Reif on violin, the fellows were able to merge as an orchestra virtually. He additionally appeared in live-streamed events presented by the San Francisco Symphony, New World Symphony, Lakes Area Music Festival, Long Beach Opera, New York Festival of Song and Musical America.
Mr. Reif has also been active on the piano during the pandemic, recording a series of at-home virtual "Songs of Comfort" with his wife Julia Bullock, ranging from Carole King's classic "Up on the Roof" to Schubert's Wanderers Nachtlied. In November 2020, NPR Music featured the duo in a "Tiny Desk (Home) Concert" for their special quarantine edition of the series. NPR's Tom Huizenga found it "among the most transcendent musical moments I've experienced this year" and The New York Times highlighted them on their "Best Classical Music of 2020" list.
From 2016 to 2019, Mr. Reif served as Resident Conductor of the San Francisco Symphony and Music Director of the San Francisco Symphony Youth Orchestra (SFSYO). His tenure culminated in a six-city 2019 European tour with the SFSYO. He was a Conducting Fellow with the New World Symphony from 2014 to 2016, and a Conducting Fellow at the Tanglewood Music Center in the summers of 2015 and 2016.
Mr. Reif's enthusiasm in performing contemporary music has led to several world premieres. Among those are Anahita Abbasi's ...within the shifting grounds… (a work commissioned by Mr. Reif and SFSYO in collaboration with the International Contemporary Ensemble), Michael Gordon's El Sol Caliente (a city symphony in honor of Miami Beach's centennial), and concertos for DJ and orchestra performed with the New World Symphony.
Mr. Reif studied with Alan Gilbert at the Juilliard School, where he completed his master of music in conducting in 2014 and received the Charles Schiff Conducting Award. Prior to that, he studied with Dennis Russell Davies at the Mozarteum Salzburg, where he received a diploma in 2012 and worked with singers as a répétiteur.
Mr. Reif is winner of the 2015 German Operetta Prize, awarded by the German Music Council, and two Kulturförderpreise awards given to promising artists of the region who promote cultural advancement in their communities.
Augustin Hadelich, violin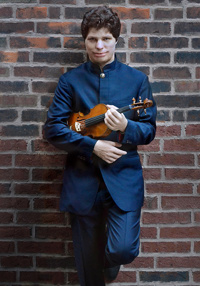 Augustin Hadelich is one of the great violinists of our time. From Bach to Brahms, from Bartók to Adès, he has mastered a wide-ranging and adventurous repertoire. Named Musical America's 2018 Instrumentalist of the Year, he is consistently cited worldwide for his phenomenal technique, soulful approach, and insightful interpretations.
Mr. Hadelich's 2020-21 season culminated in performances with the San Francisco Symphony of the Brahms Violin Concerto, conducted by Esa-Pekka Salonen. Starting off Mr. Hadelich's 2021-22 season is his debut with the Berlin Philharmonic, playing Prokofiev's Violin Concerto No. 2 with Gustavo Gimeno on the podium. Shortly thereafter, he will perform with the South Netherlands Symphony Orchestra the premiere of a new violin concerto written for him by the Irish composer Donnacha Dennehy.
Mr. Hadelich has appeared with every major orchestra in North America, including the Boston Symphony, Chicago Symphony, Cleveland Orchestra, Los Angeles Philharmonic, New York Philharmonic, Philadelphia Orchestra and San Francisco Symphony. His worldwide presence has been rapidly rising, with recent appearances with the Bavarian Radio Orchestra; Leipzig Gewandhaus Orchestra; Hamburg Elbphilharmonie; Royal Concertgebouw Orchestra; London Philharmonic; Danish National Orchestra; Orquesta Nacional de España; Oslo Philharmonic; São Paulo Symphony; the radio orchestras of Finland, Frankfurt, Saarbrücken, Stuttgart and Cologne; and the Academy of St. Martin in the Fields. Other engagements in Asia include the Hong Kong Philharmonic, Seoul Philharmonic, Singapore Symphony and NHK Symphony (Tokyo), as well as a tour with the New Zealand Symphony.
Mr. Hadelich is the winner of a 2016 Grammy Award—Best Classical Instrumental Solo—for his recording of Dutilleux's Violin Concerto, L'Arbre des songes, with the Seattle Symphony under Ludovic Morlot (Seattle Symphony Media). A Warner Classics Artist, his most recent release is a double CD of the Six Solo Sonatas and Partitas of Johann Sebastian Bach.
Born in Italy, the son of German parents, Mr. Hadelich is now an American citizen. He holds an Artist Diploma from The Juilliard School, where he was a student of Joel Smirnoff. After winning the Gold Medal at the 2006 International Violin Competition of Indianapolis, concerto and recital appearances on many of the world's top stages quickly followed.
Mr. Hadelich plays the violin "Leduc, ex-Szeryng" by Giuseppe Guarneri del Gesù of 1744, generously loaned by a patron through the Tarisio Trust.