Events & Tickets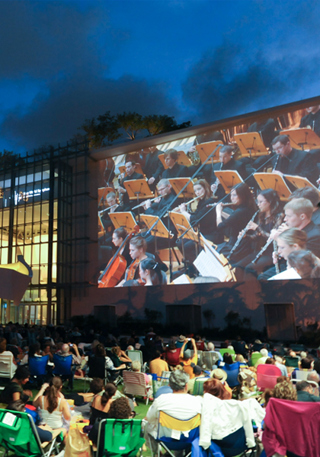 WALLCAST® Concert
WALLCAST® CONCERT: EHNES PLAYS MOZART
SoundScape Park
Saturday, December 14 at 7:30 PM
Program
Fresh off his latest Grammy Award win for Best Classical Instrumental Solo, violinist James Ehnes returns to NWS to perform Wolfgang Amadeus Mozart's beloved "Turkish" Concerto. His last appearance with NWS garnered praise from The Miami Herald, who said "of his virtuosity, there is no question." The struggles and spoils of WWII play out in Sergei Prokofiev's unrestrained Sixth Symphony, led by Xian Zhang, Music Director of the New Jersey Symphony, who makes her NWS debut. Of its juxtaposing somber and jubilant themes, Prokofiev said "We are rejoicing in our magnificent victory, but thousands of us have been left with wounds that can't be healed. We must not forget this." Gioachino Rossini creates a lighthearted start with his playful operatic Overture.  
COMPOSE YOUR OWN SUBSCRIPTION PACKAGE!
Choose this plus two more concerts to customize your own subscription. It's the ultimate flexibility with all the subscriber benefits, including free exchanges when plans change! Click here to create your own series today.
SUBSCRIBERS ENJOY THE BEST OF NWS!
As an NWS Subscriber, you receive amazing benefits to enjoy throughout the season, including the best seats for the lowest prices and access to our incredibly talented Fellows. Click here to learn more!
Knight Foundation and New World Symphony: Reimagining Classical Music in the Digital Age. 
WALLCAST® concerts are free. No tickets required. Document your WALLCAST® concert experience using #WALLCAST on social media!
WALLCAST® Concert Club: Click here to learn about the free WALLCAST® Concert Club. Join today!
Mobile Program: Text WALLCAST to 50155 and receive a link to the mobile program.
Pre-Concert Chat: Join NWS Fellows for a free Pre-Concert Chat in SoundScape Park! These half-hour chats begin one hour prior to the performance. 
Restrooms: There are always restrooms available in the south-east corner of SoundScape Park. Restrooms inside the New World Center will be open to WALLCAST® Concert Club members at the beginning of the second half of the concert until 10 minutes before the end of the performance.
What's a WALLCAST® concert? Click here to get a taste of the WALLCAST® concert experience!
WALLCAST® Concert Sponsors
WALLCAST® concerts are made possible with support from Hitachi, Knight Foundation, Sarah Arison and Thomas Wilhelm, Chanin and Adam Carlin, Susan D. Kronick and Edward Manno Shumsky, Will Osborne and Karen Bechtel, and William Strong. Knight Foundation and New World Symphony: Reimagining Classical Music in the Digital Age.
Program
Gioachino Rossini
(1792-1868)
Approx. Duration: 9 minutes

Overture to The Italian Girl in Algiers (1813)

Wolfgang Amadeus Mozart
(1756-1791)
Approx. Duration: 31 minutes

Concerto No. 5 in A major for Violin and Orchestra, K. 219, "Turkish" (1775)

Allegro aperto
Adagio
Rondo: Tempo di menuetto
Sergei Prokofiev
(1891-1953)
Approx. Duration: 43 minutes

Symphony No. 6 in E-flat minor, Op. 111 (1947)

Allegro moderato
Largo
Vivace
Xian Zhang, conductor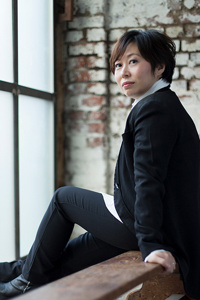 Xian Zhang's contract as Music Director of the New Jersey Symphony Orchestra has been extended until the 2023/24 season, to include the orchestra's 100th anniversary in 2022. Of her final concerts in 2017/18, conducting Mahler's Symphony No. 1, NJ.com wrote: "From the opening bars, Zhang imbued the work with majesty, creating the alpine atmospherics that the score calls for. The off-stage horns sounded perfect and the deep pull of Mahler's music was in full effect. Zhang made the swooping waltzes of the second movement come to life and gave the bluesy, jazzy third movement an elegant light touch. The final movement was big and bold; the horns stood up in the grand finale and made beautiful, clarion sounds. The brass section of the NJSO has never sounded better. The NJPAC audience was on its feet at the end. This is now Zhang's orchestra – how far can she take it between now and 2024?'
In September 2016, Zhang assumed the position of Principal Guest Conductor of the BBC National Orchestra & Chorus of Wales, becoming the first female conductor to hold a titled role with a BBC orchestra. Her 2018/19 BBC NOW season includes her first international tour with the orchestra to China. The visit is supported by British Council China and forms part of their Inspiring Women In The Arts campaign.
She also holds the post of Conductor Emeritus of Orchestra Sinfonica di Milano Giuseppe Verdi, following completion of her tenure as Music Director from 2009–2016.
Last season included return visits to the Los Angeles Philharmonic, Orchestre National de Belgique, Orquesta Nacional de España, Accademia Nazionale di Santa Cecilia, San Francisco Symphony and NAC Orchestra, Ottawa. 2018/19 sees her debuts with Netherlands Radio Philharmonic, Hong Kong Philharmonic, Royal Philharmonic, Philharmonia Orchestra, Sydney Symphony, and the orchestra of Royal Stockholm Opera. Xian Zhang is invited regularly to the London Symphony and Royal Concertgebouw orchestras; recent highlights include her debut with The Cleveland Orchestra and a gala concert with Renée Fleming and the China NCPA Orchestra.
Equally in demand on the opera podium, she conducted a successful production of Nabucco with Welsh National Opera in June 2014 which subsequently transferred to Savonlinna, to where she returned in 2016 for Otello. Other notable opera engagements include Den Norske Opera in January 2016 conducting La Traviata, and English National Opera in October 2015 (La bohème). She will make her debut for Santa Fe Opera in 2020.
Xian Zhang is a regular conductor in her native China where, amongst others, she works NCPA Orchestra, China Philharmonic and Guangzhou Symphony Orchestras. A champion of Chinese composers, she has conducted Chen Yi'sGe Xu (Antiphony) with the Los Angeles Philharmonic and the New Jersey Symphony Orchestra, Qigang Chen's Er Huang (China NCPA Orchestra, June 2017) and Iris Dévoilée (BBC National Orchestra of Wales, BBC Proms, and China NCPA Orchestra – both in 2015). She also conducted the world premiere of Qigang Chen's Luan Tan with the Hong Kong Philharmonic in 2015.
Working with young musicians plays a major part in Zhang's life. She held the position of Artistic Director of the NJSO, Dutch Orchestra and Ensemble Academy from 2010 to 2015, and in summer 2015 she made her hugely successful debut with the European Union Youth Orchestra, conducting them in Grafenegg, Amsterdam, Berlin, Rheingau and Bolzano. In August 2017 she conducted the Italian Youth Orchestra in a programme of Tchaikovsky and Rachmaninov and returned to Aspen Music Festival in August 2018.
Born in Dandong, China, Xian Zhang made her professional debut conductingLe nozze di Figaro at the Central Opera House in Beijing at the age of 20. She trained at Beijing's Central Conservatory, earning both her Bachelor and Master of Music degrees, and served one year on its conducting faculty before moving to the United States in 1998. She was appointed as the New York Philharmonic's Assistant Conductor in 2002, subsequently becoming their Associate Conductor and the first holder of the Arturo Toscanini Chair.
James Ehnes, violin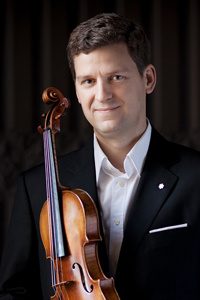 Known for his virtuosity and probing musicianship, violinist James Ehnes has performed in over 35 countries on five continents, appearing regularly in the world's great concert halls and with many of the most celebrated orchestras and conductors.
In the 2016-17 season Mr. Ehnes continues his cross-Canada recital tour in celebration of his 40th birthday; will perform the complete Bach sonatas and partitas in Stresa, Montreux, Los Angeles, Liverpool and Amsterdam; and joins the City of Birmingham Symphony on a tour of China and the National Arts Centre Orchestra on a tour of Eastern Canada. He also holds artist residencies with the Melbourne Symphony, Royal Liverpool Philharmonic, Orchestre symphonique de Montréal and Scotia Festival; undertakes two tours with the Ehnes Quartet; and leads the winter and summer festivals of the Seattle Chamber Music Society, where he is the Artistic Director.
Mr. Ehnes' new and upcoming CD releases include a disc of works by Debussy, Respighi, Elgar and Sibelius, as well as a recording of Beethoven Sonatas Nos. 6 and 9 with pianist Andrew Armstrong; the Sibelius and Schubert "Death and the Maiden" quartets with the Ehnes Quartet; and the complete works of Beethoven for violin and orchestra with the Royal Liverpool Philharmonic and Andrew Manze. His recordings have been honored with many international awards and prizes, including a Grammy, a Gramophone and 11 JUNO awards.
Mr. Ehnes was born in 1976 in Brandon, Manitoba, Canada. He began violin studies at the age of four, and at age nine became a protégé of the noted Canadian violinist Francis Chaplin. He studied with Sally Thomas at the Meadowmount School of Music, and from 1993 to 1997 at The Juilliard School, winning the Peter Mennin Prize for Outstanding Achievement and Leadership in Music upon his graduation. Mr. Ehnes first gained national recognition in 1987 as winner of the Grand Prize in Strings at the Canadian Music Competition. The following year he won the First Prize in Strings at the Canadian Music Festival, the youngest musician ever to do so. At age 13 he made his major orchestral solo debut with the Orchestre symphonique de Montréal.
Mr. Ehnes has won numerous awards and prizes, including the first-ever Ivan Galamian Memorial Award, the Canada Council for the Arts' Virginia Parker Prize and a 2005 Avery Fisher Career Grant. He has received honorary doctorates from Brandon University and the University of British Columbia, and in 2007 became the youngest person ever elected as a Fellow to the Royal Society of Canada. In 2010 the Governor General of Canada appointed Mr. Ehnes a Member of the Order of Canada, and in 2013 he was named an Honorary Member of the Royal Academy of Music, limited to a select group of 300 living distinguished musicians.
Mr. Ehnes plays the 'Marsick' Stradivarius of 1715. He currently lives in Bradenton, Florida with his family.