Events & Tickets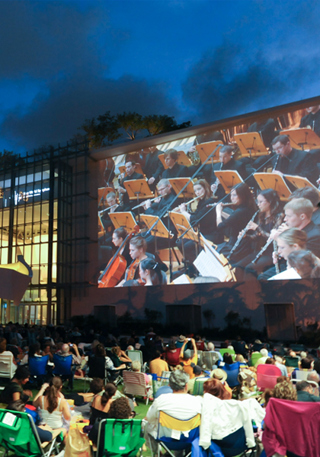 WALLCAST® Concert
WALLCAST® CONCERT: SCHEHERAZADE
SoundScape Park
Saturday, March 21 at 8:00 PM
NWS Conducting alumnus Joshua Gersen returns to bring one of the most alluring masterworks to the New World Center. Arabian Nights' famed storyteller Scheherazade spins fables to survive. Nikolai Rimsky-Korsakov pays homage to the princess in this evocative and exotic symphonic page-turner—a treasure trove of imaginative scenes, like Sinbad on the high seas, with mesmerizing solo features.
COMPOSE YOUR OWN SUBSCRIPTION PACKAGE!
Choose this plus two more concerts to customize your own subscription. It's the ultimate flexibility with all the subscriber benefits, including free exchanges when plans change! Click here to create your own series today.
SUBSCRIBERS ENJOY THE BEST OF NWS!
As an NWS Subscriber, you receive amazing benefits to enjoy throughout the season, including the best seats for the lowest prices and access to our incredibly talented Fellows. Click here to learn more!
Knight Foundation and New World Symphony: Reimagining Classical Music in the Digital Age. 
WALLCAST® concerts are free. No tickets required. Document your WALLCAST® concert experience using #WALLCAST on social media!
WALLCAST® Concert Club: Click here to learn about the free WALLCAST® Concert Club. Join today!
Mobile Program: Text WALLCAST to 50155 and receive a link to the mobile program.
Pre-Concert Chat: Join NWS Fellows for a free Pre-Concert Chat in SoundScape Park! These half-hour chats begin one hour prior to the performance. 
Restrooms: There are always restrooms available in the south-east corner of SoundScape Park. Restrooms inside the New World Center will be open to WALLCAST® Concert Club members at the beginning of the second half of the concert until 10 minutes before the end of the performance.
What's a WALLCAST® concert? Click here to get a taste of the WALLCAST® concert experience!
WALLCAST® Concert Sponsors
WALLCAST® concerts are made possible with support from Hitachi, Knight Foundation, Sarah Arison and Thomas Wilhelm, Chanin and Adam Carlin, Susan D. Kronick and Edward Manno Shumsky, Will Osborne and Karen Bechtel, and William Strong. Knight Foundation and New World Symphony: Reimagining Classical Music in the Digital Age.
Program
Opening work and concerto performed by NWS Fellow to be announced.
Nikolai Rimsky-Korsakov                         Scheherazade, Op. 35 (1888)
(1844-1908)                                                 The Sea and Sinbad's Ship
                                                                     The Kalandar Prince
                                                                     The Young Prince and The Young Princess
                                                                     Festival at Baghdad. The Sea. The Ship Breaks against a Cliff Surmounted by a Bronze Horseman
Joshua Gersen, conductor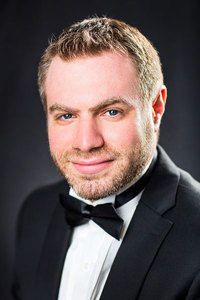 Joshua Gersen recently concluded his tenure as the Assistant Conductor of the New York Philharmonic, where he most notably made his subscription debut in 2017 on hours' notice to critical acclaim filling in for an ailing Semyon Bychkov. Mr. Gersen was also previously the Music Director of the New York Youth Symphony, as well as the John S. and James L. Knight Foundation Conducting Fellow of the New World Symphony, where he served as the assistant conductor to Artistic Director Michael Tilson Thomas, and led the orchestra in various subscription, education and family concerts, including the orchestra's renowned Pulse series. He made his conducting debut with the San Francisco Symphony in the fall of 2013 and has been invited back numerous times to conduct a variety of concerts, including a performance in SoundBox and even filled in for Michael Tilson Thomas on part of a subscription series. Mr. Gersen was the winner of the Aspen Music Festival's prestigious 2011 Aspen Conducting Prize and the 2010 Robert J. Harth Conducting Prize, and served as the festival's assistant conductor for the 2012 summer season under Robert Spano. He served as the principal conductor of the renowned Ojai Music Festival in 2013 and has recently appeared as a guest conductor with the symphonies of Chicago, Detroit, National in Washington, D.C., Toronto, New Jersey, Indianapolis, San Antonio and North Carolina. He was also a recipient of a 2015 and 2016 Solti Foundation U.S. Career Assistance Award.
Beyond his conducting interests, Mr. Gersen is also an avid composer. Both his String Quartet No. 1 and Fantasy for Chamber Orchestra have been premiered in the New England Conservatory's celebrated Jordan Hall. He has had works performed by the New Mexico Symphony, Greater Bridgeport Symphony and frequently by the Greater Bridgeport Youth Orchestra. His work as a composer has also led to an interest in conducting contemporary music. He has conducted several world premieres of new works by young composers with the New York Youth Symphony as part of their esteemed First Music Program, and with the New York Philharmonic as part of their Very Young Composers program. He has also collaborated with many prominent contemporary composers including John Adams, Esa-Pekka Salonen, Christopher Rouse, Steven Mackey, Mason Bates and Michael Gandolfi.
Mr. Gersen made his conducting debut at age 11 with the Greater Bridgeport Youth Orchestra and his professional conducting debut five years later, when he led the Greater Bridgeport Symphony in a performance of his own composition, A Symphonic Movement. Mr. Gersen is a graduate of the Curtis Institute of Music, where he studied conducting with the esteemed Otto Werner Mueller, and the New England Conservatory of Music, where he studied composition with Michael Gandolfi.