Events & Tickets
WALLCAST® Concert
WALLCAST® Concert: Victory Stride
SoundScape Park
Saturday, February 5, 2022 at 7:30 PM
This multi-disciplinary festival will celebrate and explore the early 20th century's dynamic intellectual and cultural movement centered in New York City's Harlem, which also impacted the arts world-wide. The Harlem Renaissance was a significant period of artistic expression that shared what it meant to be Black in America. Thomas Wilkins—Principal Conductor of the Hollywood Bowl Orchestra and Music Director of the Omaha Symphony—leads the New World Symphony in a performance of orchestra and chamber music by the great composers of the Harlem Renaissance.
This event is part of the New World Symphony's festival I Dream a World: The Harlem Renaissance and Beyond. This festival is made possible with support from the NWS Collaborations Fund, the NWS Fund for New Ventures and Bank of America.
WALLCAST® concerts are free. No tickets required.
Document your WALLCAST® concert experience using #WALLCAST on social media!
Mobile Program: Download NWS's free app for event information, program notes, musician profiles and more! Click here to download.
WALLCAST® Concert Club: Click here to join for special perks, discounts and WALLCAST® concert reminders. 
Restrooms: There are always restrooms available in the south-east corner of SoundScape Park. There will be no restroom access inside the New World Center. 
What's a WALLCAST® concert? Click here to get a taste of the WALLCAST® concert experience!
Program
Victory Stride:
The Orchestral Legacy of the Harlem Renaissance
Saturday, February 5, 2022 at 7:30 PM
New World Center
Thomas Wilkins, conductor
Chad Goodman, conductor
William Dawson                                                Negro Folk Symphony (1934; 1952 revision)
(1899-1990)                                                           III. O Le' Me Shine, Shine Like a Morning Star!
William Grant Still                                            Symphony No. 4, "Autochthonous" (1947)
(1895-1978)                                                           Moderately
                                                                               Slowly
                                                                               With a graceful lilt
                                                                               Slowly and reverently
                I N T E R M I S S I O N                                     
William Grant Still                                             Patterns for Orchestra (1960)
Edited by                                                                Magic Crystal
Michael Tilson Thomas                                        A Lone Teardrop
                                                                               Rain Pearls
                                                                               Tranquil Cove
                                                                               Moon-Gold
                                                                             Mr. Goodman
Florence Price                                                  Symphony No. 1 in E minor (1932)
(1887-1953)                                                           III. Juba Dance
James Price Johnson                                      Victory Stride (1944)
(1894-1955)
Edited and arranged by 
Nicholas Hersh
Duke Ellington                                                  Harlem (1950)
(1899-1974)
Arranged by
Luther Henderson and
Maurice Peress

Program Notes
WILLIAM DAWSON
Mvt. III (O Le' Me Shine, Shine Like a Morning Star!) from Negro Folk Symphony (1934; 1952 revision)
William Dawson's Negro Folk Symphony received its 1934 premiere with the Philadelphia Orchestra under the direction of Leopold Stokowski. Afterward, the conductor was scheduled to take his musical organ to Carnegie Hall, and he expressed great enthusiasm for sharing the Symphony with a wider American audience. But ahead of that performance, Dawson himself sat with a Philadelphia journalist and explained both his vision and purpose for creating this particular work. This Symphony was created, he said, as "an attempt to develop Negro Music;" its very existence, in his mind, was a refutation of prevailing ideas that no such Negro music could be created.
Despite drawing upon, as the name implies, several folk songs and spirituals, Dawson was adamant that the work be considered a classical—not a religious—piece. These idioms are not mutually exclusive—one only needs to consider the litany of masses and requiems performed annually the world over—but the third and final movement of the Negro Folk Symphony, "O Le' Me Shine, Shine Like a Morning Star!," might demonstrate why the composer felt it necessary to clear the matter up in the first place.
The movement takes its title from a spiritual of the same name, and echoes of that song are included, unambiguously, within the piece. Also present are references to the melody of "Hallelujah, Lord, I Been Down into the Sea," but the inclusion of the spirituals is neither musical facsimile nor folk worship by symphonic proxy. The success of the finale rests on both the palpable tension created by the strings' restless tremolo and the solo instruments' ability to break through it, to lead the entire orchestra into a state of triumph. And as far as pitched musical battles go—the heavyweight fight of hope and despair emulated by generations of composers—this is not a straightforward one. The blue licks of "Hallelujah" often precede patches of orchestral turbulence. There is no victory lap here; tension isn't resolved until the final seconds of the movement.
WILLIAM GRANT STILL
Symphony No. 4, "Autochthonous" (1947)
The critics' greatest folly is, sometimes, to search for meaning where there is none to be had. At other times, it is to interpret a work in a way so wildly divergent from the creator's intention that any resulting commentary risks the appearance that the critic "knows better" than the author.
But, from the subtitle to the descriptions of each movement, William Grant Still spells it out for us, the listener. He wasn't going to risk his work being misconstrued by audiences or put through a critical filter he didn't approve of. And so, everything you need to know about his Fourth Symphony, the "Autochthonous," is in the name.
You wouldn't need to be a regular gambler to confidently bet a mighty sum that the word "autochthonous" doesn't get thrown around that often. So being for the benefit of really getting into the meaning of this relatively short Symphony, here's a definition of the word, courtesy of Oxford Languages:
/ôˈtäkTHənəs/
(of an inhabitant of a place) indigenous rather than descended from migrants or colonists.
-GEOLOGY
(of a deposit or formation) formed in its present position.
This is a Symphony inherently American in character. Still wanted to dispel any notions that he was "reaching back" to some kind of old tradition; the themes and sounds present here have sprung up as if from the soil itself. Still himself remarked: "As the subtitle indicates, the Fourth Symphony has its roots in our own soil, but rather than being aboriginal or indigenous, it is intended to represent the spirit of the American people." The composer meticulously demonstrates the different facets of that spirit, using a persistent motif that sticks in your brain and, when massaged correctly (as in the third movement), swings very, very hard.
We see the music and its signature motif representing what Still called "the American ability to 'get things done'" in the first movement, giving way to an "animated, folksy feeling" in the second. He described the third movement as humorous, and it demonstrates more than a passing familiarity with jazz traditions. (It's worth noting that jazz musicians fought their own battles as they pressed for their art to be taken seriously). The composer ends with a final movement that appears more at rest than the others, while benefiting from more time to meditate on the American condition. After all, it's supposed to speak to "the warmth and the spiritual side of the American people;" it's as if Still is holding up a looking glass that shows us, at once, all the things we are.
WILLIAM GRANT STILL
Patterns for Orchestra (1960)
Edited by Michael Tilson Thomas
Listen to any conversation about William Grant Still, and someone is sure to bring up the ways in which the composer was "steeped in African American traditions" and "used spirituals to inform his work." That former point is redundant—any artist is "steeped" in their own cultural heritage; the latter is obvious if you've spent any time exploring the colorful tapestry that is American folk music.
But that discussion is also limiting, in an "all squares are rectangles, but not all rectangles are squares" kind of way. Discussing Still's connection to Black American folk traditions isn't necessarily wrong. As Jillian Fischer points out, only talking about that discounts that Still could approach art from other angles too, like he does with Patterns.
Versions of Patterns exist for wind and string ensembles, and for string sextet and harp. There are five constituent movements (Magic Crystal, A Lone Teardrop, Rain Pearls, Tranquil Cove, Moon-Gold), which often put the winds and strings in conversation. The dialogue of arms and lungs can be flighty-yet-stationary, as in the frantic and disjointed "Magic Crystal," or a paradise periodically interrupted, as in "Tranquil Cove." Then there's "A Lone Teardrop," in which you might not even hear sadness, but instead, a solemn teardrop that represents the necessary release of something once held dear.
Music like this—short sketches consumed as a whole, possibly without any narrative thread—can present an existential crisis of the ears. What are we listening for? What's the point of this piece and its repetitions? Is this profound? What's the composer trying to say? In these situations, as I've argued before, your ears need to work in tandem with your gut. Overanalyze, and you risk missing the entire experience—which in this case is far more consequential than it may seem, since Patterns remains an under-recorded and under-performed piece of work.
FLORENCE PRICE
Mvt. III. (Juba Dance) from Symphony No. 1 in E minor (1932)
The third movement of a symphony is, more often than not, a "scherzo"—something dancelike, vivacious, spritely and maybe in a triple meter. For her First Symphony, Florence Price leaned into that good humor, and drew inspiration from the juba dance. A style of dance that grew out of the physical expression of enslaved Blacks in the American South, the juba dance was characterized by the percussion of the body.
Communication by drum was a crucial aspect of many West African societies. Slavers feared that if percussion instruments were allowed, their laborers could "talk" amongst one another, and plan revolts or escape. Deprived of these drums, the juba dance was developed to emphasize strikes of the hands and feet, turning the body itself into that vital instrument of communication. The juba dance, then, is emblematic of the art, resilience and improvisatory spirit of the ancestors of Black Americans.
Florence Price's callback to the juba dance proves that Black American folk dances can be used as inspiration when writing for orchestra, just as European dances like the sarabande and bourrée inspired composers like Handel and Bach.
Price's instrumentation doesn't shy away from an African heritage, either. Notice the slide whistle, the chute of sound that infuses an innocent whimsy—a version of the instrument could be found on the African continent before the United States was even an idea. And though the juba dance itself was characterized, in part, by a lack of drums, Price reclaims them to be featured prominently. The steady timpani is joined by cymbals and what's identified in the score as "small and large African drums." At this point in her Symphony, all of this percussive history gathers for a reunion of undeniable rhythm.
JAMES PRICE JOHNSON
Victory Stride (1944)
Edited and arranged by Nicholas Hersh
James P. Johnson might be the composer most associated with the zeitgeist of the 1920s. If not by name, then certainly by association—it was he who penned such pieces as "The Charleston," that indelible theme that became a symbol of the decade.
Like the dances of the so-called Roaring 20s (which looking back seem to be sped up), Johnson's left hand leaped and wriggled, in characteristic stride style, across the piano. Along with esteemed colleagues that included his pupil Fats Waller, Johnson's compositions and techniques constituted a natural peak of American popular culture.
Stride piano and "The Charleston" may be most closely associated with the Harlem-based pianist, but the dedicated musician harbored ambitions for larger ensembles as well. Victory Stride is one such example. It's classified as a symphonic work, but Johnson's orchestration challenges the conventional answer to the question "what makes up a symphony orchestra, and how does it behave?" The ensemble is replete with saxophones—indeed, the winds take priority here in such a way that would make strings jealous. Granted, those strings do have a place; the color they add to Victory Stride can't be denied. It's not hard to consider Johnson's orchestra, as noted in a review for a 1994 recording, operating as a big band. But are these terms—"big band" and "symphony orchestra"—mutually exclusive? Is it even accurate—are string sections characteristic of big bands? (I'd say no.) And what if you flip the convention around: is Gershwin's orchestra for Rhapsody in Blue behaving like a big band or jazz ensemble, or is it grafting those conventions onto a philharmonic-ready outfit, adhering to the musical strictures of "what is right?"
The point is this: from the serpentine influence of the saxes, the fanfare, the fills by the trap kit, the strings' tempest and the improvisational solo breaks, nothing in Victory Stride should feel out of place here. This is where Johnson intended us to enjoy it; the symphony hall is the venue for the victory lap on a storied career.
DUKE ELLINGTON
Harlem (1950)
Arranged by Luther Henderson and Maurice Peress
"Haaar-lem." So sighs a sleepy wah-wah trumpet that rouses the orchestra into a revue celebrating the storied neighborhood, the Mecca of Black American culture. Over the course of a quarter-hour, Duke Ellington provides musical sketches of life and sounds in the uptown Manhattan neighborhood: church services, funerals, commerce on the dense streets, the exhortations of civil rights activists.
Duke Ellington had experience with large-scale works like this—was there any big band more popular than his? And he certainly was no stranger to orchestrating the Black experience: Black, Brown and Beige (1943) is a musical story of Black America. Black and Tan Fantasy (1927), while tighter in scope (read: just under three and a half minutes) still conveys a clear musical narrative of times and experiences both good and difficult. But Harlem—commissioned, though never conducted by, Arturo Toscanini—grounds this musical vignetting not just in an experience, but in a real place. The renaissance Harlem, the Apollo Harlem, the Cotton Club and Minton's Harlem. It's one of Duke's more illustrative works because with his music he's here to show and not tell. It's up to the audience to look and listen, to experience what he and his people experience. The rapidity with which these scenes change—the arrangers identified 20 such sequences—means that visitors on Duke's tour can't stand around, gawking at the varied sights and sounds. Much like corporeal New York, you need to observe and keep it moving. This is real life, with real people and real experiences—not a tourists' sideshow. 
Duke's Harlem does not represent an a priori Black joy. I think it does the entire work a disservice to assume that this piece is a jubilant affair because it represents some kind of achievement or popular resilience. Instead, the joy of Harlem stems from the fact that it simply is an affair. This is a brief examination of the millions of Blacknesses that make up the famed neighborhood. There's the good and the bad; the ugly, the beautiful; the friendly, the lonely (pay attention to that trombone and clarinet about two-thirds of the way in). That all of these emotions can exist simultaneously in one population, is a (re)affirmation of Black humanity. That the answer to "can I live?" is "yes," and it is is something worth celebrating.
-- James Bennett, II
James Bennett is a full-time reporter and some-time critic who lives and works full-time in Boston and some-time in Brooklyn. Music and food are most important to him. At any given point in time, you can find him frantically catching up on book-club reading, sacrificing to the zeitgeist, cataloging records, or thinking about the next time he'll eat pâté. 
Thomas Wilkins, conductor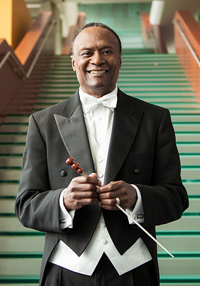 Thomas Wilkins is Principal Conductor of the Hollywood Bowl Orchestra; the Boston Symphony's Artistic Advisor, Education and Community Engagement; Principal Guest Conductor of the Virginia Symphony; and holds Indiana University's Henry A. Upper Chair of Orchestral Conducting established by the late Barbara and David Jacobs as part of that University's "Matching the Promise Campaign." He completed his long and successful tenure as Music Director of the Omaha Symphony at the close of the 2020-21 season. Other past positions have included resident conductor of the Detroit Symphony and Florida Orchestra (Tampa Bay) and associate conductor of the Richmond (VA) Symphony. He also has served on the music faculties of North Park University (Chicago), University of Tennessee in Chattanooga and Virginia Commonwealth University in Richmond.
Devoted to promoting a life-long enthusiasm for music, Mr. Wilkins brings energy and commitment to audiences of all ages. He is hailed as a master at communicating and connecting with audiences. Following his highly successful first season with the Boston Symphony, The Boston Globe named him among the "Best People and Ideas of 2011." In 2014 Mr. Wilkins received the prestigious "Outstanding Artist" award at the Nebraska Governor's Arts Awards, for his significant contribution to music in the state, while in 2018 he received the Leonard Bernstein Lifetime Achievement Award for the Elevation of Music in Society conferred by Boston's Longy School of Music. In 2019 the Virginia Symphony bestowed Mr. Wilkins with their annual Dreamer Award.
During his conducting career, Mr. Wilkins has led orchestras throughout the United States, including the New York Philharmonic, Chicago Symphony, Los Angeles Philharmonic, Cincinnati Symphony and National Symphony. Additionally, he has guest conducted the Philadelphia and Cleveland orchestras; the symphonies of Atlanta, Dallas, Houston, Baltimore, San Diego and Utah; and the Buffalo and Rochester philharmonics, as well as at the Grant Park Music Festival in Chicago.
Mr. Wilkins' commitment to community has been demonstrated by his participation on several boards of directors, including the Greater Omaha Chamber of Commerce, Charles Drew Health Center (Omaha), Center Against Spouse Abuse in Tampa Bay, and Museum of Fine Arts as well as the Academy Preparatory Center, both in St. Petersburg, Florida. Currently he serves as chairman of the board for the Raymond James Charitable Endowment Fund and as national ambassador for the non-profit World Pediatric Project headquartered in Richmond, Virginia, which provides children throughout Central America and the Caribbean with critical surgical and diagnostic care. A native of Norfolk, Virginia, Mr. Wilkins is a graduate of the Shenandoah Conservatory of Music and New England Conservatory of Music. He and his wife Sheri-Lee are the proud parents of twin daughters, Erica and Nicole.
Chad Goodman, conductor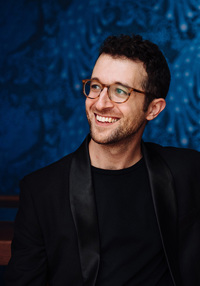 With a flair for inventive programming and a bold presence on stage and in the community, Chad Goodman has been praised for "bringing innovation to classical music" (Forbes).
As the Conducting Fellow of the New World Symphony, Mr. Goodman conducts on subscription, education, family and holiday programs. His program, "SPARK: How Composers Find Inspiration," blended captivating light design and videography with engaging audience participation to explore how a composition is created and brought to life by an orchestra.
Since 2018 Mr. Goodman has served as an Assistant Conductor to the San Francisco Symphony, assisting Esa-Pekka Salonen, Manfred Honeck, Daniel Harding, Pablo Heras-Casado, Simone Young and James Gaffigan among others.
Mr. Goodman's 2022-23 Season will include debut appearances with the Elgin Symphony, Baton Rouge Symphony, Greensboro Symphony and San Francisco Chamber Orchestra.
As Founder and Artistic Director of Elevate Ensemble, Mr. Goodman's ambitious vision for concert programming resulted in the pairing of music from Bay Area composers with underappreciated gems of the 20th and 21st centuries. Under his leadership, Elevate Ensemble established a Composer-in-Residence program and commissioned fifteen works from Bay Area composers. Elevate collaborated with photographers, videographers, poets and culinary artists, bringing new music and vibrant multi-genre experiences to unique venues such as yoga studios, historic Victorian homes and art studio warehouses.
Mr. Goodman has previously served as Conducting Fellow of Festival Napa Valley, Music Director of the Contra Costa Chamber Orchestra, Conducting Fellow of the Atlantic Music Festival, and a rehearsal and cover conductor for the San Francisco Ballet.
In addition to his performing career, he teaches young musicians the business and entrepreneurial skills needed to successfully navigate the world as a working musician in his workshop "You Earned a Music Degree. Now What?"
Mr. Goodman holds a bachelor of music degree from the Eastman School of Music and a master of music degree from San Francisco State University. His mentors include Michael Tilson Thomas, Alasdair Neale, Cyrus Ginwala and Martin Seggelke.