Events & Tickets
Student Tickets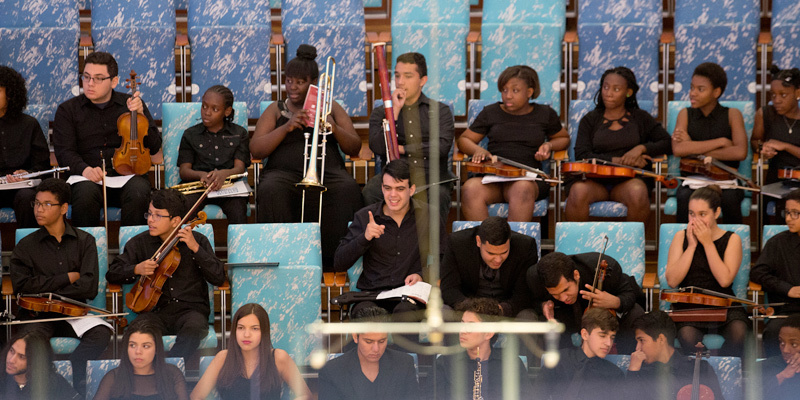 The New World Symphony is pleased to offer a limited number of reduced-price tickets to NWS concerts and events to students ages 13 and up with valid ID. Student tickets start at just $5.00 each for all available sections in selected performances at the New World Center throughout the season. College students may purchase $25 student tickets for NWS performances at the Adrienne Arsht Center through their UTIX program. 
Student tickets are available now for the following performances:
March
Saturday, March 11, 2023 at 8:00 PM, Price + Beethoven ($10)
Saturday, March 18, 2023 at 8:00 PM, Wagner's Ring: Valkyries + Valhalla ($10)
Sunday, March 19, 2023 at 2:00 PM, Wagner's Ring: Valkyries + Valhalla ($10)
Sunday, March 26, 2023 at 2:00 PM, Chamber Music: This Is Now ($5)
Friday, March 31, 2023 at 9:00 PM, Late Night at New World Symphony ($25)
April
Saturday, April 1, 2023 at 7:30 PM, Sounds of the Times: From the Canyons to the Stars ($5)
Saturday, April 8, 2023 at 8:00 PM, Denève's Debut ($10)
Friday, April 14, 2023 at 7:30 PM, Enigma Variations ($10)
Saturday, April 15, 2023 at 8:00 PM, Enigma Variations ($10)
Rules apply: 
Students must enter the "STUDENT" promo code before purchasing tickets online to get the student price.
Students may purchase up to two tickets per performance.
Student rush tickets can only be claimed at the box office on the evening of the performance upon presenting a valid student ID at the window.
No mailing of tickets and no "Print at Home" for student tickets.
Students can only purchase at the window beginning 90 minutes prior to a performance for which student tickets are available.
How does the Student Ticket program work?
Reserving Student Tickets for New World Center performances is simple! Simply choose one of these options:
Visit nws.edu/events, select the eligible concert you wish to attend and use the promo code STUDENT before selecting seats (limit: two tickets per student, per concert)
Call the NWS Box Office at 305.673.3331
Visit the NWS Box Office at 500 17th Street in Miami Beach beginning one hour prior to concert start time
Reserved tickets are available for pick-up at the Box Office one hour before the concert start time. A valid student ID presented by the ID holder is required for ticket pick-up. Unclaimed tickets will be released 10 minutes before the start of the performance. Student Tickets are not eligible for refunds or exchanges. Previously purchased tickets cannot be refunded or discounted. All performances, artists, dates, venues, prices and programs are subject to change.
Want to stay in the loop with NWS Student Tickets information?
Complete the registration form below to receive e-mail notifications about Student Ticket opportunities at the New World Center.