Events & Tickets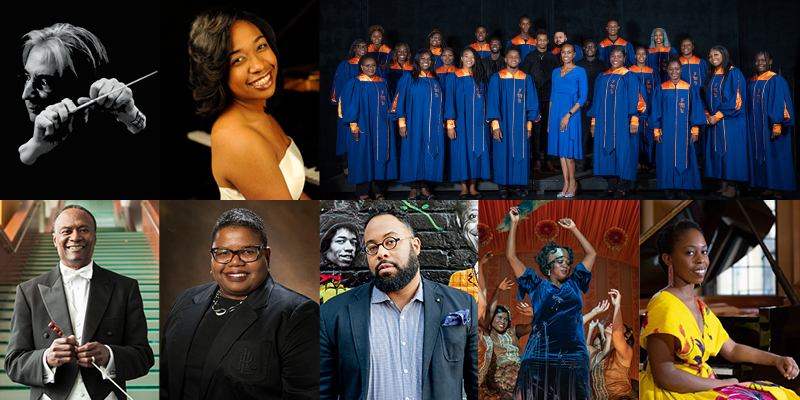 New World Symphony presents
I Dream A World:
The Harlem Renaissance and Beyond
February 1-5, 2022 at the New World Center
Langston Hughes. Duke Ellington. Fats Waller. Florence Price. William Grant Still. Ma Rainey.
They launch a long list of cultural giants whose greatness and genius forever changed America's artistic landscape. Their soulful art, stories and more will leap from the history pages to the New World Center in I Dream a World—a five-day festival that explores and celebrates the history and influence of the Harlem Renaissance and the epicenters of Black excellence that thrived across the nation during the 1920s.
Discover the Renaissance's music, poetry, visual art, songs and impact with MTT, NWS Fellows and guests Kevin Young (Andrew W. Mellon Director of the Smithsonian's National Museum of African American History and Culture and Poetry Editor for The New Yorker), musicologist Dr. Tammy Kernodle, conductor Thomas Wilkins, pianist Michelle Cann, soprano Michelle Bradley and the Ambassador Chorale of Florida Memorial University.
I Dream a World: The Harlem Renaissance and Beyond is made possible with support from the NWS Collaborations Fund, the NWS Fund for New Ventures and Bank of America.
Festival Events
Exhibition: Interludes of Harlem: Poetic Illustrations of Langston Hughes featuring Jacob Lawrence
Christopher Norwood, curator and founder of Hampton Art Lovers at the Historic Ward Rooming House, will curate an exhibition of art which contextualizes the Harlem Renaissance and the American Great Migration that ushered in the first Black arts movement. This exhibition will be on display at the New World Center throughout the festival. Click here for more information.
Tuesday, February 1 at 7:30 PM
Noir Reverberations:
A Night of the Music and Poetry of the Harlem Renaissance and Beyond
Click here to buy tickets.
Poet Kevin Young and Dr. Tammy Kernodle explore topics and themes of the Harlem Renaissance through poetry and music. The Ambassador Chorale of Florida Memorial University, an HBCU, will join the NWS to perform choral settings of works by William Dawson and Moses Hogan as well as traditional gospel songs. Soprano Michelle Bradley will perform art songs by composers, including William Grant Still, Florence Price and Margaret Bonds. The performances will be preceded by a 60-minute poetry reading by notable Miami-based poets and students, curated by P. Scott Cunningham, Founder of the O, Miami Poetry Festival.
Wednesday, February 2 at 7:30 PM
A Handful of Keys: A Retrospective of American Keyboard Music
Click here to buy tickets.
This concert launches a multi-year exploration of piano and piano-centric music of Black composers and musicians. This project is a collaboration between the New World Symphony, Michael Tilson Thomas, The Curtis Institute of Music,  Michelle Cann and students from her studio at Curtis. 
The February 2 performance will feature works of Louis Moreau Gottschalk, Florence Price, Jelly Roll Morton, Hazel Scott, Irene Britton Smith, Fats Waller, and Helen Eugenia Hagan.
This project will include a website which augments selections from the concert with recorded performances of other works and biographical information about the composers." This reference site will continue to be updated. While the composers represented on this concert are from the Harlem Renaissance era, performances and website content will expand to include Black composers from different historical eras. Pianist and musicologist Dr. Samantha Ege (Lord Crewe Junior Research Fellow in Music at Lincoln College, University of Oxford), will serve as an advisor to the website.  
POSTPONED: Thursday, February 3, 2022, at 7:00 PM (Truist Pavilion; Free, ticket required) 
Inside the Music: Echoes of the Harlem Renaissance
Click here to reserve tickets.
New World Fellows will present a vibrant multidisciplinary chamber program connecting the Harlem Renaissance's artistic legacy to today. In tracing the musical roots of contemporary composers, we can follow their lineage not only to 1920s Harlem but also to companion artistic movements across the country. Developed under the guidance of MTT and musicologist Dr. Tammy Kernodle.
Friday, February 4, 2022, at 7:30 PM (Truist Pavilion; Free, ticket required)
ABFF Presents Ma Rainey's Black Bottom
Click here to reserve tickets.
The American Black Film Festival presents a special screening of Netflix's award-winning film starring Viola Davis and Chadwick Boseman about a fiery blues singer who joins her band for a turbulent recording session in 1920s Chicago. 
Saturday, February 5, 2022 at 7:30 PM
Victory Stride: The Orchestral Legacy of the Harlem Renaissance
Click here to buy tickets.
Thomas Wilkins leads the New World Symphony in a performance of orchestra and chamber music by the great composers of the Harlem Renaissance. This concert will be preceded by a talk curated by FIU Professors Shawn Anthony Christian and Nathaniel Cadle. This presentation—drawn from books, magazines, photographs, and ephemera—explores how authors and visual and performing artists created a vision of Black modernity that extended beyond New York to become a national and global movement.