Events & Tickets
New World Symphony App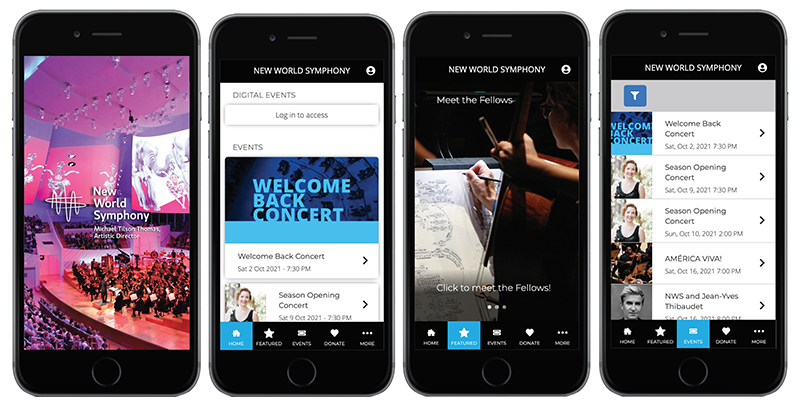 Never miss a note! Get exclusive New World Symphony content at home, at the beach or on the go – and it's free to download. Use your same NWS website account credentials in the app to access your customized schedule of events and content – no need to create a new account! 
New World Symphony and its breathtaking venue, the New World Center, are now right at your fingertips. Download this app for the latest information, including:
Event information and tickets
You'll have easy access to events and tickets and an in-depth guide to the program, artists and venue on the day of your concert.
Ticketless access at the venue
Never worry about leaving your tickets at home -- they'll be in the app, ready for a quick scan at the venue.
Quick account access
Review your purchasing and donation history, and access to all your digital and in-person event information.
On-demand streaming
Be the first to know when content is released, whether a video interview, free digital performance or full-length concert.
Notifications and announcements
Opt into and allow notifications to guarantee the most up-to-date information about all our concerts, traffic and parking notices, free content, and discounts, as well as cancellations or date changes.
Meet the Fellows
Quickly view all Fellow profiles on the app, including their biographies and profile videos.
NWS News
Catch the latest news and in-depth stories as soon as we release them. The app is directly connected to our news platform and will pick up and store all news items.
Directions and parking
The NWS will provide you with updates on parking and traffic, ensuring the best experience.
The New World Symphony mobile app is powered by InstantEncore.